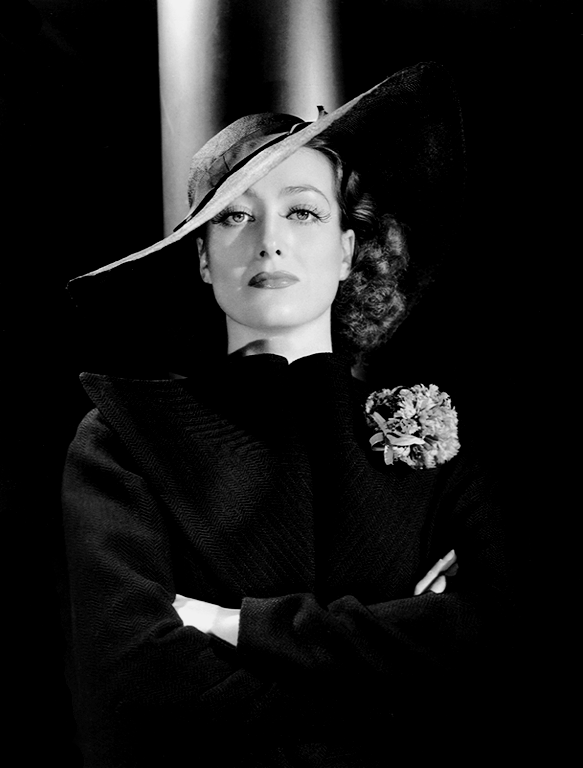 "I need sex for a clear complexion, but I'd rather do it for love." - Joan Crawford
Joan Crawford Films from the 1930's
The talkies were born and Hollywood and the films would change forever. This was bad news for those who didn't transition well from silents to talkies due to an unappealing voice, but for some this only strengthened their careers. Joan Crawford is one of the few stars that successfully transitioned from the silent era to talking motion pictures. Joan Crawford not only appeared in an amazing 25 films but she was the top-billed star in each of those films. Crawford showed a glimpse of what was to come in an early dramatic role in the 1930 film "Paid." Joan also 'clicked' with the working-class Americans and was labeled "the shop-girl-who-makes-good." She also showed that she could hang with the legends of Hollywood in the Academy Award winning movie for the Best Picture of 1932 "Grand Hotel." Joan also teamed up with a man that would ultimately become the love of her life, Clark Gable, in seven films they would make together during in the 1930s. Joan also showed that she was on the verge of branching out and not afraid to take on a different role in the film that revitalized her career in the 1939 film, "The Women." Below are the films of the 1930s that Joan Crawford stared in. I hope you enjoy exploring each movie and the fun facts, trivia and numerous photos that show Joan Crawford's life on film during the 1930s. Enjoy!
The Films of the 1930's

Click decades below to see films from that era.
Montana Moon (1930)

Somehow doing a musical in the shaky infancy days of sound films, doesn't seem like such a great idea. Such was the format with 'Montana Moon', and a great idea, it was not! Joan Prescott (Joan) is a wealthy young daughter of a Montana rancher. Whilst on a train from New York City back to her home in Montana, she decides to sneak off the train before her final stop, making a decision to turn around and go back to The Big Apple. Before she can get back on another train, she runs into handsome cowboy, Larry Kerrigan (Johnny Mack Brown). In a typically accelerated movie romance, they fall in love and marry.

33 Photographs / 15 Movie Poster etc. / 1 Fan Review

*NEW PHOTOS ADDED 12/02/2008*

Our Blushing Brides (1930)

Gerry (Joan), Connie (Anite Page) and Franky (Dorothy Sebastian) are best friends who live and work together in New York City. Three shopgirls looking for love, desperate to find a man to keep them, have little luck realizing their dream. Franky gets all caught up in her crooked boyfriend's underhanded affairs and leaves New York City seeking retreat to her family's farm, after Gerry helps her out of her predicament. The fragile Connie commits suicide because of the philanderer she's married and Gerry is there yet again for her friend as Connie dies in her arms.

45 Photographs / 8 Movie Poster etc. / 1 Fan Review 

*NEW PHOTOS ADDED 12/02/08*  



Great Day (1930)

"Great Day" is one of those mystery productions that was started and shut down before its completion. The film was very close to completion, but the studio, and Joan, supposedly didn't like what they were seeing. They mutually decided to go into major rewrites to save the film with the plan to go back to shooting with the newly revised script by the following year, in 1931. It never happened and "Great Day," was never released. However, there seems to be a much bigger story to the movie that never was.

5 Photographs / 1 Movie Poster etc...

Paid (1930)

Mary Turner (Joan), a shopgirl, is sentenced to a 3-year prison term for a crime she did not commit, and she declares in the courtroom that she will someday even the score for the way in which she has been treated by the law. After serving her term, she becomes associated with three criminals: Joe Garson (Robert Armstrong), Agnes Lynch (Marie Prevost), and Red (George Cooper), with whom she instigates numerous activities bordering on embezzlement, blackmail, and larceny, but which are always within the law.

33 Photographs / 15 Movie Poster etc./ 2 Fan Review

Dance, Fools, Dance (1931)

Bonnie Jordan (Joan), formerly a spoiled, carefree socialite, is faced with poverty or hard work when her father, Stanley Jordan (William Holden), dies of a heart attack during the stock market crash of 1929. Though she in in love with Robert "Bob" Townsend (Lester Vail), she refuses his proposal of marriage, because he offers it merely as "the gentlemanly thing to do." Instead, she goes to work as a cub reporter on the New York Star. Her brother Rodney (William Bakewell) takes an easier way out by helping bootlegger Jake Luva (Clark Gable) peddle his liquor to Rodney's wealthy friends.

44 Photographs / 12 Movie Poster etc./ 2 Fan Review

 *NEW PHOTOS ADDED 12/02/08*



Laughing Sinners (1931)

Ivy 'Bunny' Stevens (Joan) is a chorus girl, who falls for the sleazy salesman, Howard 'Howdy' Palmer (Neil Hamilton). After dumping her in order to marry his bosses daughter, Ivy (Joan) decides to end it all by jumping from a bridge. She is saved in the nick of time by kind hearted Salvation Army Officer, Carl Loomis (Clark Gable) and begins to rebuild her life with him, taking comfort that she is helping others.

49 Photographs / 13 Movie Poster etc./ 2 Fan Reviews

This Modern Age (1931)

Valentine Winters (Joan) is a young woman from a divorced family who's determined to meet the mother (Pauline Frederick) she has never known. She finds her in Paris, now the high maintenance mistress of a rich Frenchman, a man she merely passes off as a 'friend' to her daughter. Valentine gets caught up in some drama of her own when she is saved by a handsome Harvard football star, Robert (Neil Hamilton), rescuing her from a car crash caused by her high living boyfriend, Tony (Monroe Owsley). Love blossoms, relationships are strained, but true love wins out in the end.

54 Photographs / 12 Movie Poster etc./ 2 Fan Reviews 

*NEW PHOTOS ADDED 12/02/08*



Possessed (1931)

Paper box factory worker Marian Martin (Joan) wants more out of life than marriage to her small town boyfriend, Al Manning (Wallace Ford). As she looks through the windows of a stopped railroad car carrying wealthy passengers, she meets Wally Stuart (Richard Gallagher), a New Yorker who gives her champagne and tells her to look him up. After Al angrily accuses her of impropriety, Marian leaves and goes to New York. Wally gives her some advice on meeting and keeping wealthy men, which Marian uses to begin a relationship with his friend Mark Whitney (Clark Gable), a divorced attorney.

72 Photographs / 18 Movie Poster etc./ 3 Fan Reviews



Grand Hotel (1932)

An entertaining film, with an all-star cast, surrounding the comings and goings of the guests of Berlins most lavish hotel - 'Grand Hotel' - The story unfolds over two nights, we see people falling in love, falling out of love, getting drunk, there's even a master jewel thief concocting a plan to steal a string of pearls, only to steal the heart of the owner instead.

70 Photographs / 29 Movie Poster etc./ 5 Fan Reviews


Letty Lynton (1932)

New York socialite Letty Lynton (Joan), who has been living in Montevideo, Uruguay, wants to end her affair with Emile Renaul (Nils Asther). Because she has left Emile before but has always returned, her maid Miranda is skeptical, as is Emile, who thinks this is just a whim. On the steamship to America, Letty sees wealthy American Jerry Darrow (Robert Montgomery) and is immediately attracted to him. At dinner, their attraction increases, and after two weeks at sea, they have fallen in love.

113 Photographs!! / 20 Movie Poster etc./ 2 Fan Reviews 

*NEW PHOTOS ADDED 12/02/08*


Rain (1932)

This is quite a strange film about a prostitute, Sadie Thompson (Joan) who is quarantined on Pago Pago Island. The other temporary inhabitants are the Reverend Davidson (Walter Huston), his wife and a few other various traveling companions. The American Military are stationed on the Island permanently and Sadie is a big hit with them, especially the innocent Sgt O'Hara (William Gargan), a smitten soldier whom she nicknames, 'handsome.'

78 Photographs / 36 Movie Poster etc./ 5 Fan Reviews 

*NEW PHOTOS ADDED 12/16/08*


Today We Live (1933)

Richard Bogard (Gary Cooper) arrives in 1916 England and rents an English country house from Diana Boyce-Smith (Joan). When Diana's (Joan) brother, Lt. Ronnie Boyce-Smith (Franchot Tone) and her fiancé, Lt Claude Hope (Robert Young) leave for naval duty, Richard (Gary Cooper) and Diana (Joan) fall hopelessly in love. As the war intensifies, Richard (Gary Cooper) joins the flying corps and Diana (Joan) joins the ambulance corps, it is soon after that Diana hears that Richard (Gary Cooper) has been shot down and killed.

53 Photographs / 19 Movie Poster etc./ 1 Fan Review


Dancing Lady (1933)

When Tod Newton (Franchot Tone) discovers Janie 'Duchess' Barlow (Joan) dancing in a burlesque house, he offers to help her get a part in a real Broadway musical being directed by his friend, Patch (Clark Gable).Tod (Franchot Tone) expects more than a mere thank you from Janie (Joan), Patch (Clark Gable) is convinced Janie (Joan) is all personality and no talent, whilst at the same time, Janie (Joan) is finds herself falling hopelessly in love with Patch (Clark Gable).



102 Photographs!! / 24 Movie Poster etc./ 1 Fan Review


Sadie McKee (1934)

Sadie Mckee (Joan) is the daughter of a cook currently employed with the well to do Alderson family. Michael Alderson (Frachot Tone) likes Sadie (Joan) but despite his infatuation, she decides to go to New York City to marry her boyfriend, Tommy (Gene Raymond). When Tommy (Gene Raymond) cheats on Sadie (Joan) with a showgirl, Dolly (Esther Ralston) he deserts her in the big city with his new love.

66 Photographs / 22 Movie Poster etc./ 3 Fan Reviews


Chained (1934)

Diane Lovering (Joan) and Richard Field (Otto Kruger) have been lovers for five years. Although married, Richard's wife has been overseas and Diane (Joan) has happily played the mistress, filling the void of a woman in his life. Upon his wife's return, he asks her for a divorce so he can finally be with Diane (Joan), for good. Out of spite, his wife refuses to let their marriage dissolve and Diane (Joan) convinces her lover that she's perfectly happy with their relationship the way it is. As Diane (Joan) is leaving for an Argentinean cruise, he waves her goodbye, both of them promising to continue their relationship upon her return.

53 Photographs / 16 Movie Poster/ 1 Fan Review


Foresaking All Others (1934)

Mary Clay (Joan) feels as if she is the happiest woman alive because she is about to wed Dillon Todd (Robert Montgomery), a man whom she has loved since childhood. That same day, Jeff Williams (Clark Gable), another childhood companion, returns from a long business trip to Spain, and is equally ecstatic that he can finally propose to Mary, whom he has always loved. Another comedic love triangle, with an all star cast that actually help to pull it off in an entertaining fashion.

60 Photographs / 22 Movie Posters etc../ 1 Fan Review


No More Ladies (1935)

Marcia Townsend (Joan Crawford) is a young woman who loves the social scene and who values the importance of love, marriage and commitment. Marcia is popular with the men and could have her pick of the litter but she just happens to fall for a young handsome man Sherry Warren (Robert Montgomery) who has courted just about every woman in town. Marcia is also being persued by a buttoned up man, Jim Salston (Franchot Tone) who believes in the same values of marriage and commitment.

COMING SOON!

I Live My Life (1935)

Kay Bentley (Joan Crawford) is a young rich woman who is bored with life as a well-known socialite in the upper class New York circuit. Looking for some adventure, Kay takes a trip to Greece and meets a young handsome archeologist, Terry O'Neill (Brian Aherne). Kay innocently flirts with the archeologist and there is a mutual attraction but they come from different walks of life. Terry is quite smitten with the young socialite but Kay shows a lack of interest and heads back to New York. Terry's naiveté leads him to thinking that Kay's the one for him and she is the one he should marry.

COMING SOON!

The Gorgeous Hussy (1936)

In this case, the all star cast just wasn't enough to turn a bad script into a good film. An historical romantic drama with political overtones, 'Peggy' (Joan) is in love with John Randolph (Melvyn Douglas), but she's rejected by him at the beginning of the film when he tells her 'you're too young.' On the rebound she marries Lt. Timberlake (Robert Taylor) but soon after he is killed at sea, leaving Peggy (Joan) widowed and alone. Going from man to man and gaining herself a reputation as the town Hussy, (hence the name of the film), she eventually marries again and takes John Eaton (Franchot Tone) as her second husband.

COMING SOON!

Love on the Run (1936)

Sally Parker (Joan) is a soon to be married heiress, however she gets cold feet and abandons her wedding plans to Prince Igor (Ivan Lebedeff), by running off with the charming, Mike Anthony (Clark Gable). Unaware that Mike (Clark Gable) is a lowly reporter, in a bid to escape they steal a plane together and find secret spy plans in the process. Pursued by the now angry spies and his fellow reporter friend, Barnabas Pells (Franchot Tone), Mike (Clark Gable) still manages to avoid telling a now smitten Sally (Joan) his occupation of sleazy tabloid reporter. When she does eventually find out, it's too late...she's in love.

COMING SOON!

The Last Of Mrs. Cheyney (1937)

Fay Cheney (Joan) is the widow of a very rich and influential husband. We, the audience watch the characters mingle at various society parties, and wait to see which suitor Fay (Joan) is going to choose as her new beau. Both Arthur (Robert Montgomery) and Lord Kelton (Frank Morgan) are rivaling for her affections, but with the obvious choice being Arthur (Robert Montgomery) the audience is puzzled when she seems to favor the stuffy old Lord Kelton (Frank Morgan).

COMING SOON!

The Bride Wore Red (1937)

Joan Crawford is once again typecast into one of her many cookie cutter roles as a woman in a love triangle. Anni Pavlovitch (Joan Crawford) is a cynical, jaded, struggling cabaret singer in Trieste, Italy. Anni is approached by the rich Count Armailia (George Zucco) who is interested in testing out an experiment on his fellow rich socialites. He offers Anni an opportunity to go on a two-week vacation in Tyrol Alps and pretends that Anni is a rich socialite. Anni takes him up on the offer since she has nothing to lose and she embarks on the challenge.

71 Photographs / 19 Movie Posters etc../ 1 Fan Review 
*NEWLY ADDED on 11/17/2008*


Mannequin (1938)

Jessie Cassidy (Joan Crawford) is a poor young woman from Hester Street on the Lower East Side of Manhattan, living at home with parents and a kid brother. Jessie waits hand and foot on her father and brother and wonders if there's a better life out there. In the pursuit to find happiness, Jessie convinces her handsome idiotic boyfriend Eddie Miller (Alan Curtis) to marry her. At their wedding dinner Jessie's beauty is noticed by well-known millionaire, John Hennessy (Spencer Tracy), who falls instantly for the young spitfire.

COMING SOON!

The Shining Hour (1938)

Olivia Riley (Joan) is a dancer who marries Henry Linden (Melvyn Douglas) out of convenience, not love. His brother, David (Robert Young) sees her for what she is and knows that she'll leave his brother with a broken heart when someone with a better offer comes along. Returning to the Linden family farm, Olivia (Joan) is introduced to David's (Robert Young) wife, Judy (Margaret Sullavan) and her bitter spinster sister-in law, Hannah (Fay Bainter).



COMING SOON!

Ice Follies of 1939 (1939)

Sometimes movie studios just have bad ideas, and this is most certainly one of them. The thought of Joan Crawford, James Stewart and Lew Ayres on ice, sounds like a practical joke, however it was very real, it was, The Ice Follies of 1939. As popular as the lavish technicolor spectacles were back in those days, the audiences didn't warm up to this one and neither did the actors. It is somewhat painful to watch James Stewart on ice skates, he's just not meant to be anywhere on ice, unless it has whiskey poured on it, and he's in a saloon somewhere out west.

45 Photographs / 20 Movie Posters etc../ 1 Fan Review

The Women (1939)

Crystal Allen (Joan) is a shopgirl having an affair with the husband of Mary Haines (Norma Shearer). When Sylvia (Rosalind Russell) and Edith (Phyllis Povah) overhear the rumor in the beauty salon, they can't bring themselves to break the news to the innocent Mary (Norma Shearer) so they arrange for her to overhear the gossip with her own ears. Fleeing to Reno for a divorce, Mary (Norma Shearer) meets a Countess (Mary Boland) and Miriam (Paulette Goddard) all of who are having man trouble of their own.

46 Photographs / 20 Movie Posters etc../ 5 Fan Reviews

Click on the decades below to browse movies.