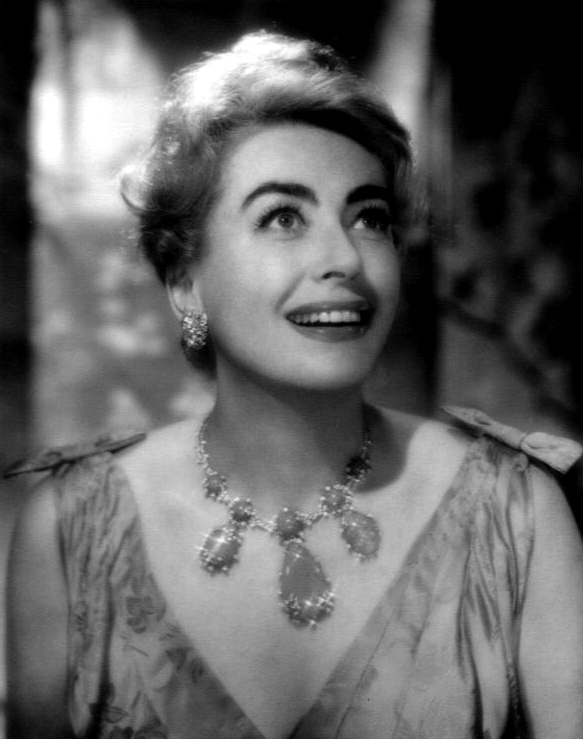 "I need sex for a clear complexion, but I'd rather do it for love." ~ Joan Crawford


Joan Crawford Films from the 1960's
As the 1950s came to a close it appeared that so might have Joan Crawford's acting career. Her last starring role was in 1957 in "The Story of Esther Costello" and even though she stole the picture, she co-starred in "The Best of Everything" in 1959. As the 1960s rolling in Joan had nothing lined up in the way of films until one script came her way in early 1962 from fright director Robert Aldrich called "What Ever Happened to Baby Jane?." Joan was to be paired up with her nemesis, Bette Davis. The film was shopped around to many studios but turned down by almost all, but Aldrich believed in it and he proved them all-wrong as the film became one of the biggest pictures of 1962 and revitalized Joan Crawford's career. It also started a new wave of horror movies and Joan was labeled 'scream queen!' Unfortunately, the rest of Joan's movie career followed in this fashion with movies such as, "Strait-Jacket," "I Saw What You Did" and "Berserk." Joan had a new following of fans and she wanted to cater to them. Joan's final film was the less than stellar, "Trog" in 1970. Even though "Trog" was not a masterpiece, you could still see Joan giving her all as if she were still in "Mildred Pierce" or "The Women" even though she was not in a classic film you could see that fire was still there and so was the talent. Below are the last films of Joan's amazing career. Look at them not for the content but for the quality of Joan and her amazing ability to turn any part into a prize-winning role. Here's to Joan's amazing 50+ year film career!
The Films of the 1960's

Click decades below to see films from that era.
Whatever Happened to Baby Jane? (1962)

Jane Hudson (played by Julie Allred as a child ) was a child star of the vaudeville stage in 1917 who was billed as "Baby Jane." She was a spoiled brat who demanded an ice cream, or else she would not greet her fans. Her father gave in. Her sister, Blanche (played by Gina Gillespie as a child), watched with sadness as Jane, who always got her way, was idolized by her adoring public. As the two reach maturity, however, Jane (Bette Davis) loses both her appeal and her talent, and Blanche (Joan) develops into a beautiful and renowned film actress.

COMING SOON!

The Caretakers (1963)

A particularly dark plot line based in an overcrowded hospital ward for the mentally ill. Dr. Donovan Macleod (Robert Stack) is the radical new doctor who sets out to try different, less intrusive methods of treatment on his patients. Lucretia Terry (Joan) plays the head nurse who constantly battles the new advances that Dr Macleod (Robert Stack) is introducing. When the patients begin to show signs of improvement with the new softer methods of treatment, Lucretia (Joan) is forced to back down and accept the fact that Dr Macleod's (Robert Stack) theories are valid, even without the use of straight jackets and padded cells.

COMING SOON!

Strait-Jacket (1964)

Lucy Harbin (Joan) is released from a mental asylum after a twenty year stay. Her crime? Killing her husband and his mistress with an axe, a brutal crime that her daughter, Carol (Diane Baker) witnessed as a child. After getting her life back in order, Carol (Diane Baker) now a bride to be must deal with the fact that her mother is being released from the asylum. However, there's no happy homecoming here. When the body count starts to stack up again, it seems Mommy is back to her axe wielding ways...

COMING SOON!

I Saw What You Did (1965)

Another cheesy horror/suspense film of the 60s, just managing to hit the respectability level of worthwhile entertainment with the talent of William Castle as director. Two teenage girls, Libby (Andy Garrett) and Kit (Sarah Lane) are having a sleep over together while Libby's (Andy Garrett) parents go out of town on business. They conjure a plan to randomly call men from the phone book and whisper, "I saw what you did, I know who you are," before hanging up.

COMING SOON!

Berserk! (1968)

This is a case of a movie being so bad, that it's actually good. Now considered a camp classic, "Berserk" is a movie that Joan regretted making. Complete with a leotard tuxedo and top hat, Monica Rivers (Joan) is the ring mistress of a traveling English circus. As murders, made to look like accidents begin to occur to various performers, Monica's idea to use the tragedies as a way to promote her show, marks her as the murderess. However, it is soon revealed that her out of control daughter, Angela (Judy Geeson) is the killer.

COMING SOON!
Joan Crawford Films from the 1970's
Trog (1970)

While exploring a cave, students Malcolm (David Griffin), Cliff (John Hamill), and Bill (Geoffrey Case) are attacked by an ape-like beast. When Bill is killed, the other two report the incident to the skeptical police and anthropologist Dr. Brockton (Joan). The news media learn of the story, and a camera crew is sent into the cave to film the creature, but the beast chases them from the cave. Dr. Brockton, who persuades the police not to open fire, shoots the beast with a tranquilizer gun and takes it to her laboratory where she discovers that it is a troglodyte, the missing link between man and ape.

COMING SOON!
Click on the decades below to browse movies.