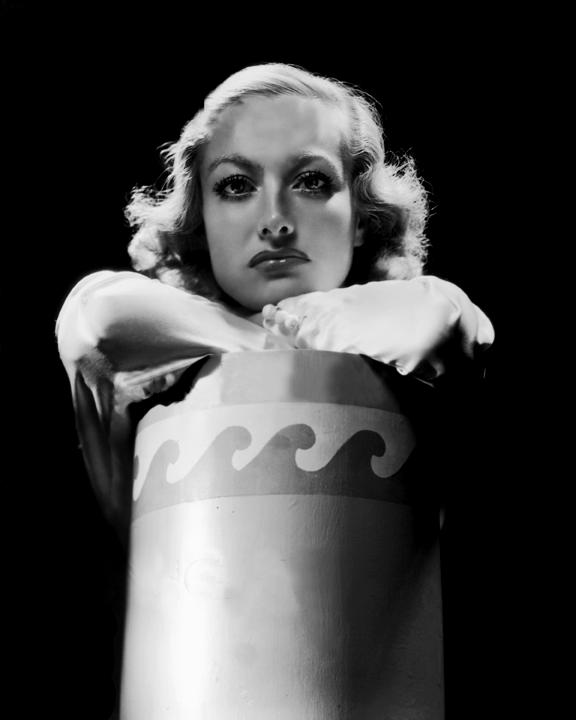 "Joan Crawford behaved like a star. Some do, some don't. You know, when Joan came on the set,
SOMEBODY came on the set." ~Rosalind Russell
"It's a great tragedy when people hear the name Joan Crawford. The first thing many people think is No wire hangers!" (Bob Thomas). There is another side of Joan Crawford that people should remember. She was regal, stunningly beautiful, passionate, cold, warm, insecure, tender, egotistical, tough, highly sexed, hard working, professional, controlling, modest, kind, cruel, generous, and selfish. All these traits can be used to describe the mighty Joan Crawford but most importantly, she was human. Her drive and passion to succeed was amazing. She worked her way up from a nothing, a nobody, a poor dancing girl from Texas, and turned herself into a glamorous woman, an academy award-winning actress, a star..a legend.

Joan Crawford gave some of the best performances ever displayed on the big screen. She also had one of the longest careers on film. From her early days on the silent screen in "Our Dancing Daughters," she displayed such passion and zest for life, the best example of the 1920's flapper on screen. In the 1930's, she blossomed in to "her face" and was the shop girl who made good. Joan displayed some of her best acting in the 1940's with movies like "A Woman's Face," "Mildred Pierce," and "Possessed." Even in the 1950's she managed to display her great acting abilities and proved the critics wrong with one of the biggest comebacks in Hollywood history with "Whatever Happened to Baby Jane" in 1962. There is no way she could have remained a star that long without hard work and determination. She had survived and succeeded in a "man's world." To deny Joan Crawford her place in Hollywood history is a crime. All she worked hard for and contributed to film should be remembered, credited, and respected.

That is the purpose of this site: to remember and show respect to the great Joan Crawford, The Ultimate Movie Star!!! I thoroughly hope you enjoy this site as much as I have enjoyed constructing it and I continue to add to the site on a monthly basis. The site is filled with rare photos, a biography, movie reviews, monthly contests and other interesting facts about the late great star.

Joan went through so many different stages in her life from the "Dancing Girl" to the "Fashion Maven" from a legitimate actress to a driven businesswoman. There were many incarnations of "Joan Crawford." This page breaks down Joan's life from the very beginning when she was Lucile LeSueur to right up to her final days of seclusion. Enjoy your journey the years.


Click the links below to browse through Joan's life.