"I need sex for a clear complextion, but I'd rather do it for love."~Joan Crawford
"The Hollywood Revue" was released in 1929 and it was a showcase of all the top stars at MGM so the audience could hear their favorite stars for the first time. Joan did a song and dance number which showcased her obvious dance skills but her singing voice displayed she wasn't a songstress. Joan also was very plain in her makeup, she had not come into her face yet and she lacked that sex appeal she would display in the near future. Her first talkie film was "Untamed"(1929) in which was also her first time with co-star Robert Montgomery with whom she would make several more movies with in the 1930's. Joan's speaking voice came off very alluring and sexy and her career in the talkies was assured. Her next picture "Montana Moon"(1930) was nothing to write home about, more have a song and dance movie than anything else. "Our Blushing Brides"(1930) followed, a spin off of "Our Dancing Daughters", it faired well and Joan got great reviews for this picture. Her next picture was a big break for Joan. "Paid"(1930) was originally slated to star Norma Shearer but Shearer was pregnant and could not accept the part so Joan jumped at the chance. This was by far her first meaty role with substance. She was playing a woman wrongly convicted and served time in jail. The picture really shows Joan's acting ability and is by far some of her best work, if not the best of her early career. The movie was a huge hit at the box office. One wonders after the success of "Paid" why Joan wasn't cast in more meaty roles. Her next film "Dance Fools Dance"(1930) was her first picture with an up in coming star by the name of Clark Gable. The chemistry was amazing. The picture was a huge hit! The studio was so excited about the obvious on screen chemistry between the two that quickly teamed them up in "Laughing Sinners"(1931). "This Modern Age" showcased Joan as a blonde for the first time and she looked rather attractive as a blonde. Joan's next movie would begin a string of some of her best work at MGM. "Possessed"(1931) stared Joan with Gable once again. The film was a huge hit. It was also in this movie that Joan and Gable started a very passionate romance that would last for many years. Although Joan was still married to Fairbanks Jr., she carried on a hot and heavy romance with the dashing Gable. Some say that Gable was the true love of her life. Gable and Joan would remain very close right up until Gable's death. Gable trusted and confided in Joan more than anyone in his life.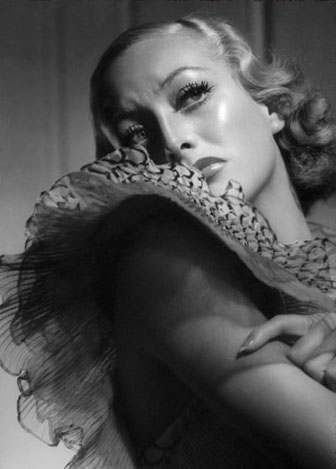 A beautiful publicity photo of Joan from 1930.
Joan Crawford on the set of her 1931 movie "Possessed."
The year 1932 was probably one of Joan's most successful years of her career. She made three of her best movies of career that year but it was also the year she displayed a new look. She had come into "her face". Her makeup and hair changed but also she had grown into a beautiful woman losing some of that baby fat that she carried in her face. She was absolutely stunning. She was given the gold metal award for beauty that year by a fan magazine. Her first movie that year was "Grand Hotel"(1932). The movie was filled with some of the biggest stars at the time: Garbo, The Barrymore brothers, Wally Berry and Joan Crawford. Joan looked amazing in this movie and she actually walked away with the movie. The movie was a monster hit and went on to win an Oscar for best picture in 1932. Joan's next picture was "Letty Lynton"(1932) this movie was one of Joan's favorite films that she had made. It really is an amazing movie to watch. Joan looked amazing in some of the most beautiful gowns ever to grace the silver screen. The movie was another big hit for Joan and unfortunately the movie was sued for copyright infringement and was ordered by the courts to be pulled from circulation that was final by 1938. Joan's final film of 1932 was "Rain", a movie that Joan made while being loaned out to United Artisits."Rain" was years ahead of itself and it did mediocare in comparison to the other films Joan released that year. Joan would despise this movie till the day she died but the movie as gone on to be credited as one of Joan's best movies. Her acting was amazing and the story was so risqué and bold for its time. "Rain" will be remembered for many years to come as one of the best movies of early film. It was also at this time that Joan and Fairbanks Jr. were on shaky ground. Her affair with Gable was hard not to notice and she filed for divorce in 1933. A new man was about to enter Joan's life
Joan comes into "her face" in this 1932 photo on the set of "Grand Hotel."
Joan Crawford on the set of "Today We Live."
Joan started filming her next picture, which was "Today We Live"(1933) with the great star Gary Cooper. Joan also met he future husband on the set, Franchot Tone. Franchot Tone was a very distinguished, intelligent and well-mannered man. He was an incredible actor too. They courted each other for two years before they were married, Joan's next film was one of her most successful at the box office, "Dancing Lady"(1933) co starring Gable and Tone, One can wonder how Joan handled both men with whom she was still both sexually involved with. Joan also got to dance with the great Fred Astaire in this movie. "Sadie McKee"(1934) would follow and once again she would star with Tone in this picture. The picture was a hit displaying the "Crawford formula" of the shop girl who makes good. Her next picture was a success as well; "Chained"(1934) once again teamed her up with Gable. Joan started working with the brilliant cinematographer, George Folsey who lit Joan's face just right for her next seven pictures. He highlighted what he thought were Joan's best features, her eyes and her cheekbones. The picture was a hit and while Joan was filming "Chained" she met her real father, Thomas LeSueur. She briefly had a correspondence with him but the damage was done. He left the set and she never saw him again. Joan was at a high point in her career she was known as the queen of MGM and was on a string of hit movies but all the fashion and glamour wouldn't last too much longer. Crawford had to prove that she was a lot more than just a face, a fashion plate; she had to prove that she was a genuine actress.
Joan's famous rival, Bette Davis, is quoted in saying "Crawford has one of the best faces in Hollywood."