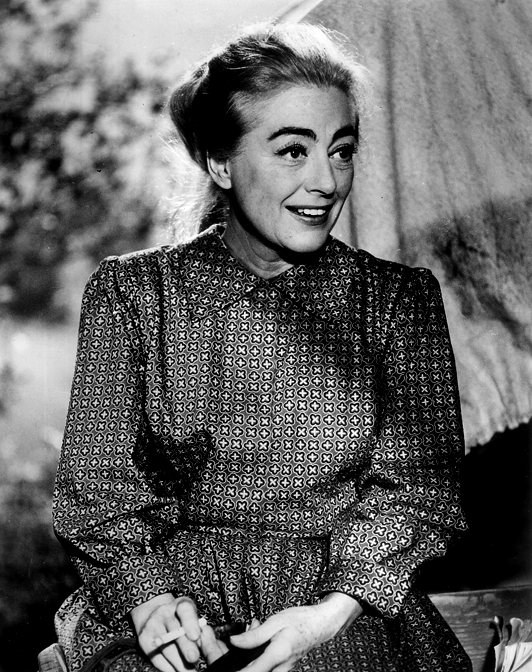 Joan Crawford made over one hundred television appearances in a twenty-year time frame. She only made thirteen movies after her appearance at the 1953 Academy Awards ceremony (the first one to be telecast) but she was a regular on television. She appeared as a regular guest on talk shows, she was a contestant on game shows, she endorsed products via commercials and she made several cameo appearances on popular variety shows.

Joan Crawford's charisma, charm and comedic flair really showed through on television. This new technology showed a different side of Joan. She was relaxed, candid, funny and her fans adored her even more due to these regular appearances on the small screen. This page will list her extensive television appearences and the current television listings of Joan programs that are being shown currently on the tube! Enjoy!

Click the decades below to view Joan's television performances from that time period.
October 2008 Television Schedule
December 17th 2008 at 8:45 am on Turner Classic Movies. 

Millicent Wetherby is a mid forties writer, having never been married because of her devotion in taking care of her ailing father, she finds the sudden and unexpected love of a younger man, Burt Hanson (Cliff Robertson) flattering and exciting. After much conflict over their age difference, they decide to marry, only then does Millicent (Joan) discover the secret that her husband has been hiding from her. He's been married before!


December 18th 2008 at 6:30 am on Turner Classic Movies.

In the summer of 1939, Parisian socialite Michele de la Becque (Joan) tries to encourage her lover, automotive designer Robert Cortot (Philip Dorn), to come with her to the South of France, but Robert refuses because of the war. The self-centered Michele does not understand and frivolously goes to her favorite couturier, Mme. Montanot, for a new wardrobe. As Michele leaves for her holiday, Robert tries to tell her how important France is to him and to make her understand what the war means, but she dismisses his words. Soon German forces cross France's seemingly impenetrable Maginot Line and Paris is occupied by the Nazis.


The Gorgeous Hussy (1936)

December 29th 2008 at 12:00 pm on Turner Classic Movies.

In this case, the all star cast just wasn't enough to turn a bad script into a good film. An historical romantic drama with political overtones, 'Peggy' (Joan) is in love with John Randolph (Melvyn Douglas), but she's rejected by him at the beginning of the film when he tells her 'you're too young.' On the rebound she marries Lt. Timberlake (Robert Taylor) but soon after he is killed at sea, leaving Peggy widowed and alone. Going from man to man and gaining herself a reputation as the town Hussy, (hence the name of the film), she eventually marries again and takes John Eaton (Franchot Tone) as her second husband.


That's Entertainment III (1994)

December 31st 2008 at 12:45pm on Turner Classic Movies.
Rare Television Performances For Sale
My friend, Tom, is offering some extremely rare Joan Crawford television performances for fans to purchase! The list is below, please email Tom at crawfordtv@hotmail.com if you are interested in purchasing any of the items below! Don't miss this wonderful opportunity to own some amazing rare Joan television appearances!

Joan Crawford: Four Decades of Events, Premieres, Parties, and Newsreel Footage. 1925 - 1967.

David Frost. Joan Crawford Interview

Rare Joan Crawford Interviews Vol. 1

Rare Joan Crawford Interviews Vol. 2 - Includes Crawford drunk at an airport in 1968

Rare 1966 - 46 minute interview - no commercials or interruptions.

Rare Footage Vol. 1-Incredible rare stuff of Crawford with Christina in 1968, color charity footage, 1965 Emmy awards, etc..

Rare Footage Vol. 2 - Awesome forgotten 1972 - 8 minute film for the American Cancer Society Crawford did, as well as a recent discovered 1957 "What's My Line?" appearance.

The Game Shows: "Password," "I've Got a Secret," "What's My Line?" (1960, 1962 and 1966)

Ford Startime

Tim Conway Show

Journey to the Unknown

Hollywood Palace 1965 Color

Hollywood Palace 1967 B&W

Garbo: 45 minute documentary from 1969 that Crawford hosts and appears in.

The Virginian - Color

Sixth Sense 50 minute, 1972 color with brief interview with Crawford at the end.

Della

The Ziegfeld Touch

Bob Hope Show 1958

Bob Hope Show 1960

Two Zane Grey TV westerns - Rebel Range and One Must Die. Plus Bonus - rare short biography of Crawford added called "Legends of Entertainment."
Second western has poor footage quality and minor sound problems.

The TV Commercials

Route 66

Rare Film Easter Island

Network news obituaries and TV tributes plus footage at the funeral home in may of 1977.

Strange Witness & One Was Loyal. Two 1950's dramas. Not outstanding footage but viewable. Plus Bonus - December 1964 appearance of "What's My Line?"

Because I Love Him & Road to Edinburgh. Plus Bonus - A short biography on Crawford from "Hollywood Hist-O-Rama."

The Lucy Show - Containing a deleted Crawford scene.

Christina Crawford Interviews Vol. 1

Christina Crawford Interviews Vol. 2

Rare 1978 BBC Documentary on Crawford (Shortly after her death and before Mommie Dearest One Hour)

Crawford in Man From UNCLE 1967. Plus Bonus - A backstage joke with the UNCLE stars and Crawford in color and award footage of Vaughn and Macallum.

Christina Crawford Sixth Sense Episode "I am not a part of this human world" 30 minutes 1972. Plus Bonus: Back story "Hush,Hush, Sweet Charlotte."

Four Volume CD Set of the Complete Joan Crawford Audio Interviews 1947 to 1977. Volume One comes with the bonus of Crawford's Christmas broadcast from 1949.