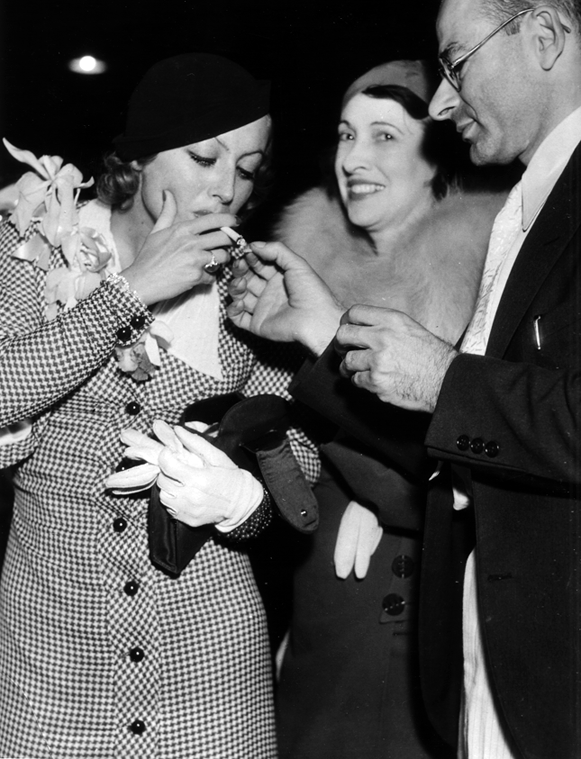 Above: Joan Crawford and Mrs. Clark Gable in 1932, were they friends?
Did Mrs. Gable's know about Joan and Clark's hot and heavy affair?
Fact or Myth?
Joan Crawford, even thirty years after her death, is still talked about by thousands. Rumors, lies, mysteries, scandals, facts and myths still loom around Joan Crawford's name. This page won't ask questions or try to figure out what is the real story, it will tell you. Many of the long awaited facts and myths will be told and revealed on this page by an anonymous long time Crawford fan. Finally, the facts and myths will be revealed. Is what you thought about Joan Crawford a fact or a myth?
Joan Crawford Facts & Myths
Joan Crawford's Wardrobe

Joan's wardrobe throughout her 40+ year acting career was an exquisite display of trend setting fashion and tailored beauty. Her most memorable film costumes were designed by the famed designer Adrian and later by Sheila O' Brien and Jean Louis. What ever happened to all of those beautiful gowns and dresses Joan wore in her films? Some of the dresses were sold at auction or in private collections. Some were destroyed or ruined by being carelessly stored and cared for, while others were re-cut and / or reused in other films. One example: the black, jeweled chorus girls costumes used in "Mannequin" can be seen (in color with some slight alterations) in the finale of the Judy Garland musical "Summer Stock".

Joan never wore any costume twice without it being properly cleaned. This necessitated duplicates being made of most of her screen-worn clothes. Some press clippings have said Joan took her favorite dress from each of her films home and stored them. However, this is unlikely since she was under contract and would have had to pay for the outfits. Below is some information about some of the famous costumes Joan Crawford wore in some of her famous films.

-The oldest film costume known to exist of Joan's is the period gown from the 1925 film "Pretty Ladies." The ball gown was reproduced in Tom Tierney's paper doll book but the book shows the dress as being entirely pink. Most have no idea what color this dress would be since the film was in black and white BUT a contributor to the site knows its whereabouts and described it as blue cut velvet with a tarnished gold underlay. The underskirt is a bright orange sherbet colored satin.

-The famous "Letty Lynton" dress that was the biggest trends of 1932 most likely didn't survive. In 1970 it was searched for high and low for an exhibit and they came up dry. The dress was made of silk chiffon and was very delicate, susceptible to dry-rot and many other hazards. So the probability of it still existing is slim.

-Most beaded gowns were made with glass beads. The underlying dress itself was made of silk chiffon, or some other fine, light fabric and then the beads were "crocheted" onto it. This made the dress cling like a second skin, but also made the dress fragile. Most of those dresses were hung in the wardrobe departments to be stored for future use. But the weight of the glass beads on delicate fabric that gets weaker with time was disastrous; the beads would eventually tear the garment to sheds.

-The fabulous sexy red dress Joan wore in "The Bride Wore Red" is on display (I believe in New York) and is in fantastic condition. The dress was stored flat in a drawer for many years, probably by accident. But thankfully this accident helped keep this dress in its present condition. The dress was used twice more, in the 1941 film "The Big Store". More interestingly, the dress was shown in color in the 1943 film "Du Barry Was a Lady". The only single drawback to viewing "The Bride Wore Red" is that the film was shot in black and white.

-The famous bra and skirt gown Joan wears in "The Woman" still exists today. The two items were separated and belong to two separate owners. The bra was actually used in a later movie but re-cut and the inside was padded with wool to make the actress wearing it appear more buxom! Can you imagine what that felt like? The beaded belt on the skirt was actually removed for some unfortunate reason.

-Joan bought all of her costumes that she wore in "Queen Bee". Many of these costumes were worn in her private life and on her honeymoon with Alfred Steele.

-Some of Joan's costumes that are known to exist in private collections are:

*The wedding dress from "I Live My Life"

*Joan's trench coat from "A Woman's Face"

*A black suit from "Mildred Pierce" (from the opening night of "Mlidred's" restaurant)

*The dress she marries Dean in from "Possessed"(1947)

*The bathing suit from "Autumn Leaves"

-There were TWO wigs used in the film "What Ever Happened to Baby Jane?" The first wig Bette wears is, in fact, the wig that Joan wore in "Our Blushing Brides". It was worn in the beginning of the film, then another wig was used later in the film. So the story on the wig is this...Joan's hairstylist Peggy Shannon went to MGM to find something suitable and that's how it arrived at "Baby Jane." Peggy Shannon is not credited as being the hairstylist for either Joan or Bette but Peggy did work for both stars during her career. The original wig from "Our Blushing Brides" is said to not exist any longer but the second wig used in Baby Jane was sold at auction in the 1990's.

Joan Crawford's Niece: Joan Crawford LeSueur

One of the biggest mysteries is: What ever happened to Joan Crawford's niece, Joan Crawford LeSueur? Joan's niece was her brother Hal's daughter and was obviously named after Joan Crawford. Joan LeSueur was born circa 1933-1934. Joan was very close to her young niece - even wanting to adopt her and can be seen in many pictures with her in the 1930s. In the late 1930's, Little Joan's mother separated from Hal, moved out of state and took the little girl with her. Joan kept in contact with her niece through the years, but they did not stay close. In images that exist of Joan's niece as an adult there is a noticeable resemblance to the LeSueur side of the family. After Joan's death in 1977, Joan's niece felt slighted by not being named in Joan's will. She stayed out of the public spotlight in her later years and passed away around 1999-2000. She is survived by one son, Scott.

Bette Davis Feud

One of the most notorious rivalries in Hollywood history is said to have been between two of the most famous actresses ever, Joan Crawford and Bette Davis. But were they really rivals? Did they loathe each other as much as people say? The truth is they actually got along fine from the 1930s until after the making of "What Ever Happened to Baby Jane?". They were never "best of friends" but they didn't hate each other during this time like most thought. There were several occasions when their paths crossed and occasionally, and if needed, Joan called Bette and Bette called Joan. When Joan was signed at Warner's, Bette was unperturbed as she was secure at Warner's and felt that she and Joan were different types and would never competing for the same roles. Of course, that proved to be inaccurate after Joan excelled in some of Warner's best soap operas of the mid-&'40s, but by that time Bette had her eye on the door. A couple of opportunities arose for Joan and Bette to star in a film together during the 1940s and 1950s but none of them materialized until 1962 when Joan found "What Ever Happened to Baby Jane?". During filming they were, for the most part, professional. The rivalry that was much publicized was a great way to drum up publicity for the film and it worked. The two played along all the way to the bank and the film would go on to be financially their biggest moneymaker.

However, things took a turn when Bette was nominated for her role in "What Ever Happened to Baby Jane?". Joan was overlooked and it did not sit well with her. Joan did play a little nasty and called all of the other nominated actresses in the field. As we all know, Joan accepted the Best Oscar Award for Anne Bancroft for her role in "The Miracle Worker." Joan succeeded in overshadowing Bette and garnering much publicity for herself. Bette never forgave her for that.

When "Hush, Hush, Sweet Charlotte" was pitched to the two divas, they both agreed to do the film but Joan had one stipulation - that her name comes first. Bette refused but Aldrich coaxed Bette in going along with it by giving her co-producer status. Bette saw an opportunity to get back at Joan. Joan agreed to these terms but as the filming began Joan noticed Bette acting more like the director than the co-producer. Bette beefed up her scenes and cut Joan's down. Joan was no dummy and saw what was going on. Joan knew she had to get out of this picture and she did. Joan took a leave due to an "illness" and held up in her hospital bed until she was let loose from her obligations. Joan was cut from the film and replaced with Olivia DeHavilland. The picture was a success but when watching the picture you can't help but notice that Bette's part was beefed up to the max.

So the two started off as cordial friends and ended up not so friendly to each other in the end.

Joan Crawford's Birth Date

Joan Crawford's birth year is probably -- till this day -- one of the biggest unsolved mysteries and causes for speculation surrounding Joan. Her tombstone says 1908, a census report from 1910 says she was born in 1905 and many books say 1904 - but what year was Joan really born in? There's really only one date that makes the most sense, 1906. There are problems with every other date stating with 1905 - the census report that was taken in 1910 is riddled with errors... Hal's age is wrong, Anna's age is wrong, and the address to where the family lived is questionable. Even the family name is misspelled. With so many crucial errors in one document, the credibility is questionable at best.

We all know that Joan shaved two years off of her birth year and claimed that her birth year was 1908. 1908 is probably not accurate; however, it does help us to understand the confusion. If Joan did shave two years off, with which year do you start? One of the reasons the birth year 1904 became so popular is because many people already knew of Joan's birth year as 1906 and assumed since she shaved two years off then she must have been born in 1904. BUT 1904 is not viable because Joan's brother Hal was born in September 1903; Joan would have born six months later, which is almost impossible.

So that leaves us with 1906. This year is the most concrete date for one big reason. Joan registered at Stephens College in 1922 and gave her birth year as 1906. Joan at this time in her life was only sixteen years old and had no reason to lie about her age or try to make herself appear younger, if anything she would want to try to be older like most teenagers.

Joan's birth year was 1906 and should be recorded as that.

Wire Hangers

"No Wire Hangers!" is one phrase unfortunately tied to Joan Crawford. We all know the film "Mommie Dearest" was inspired by Joan's adopted daughter, Christina's, memories - but did Christina get beaten with a wire hanger? No. Christina has now admitted that the "wire hanger" incident never happened as it was portrayed in the film. Yes, Joan didn't want her clothes or her children's clothes placed on wire hangers but Christina was never BEATEN with a wire hanger. The scene in "Mommie Dearest" is one of a few glorified scenes in the film "Mommie Dearest." Christina was recorded saying this in an interview only recently.

From Here to Eternity

"From Here to Eternity" was the film Joan was supposed to make after her 1952 Oscar nominated role in "Sudden Fear" - but what was the REAL reason Joan didn't make the classic film, "From Here to Eternity?" The rumor is, Joan didn't like the costumes and wanted to hire her then costume designer, Sheila O'Brien to design her wardrobe. Not true. Although Sheila O'Brien had designed for Joan's last few films, Joan wasn't hung up on her costumes or her loyalty to Sheila. Joan wanted her part to be built up with more focus on her character and less on the war and the director refused. The wardrobe story was fabricated and released to the media.

"From Here to Eternity" went on to become one of the biggest pictures of 1953 and the role intended to be played by Joan was given to Deborah Kerr, who was nominated for an Oscar for her performance. Joan did regret her decision and paid homage to its famous beach scene by restaging it in the 1955 feature "Female on the Beach".

World's Fair 1964-1965

In 1963, Walt Disney and his studio were designing three pavilions for the upcoming 1964-1965 New York World's Fair -- the Ford Motor Company, General Electric and the State of Illinois had all commissioned Disney to create World's Fair attractions for them. Meanwhile, the Pepsi company wanted to be a presence at the Fair, but after several design firms had failed to impress the executives with their presentations, they found themselves with no viable ideas for a Pepsi pavilion. It was now less than a year before the opening of the Fair, and they had nothing.

Joan was on the board of directors (in fact I think that in 1963 she was President or Chairperson), and at this point she decided to take action herself. She knew that the Disney studio was designing three pavilions for the Fair, and it was at her suggestion that Pepsi finally approached Disney.

Walt quickly assembled a creative team to tackle the project, and in short order they came up with the now-legendary concept of a boat ride around the world, with the children of the world singing the ride's theme song in their respective native languages. They made the presentation to the Pepsi board, but once again the powers-that-be were unimpressed and once again they were going to derail the concept.

Joan had heard enough. She stood up, and in her inimitable Crawford fashion she declared to everyone in the room, "We are going to do this!!!" And needless to say, they did!

After the Fair -- and It's A Small World -- opened in 1964, it and the other Disney attractions were among the most popular at the Fair. Joan loved the ride and often donated her time and PR efforts in the post-show refreshment area, helping to serve complimentary snacks and Pepsi to groups of underprivileged children.

After the Fair closed, It's A Small World was transferred to Disneyland, where it remains to this day. How deliciously ironic that what many think is the most famous unfit mother was also the person most responsible for the existence of the ultimate tribute to the world's children!