This page features all the press the Legendary Joan Crawford has received from print publications, television, online, DVDs etc. If you see any press pieces that are not included on this page that relate to this Website, please email me at the email address above!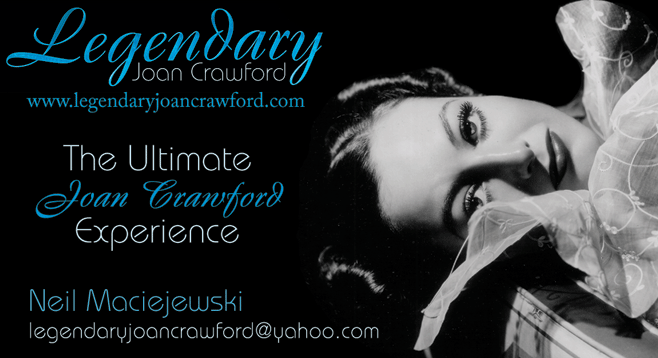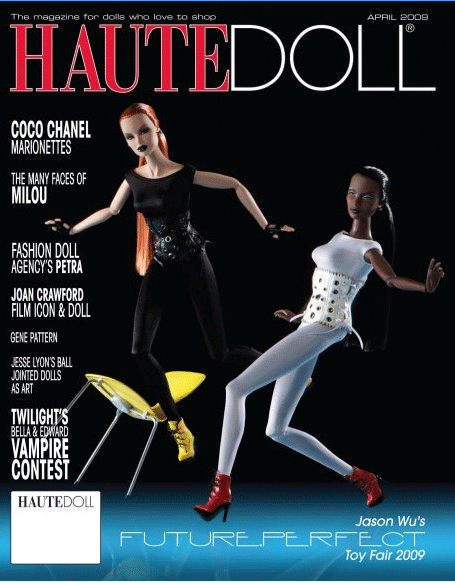 Below: A beautiful six-page article in Haute Doll Magazine talking about Joan Crawford and the new line of Tonner Dolls. Casey and I were interviewed for the magazine to talk about...what else!? Our Joan! Click the images below to read the lengthy article.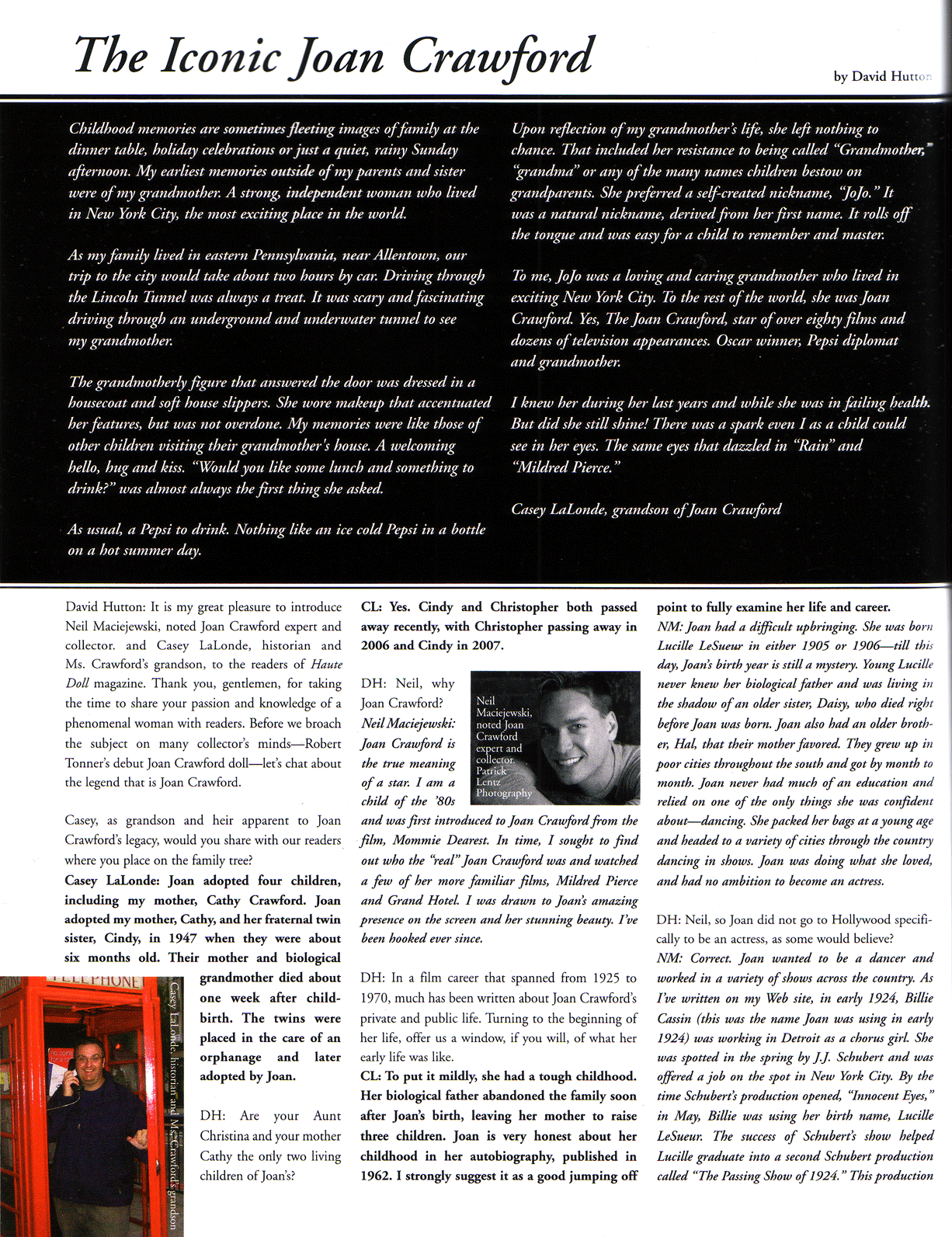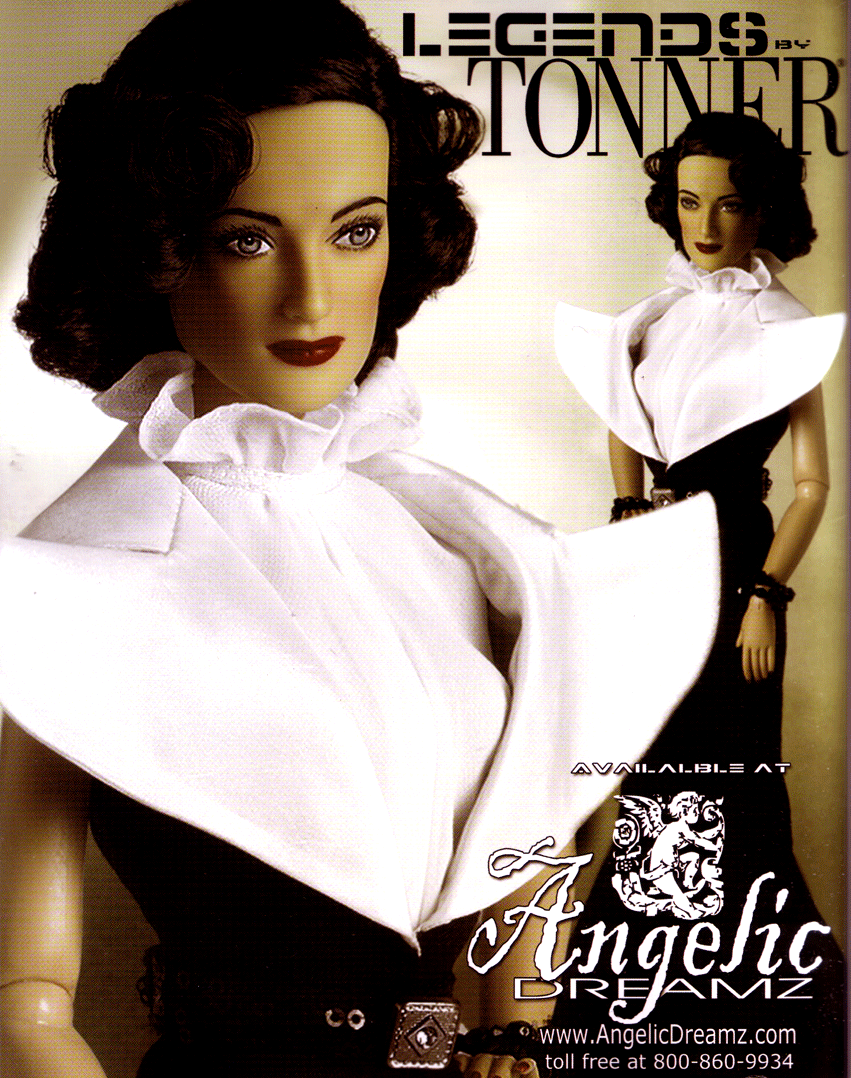 Below: A great article about remembering the original version of The Women which was recently remade. The webmaster of this site, Neil Maciejewski, got a mention in the photo caption as well.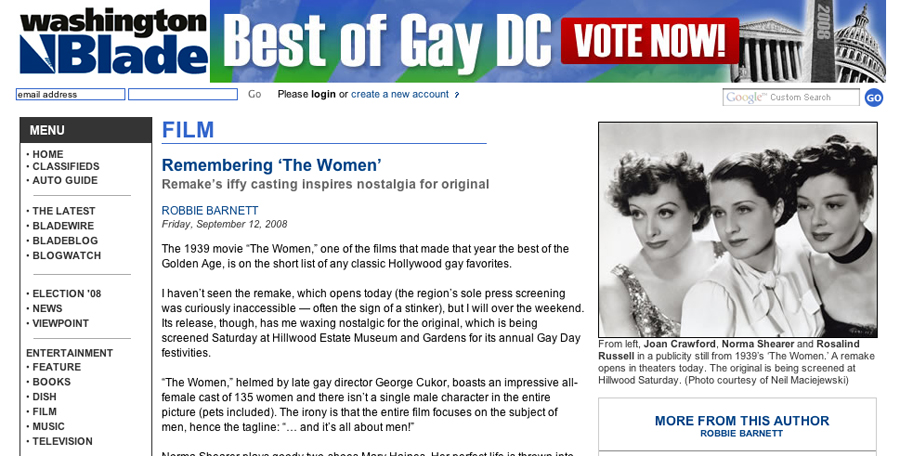 Featured below is the Tonner Fall/Winter 2008 Retailer Catalog. This beautiful display of the upcoming dolls shows the amazing resemblance to Joan. This website also gets a mention in this spectacular collateral piece!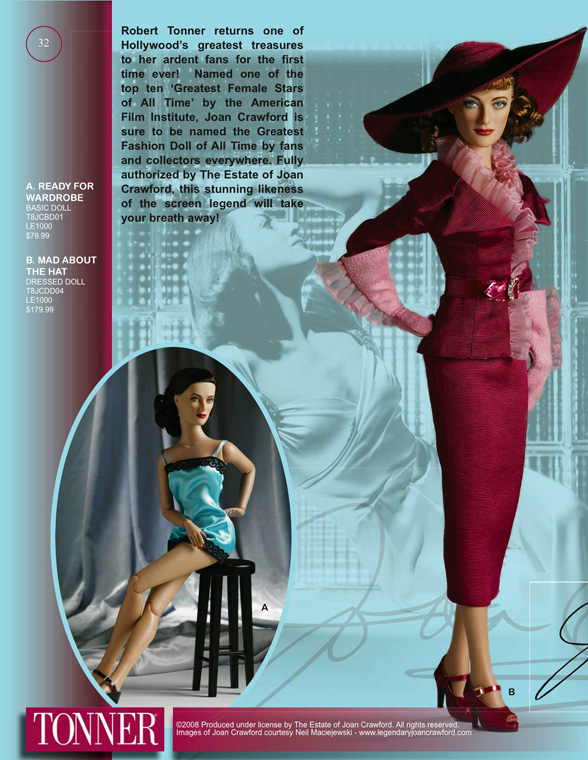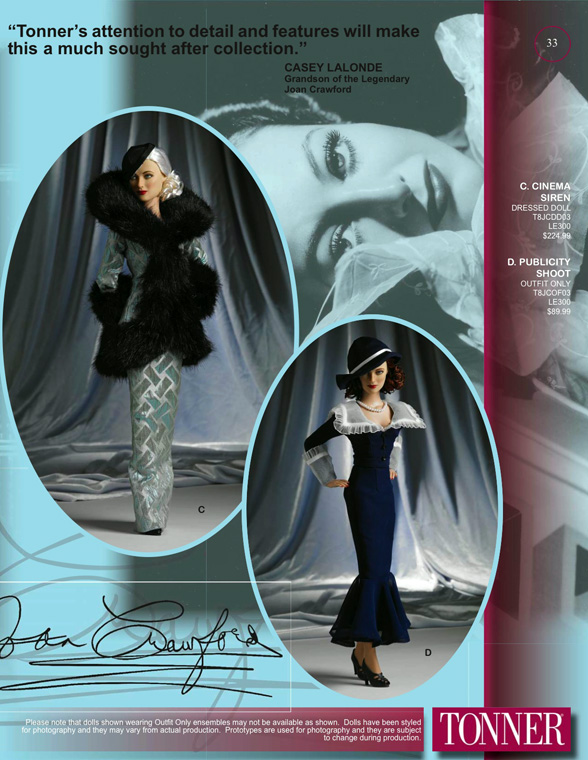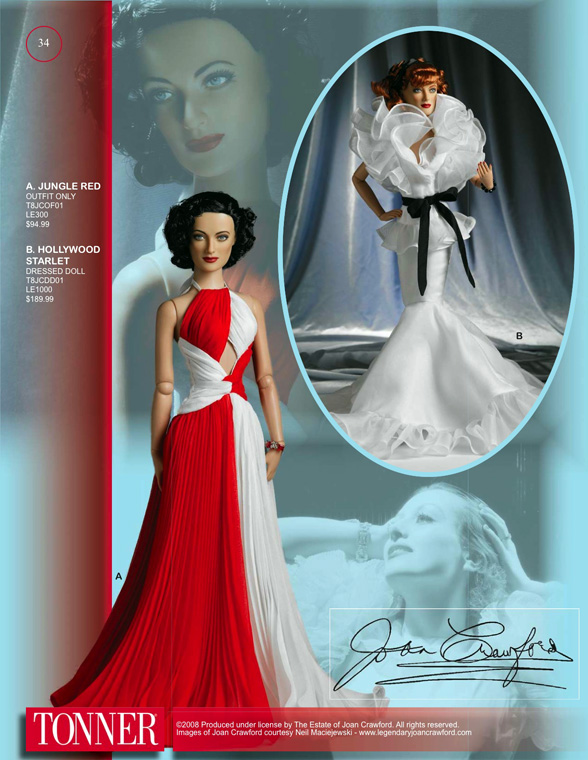 The Joan Crawford Collection showcases an exceptional assortment of original fashions
inspired by some of her most well-known scenes.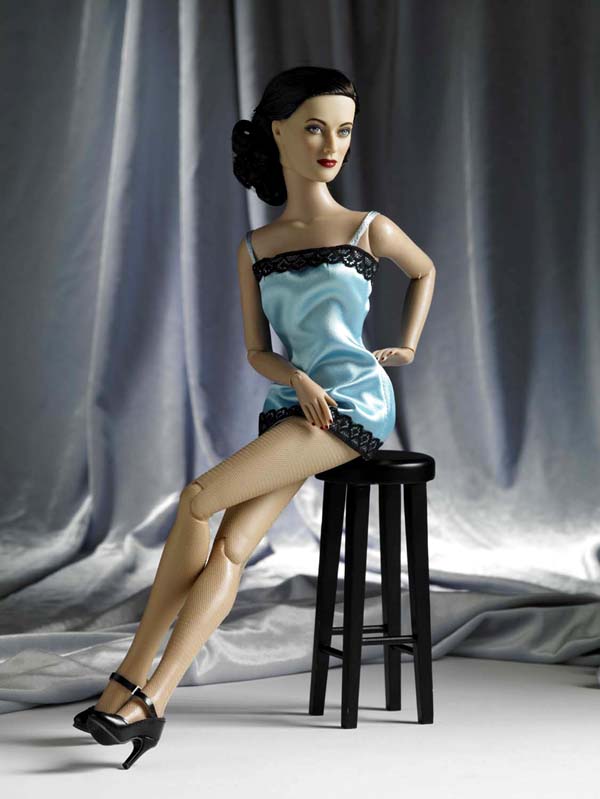 Above: Joan prepares herself for her next dramatic scene, in "Ready for Wardrobe." These simple yet elegant undergarments include lustrous aquamarine charmeuse slip with delicate lace trim, the 'ever important' pantyhose with attached knit panties, and classy faux leather Mary Jane heels.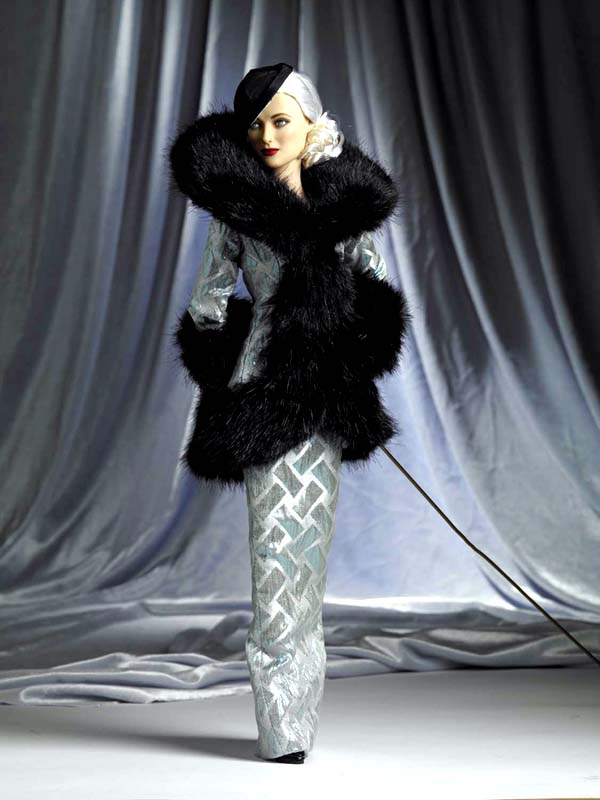 Above: Joan Crawford lights up the screen as "Cinema Siren!" This dazzling vision consists of a finely tailored suit set which includes a long, straight cut skirt and a matching jacket accented with glamorous, plush faux fur trim. Her equally striking accessories include a chic black cap, knit gloves, pantyhose, and faux leather ankle strap high heels.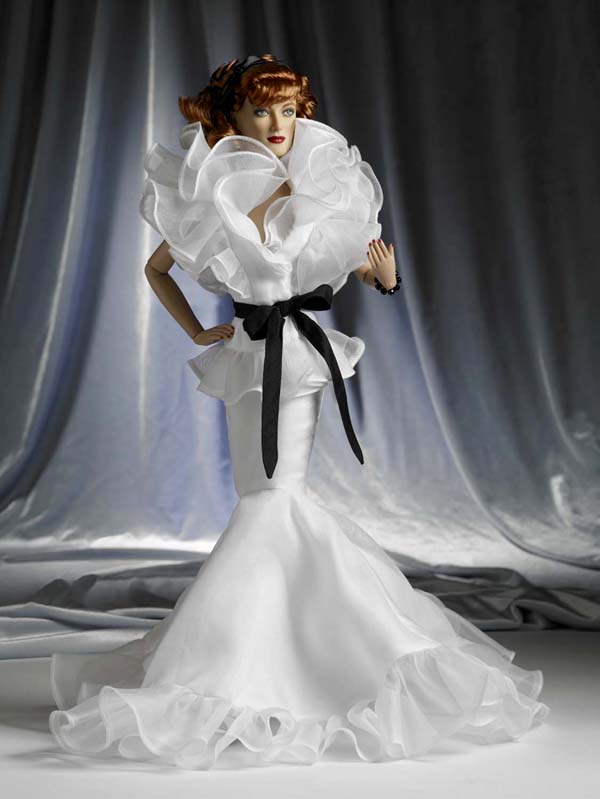 Above: Inspired by one of her most famous roles, comes "Hollywood Starlet." Joan is swathed in a frothy concoction composed of an intricately detailed white organza top and trumpet skirt with contrast black waist tie. She comes complete with a perfectly matching ribbon headband, beaded bracelet, pantyhose, and faux leather high heels.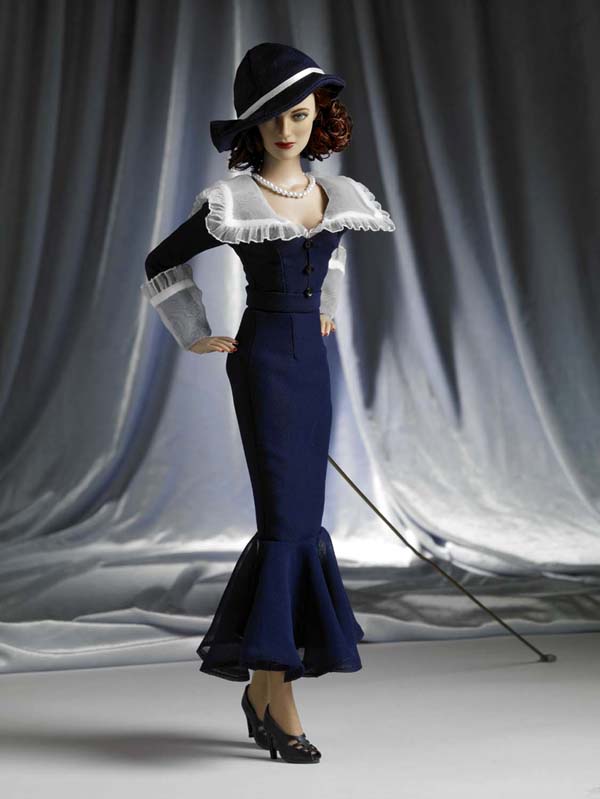 Above: To face the trials and tribulations of Hollywood, one must be dressed for success. In "Publicity Shoot," Joan is ready for anything in navy blue chiffon day dress featuring meticulous details including tiny buttons, contrast organza cuffs and wide collar trimmed with ruffles, matching belt, circular flounce at the hem. A stylish cloche hat with ribbon trim, faux pearl necklace, and faux leather pumps with intricate cut-out detailing complete this handsome ensemble.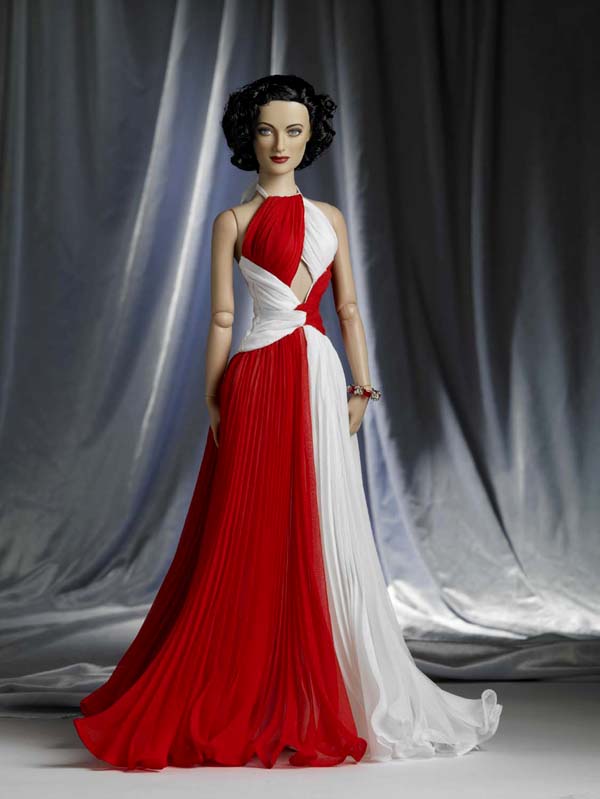 "I have always known what I wanted, and that was beauty... in every form." "Jungle Red" is a perfect example of beauty in the form of high quality fashion. Included in this truly glamorous ensemble is a full length, pleated chiffon dress with intricate shirred detail and striking red and white contrast, paired with a perfectly coordinated beaded bracelet and faux leather strappy heels.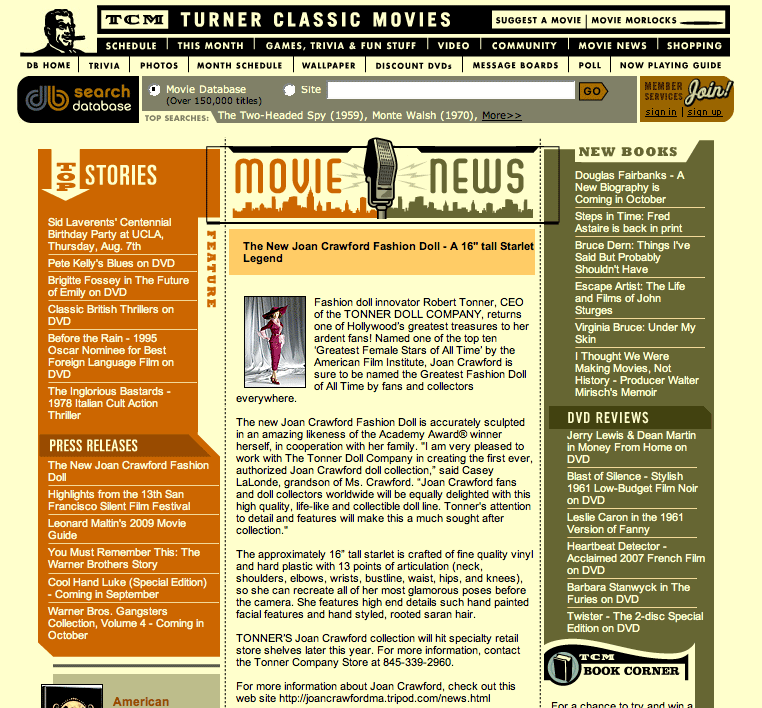 Above: Click the image above to see the press on the Joan Crawford Tonner Doll and the legendaryjoancrawford.com Website!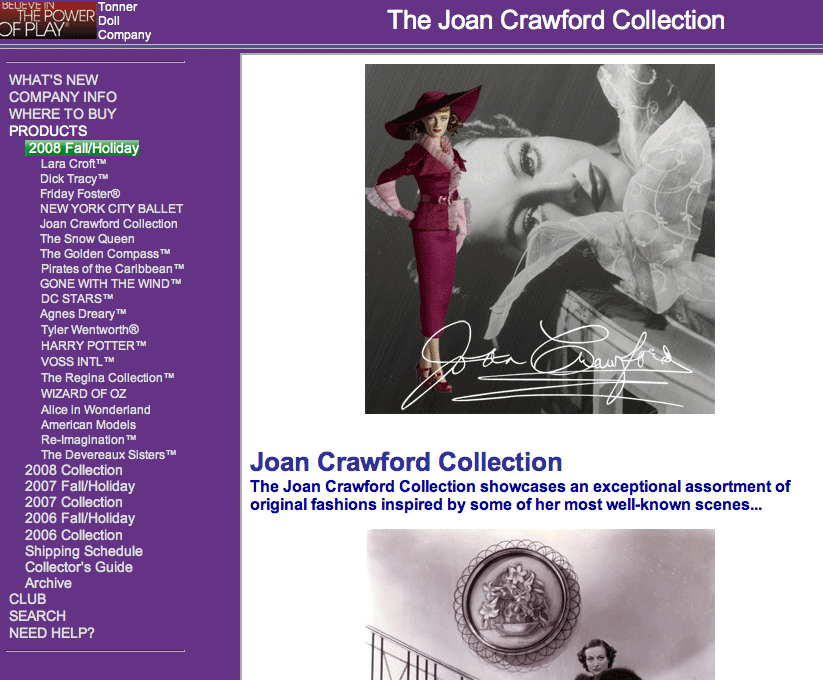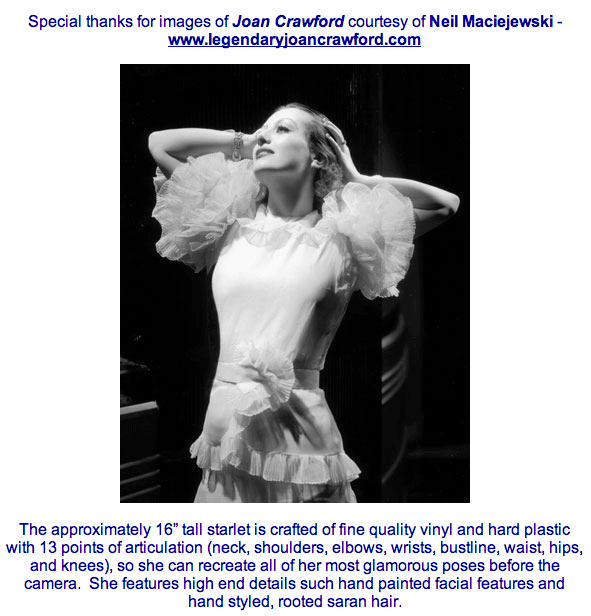 Above: Click the images above to see the press release on the Tonner Doll Website and a shout out to the legendaryjoancrawford.com Website.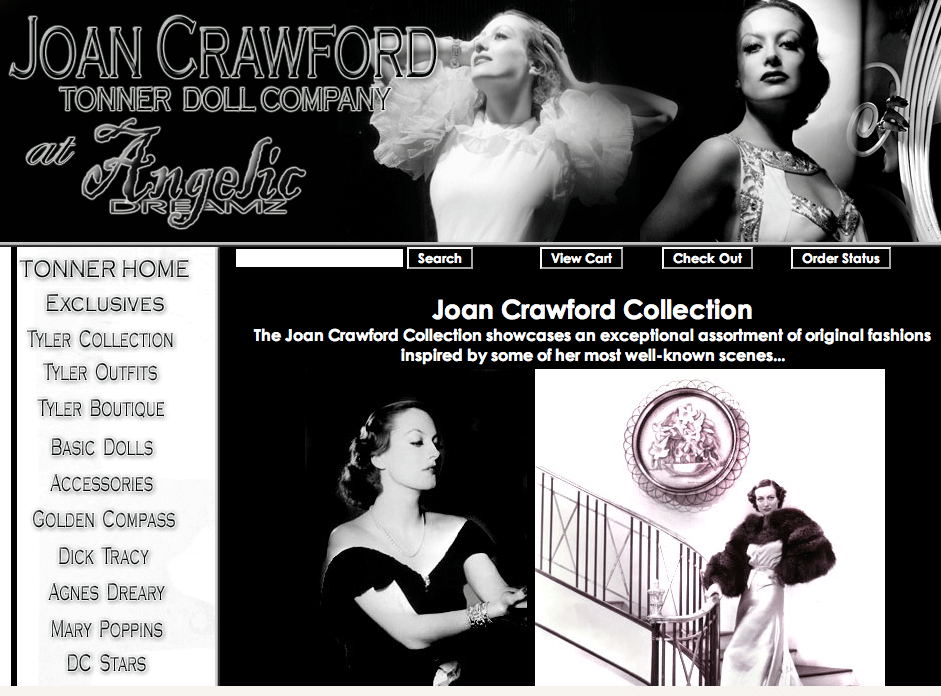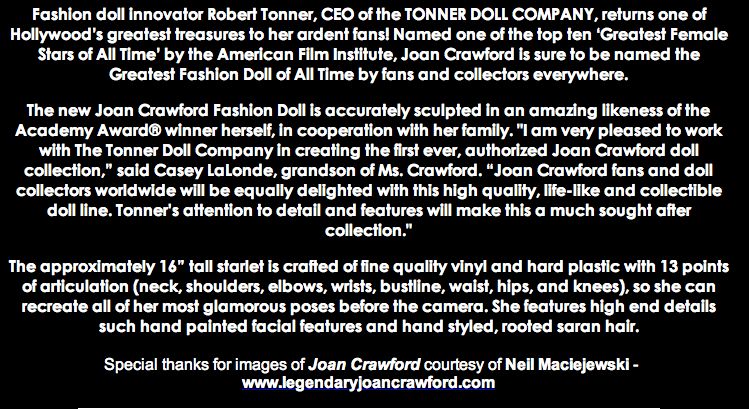 Above: Click the images above to order the Joan Crawford Doll from one of the worlds biggest doll seller Angelic Dreamz and see the mention of the legendaryjoancrawford.com Website.
Above: Photos from the 13th Annual Silent Film Festival that took place from July 11th - July 13th. The legendaryjoancrawford.com website was promoted before the showing of the 1927 film, "The Unknown."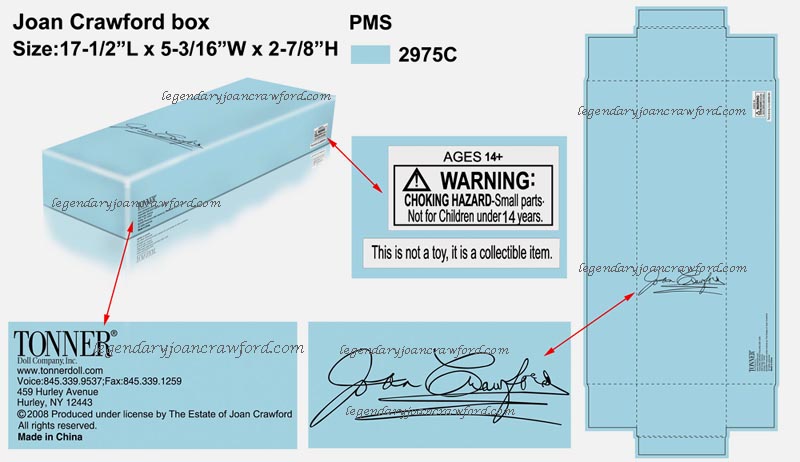 Above: Exclusive photos from Tonner Doll Co. of the Joan Crawford Box Design! The box color is inspired by Joan's famous blue stationary and a copy of her famous signature appears on the box as well!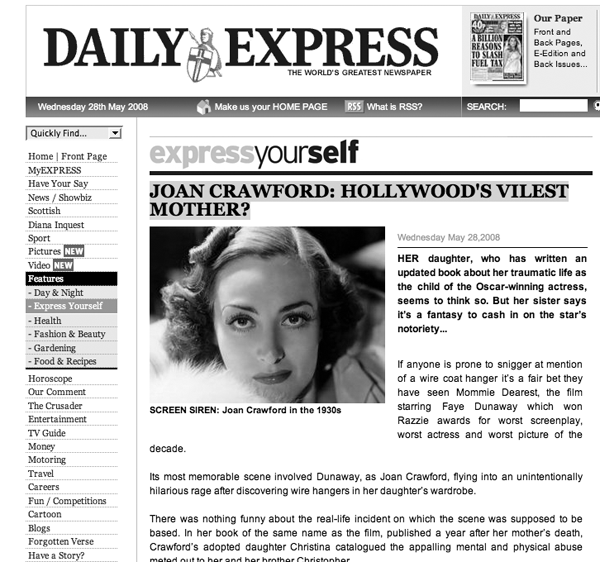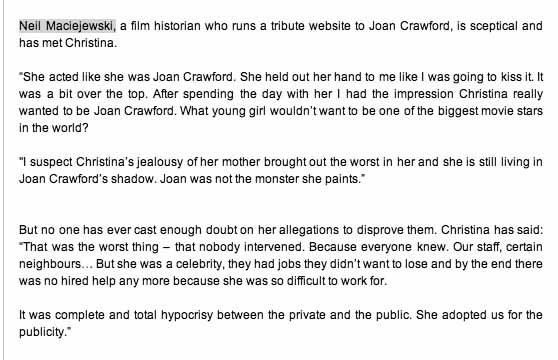 Above: Quoted in "The World's Greatest Newspaper," The Daily Express in an article about Christina celebrating her alleged abuse. Click on the above images to read the full article.
Above: Exclusive photos from Tonner Doll Co. of the Joan doll progress! Feast your eyes on Joan's chiseled face and head! Stay tuned for more!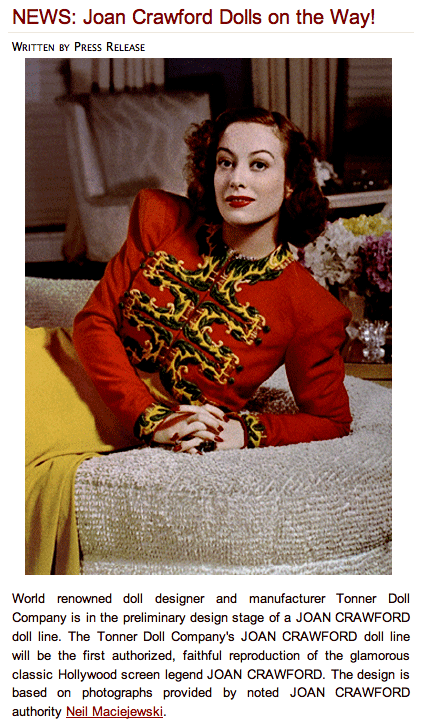 Above: Click the image below to read the press release on The Midnight Palace site, regarding the line of Joan dolls coming soon from Tonner Doll Co!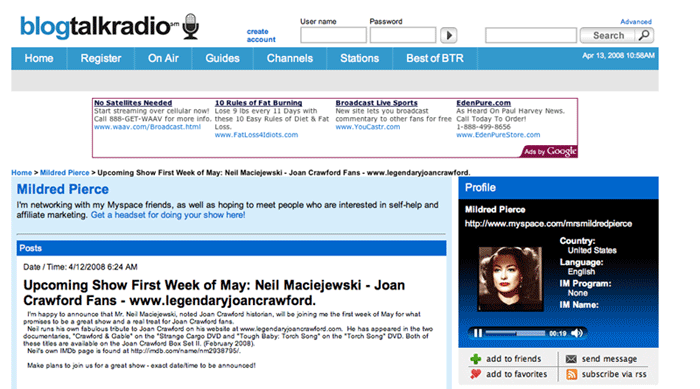 Above: Coming in May 2008, I will appear on blogtalkradio to talk Joan! Read the press release above!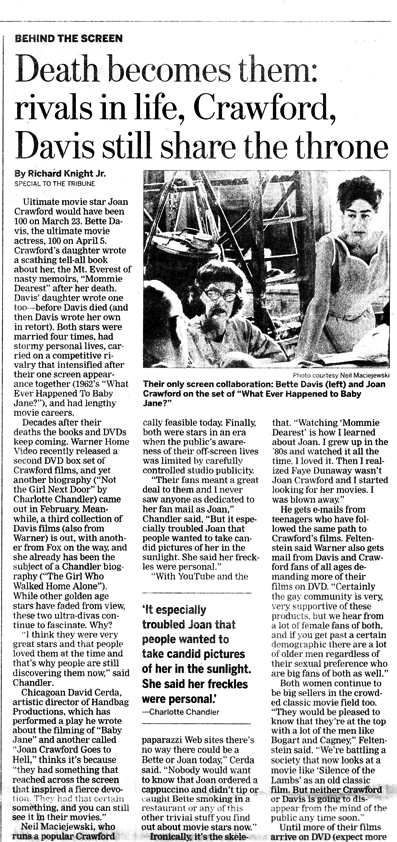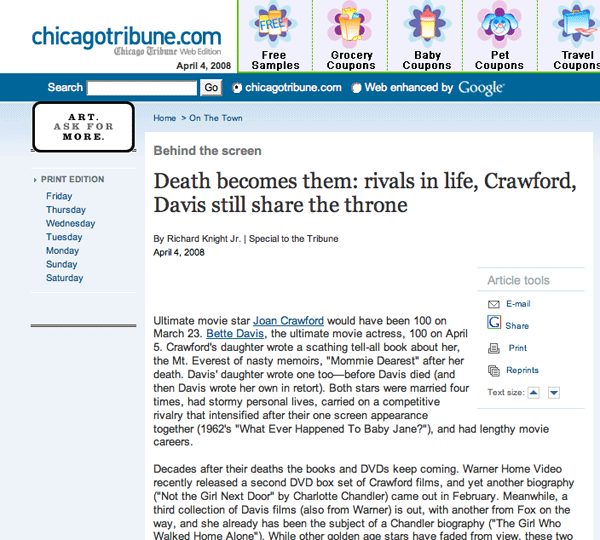 Above: Click the photo above to read the article about Joan and Bette Davis called "Death becomes them: rivals in life, Crawford, Davis still share the throne!" I am quoted in this article. (April 2008)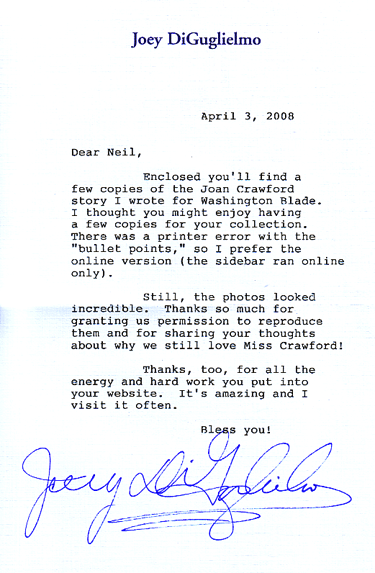 Above: A thank you letter from writer Joey DiGuglielmo - notice the "Joan" stationary!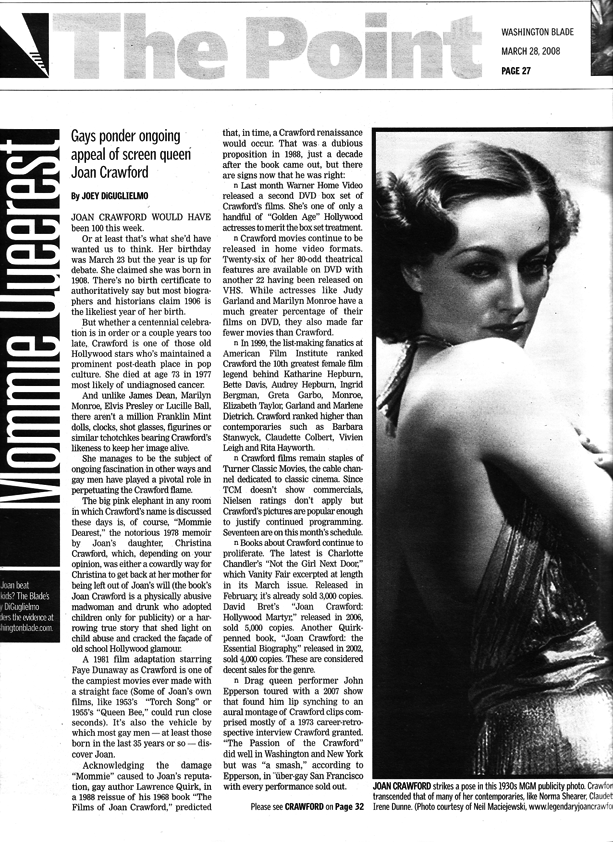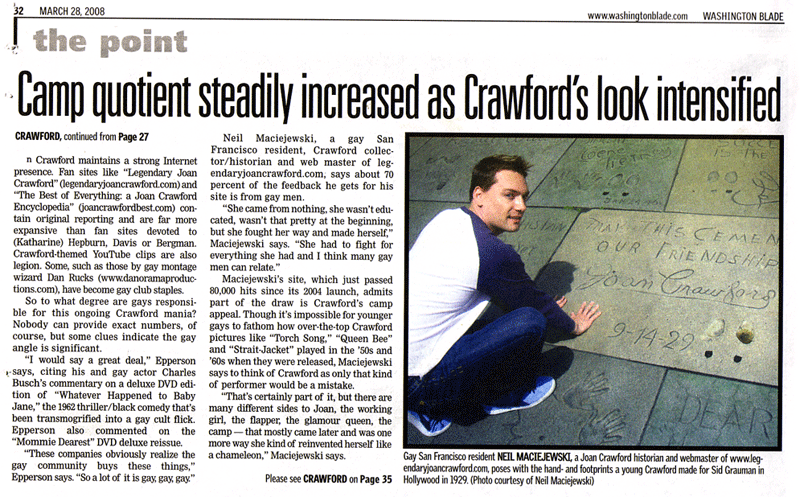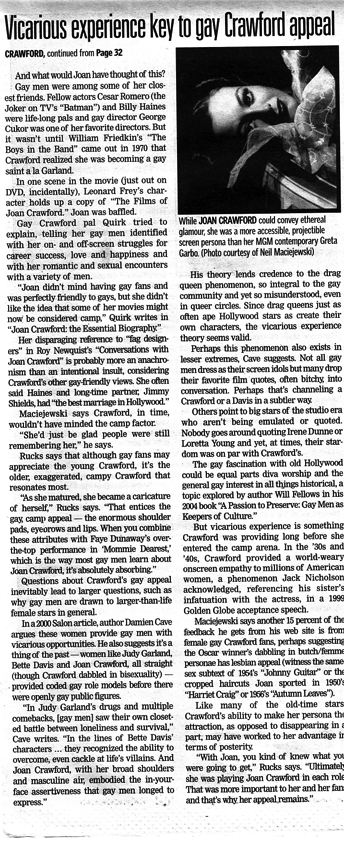 Above: Actual scans of the Washington Blade newspaper the article appeared in!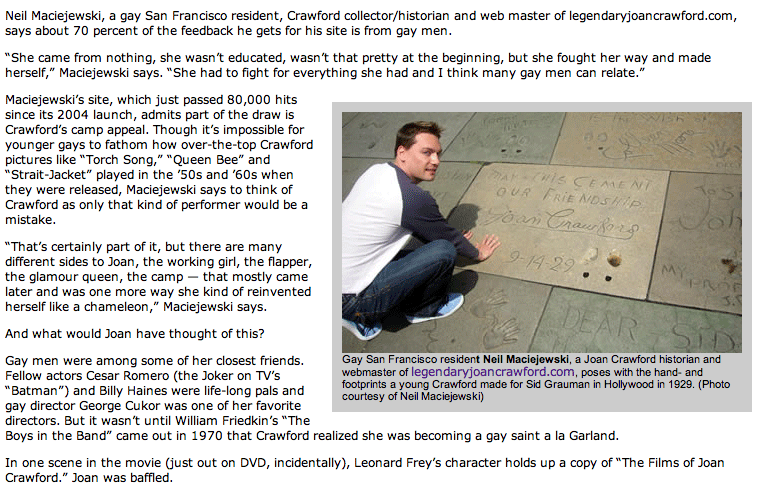 Above: Click the photo above to read the two articles about Joan called "Mommie Queerest" and "What Ever Happened to Joan Crawford?" I am quoted and featured in both articles. (March 2008)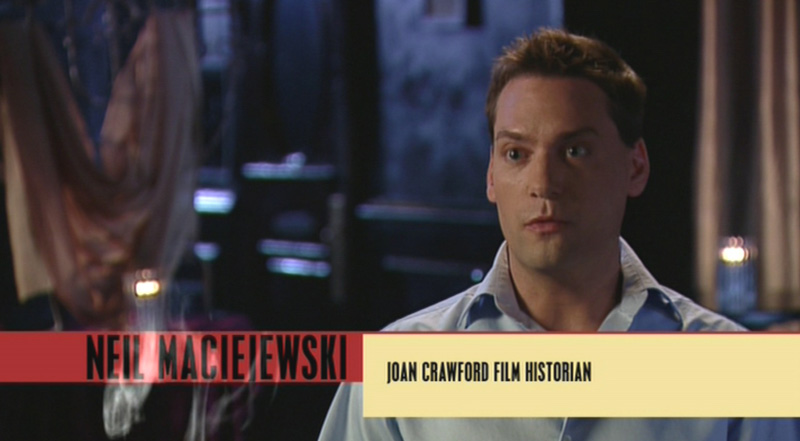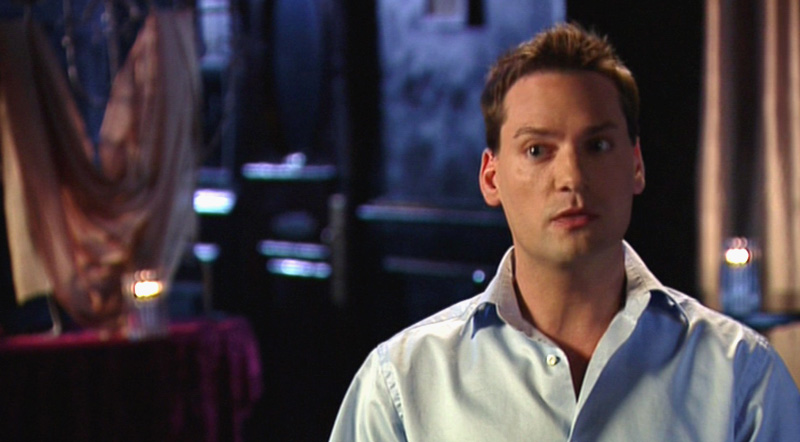 Above: Screen shots of my appearance in the documentary "Life in the Shadows - The Making of Daisy Kenyon," which can be seen on the "Daisy Kenyon" DVD. (March 2008)
Above: Screen shot of my appearances in the two documentaries, "Crawford & Gable" on the "Strange Cargo DVD and "Tough Baby: Torch Song" on the "Torch Song" DVD. Both of these titles are available on the Joan Crawford Box Set II. (February 2008)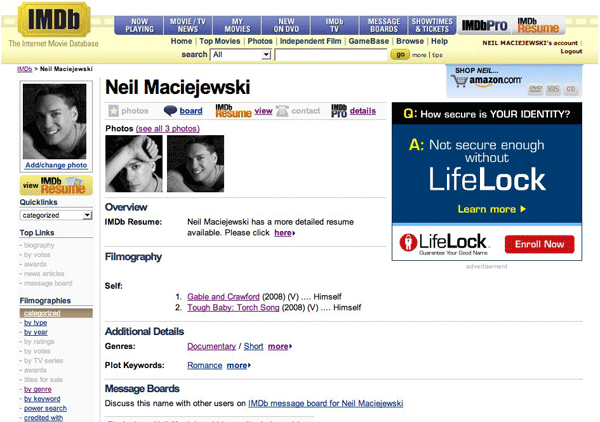 Above: My very own IMDb page. Stay tunned for more additions to my IMDb page! Click on the image above to go to my IMDb page. (February 2008)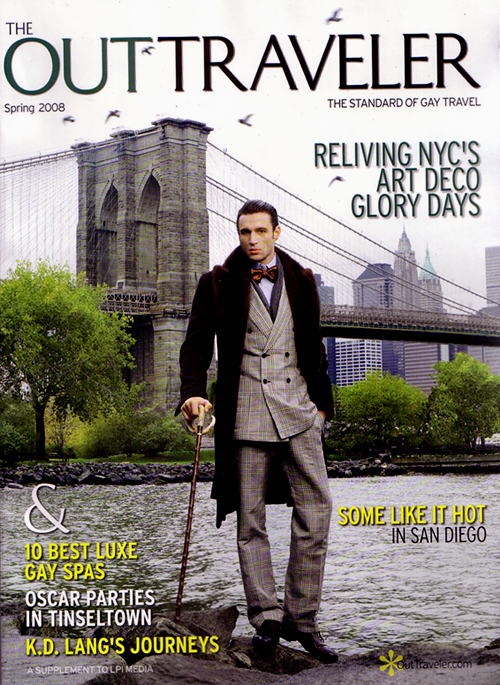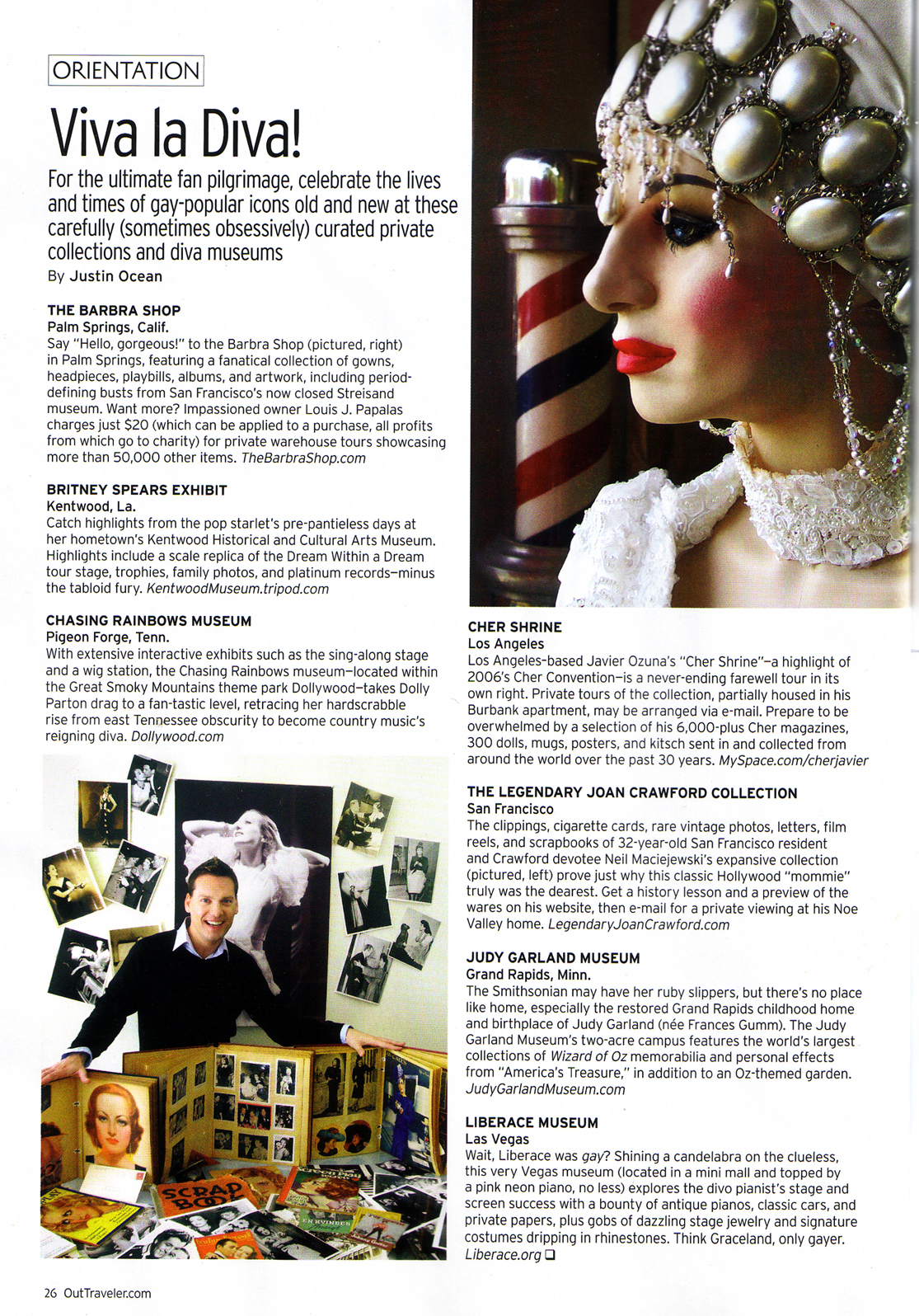 Above: The Spring 2008 issue of Out Traveler! I was asked to be featured in the Viva la Diva section which celebrates popular gay icons and the fans that collect their memorabilia. Click the article above to read the write up on the Legendary Joan Crawford Website. How cool is this!? (January 2008)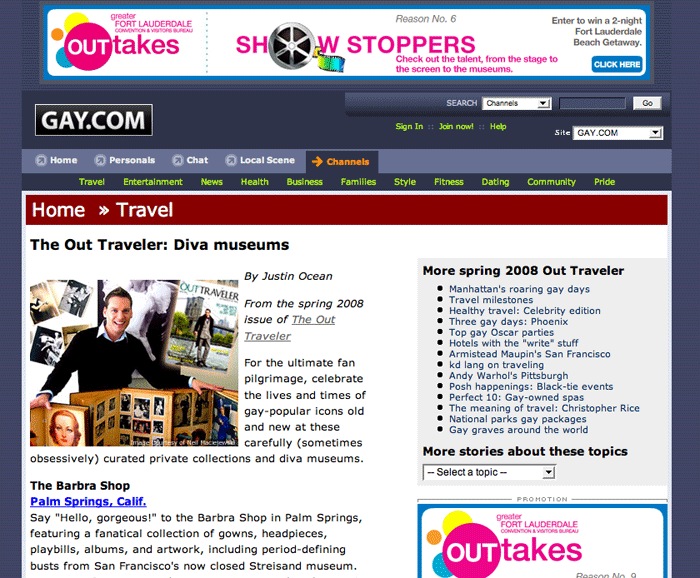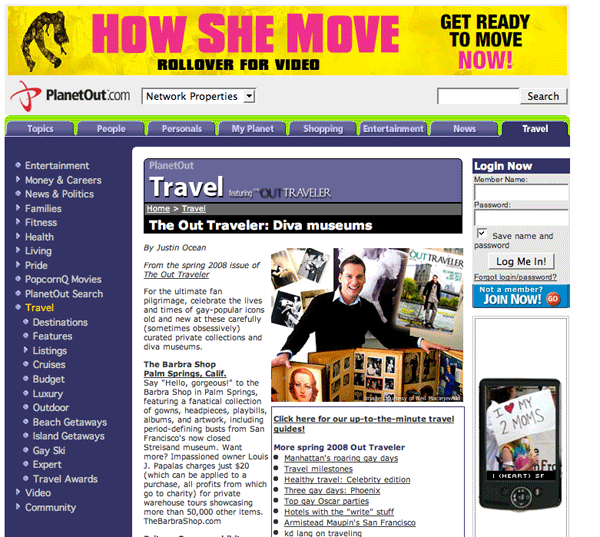 Above: An extension of he Out Traveler article on the Web! Click the above screen grabs to see the article on gay.com and planetout.com. (January 2008)
If you would like to inquire about using high-resolution photographs for video productions, books, magazines, newspapers etc., please contact me at the email address below. When emailing, please state what media form you would like to use the images for and what types of images you are looking for. If you would like to contact the Webmaster, Neil Maciejewski, pertaining to anything press related or if you require his services for any media outlets, you can also email him at the link below.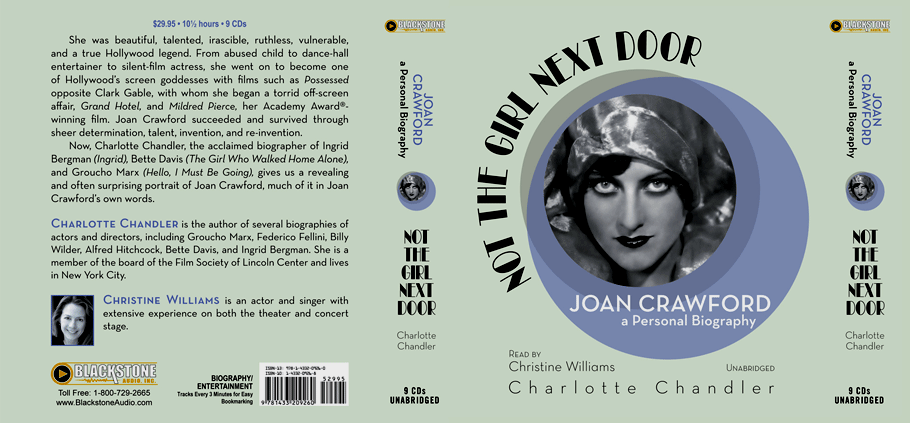 I was contacted by Blackstone Audio Inc. for the packaging of Charlotte Chandler's new audio book on Joan Crawford "Not the Girl Next Door." They wanted an image of Joan to use for the cover of the audio jacket. The image you see of Joan from 1926 above on the cover of the audio book was supplied by the Legendary Joan Crawford Website! The audio book will be released on February 12th 2008 - same day as the hardcover book. You can purchase the audio book through blackstoneaudio.com
Neil Maciejewski is a Joan Crawford historian, fan and avid collector of Joan Crawford paraphernalia. Neil will be appearing in several Joan Crawford documentaries. Neil also designs and operates the Legendary Joan Crawford Website, the official Joan Crawford Website, which has been in existence for three years.

Neil has also partnered with author Michelle Vogel and Joan Crawford's grandson, Casey LaLonde in writing a Joan Crawford book, which will be released in 2008.
Our lawyer at the Author's Guild, says:

If you are planning to use an image of a Hollywood celebrity to sell merchandise, California Celebrity Rights Statute 990 requires that you contact that celebrity's estate or representatives to obtain permission and pay a percentage. However, if you are printing a negative or copying a photo of a Hollywood celebrity solely for personal enjoyment or artistic purposes (editorial use that conveys information), the following applies.

All Hollywood still photographs and negatives made on or before December 31, 1977 are in the public domain. The revised copyright law went into effect 1/1/78.

1. The work was made for hire. The film studios hiring the still photographers decided the content of the photographs. No photographer or estate can claim intellectual copyright on Hollywood publicity photos.

2. The film studios did not copyright either photographic negatives or prints. Once the images appeared in print without a registered copyright notice, they immediately lapsed into the public domain. This has been established beyond doubt by the copyright search firm of Thompson and Thompson in Washington, D. C., which states that no motion picture company ever applied for a copyright for any still photograph made in connection with a Hollywood feature film.

California Civil Code §990 prohibits the unpaid and unlicensed use of celebrity images registered with agencies such as Curtis Management, but makes important exceptions:

This section shall not apply to the use of a deceased personality's name, voice, signature, photographs, or likeness in any of the following instances:

(1) A play, book, magazine, newspapers, musical composition, film, radio, or television program . . . .

(2) An advertisement or commercial announcement for use permitted by paragraph . . .
Below are letters I have received from press related items such as, magazines, DVD documentries and photo releases. Thanks for the support everyone!
Hello,

I just saw your Legendary Joan Crawford site. I got the link from Out magazine. I don't know how to verify this, but I delivered newspapers to a house she lived in 1952-53. I collected the money from the maid. One day, I knocked on the side door but the maid came out the garage door. I saw, through the doorway, the open door of the walk-in refrigerated locker. Anyway, the house was a modern rancher on a cull-de-sac. It had the redwood siding with some floor to ceiling windows. The housed backs to the shore in Mamaroneck , New York. I was told she lived there occasionally. The devotement is called Greenhaven.

I did see Ms Crawford at the drugstore. My surprise was that she was short in real life. I loved her movies.

Regards,
Al Miller

Hello,

I read about your collection and website last night in Out Traveler and vowed that I would take a look at it today.

I've just spent a ridiculous amount of time there and am still not finished and still fascinated! You've done an
admirable job and I congratulate you. I have several celebrity websites myself (Jennifer Jones, Greta Garbo, Deborah Kerr and more) and understand the amount of work that goes into one.

I was especially fascinated by the information you found on Joan's children. How on earth did you track this down? I've been trying for years to find information bout Jennifer Jone's children and can't seem to find anything. And I'm a
librarian!

I've always loved Joan Crawford and I was excited to hear that one of my favorite films - "A Woman's Face" - is finally being released on dvd. A biography on her is long overdue. I'll be looking forward to your book.

Keep up the great work!

Sincerely,
Phillip Oliver
Hi Neil,

First, I want to tell you I have really enjoyed checking out your site and I know how much work you must have put into it!!! It's definitely one of the best Joan sites out there!

I thought I'd ask you since I've had no luck looking for this certain piece of Joan memorabilia and I thought you may have seen one. I'm looking for a photo (if not the real thing) of a cardboard axe that William Castle supposedly handed out to movie patrons to promote Strait-Jacket. I collect Strait-Jacket memorabilia in particular (and some other Joan things) and have been looking for even a photo of the axe. It's never appeared on ebay. Any help or info you could give me would be great!

Take Care,
Carson Baxter
Hi Neil,

Just found your site...it has to be the best out there.

You and I share many similarities with regards to our interest/introduction to "Joan". It is nice to know I am not the only one.

Thank you so much for taking the time to put together your web page so that we may all share in our passion for Joan.

I look forward to more updates and watching the site grow even larger.

Be well
Jeffrey