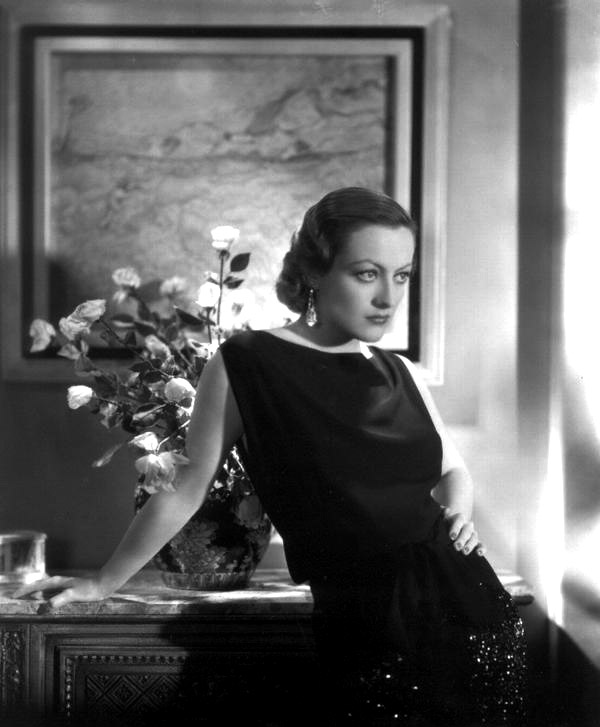 "Home and Mother. I wonder who ever put those two words together."
- Joan Crawford, from the movie "Letty Lynton."


There's no place like home. Lucille Le Sueur, Billie Cassin or Joan Crawford would have never spoken those words. It is no secret that Joan's childhood and home life were not favorable. Joan was very open on how she was treated as a child by her mother, brother, peers and several "step-father's." All of these elements affected her throughout the rest of her life. On this page I will discuss and elaborate on Joan's younger years and speculate a little on what events molded the young girl, Lucille LeSueur, to become the famous woman... Joan Crawford.

This page touches on the places Joan lived and went to school. I also talk about what was going on at that time in her life when she was at a certain residence. This site will be a work in progress and I will be adding photos and information. If you have any information about Joan and the places she lived or went to school, please email me @ jcrawford1904@yahoo.com
Joan Crawford with her mother Anna in 1934. Also pictured is director W.S. Van Dyke with his mother as well.
Above: Top row center is Thomas Le Sueur, Joan's father. To the right of him, wearing a black bow in her hair is Joan's aunt, Betty Johnson. In the second row (left to right) are Joan's uncle, her mother Anna Bell Johnson Le Sueur holding Joan's brother Hal, Joan's maternal grandmother Mary Ellen Johnson holding Joan's sister Daisy, and far right is Joan's grandfather Sylvester Johnson. The picture was taken before Joan's birth.

Joan Crawford was born Lucille Fay Le Sueur on March 23rd 1904, 1905 or 1906 in San Antonio, Texas. She lived with her mother, Anna Bell and older brother, Hal. Her father, Thomas, lived with the family in Texas until Joan was three or four years old. Thomas abandoned the family and never returned. Anna was bitter over his leaving the family and her to struggle to make ends meet. Anna and her two children lived in a rundown apartment building. Anna moved her family to Lawton, Oklahoma where another man would soon enter into the family. A picture of the small house they would soon call 'home' in Lawton.
After moving to Lawton, Oklahoma around 1909, Anna soon met a vaudeville opera house owner named, Henry Cassin in the early part of 1910. Anna wanted a better life for her children and herself and marrying Cassin would provide the broken family with security and stability.....or so Anna thought. They moved in with Cassin to the above home that was located at 804 D Avenue in Lawton. A census report was taken in 1910 and was completed on April 20th 1910. On the census report it says that Lucille was five years old and Hal is eight years old. One theory this is that since Lucille would have turned six years old on March 23rd and the census report is dated less than a month later, the census taker most likely took the information before Lucille turned six years old and the report wasn't officially entered into the proper document until April 20th. Also, Hal was most likely born in 1902 since on the report his age is listed as eight years old. So with Hal being born in 1902, it makes sense that Lucille (Joan Crawford) was born in 1904. 1905 or 1906 could be birth years for Joan as well. The censue could be correct and in fact she was born in 1905. It's hard to rely on this census since Hal's age is wrong. One will never know the true year of Joan's birth. Below is a picture of the census report.
Click on the census picture above to see a better view of it.
Lucille and family lived with Cassin from 1910 till about 1916. During this time Lucille had taken a shine to her "new" father, Henry Cassin, and also showed a lot of interest in dancing. Lucille would watch people perform at the opera house and long for the day she could entertain the public through dancing. She even had a stage named picked out by her stepfather, Billie, and she adopted his last name, Cassin. Billie Cassin would be the name Lucille would go by for several years. When Billie was eight years old, she injured her leg while jumping from a porch and cutting open her leg on a broken bottle. Billie had to have several operations and was held back from school almost two years, which explains why she was much older and still in elementary school at an older age. Billie's world would come to a halt in 1916 when her mother discovered her husband was being intimate with her twelve-year-old daughter. The marriage quickly came to an end and Billie learned that Henry Cassin was not her biological father. Billie was crushed and remained devoted and expressed her love for Cassin. Anna took her two children and left Cassin. Billie had been enrolled at Scarritt Elementary School and was forced to work in the school in order to stay enrolled. Below is a photo of the Scarritt Elementary School Billie attended.
Anna left Lawton and moved her family to Kansas City. Henry Cassin was said to have followed the family in hopes of reconciling but his attempts were short-lived. Henry never lived with the family in Kansas City, although he made an attempt, Anna was not about to let this man back into her life and continue an abnormal relationship with her daughter. Anna and Billie never really got along but Billie was a child and Anna knew that what Henry was doing was sick and wrong. Anna moved herself, Hal and Billie into a rundown hotel she had managed called, "The New Midland Hotel." Anna was working across the street at a laundry place called "City Gate Laundry." Eventually, the family moved out of the rundown hotel into the laundry across the street. Below is a photo of where the laundry existed where the family lived.
Billie was enrolled at the age of thirteen at the St. Agnes Academy in Kansas City in 1917. St. Agnes was a school filled with well-to-do girls who had parents to pay for them to be there. Billie who was living in a laundry and coming from a poor family, she had to work for her tuition. Billie spent hours cleaning bathrooms, waiting tables and doing menial chores. This is where I believe Joan developed her obsession with cleanliness that would carry through for the rest of her life. The other girls were very mean to Billie and would pick on her clothes and her appearance and Billie envied the other girls. Billie spent two years at St. Agnes and rarely had time for her academics and transferred in 1919 to the Rockingham academy. Below is a photo of St. Agnes Academy.
Above: An early photo of young "Billie Cassin" with her classmates at St. Agnes. Billie is first from the left.








Above: St. Agnes school that Billie attended located at, 128 North Hardesty at Scarritt, Kansas City, Missouri.
At the young age of fifteen years old, Billie was transferred to a school for "difficult" children, Rockingham Academy. Once again, she had to 'work' at the school to pay her way but the work over powered her schooling and she was basically the maid for the academy. Joan was becoming very social at Rockingham and especially with the boys. Her sexuality was most likely more developed and aware for her at this time. She would attend dances and was well known to the boys as "easy." Billie stayed at Rockingham until 1921 where she then transferred to Stephens College in Columbia, Missouri. Billie was not at Stephens long, actually leaving before the first term was over. Billie was seventeen at this time and was restless for what she wanted to do the most...dance.
Billie was now living back home with her mother and her mother's new husband, Mr. Hough. The living situation was tense with Anna threatened by her attractive young daughter and bad memories from the past. Billie worked odd jobs and focused on her dancing. By the time Billie was nineteen, she had resorted back to her birth name Lucille and had won numerous dance contests. Lucille then fled to Chicago and worked various jobs. She then was spotted by a Broadway mogul and moved to New York City and worked in nightclubs and performed in stage revues. In 1924, Harry Rapf came to NYC and spotted Lucille while he was scouting for new talent for MGM studio. Lucille passed the screen test and was on her way to California. It was January 1925 and Lucille was soon to turn 21. She stayed in the Hotel Washington, which was four blocks away from the MGM studio. The Hotel Washington is pictured below.
Above: The Hotel Washington where Lucille stayed when she first came to California for MGM Studios.


Below: A young Lucille Le Sueur and her many dance contest-winning trophies.


During her first year at MGM, Lucille posed for cheesy photos and had small minor roles. She was known for her youthful energy and her talent for dancing, she mastered the Charleston and Black Bottom dances. During 1925, she started dating a wealthy boy by the name of Michael Cudahy who was her dancing partner and as a team they won several dance trophies together. It was also around this time that MGM mogul, Louis B. Mayer, decided that the name Lucille Le Sueur wasn't the best name to launch the up and coming actress. Lucille Le Sueur was now known as, Joan Crawford. Joan appeared in eight movies from 1925-1926 each more successful then the other and she rented her first bungalow and bought a brand new car. Joan was on her way to becoming on of MGM's biggest stars.
Above: A rare photo of Michael Cudahy and Lucille Le Sueur on the beach in 1925.


Below: A group of young starlet's at the MGM studio. Lucille is the first from the left wearing the black button down dress.


While Joan was enjoying her new success in her cozy bungalow, Hal and her mother also wanted a piece of that success and they came to live with Joan in the bungalow. Her mother and Hal treated her very cruel and Joan already couldn't wait to escape from her new home. Joan would stay at the Culver City bungalow until 1927. Her next home would be at 513 North Roxbury Dr., Beverly Hills, CA she would buy with help from MGM. The purchase price was $28,000 completely furnished!! Joan was loaned $6,000 for the down payment. The house was a Spanish style; cluttered with Spanish furnishings. It was rather dark inside as was the furniture all dark woods. In the house, behind a great Spanish divan (sofa,) was a large velvet hanging with a painting of Joan almost nude on the wall. Red velvet was everywhere in the house. Giant red velvet floor pillows made the living area very inviting. The bedroom had a low, huge bed once again covered in velvet and drapes matched perfectly. The house was very seductive throughout with soft lighting and soft atmosphere. Joan lived here until she married her first husband, Douglas Fairbanks Jr.
Above: Joan in front of her new home in Beverly Hills, Ca. She paid $500 a month to live in this stunning home.




Above: An inside view of the exquisite dining room.
Joan's next residence would be on 426 North Bristol Avenue in Brentwood California. Joan purchased this property for $57,000 in 1929 and lived there for 26 years and over that time the home changed quite often. After each husband she pretty much had the house redecorated. Her life long friend, William Haines, was responsible for the interior changes to the home and Joan was one of his first clients before he became know as the "IT" interior designer. Joan went through three marriages in the Brentwood home, Fairbanks, Tone and Terry. It was known that every time she divorced each of her husbands, she had the toilet seat changed. Also she raised four children in this home as well. Once she married Al Steele in 1955, she sold her home of 26 years and moved to New York.
~Above: Newlyweds Joan Crawford and Douglas Fairbanks Jr. in the garden of their Brentwood garden.~


When she first purchased the home in 1929, she was newly married to Douglas Fairbanks Jr. The Spanish style home was named "El JoDo", a take on both their names and was completely refurbished into a New England style house. The furniture was all English antiques; drapes were now a bright rose color and green chintzes. The same pattern carried through to the divans in the parlor. A mauve rug welcomed a beautiful English fireplace that was decorated with pewter accents. The dining room was very large and had a genuine Duncan Phyfe dining table that was nine feet long and was surrounded by nine matching chairs! A matching sideboard, also a piece of Phyfe, was six feet long. Large windows on one side of the dining room welcomed a large watering hole and on the other side of the room, you could see a goldfish fountain in the yard. There was also a spacious music room with a grand piano, which matched the living room and was home to many etchings and drawings done by Doug Jr. A playroom was off of the music room that housed Joan's collection of dolls, over 300 dolls! The stairs, leading to the upstairs, were adorned with original Spanish tiles. The first room upstairs was the guest room, which was decorated very feminine with a four-poster bed with a lace canopy and gingham accents. Opposite of the guest room is Doug's room that is decorated in hunting scenes on the bedspread and hunting scene pictures throughout the room. Finally, Joan's room. An eight by six four poster canopy bed faces you when you enter the room. The room is decorated in rose taffeta and several pieces of antique furniture. A chest of drawers that was one hundred and fifty two years old sat next to Joan's bed. (The chest would be two hundred and twenty-years old today!) The bathroom off of Joan's room has rose tile with a huge linen closet filled with drawers. The drawers are filled with soaps, bath salts, hair accessories and make-up. Shelves of colorful towels are folded perfectly. A separate shower stall with glass doors and an individual bathtub are also in this large bathroom. Click on the picture below of the gates to the entrance of the Brentwood home to see more photos.
Click on the gates above to see the Brentwood Estate photo gallery.
"Doug often asks me why I don't relax when I come home? No matter what time it is, or whether I have worked twenty hours or eight, I always go through every corner of this house to see that things are, as I want them. My home is my life, now, you see." ~ Joan Crawford quoted and pictured (above) in the 1930 issue of Screenplay magazine.
~Joan's love for dolls was very apparent here in this photo but soon after her marriage to Fairbanks ended, she found the collection childish and got rid of her cherished doll collection.~
Joan lived in Brentwood for 26 years and over that time the home changed quite often. After each husband she pretty much had the house redecorated. Her life long friend, William Haines, was responsible for the interior changes to the home and Joan was one of his first clients before he became know as the "IT" interior designer. Joan went through three marriages in the Brentwood home, Fairbanks, Tone and Terry. It was known that every time she divorced each of her husbands, she had the toilet seat changed. Also she raised four children in this home as well. Once she married Al Steele in 1955, she sold her home of 26 years and moved to New York.
Above & Below: Joan Crawford at her Brentwood home in the mid-1940's.
Above: A very intense Joan playing ping-pong at her Brentwood home.


Below: Is that Harriet Craig? Joan Crawford in her Brentwood home in the late-1940's.


Joan was now calling her home an upscale penthouse apartment that over looked Central Park. The apartment was completely renovated to Joan's liking and actually put Al Steele in a financial bind. The apartment was a very spacious eight-room haven that Joan would call home for the next ten years. Once again her life long friend, William Haines, helped design the look. Bright colors were apparent throughout and it had more of a California feeling to it than a New York vibe. The free-flying staircase was a focal point in the apartment and the skylight above lit everything beautifully. Joan's trademark white was apparent her as well with it being splashed on the carpet and the walls. There were two large fireplaces one in the drawing room and one in the bedroom. A two-level bedroom actually had a working fountain in it! One thing that stayed constant with Joan was her pink carpet in her bedroom. As early as 1927 when she lived in Beverly Hills, she had shades of pink in her bedroom. This apartment was truly a showcase.
Above: Joan and Al spending a quiet night by the fire playing backgammon.
Above: Joan ascending the floating staircase with her husband Alfred Steele.
Joan would call her apartment in New York home for ten years 1957-1967.
Joan shared the 5th avenue apartment with Al for just a short two years when Al suddenly died on April 19th 1959. Joan would then live at the apartment for almost nine more years without having ever remarried. Joan moved out of the apartment on 2 East 70th Street where she resided for 10 years and into a nine-room apartment in New York. Joan moved into the Imperial House at 150 East 69th Street, which is between Lexington Ave and 3rd Avenue. The new apartment cost Joan $500,000. One again, the walls were white but the furniture had some color to it. The sofas were a bright vivid yellow and so were the drapes. Matching the sofas with the drapes was a must if you look back at all the houses she had lived in. The canary yellow runs also into the kitchen/dining area. The accent colors are green on chairs, rugs and pillows. Joan also loved her books and had bookshelves that went floor to ceiling loaded with books. Joan would live there for the next six years.
Above: Joan lived in this apartment complex from 1967 up until her death in 1977.
Joan left her nine-room apartment at the Imperial house and downgraded to a 5-room apartment in 1973. This unit only cost her $85,000 a big difference from the $500,000 she paid for the nine-room unit. Joan kept her apartment very tidy just like all her other places. The plastic was all over ever piece of furniture to protect it from wear and tear. Joan even admitted she was "Harriet Craig" in her later years. Joan loved to watch her old movies late at night when they would broadcast them on TV. It must have brought back a lot of good memories when she saw her old movies and her youthful beauty. Joan continued to have small parties and luncheons in her apartment and saw her twin on a regular basis. As Joan got older and her health declined she alienated several friends because of her drinking, her late night phone calls and her temperament. She had serious health problems by 1976 and had become very recluse and isolated. Joan had started out with nothing a long time ago in Oklahoma so it was fitting she would want to face death her own way. The last months of her life she withdrew from friends and was accompanied by a woman named Darinka Papich, a fan, and a fellow Christian Scientist named Mrs. Campbell. Joan's long time maid for many years, Mamacita, was away when Joan died. Joan Crawford died on May 10th 1977 in her apartment 22-G at the Imperial House. Below are photos of her last residence.
I admire Joan for so many reasons. As you can see from the start of this page about her life and schooling, Joan started off with nothing and amounted to have so many things and she became one of the biggest stars of our time. She truly is an inspiration to me and to many others. Some people don't understand why Joan was the way she was as far as being so tidy, having everything just so in her home and wanting everything so perfect. She worked for it. She came from the poorest of poor and turned herself into a millionaire. She appreciated everything she had worked for and never took it for granted. I think when people go through hard times in life it makes them better people, more aware of their surroundings. Joan never lost sight of her past and where she came from. Hard times might be good for people but I feel it did make Joan a hard person in life. Joan's life was rather amazing and respectable. Their will never be another person like her.