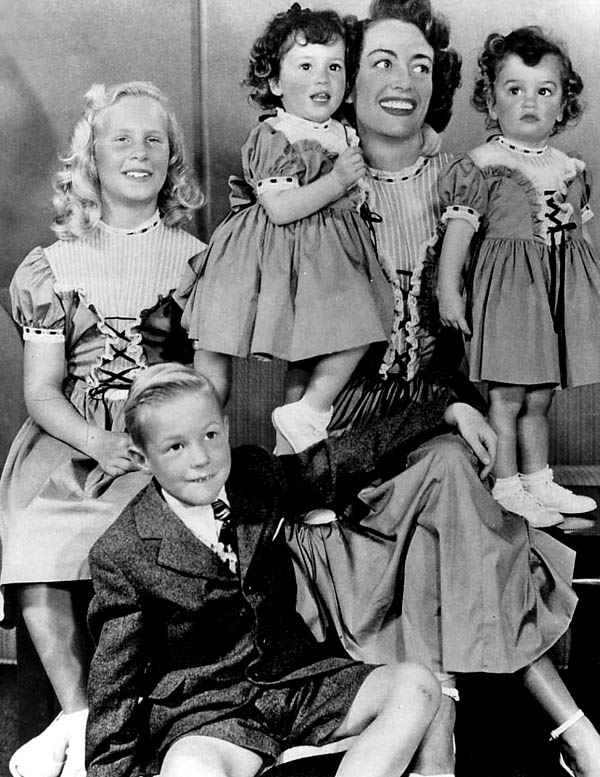 "I was a strict disciplinarian, perhaps too strict at times,
but my God, without discipline what is life?" - Joan Crawford
It can safely be said that Joan Crawford was not mother of the year - most Hollywood stars were not the best parents. Joan adopted five children in her lifetime, Joan desperately wanted a child - she had tried several times to have children with past husbands Douglas Fairbanks Jr. and Franchot Tone but rumors of abortions and several miscarriages resulted. Crawford never had any biological children of her own. Some speculate Crawford was too vain to have children but she felt her need of unconditional love would come from children. Joan Crawford suffered from a loveless and an abusive childhood herself. Joan was a disciplined person and the combination of her discipline and her own childhood made her a strict parent. Being a strict parent and wanting the best for your children does not make you an abusive parent. Crawford was known for having strict rules and chores for her children because she didn't want them growing up be spoiled Hollywood brats. In the era when Crawford raised children, a slap on the ass was a common thing when disciplining children among many families in America. Ask anyone that grew up from 1940-1960 and I am sure many will tell you they had "fear" instilled in them as a child of their parent(s). Regardless of what happen in the childhood of Joan Crawford's children, Joan was not around to defend herself. Horrendous accusations were made public right after Joan's death and Joan was not alive to give her side of the story. Thankfully, pictures speak a thousand words and there are many pictures below that show Joan with her happy children. Below are detailed descriptions of the five children Joan Crawford adopted. Read about "What Ever Happened to the Crawford Children."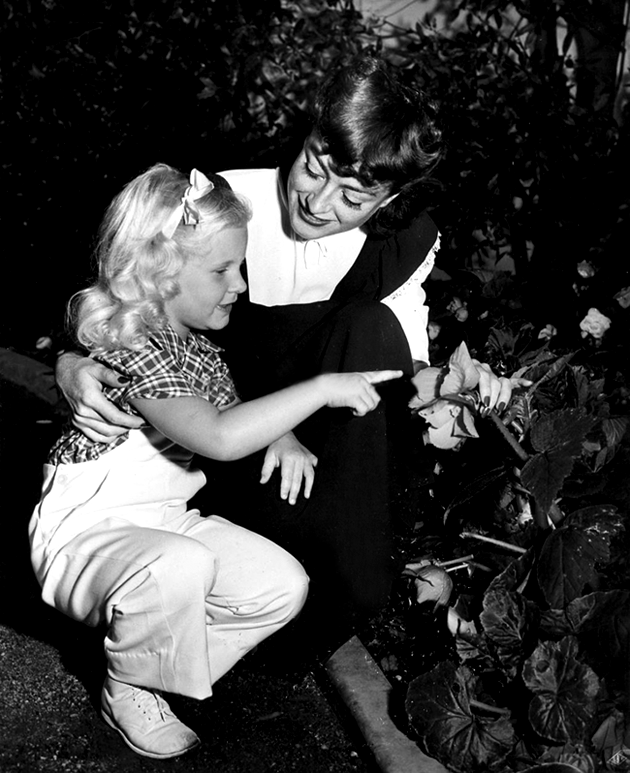 Christina Crawford was born in Los Angeles California on June 1, 1939 out of wedlock to a teenage mother and a father who was in the Navy. Joan adopted Christina, in early 1940, before she was one-year-old. Joan at the time was a single woman and she had originally named Christina - Joan Crawford Jr. Thankfully Joan changed her daughter's name to Christina - there was only one Joan Crawford and Christina is not worthy of having the namesake of the great Joan Crawford. Christina's childhood can be seen below in several pictures of her with her mother and younger siblings. As you can see - the majority of these photos show a very happy young girl. Several witnessed the demanding, bratty, rotten nature of Christina as a child. She was a spoiled brat who demanded more and more out of Joan Crawford and when Christina didn't get her way she acted out against Joan. Christina was sent to boarding school at a young age - this was a common thing with Hollywood stars to do with their children - Christina was probably sent earlier due to her unfavorable attitude as a young child. Many children of child stars were sent to boarding school because of the demands of the celebrities' career. Once Christina was sent to boarding school she only saw Joan Crawford on school breaks, holidays and other special occasions.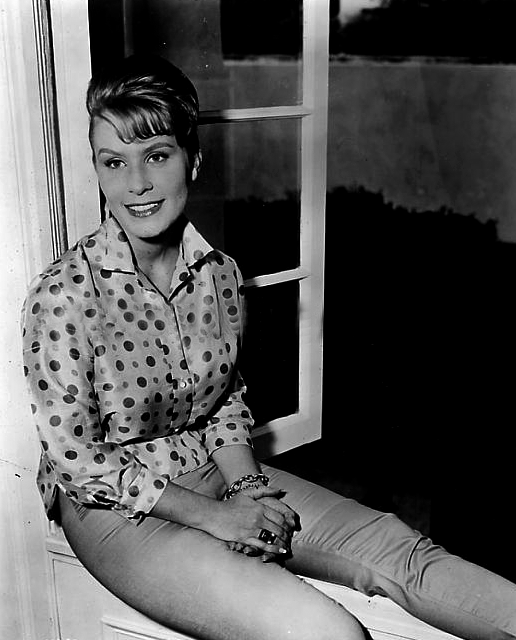 Above: A publicity shot of Christina Crawford in 1961, at the age of 22 years old, for her first film
"Wild in the Country" starring Elvis Presley.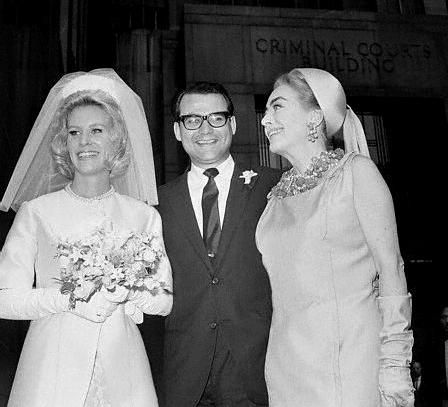 Above: Christina Crawford and her first husband, Harvey Medlinsky, and her mother Joan Crawford.


As a young adult, Christina was well educated, thanks to Joan putting her through school, and attended the Carnegie Mellon School of Drama and the studied at the Neighborhood Playhouse in New York City. She earned a B.A. degree, magna cum laude, from UCLA and a Master's Degree in communications management from USC. I am sure Joan was proud of Christina's efforts and success in her education. Once Christina finished her schooling, she dove right into acting and into marriage. She married her first husband, Harvey Medlinsky (1966-1968), after meeting him at a summer stock acting event. Christina's acting career never took off, her demanding and 'diva-like' nature was looked down upon and many that worked with her found her quite unfavorable. In 1965 she hit a high point in her acting in a performance in Neil Simon's "Barefoot in the Park" critics were favorable to her performance but she mysterious "left" the production. Many witnesses say she was asked to leave the production due to her demanding and negative attitude.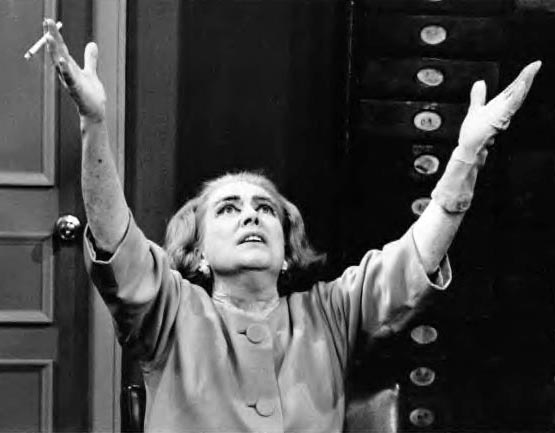 Above: Joan Crawford standing-in for the ailing Christina Crawford in "The Secret Storm."


Christina's only "real" career in acting was when she signed on the television soap opera "The Secret Storm" from 1968-1969. Christina played 'Joan Borman Kane' a 28-year-old woman. During the 1968 season, Christina was hospitalized for emergency surgery and her first husband, Harvey Medlinsky, divorced her, during her absences a stand- in was needed for Christina's popular part. Who could have stood in for Christina? You guessed it - her mother Joan Crawford volunteered to stand in for her ailing daughter. Joan was in her early 60s at the time playing a 28-year-old woman. Atta girl Joan! Needless to say, Christina's stay on "The Secret Strom" was short-lived and of course Christina, once again, blamed her mother for being "let-go" from the show. After Christina was let go, Joan Crawford was quoted in saying... "On that soap opera, she (Christina) played the best bitch I ever saw except for me in 'Queen Bee.'"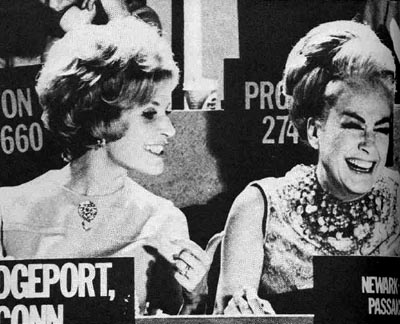 Above: The last time Christina and Joan saw each other was at this 1968 telethon for Muscular Dystrophy.


Christina and Joan Crawford never had a warm relationship but in the later part of 1968, they appeared on television for a fund raiser and seemed to have patched up their differences and were seen together laughing and enjoying each other's company. It was the last time Christina would see her mother Joan Crawford alive.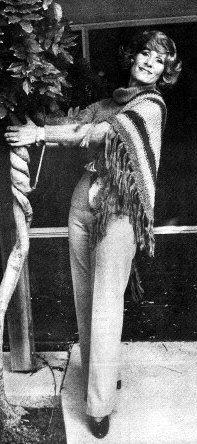 In 1977, Joan Crawford died on May 10th of what was reported as "acute coronary occlusion," but the actual cause of her death was liver cancer. After Joan's death her will - which was last revised on October 28th 1976 - was read and a harsh reality was dealt to Christina Crawford. Joan's will stated... "It is my intention to make no provision herein for my son Christopher or my daughter Christina for reasons which are well known to them." Christina contested the will and received $27,500. This naturally sparked retaliation from Christina and the book "Mommie Dearest" was born soon after Joan's death in 1978. How sympathetic. The book was a best seller and raised awareness about child abuse across the nation. When Christina initiated a movie with her second husband David Koontz (married 1976-divorced 1982) Christina's credibility was challenged. The movie "Mommie Dearest" was released in 1981 and was so over the top and exaggerated that many questioned the "truth" about Christina's allegations. The movie went on to be voted the worst movie of 1981 and was awarded a Razzie Award in 1982 for the worst movie of 1981. "Mommie Dearest" also won a Razzie Award for Worst Film of the 1980s.
Karma is bitch - In 1981, Christina suffered a near fatal stroke that took Christina five years to recover from. Her husband of six years left her in 1982, some report he actually believed she lied about the accusations against Joan Crawford and left her because he was so disgusted by this. After her recovery from her stroke and her divorce, she moved to the Northwest and ran a bed and breakfast called Seven Springs Farms in Sanders, Idaho with her third husband Michael Brazzel, from 1994- 1999.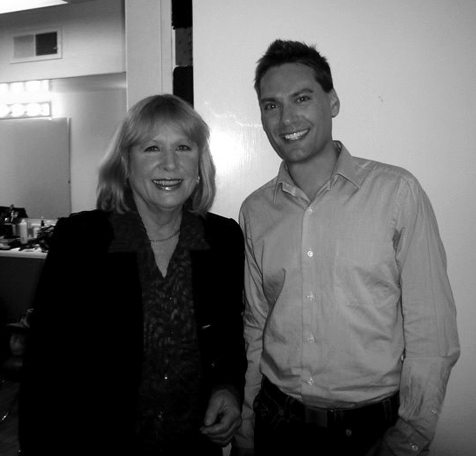 Above: Christina Crawford and me at a taping for a Joan Crawford documentry in 2007.
Click on the photo above to read my in-depth experience with Christina on my blog!
Currently, Christina Crawford, who is single, works as a Special Events Manager at the Coeur d'Alene Casino in Idaho. Christina never had any children of her own. Christina recently has appeared on several Joan Crawford documentaries over the past several years and Christina has also done many public parodies of her own abuse. Anyone that has been actually abused as a child would never poke fun of how they were abused as a child. In 2001, Christina also appeared on the Larry King show, desperate to stay in the limelight, and accused Joan Crawford of killing her fourth husband, Al Steele. This accusation and the parodies of her abuse have made all of Christina's child abuse accusations appear false and Christina's credibility today is questioned and not believable.

"If it is an exaggerated tale of a troubled childhood, we are participating in a major defamation of character of a woman who is not here to defend herself and whose public image (the one thing everyone who knew Joan Crawford agrees she cared about more than anything) has been utterly trashed." - Danny Miller
Christopher Crawford (I) was born in April of 1941 - Joan adopted Christopher in June of 1941. Joan was heartbroken when, after raising Christopher as her own, Christopher's biological mother wanted her child back. Joan cared for Christopher for almost a full year. In 1942, young Christopher was taken away from Joan and her then husband, Phillip Terry. Both were devastated. The birth mother ended up selling Christopher sometime later to another couple for $250.00!!! Joan Crawford throughout her entire life always considered Christopher Crawford (I) as one of her adopted children. In a 1968 interview with David Frost, Joan mentioned that she had adopted five children in her lifetime - remembering the "first" Christopher Crawford she had adopted in 1941.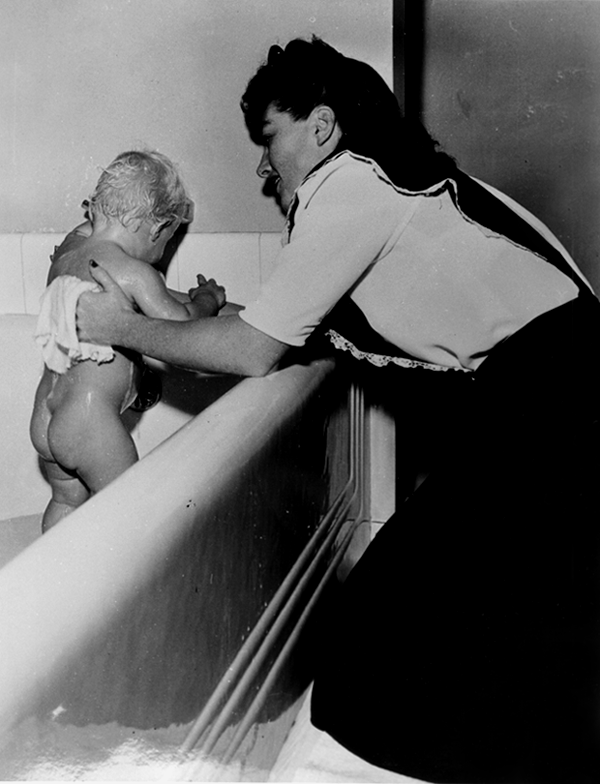 Phillip Terry Jr. was born on October 15, 1943 and was adopted by both Joan Crawford and her then husband Phillip Terry in 1943. After Joan divorced Terry in 1946, Crawford changed her sons name to Christopher Crawford. Christopher Crawford was a quiet child, but became defiant at home when he found out he was adopted. Christopher became difficult and defiant at home, he was labeled as a "problem child" by many schools that he was kicked out of. Christopher ran away from home on many occasions, searching for his "real" mother and father. Christopher admitted later in life he was a "brat" as a child and "difficult." At the young age of 16 he stole a car, Crawford could not control his wild behavior and Christopher left home before he was 18 years old. Christopher married a waitress and had his first child with her by the time he was 19 years old. In 1962, Christopher was living in Miami and working as a lifeguard. In 1962, Christopher visited his mother with his wife and baby. Crawford said, "It doesn't look like you. It's probably a bastard." That was the last time Christopher ever saw his mother, Joan Crawford.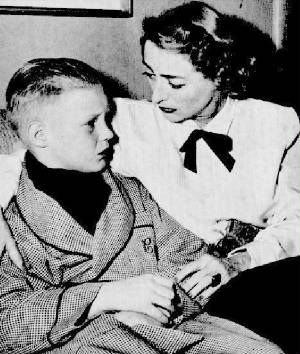 Christopher had a rough life. He divorced his first wife, with whom he had three children with and entered the Vietnam War in the late 1960's. He did not have a close relationship with his three grown children and in a 1981 interview he was asked about his three grown children and their whereabouts, all he said was "no idea."

After the Vietnam War in the mid 1970s he moved to Greenport, NY with his second wife, Gale. Christopher and gale had one child together named Chrystal. Christopher worked as a utility company lineman for the majority of his life. He was disabled off and on and unemployed for the most part in the later part of his life. He lived in Greenport, NY for the rest of his life.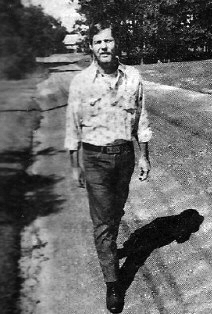 Christopher waived any rights to the book and movie, "Mommie Dearest" for $10,000. Christopher was also left out of Joan Crawford's will. Christopher contested the will and received $27,500. Christopher Crawford did visit his sister Christina in the 1990s at her bed and breakfast in Idaho on a few occasions.

Christopher Crawford died of cancer on September 22, 2006, at approximately 10:50 am, at the Eastern Long Island Hospital in Greenport, New York. Christopher was 62 years old when he died.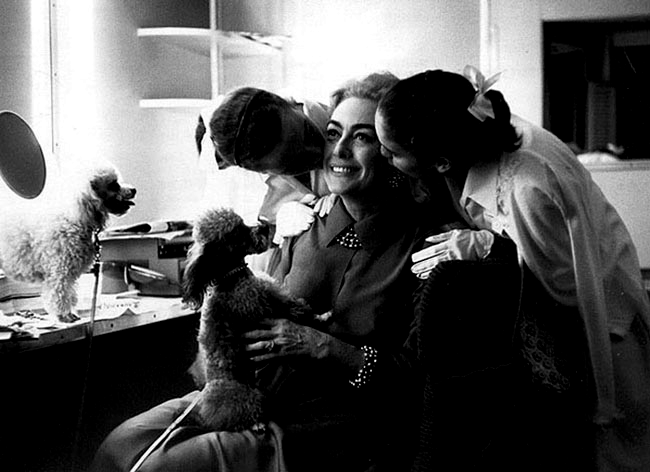 Cathy and Cynthia Crawford were born on January 13, 1947 in Dyersburg, Tennessee. Cathy and Cynthia's mother died a week after they were born from kidney failure and their skittish father abandoned the mother and children. Joan adopted the twin girls in June of 1947 from the Tennessee Children's Home Society. Cathy and Cynthia had an enjoyable childhood.

Joan never hid the fact that the girls were adopted but told them they were not twins in fear that the twins would be taken away from her as was the first Christopher Crawford. Joan often told the teen girls she was going to take them back to Tennessee to visit their origin but she never did.

In 1960, both Cathy and Cynthia moved to New York City with Joan Crawford after Joan's fourth husband, Al Steele, died.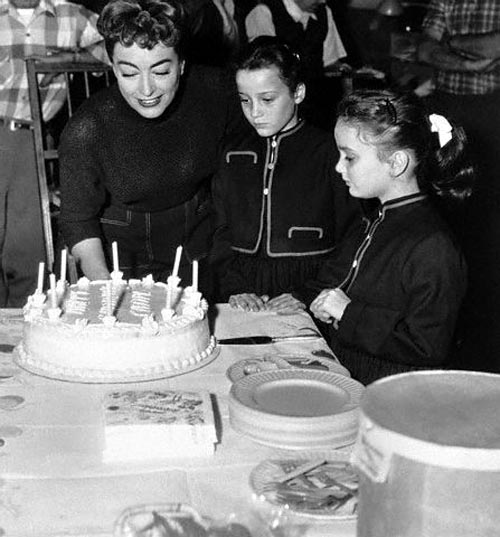 Cynthia Crawford was in boarding school from age eight and eventually attended Dubuque University. It was at Dubuque University where she met her husband and became pregnant with her first child. In 1967, at 20 years of age, married Mr. Jordan and moved into a trailer in Dubuque, Iowa. They had two children together - Jan and Joel. In 1976, Cynthia divorced her husband after nine years of marriage. After Joan's death in 1977, Cynthia worked in a show store earning $150.00 a week and living off of the $ 77,000 inheritance from Crawford's estate. Cynthia moved to Jackson, Miss., in 1984, but the work played out after six months, leaving her on welfare and without a place to live. She worked and saved until she had enough money for an apartment. In 1990 Cynthia, now living in Brandon, Miss., found her biological father in Friendship, Tennessee. Ironically, her father's last name was Jordan - the same last name as her ex-husband. In 1991, Cynthia moved to Memphis, Tennessee to be closer to her biological family and often visited her dad. In 1993, J.W. Jordan the biological father of Cathy and Cynthia, died of stomach cancer. During the 1990s Cynthia worked for her biological mother's family business.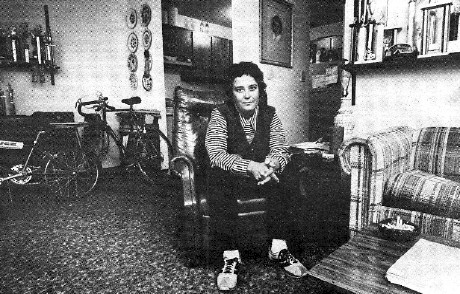 Sadly, Cynthia Crawford died on October 14, 2007 at the age of 60 in Tennessee. Cynthia had been dealing with a hepatitis infection and was in process for a liver transplant. She leaves a wonderful loving family, which consisted of her sons and several grandchildren.

Cynthia never had contact with Christina or Christopher after Joan's death.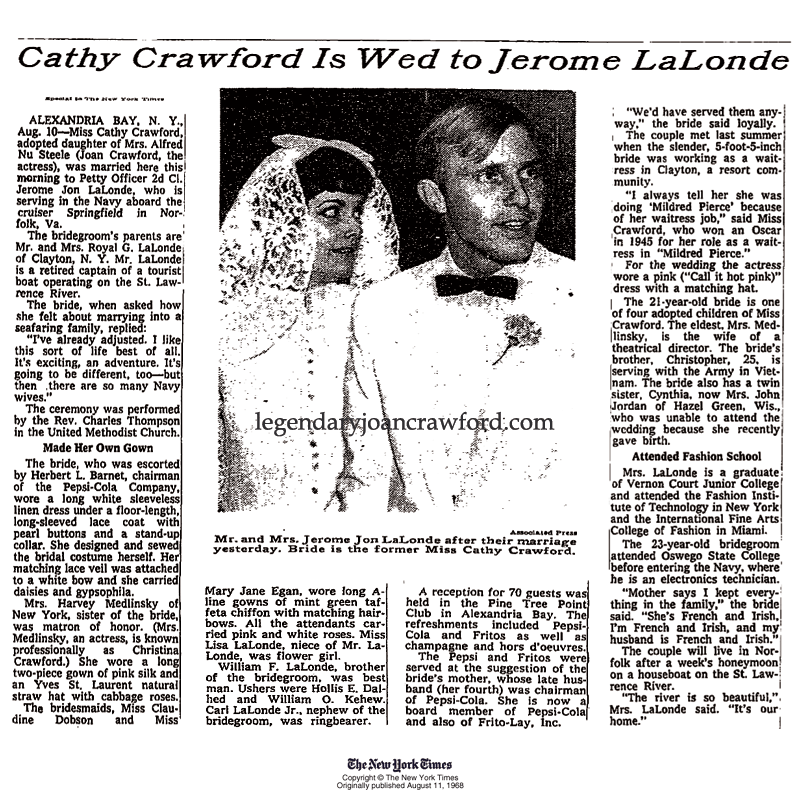 Cathy Crawford was in boarding school from age eight. Cathy also attended Vernon Court Junior College and eventually attended the Fashion Institute of Technology in the 1960s. Cathy Crawford and Jerome LaLonde married on August 10, 1968. They met in Alexandria Bay, New York. Jerome was in active duty in the Navy when they married. After the wedding and honeymoon, they moved to Norfolk, Virginia and stayed there until Jerome's enlistment was up. They moved back to Alexandria Bay, New York where Cathy had two children Carla and Casey. Shortly after their second child, Casey, was born the family moved to Allentown, Pennsylvania in 1972. After Joan''s death in 1977, Cathy received $ 77,000 inheritance from Crawford's estate wand all inherited all of Joan Crawford's property including the 1946 Oscar for "Mildred Pierce." Jerome LaLonde and Cathy (Crawford) LaLonde separated in 1984. Cathy reconnected with her biological father via telephone in 1991. Cathy worked as a teacher's aide in Pennsylvania for most of the 1990s. In 1993, Cathy decided to sell Joan's Academy Award at auction.
Cathy currently resides in Pennsylvania.

Cathy never had contact with Christopher after Joan's death and currently has not had any contact with Christina.

Cathy's son, Casey, currently is involved with repairing his grandmother's image and answers letters from fans on this website under the "Ask Casey" page.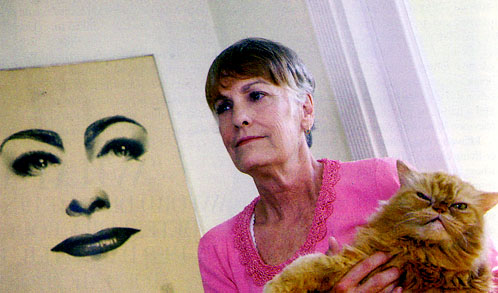 Above: Cathy Crawford LaLonde in 2008 with her cat Opie. This photo is from the March 2008 Vanity Fair article where Cathy is speaking out against Christina Crawford.