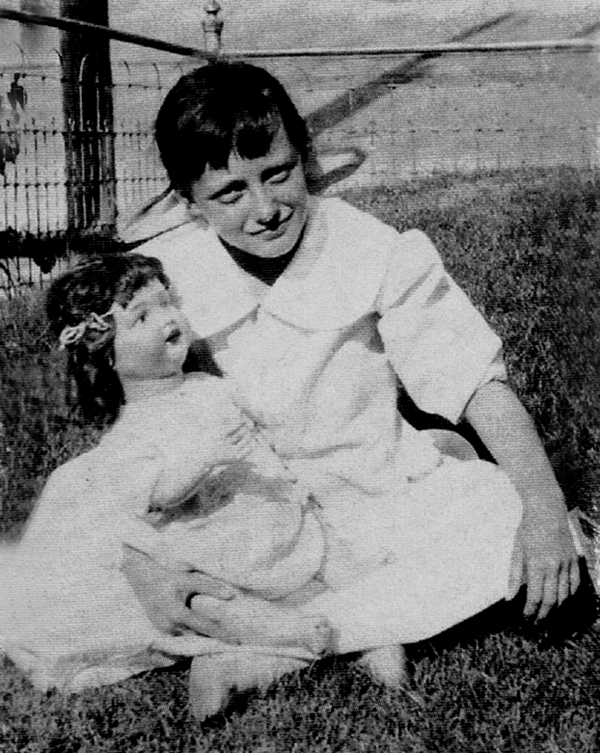 Joan Crawford was born Lucille Fay LeSueur on March 23rd 1906* in San Antonio, Texas to Thomas LeSueur and Anna Bell Johnson. Lucille was the third of three children; she had an older sister, Daisy who died before Lucille (Joan) was born and an older brother, Hal. Her parents Anna Bell and Thomas divorced right after Lucille's birth. Thomas abandoned the family and was never to be seen again during Lucille's childhood. Shortly after the family's abandonment, a bitter Anna Bell packed up her family and moved to Lawton, Oklahoma.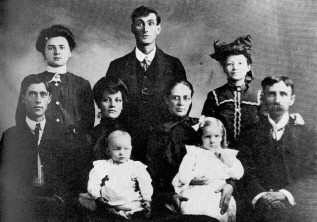 Pictured Above: The maternal side of the family, photo taken in 1903. Top row (right): unknown, Joan's father Thomas LeSueur, Joan's aunt Betty Johnson. Bottom row (right): Joan's uncle, her mother Anna Bell (holding Joan's brother Hal), her grandmother Mary Ellen Johnson (holding Joan's sister Daisy), her grandfather Sylvester Johnson. Joan was not born when this photo was taken in late 1903.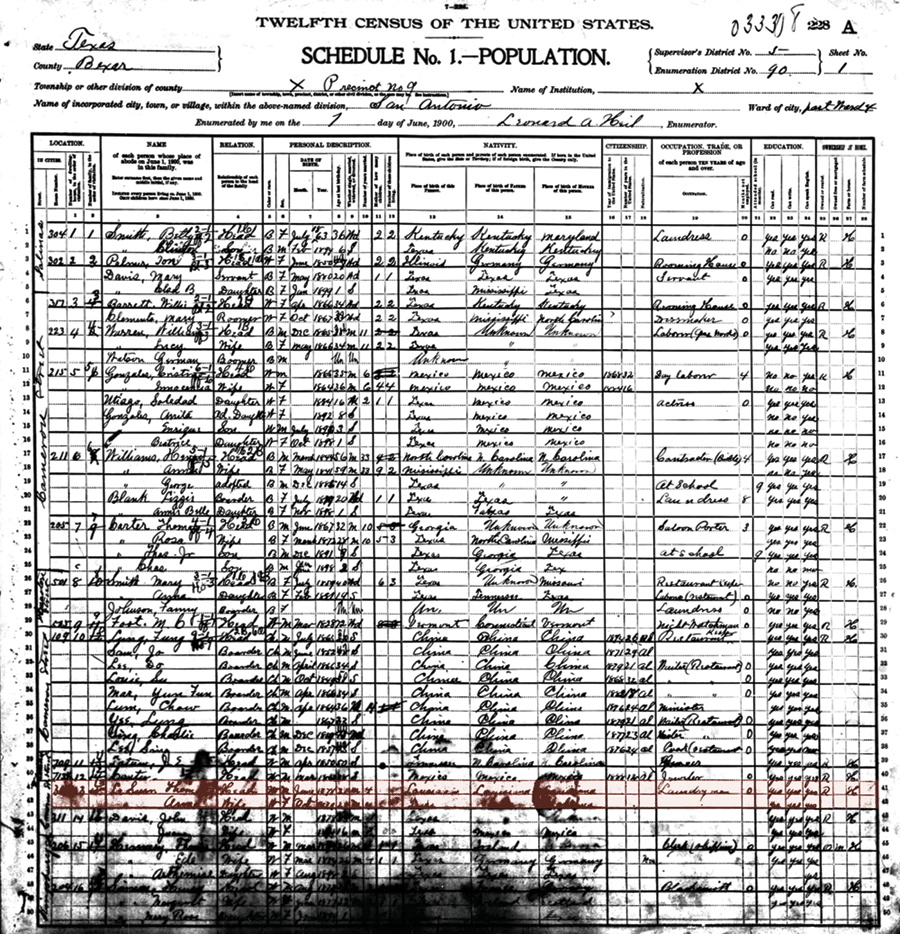 Pictured Above (click image above to see larger scale - see highlighted portion): A census report from 1900. This census report, from June 7th 1900, shows both Thomas and Anna LeSueur listed on it. Now this census report is rather interesting because it contradicts both Thomas and Anna's birth days. This census report says that Thomas LeSueur was born in June of 1878 and that Anna was born in October of 1878 as well. This would have made them much younger than we all believed them both to be (Thomas being 21 and Anna being 20 years old - as both ages are stated on the census). The census also has their named spelled wrong; "LeSuer." Fair enough typo. It shows they lived on 363 Camden Street in San Antonio Texas at this time and had NO children. So as of the summer of 1900, Joan's older sister, Daisy, had not been born yet. It's an interesting census report showing that, yes, they could both read, write and speak English and also that Tom is listed as a "Laundry Man" for his employment. It's worth a fun look but as we can see with the the 1910 census (below), these census reports were commonly riddled with errors. It is interesting that both of their birth years are listed as 1878. Did they BOTH lie about their ages? One thing is for sure, if you look at the family photo (above), you will see that both Thomas and Anna look about the same age (mid twenties). If you go by the birth year Anna gave of 1884 and Thomas' birth year of 1868 - Thomas would have been 16 years older than Anna. I don't think so! They both look to be about the same age, so maybe they WERE both born in 1878. All I know, Anna was not born in 1884. Check out the census report below. Thanks to Kat for sending this through to the site!
*Lucille LeSueur has no record of her birth year -yet. The mystery continues to this day. Most sources say Lucille was born in 1904, even her daughters say that their mother was definitely born in 1904. Christina Crawford recalls on several occasions that her grandmother, Lucille's (Joan's) mother, stated that Joan was born in 1904. Another date that could make sense is 1905, on many documents from MGM it stats that Lucille LeSueur was nineteen years old in early 1925, which would make her birth year 1905. Another piece of evidence supporting 1905 is a census report that was taken in 1910 (image below) stating Lucille's age was 5 years old. This looked like a sure sign of her birth year but there are MANY errors including her own brothers age which says he was eight years old in 1910 which is incorrect, the 1910 census report ha Hal's age two years off (he would have been only six years old in April of 1910, his seventh birthday would have been that September, the census lists his age as eight years old). Anna's age is also wrong on the 1910 census (Anna would have been 26 years old in 1910, not 28 years old as the inaccurate 1910 census report claims). ALSO, Henry Cassin would have been at least 43 years old in 1910 and the 1910 census says he was only 38!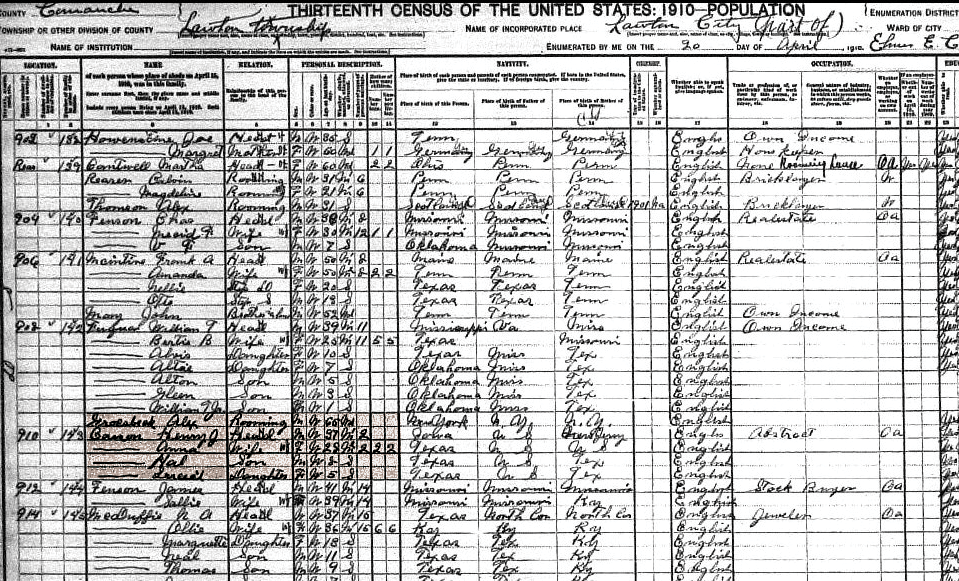 Above: 1910 census report. Below: Hal's birth certificate. Click on both to see larger image.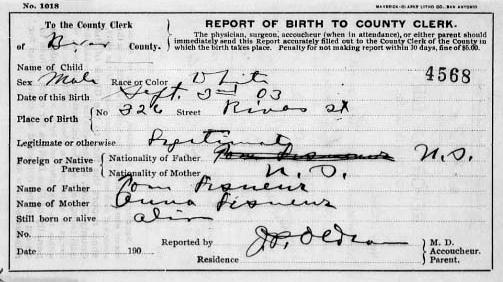 The credibility of the census report is unfortunately too inaccurate to support for a fact that Joan was born in 1905. The third possible birth date is 1906; there are many signs that point to this date as well. The documents that were filed at MGM were not signed until after Joan's birthday on March 23rd and it still stated that Joan was nineteen years of age in 1925 after her birth date, which would make the year 1906 her birth year. Also, when Joan enrolled in Stephens College her birth year was recorded as 1906 (documentation for this fact is still needed). Lucille had no reason to lie when enrolling at Stephens College about her birth year. Since 1906 makes the most sense, 1906 is the year that this website will base Joan's date of birth on. 1906 was also the year Joan initially said she was born early on in her career and right up until her thirties, then she "mysterious" changed her birth date to 1908. The year 1908 has been completely ruled out and in no way could be her "real" birth date.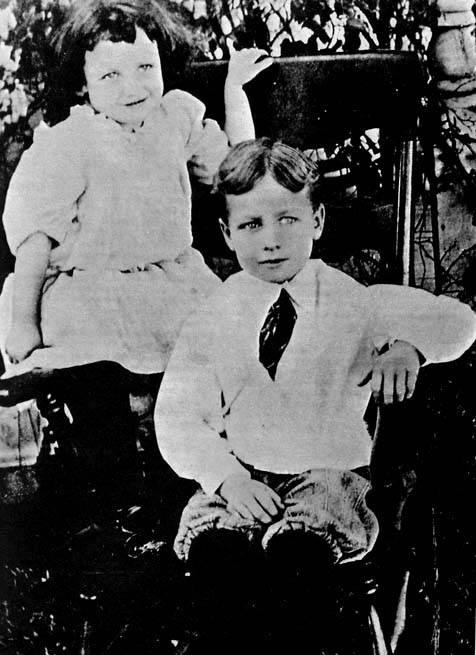 Four years after Anna moved Lucille and Hal to Lawton, Oklahoma she "partnered" with small time theater operator and owner of an opera house, Henry Cassin. It's unclear if Anna ever married Henry Cassin at all. Lucille at this time was five years old and believed her father was Henry Cassin. Somewhere between 1910 and 1912 young Lucille changes her name to Billie Cassin and at the age of six years old expresses a strong interest in dancing and performing. One of Billie's first interests in performing was in 1912 when Billie and her brother Hal put on a show in a local barn for the neighbors. Hal and his friends performed a trapeze act with Billie. Billie does a 10-minute act, wearing her toe shoes, performing a bit from the ballet "Giselle" and a gypsy dance to the tune "Wait Till the Sun Shines, Nellie." The stint is a hit with local children and they repeat the performance several times.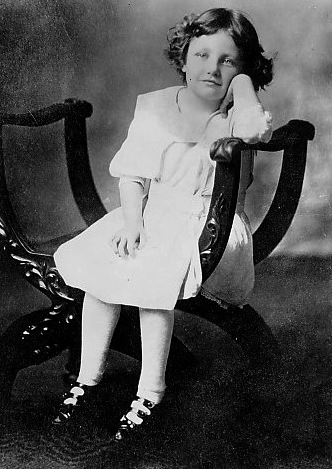 In the summer of 1912, young Billie jumps off of her front porch, playing with friends, and cuts her foot terribly on a broken milk bottle. Don Blanding, a future poet, carries her into the house and phones the doctor. Billie eventually has three operations on her foot and is unable to attend elementary school classes for the year-and-a-half following her injury. This injury could have been fatal to young Billie and the doctor's outlook was not positive, it was doubtful if Billie would walk properly again.
In 1915, at the tender age of nine years old, she vowed to become a famous dancer someday. Billie had a hard time during her school years; she didn't fit in no matter how hard she tried. Billie would make her own clothes and try to fit in with the popular crowd but instead she came off different and was looked down upon. Billie concentrated all of her energy on becoming a famous dancer; she never wanted to do all the awful work her mother did. (Her mother worked several odd jobs to support the family). Anna and Harry's relationship was never built on love and Anna's relationship with young Billie was becoming strained and distant. Later in the year, Billie discovers a fortune of gold in the cellar of their home that Henry Cassin had hidden. Shortly after, Cassin is questioned by police about missing bail money. It is unclear what ever did happen to the small fortune that young Billie unearthed. The relationship Billie has with her brother Hal was never good. Hal was always mean to Billlie. It was at the end of 1915 when Hal tells Billie that Henry Cassin is not her real father. This news crushes Billie and impacts her for the rest of her childhood.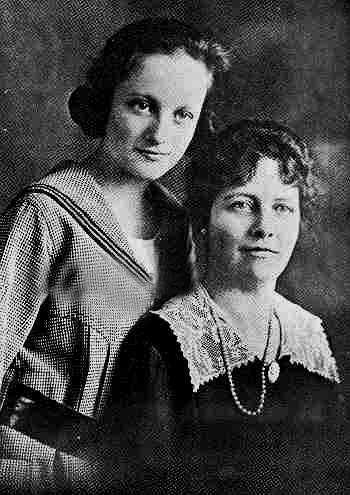 In 1916, the family flees Lawton, Oklahoma probably due to the pressure of Cassin being questioned about the "missing" money. The family heads to Kansas City. Missouri, once there, Billie is enrolled in third grade at Scarritt Elementary School. Anna and Henry Cassin move into New Midland Hotel and eventually take over running the hotel. When Billie was just ten years old, Harry Cassin "sexually abused" her. Anna soon discovered this "abuse/relationship." All blame was put upon Billie by both her mother and Harry. This incident ultimately ended their "partnership" and Anna resented Billie for the rest of her life. Billie was devastated by the departure of Harry and she was determined to be with Harry, to maintain the relationship they had developed. After the incident, Billie is enrolled in a Catholic School, St. Agnes Academy. This school would become young Billie's home and a place where she would work for her schooling for the next three years. Does this story sound familiar? Sounds like what Christina claimed happened to her at a young age when she was found flirting with Joan's gentlemen friends. Very interesting.
Billie spends roughly two years at St. Agnes School and in 1918; Anna pays a visit to St. Agnes with her new husband Harry Hough. There are no facts whether Anna actually married Mr. Hough. This is also the year Anna starts to run the infamous City Gate laundry. Billie also had her share of working in the laundry and this memory haunts Billie (Joan) for the rest of her life. Anna also moves from her New Miland Hotel residence in 1919 with Mr. Hough to Genessee Street. Young Billie is now thirteen years old and she runs into her former "father" Henry Cassin. The reunion is short lived and Cassin dies later that year. Billie leaves St. Agnes and attends Rockingham Academy a school for problem children.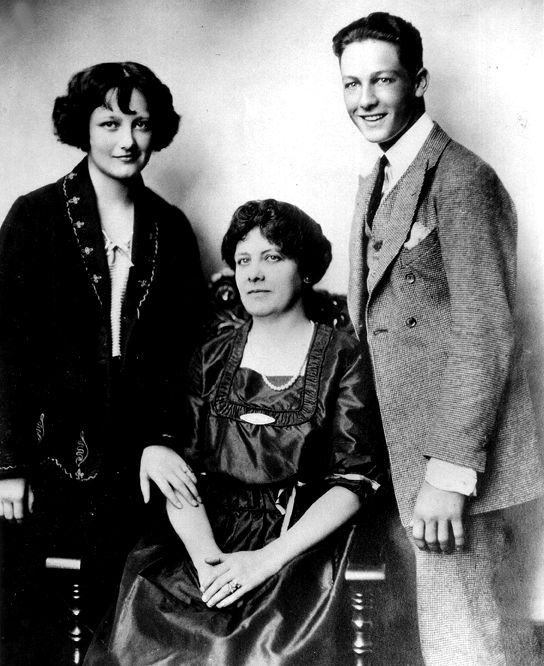 Over the next two years, Billie spends most of her time at Rockingham Academy perusing her interest in boys and dance. She meets Ray Sterling in 1921, the man that many credit as being the driving force behind encouraging Billie to "go for it" at MGM. Billie expresses a strong interest in Ray Sterling after seeing a play he was featured in and his "acting" entrances young Billie. In 1922, Billie is now sixteen years old and she decides to leave Rockingham Academy, this appears to be the end of Joan's "schooling". During the summer of 1922 she works at Kline's Department store but it's short lived when Billie decides to attend Stephens College. Ray Sterling encourages her decision to attend Stephens College and Billie is enrolled in September 1922. Billie's date of birth on the registration papers is listed as 1906. At the age of sixteen years old, Billie has no reason to lie about her age - the year 1906 seems like the most realistic date of birth for Billie. Billie's love for dancing out wins her schooling and Billie concentrates more on dance contests and boys than her schooling. By 1923, Joan leaves Stephens College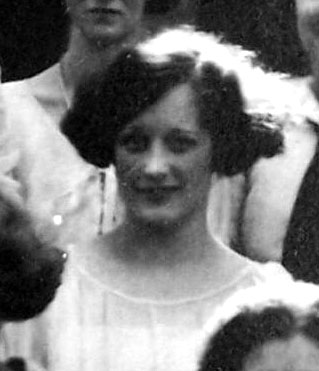 The year 1923 is probably young Billie's most troublesome year. Although it looked promising at first when Billie was given a role in a stage show in Springfield, Missouri, the show is short-lived and Billie ends up back in Kansas City. Billie becomes involved with a young man named Eddie Smith who was her regular "dance partner" in competitions. Billie moves in with Eddie Smith after she drops out of Stephen's College. The video that would come back later in life to haunt her was a video of young Billie dancing nude. The video would be used in peep shows and helps Billie make a little bit of money to get by. By the end of 1923, Billie is back in Chicago but dancing at strip joint and is eventually arrested for prostitution. Billie was headed down a road of destruction.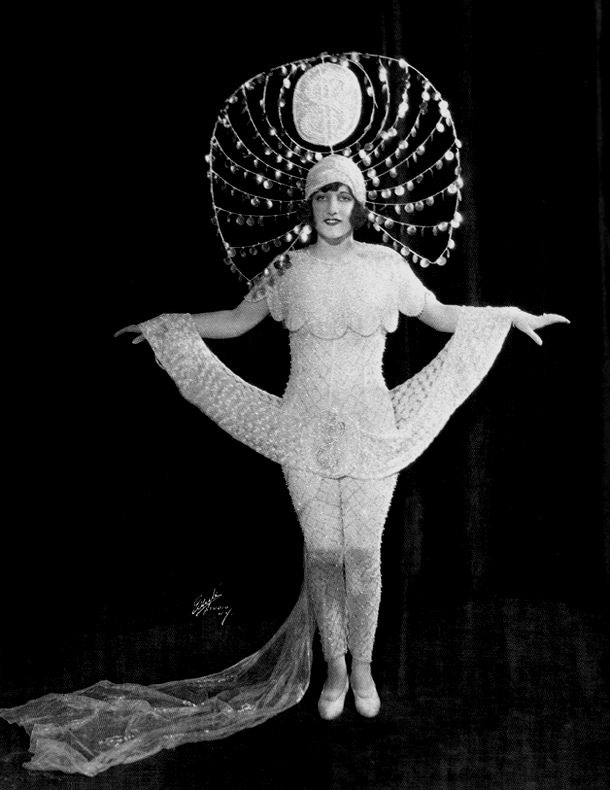 Early 1924, Billie escapes the sleazy strip clubs and is working in Detroit as a chorus girl. She is spotted in the spring by J.J Schubert and is offered a job on the spot in New York City. By the time Schubert's production opens, "Innocent Eyes" in May, Billie is using her birth name, Lucille LeSueur. The success of Schubert's show helps Lucille graduate into a second Schubert production called "The Passing Show of 1924." This production would change Lucille's life forever. Lucille is "Ms. Labor Day" in the shows production. By December, the show is a huge success and talent scout Harry Rapf spots Lucille and history changes forever. After a few failed screen tests it seemed Lucille was destined to be stuck as a chorus girl. but fed up with the craziness and competition of being a chorus girl, Lucille heads back home to her family for Christmas 1924. This could have been the end of Lucille LeSueur and her dreams of becoming a dancer but fate had something special in store for Lucille. The New Year was prepared to bring Lucille a whole new life.
The Early Years 1906-1924

Click on the image below to see photos from the corresponding years.