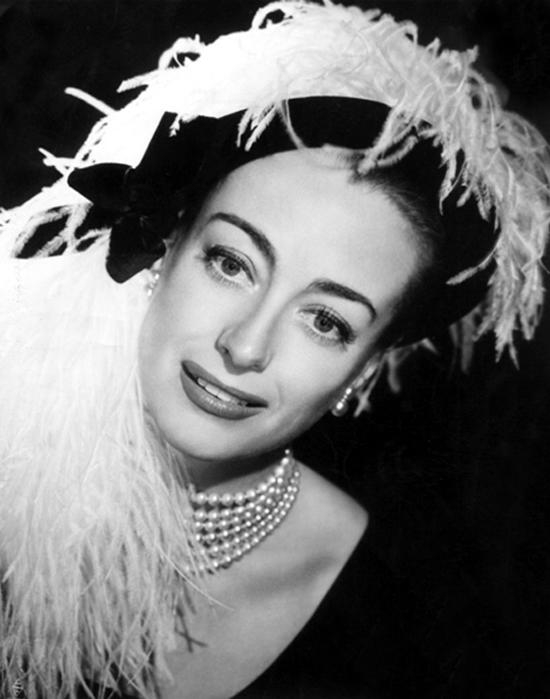 "I need sex for a clear complexion, but I'd rather do it for love." - Joan Crawford
Joan Crawford Films from the 1950's
A wiser Joan Crawford emerged from the successful films of the 1940s. Joan was not only a seasoned actress but she was becoming quite the savvy businesswoman. After parting ways with Warner's in 1952, Crawford decided not to sign with another studio and work on a picture-to-picture basis with many different studios. Crawford's first venture was the 1952 smash hit, "Sudden Fear" which Joan decided to invest in 40% of the profit rather than taking a $200,000 flat salary for the picture. Joan's business sense proved right and she earned close to a million dollars for the risky decision. Joan also earned her third, and last, Oscar nomination for her role in "Sudden Fear." The rest of the 1950s saw a variety of films from a musical ("Torch Song"), a western ("Johnny Guitar"), a mobster ("The Damned Don't Cry"), a congresswoman ("Goodbye My Fancy") and a boss of a publishing company ("The Best of Everything"). Joan once again proved she was one of the most diverse actresses ever and that she had business flowing through her veins.
Grab a Pepsi and enjoy the Crawford films of the 1950s!
The Films of the 1950's

Click decades below to see films from that era.
The Damned Don't Cry (1950)

After the body of well-known racketeer and gambler Nick Prenta (Steve Cochran) is found in Desert Springs, California, the investigating sheriff discovers some home movies in Prenta's house and identifies oil heiress Lorna Hansen Forbes (Joan), who has been renting a house in the area, as one of Prenta's guests. When the sheriff tries to question Lorna, however, he learns that she has left town. On further investigation, it becomes evident that the woman has been using a pseudonym and is not who she claims. In fact, her real name is Ethel Whitehead, and she has returned to her poverty-stricken parents, who live in the Texas oil fields.

COMING SOON!

Harriet Craig (1950)

Harriet Craig (Joan) is the domineering wife of the meek Walter Craig (Wendell Corey). Obsessed with running her lavish home like clockwork, her household staff are treated like slaves. With a laundry list of daily rules and demands that her mild mannered husband adheres to, it doesn't take long for his patience, and the patience of those around her, to wear thin. To avoid sharing Walter (Wendell Corey) with anyone, she convinces him that she's unable to have children. She sabotages his chance of a long awaited promotion with the thought that the change would interrupt her set routine too much.

40 Photographs / 14 Movie Poster etc. / 1 Fan Review
*NEWLY ADDED 05/06/2008*

Goodbye, My Fancy (1951)

Agatha Reed (Joan) is a journalist returning to her alma mater for homecoming, however the thought of rekindling an old romance is more of an incentive for her to be there. Her plan isn't helped when another admirer steps in as a rival for her affections, together with the showing of her controversial new film, which has the potential of harming the career of her old flame, it makes for a very mess situation.

COMING SOON!

This Woman is Dangerous (1952)

While in New Orleans to mastermind a gambling house heist, Beth Austin (Joan) learns from an oculist that she must undergo an operation or go blind, but she decides to keep the news to herself and proceeds with the robbery. Posing as a wealthy gambler, Beth has the manager open the safe just as Matt Jackson (David Brian), her lover and partner, arrives with men impersonating state troopers to raid the casino and confiscate the money.

COMING SOON!

Sudden Fear (1952)

Myra Hudson (Joan) is a New York playwright who meets, falls in love and marries an actor who auditions for one of her plays. What follows next is a psychological game of cat and mouse when Myra discovers that her loving husband, Lester Blaine (Jack Palance) has plans to murder her for her money. Instead of fleeing in terror, Myra (Joan) decides to turn the tables and bump off Lester (Jack Palance) first, however, some things just don't go as planned...

COMING SOON!

Torch Song (1953)

Jenny Stewart (Joan) is the quintessential Broadway star, who falls in love with her blind pianist, Tye Graham (Michael Wilding). At a rehearsal for her new show, temperamental Broadway star Jenny Stewart (Joan) lashes out at anyone who displeases her, from her dance partner to her arranger, Charlie Maylor (Benny Rubin), who has been driven to drink by her bullying. After abruptly walking out of the rehearsal, Jenny goes home and practices a scene with her sympathetic secretary, Anne (Maidie Norman), then gets into bed and tearfully gives in to feelings of loneliness.

82 Photographs / 30 Movie Poster etc. / 3 Fan Reviews
*NEWLY ADDED 12/30/2008* AVAILABLE ON DVD!

Johnny Guitar (1954)

In an unusual twist on the western genre, Johnny Guitar focuses on two women, Vienna (Joan) and Emma, (Mercedes McCambridge) both hell bent on destroying each other. With Emma (Mercedes McCambridge) being the largest land owner in the area, she sees Vienna's (Joan) dream of opening a town (once the railroad goes through), as a major threat. In love with the bad boy outlaw, Dancin' Kid (Scott Brady) and watching his affections turn to Vienna (Joan), Emma (Mercedes McCambridge) in an attempt to preserve her own sanity, decides she must destroy them, permanently.

COMING SOON!

Female On The Beach (1955)

At Balboa Beach, California, a drunken Eloise Crandall (Judith Evelyn) threatens to call the police after discovering that her lover, Drummond Hall (Jeff Chandler), and his cohorts, Osbert (Cecil Kellaway) and Queenie Sorenson (Natalie Schafer), have been trying to bilk her of her fortune. Drummy storms out the patio door, and when Eloise stumbles after him, she falls from the balcony to her death. By the next day, real estate agent Amy Rawlinson (Jan Sterling) has readied the house for Lynn Markham (Joan), the young widow of its owner, late millionaire gambler Ben Markham, who plans to sell it.

COMING SOON!

Queen Bee (1955)

Eva Phillips (Joan) is a ruthless socialite who'll stop at nothing to ruin the lives of everyone around her. Her husband, Avery (Barry Sullivan) is her primary target, whilst she blatantly flaunts her parade of lovers in his face, he numbs the pain of his disastrous marriage by self medicating with anything he can get his hands on. However, not everything falls Eva's (Joan) way. When she discovers her sister in law, Carol (Betsy Palmer) is engaged to Judson Prentiss (John Ireland), a man who just happens to be one of Eva's (Joan) past lovers, she sets out to tell Carol (Betsy Palmer) every last detail of their passionate affair.

COMING SOON!

Autumn Leaves (1956)

Millicent Wetherby is a mid forties writer, having never been married because of her devotion in taking care of her ailing father, she finds the sudden and unexpected love of a younger man, Burt Hanson (Cliff Robertson) flattering and exciting. After much conflict over their age difference, they decide to marry, only then does Millicent (Joan) discover the secret that her husband has been hiding from her. He's been married before!

COMING SOON!

The Story of Esther Costello (1957)

In an interesting parallel to the story of Helen Keller in "The Miracle Worker," "The Story of Esther Costello" holds its own as a gritty, emotional story about the sacrifices that some people will make to protect a loved one. The well to do, Margaret Landi (Joan) is talked into helping educate, eighteen year old Esther (Heather Sears), a young Irish woman left deaf, blind and emotionally fragile since an accident that also killed her mother.

COMING SOON!

The Best of Everything (1959)

In a sad twist of the imminent fate of two actors who once carried a movie, both Louis Jourdan and Joan are delegated to 14th and 15th on the cast list here. A test of sorts for the new meat on the 20th Century Fox lot, "The Best of Everything," is a movie length soap opera that tells the story of three young typists at the Fabian Publishing Company, all hoping to find something better in life, and love.

COMING SOON!
Click on the decades below to browse movies.