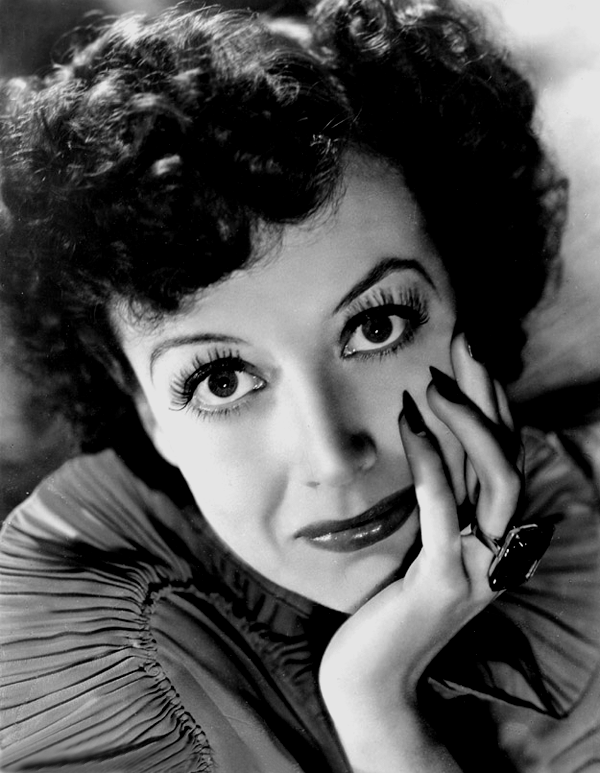 "I knew it was dangerous for me to play Crystal, but I couldn't resist." - Joan Crawford
"The Women" 1939
This page is dedicated to an old friend, Chris Hosman. You gave me a picture of Roz when I left Boston
to remember you by and now you have this very own page to remember me. Miss you.
Cast: Norma Shearer, Joan Crawford (as Crystal Allen), Rosalind Russell, Mary Boland, Paulette Goddard, Phyllis Povah, Joan Fontaine, Virginia Weidler, Lucile Watson, Florence Nash, Muriel Hutchinson, Esther Dale, Ann Moriss, Ruth Hussey, Dennie Moore, Mary Cecil, Mary Beth Hughes, Virginia Grey, Marjorie Main, Cora Witherspoon, Hedda Hopper.


Release date - September 1, 1939

Running time - 133 minutes (14 reels)

Director - George Cukor

Studio - MGM

Production dates - 25 April, 1939 - 7 July, 1939

Writing Credits - Clare Boothe Luce (play), Anita Loos and Jane Murfin (screenplay)

Producer - Hunt Stromberg

Cinematographer(s) - Oliver T. Marsh and Joseph Ruttenberg

Costumes - Adrian (Gowns and fashion show)

Production Code: #1091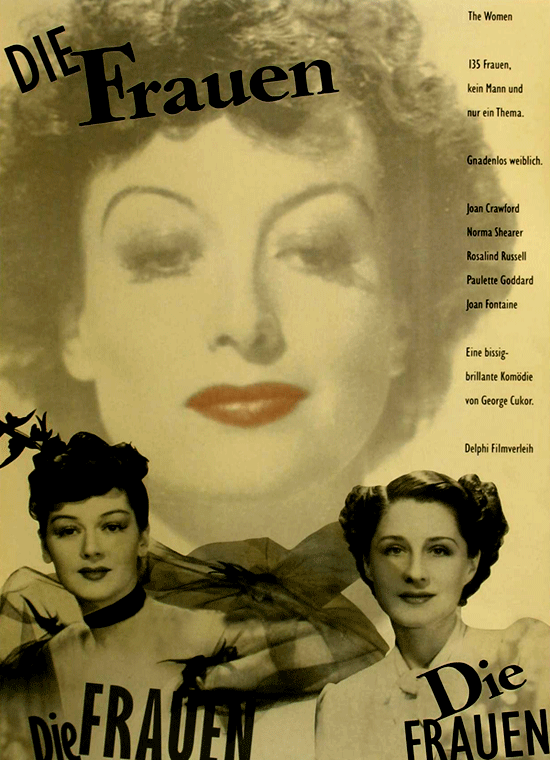 Movie Synopsis
Crystal Allen (Joan) is a shopgirl having an affair with the husband of Mary Haines (Norma Shearer). When Sylvia (Rosalind Russell) and Edith (Phyllis Povah) overhear the rumor in the beauty salon, they can't bring themselves to break the news to the innocent Mary so they arrange for her to overhear the gossip with her own ears. Fleeing to Reno for a divorce, Mary meets a Countess (Mary Boland) and Miriam (Paulette Goddard) all of who are having man trouble of their own.

Whilst staying at Lucy's (Marjorie Main) dude ranch, Sylvia (Rosalind Russell) turns up seeking a divorce from her cheating husband. She finds out that Miriam is the culprit for her marital woes and a cat fight breaks out between the girls. Crystal is now married, unhappily, to Mary's husband, and is having an affair with someone else. In the end, Crystal is back working behind the perfume counter and the very forgiving Mary runs back to her husband. Ironically, the story ends how it starts, only there's a tangled mess in the middle of it all.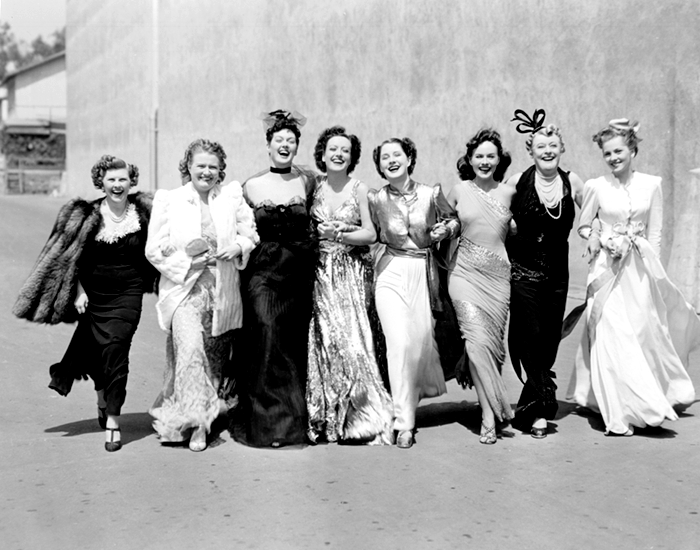 Interesting Trivia
George Cukor was labeled, 'The Women's Director' and in his film, aptly titled, "The Women," he made sure he lived up to his reputation. There are an amazing number of female coincidences here - One hundred and thirty-five actresses were used in the film, all the animals that were featured in the film, were all female and the artwork seen in the backgrounds of various scenes, were all paintings of the female form. [www.afi.com].

In addition to its all-female cast, every animal that was used in the film (the many dogs and horses) was female as well. In addition, none of the works of art seen in the backgrounds were representative of the male form.

No stand ins were used in the fight scene where Rosalind Russell bites Paulette Goddard. The two women gave it their all, but despite Russell's bite leaving a permanent scar, they still remained friends. [www.afi.com].

When Norma Shearer and Joan Crawford were called to shoot publicity stills, neither actress would enter the studio first. Instead, they remained in their limousines and circled the parking lot until director George Cukor summoned them and they instantly behaved like best friends.

An enormous studio success, "The Women," was the second highest grossing film for MGM in 1939 - First place? - "Gone with the Wind." George Cukor was fired as director of "Gone with the Wind" only a month before "The Women" was scheduled to begin filming.

Although uncredited, F. Scott Fitzgerald contributed to the writing of the screenplay.

The title card of the film reads: The Women "as presented for 666 performances in its Triumphant run at the Ethel Barrymore Theater, New York."

The fashion show was shot in color, using the Technicolor process. According to a news item in HR, this combination of color and black and white photography in the same shot was a technical innovation. Another item in HR adds that the film was also innovative in it use of "light charts" which mapped out the lighting arrangements for each actor. Developed by photographer Oliver Marsh, the chart cut setup time by twenty percent.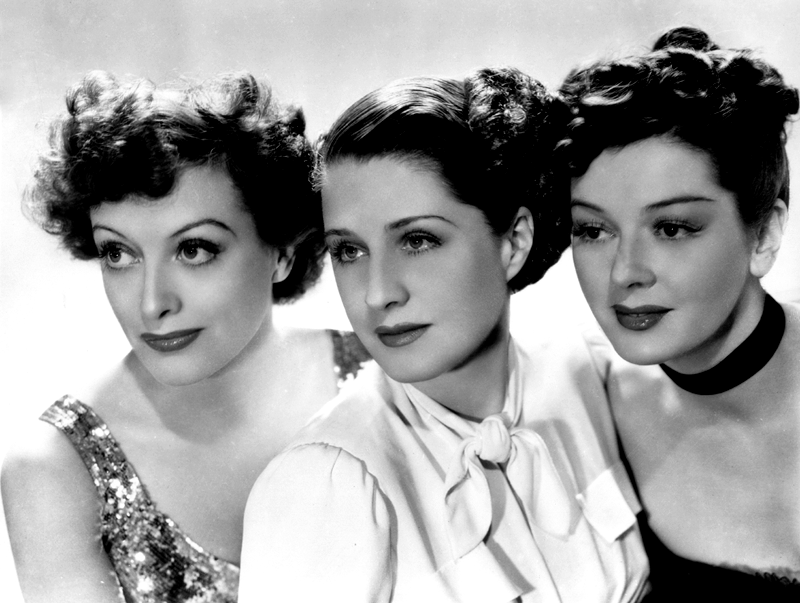 Sydney's, the beauty salon where the initial action takes place, was named after Sydney Guilaroff, the chief hairstylist at MGM from 1934 to the late 1970s. He was brought to MGM from New York at the request of 'Joan Crawford'.

The film proved to be a great success, both commercially and critically, and although it received no Academy Award nominations many critics now describe it as one of the major films of what was a stellar year (1939) in Hollywood film production.

Though many people view Joan Crawford as the "bad girl" of the movie, Clare Boothe Luce, who wrote (as Clare Boothe) the play that the film was based on, sympathized most with Crystal Allen, Crawford's character.

According to her autobiography, Rosalind Russell called in sick because Norma Shearer refused to share top billing. She stayed "sick" until Shearer finally relented.

Myrna Loy and Greta Garbo were the only top-tier female stars at MGM who did not star in this film.

Butterfly McQueen's film debut.

A remake of "The Women" will be released on Seeptember 12th 2008. Diane English is set to direct. Contemporary actresses, Eva Mendes, Meg Ryan, Annette Bening, Debra Messing, Jada Pinkett Smith, Carrie Fisher, Bette Midler and Candice Bergen are all part of the all-star ensemble cast.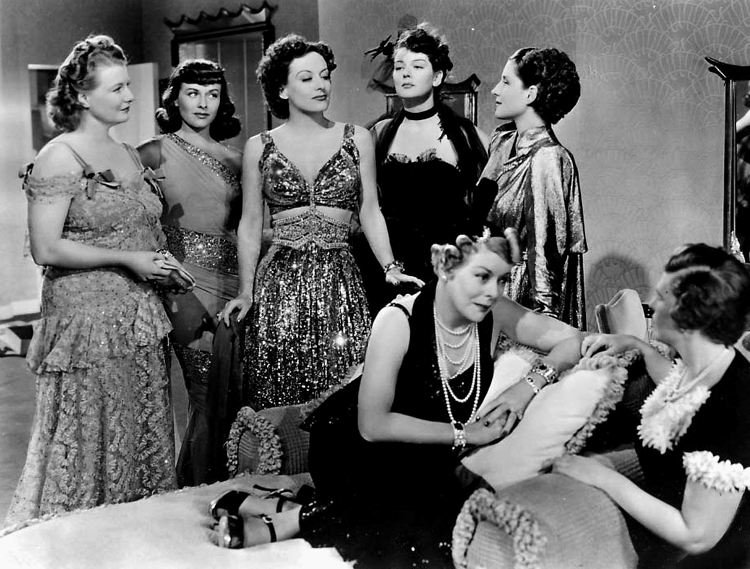 Memorable Quote: Crystal Allen (Joan): "Well, I guess it's back to the perfume counter for me. Oh, and by the way, there's a name for you ladies, but it isn't used in high society, outside of a kennel."

Crystal Allen (Joan): "He almost stood me up for his wife."

Crystal Allen (Joan): "Thanks for the tip. But when anything I wear doesn't please Stephen, I take it off."

Crystal Allen (Joan): "Say, listen, I've worked too hard to land this meal ticket to make any false moves now."

Crystal Allen (Joan): "You noble wives and mothers bore the brains out of me. And I bet you bore your husbands, too."

Mary Haines (Norma): You are a hard one.

Crystal Allen (Joan): I can be soft on the right occasion.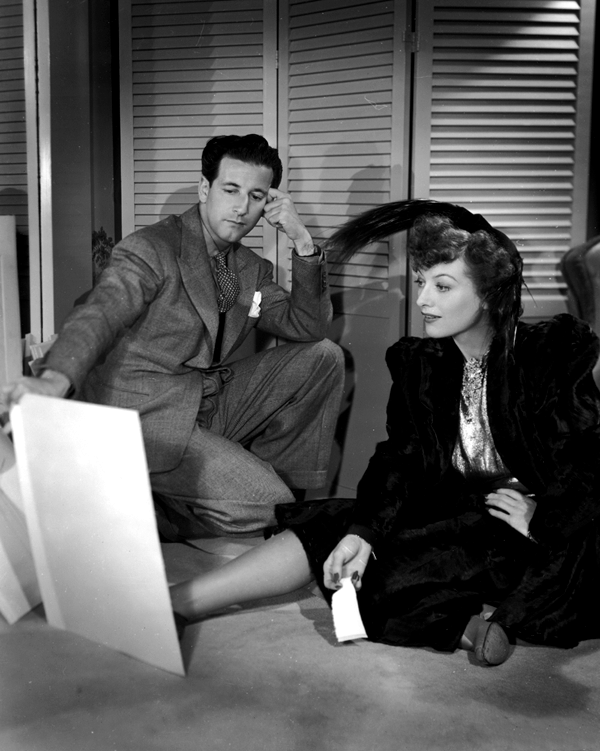 Movie Mistakes: Continuity: When Crystal is taking her bath she smokes a cigarette, which she eventually throws away. However when Little Mary enters the bathroom, Crystal is again smoking and we never see her lightning this other cigarette.

Continuity: At the end of the fashion show, the hands of the model in the red gown and fur stole noticeably change position between the long shot and the close-up.

Continuity: In her dressing room, Crystal slips her coat off her shoulders. In the next shot, her coat is completely back on.

Audio/visual unsynchronized: When Little Mary says, "Sheba, get off of Daddy's coat," to her dog, her lips close before the line is finished.

Songs: "Forevermore," words and music by Chet Forrest, Bob Wright and Edward Ward.

Taglines: "It's all about men!"

"The year's mightiest cast in the hit play that tells on the women!"


Cost: $1,688m./Domestic Studio Gross: $1,688m./Foreign Studio Gross: $660K/ Profit: $2.2m.

Box Office Receipts: $2.2 million

Inflation Value in 2008: $34,287,079.14
Photos
Click on images below to see a larger view.
Movie Posters/Lobby Cards etc...
Fan Reviews/Comments
Joan's grandson, Casey LaLonde, says...
Seven years following her role in "Grand Hotel," Joan appears in another excellent ensemble piece, "The Women." The film is a rather simple mix of adultery, light comedic situations and ultimately vindication for costar Norma Shearer. It is simply a great film driven by the wonderful screenplay written by Anita Loos and Jane Murfin; based on the play by Clare Boothe Luce. The dialogue is sharp and quick with not a syllable wasted.

The fact that only women appear in the film is incredibly imaginative. To have the queen of Metro-Goldwyn-Mayer Norma Shearer square off against Joan Crawford was an ingenious casting decision. Rosalind Russell, Joan Fontaine, Mary Boland, Paulette Goddard and Marjorie Main are all superbly cast and create the perfect ensemble. This is one of my favorite Metro films and the snappy dialogue stands the test of time.
Reviewer, Keith, says...
Big cast and great acting. It was so much fun seeing Joan playing the bitch. In the dressing room scene I thought she was great and not over the top like so many actresses would've done,(Bette Davis comes to mind). I think it flows easily and everything fits together. Granted we are talking about Joan Crawford, but Rosalind Russell churns up a good bit with her role. She was fabulously catty. She kind of walks off with the picture. But only Joan could have played Crystal. I mean let's face it. Who has the look and the stature? She was gorgeous. I really like her scenes with Norma Shearer. Is it just me or did anyone get a feeling this was an easy scene for Joan to pull off? I think Joan was confronting not only Shearer's character but the angst Shearer caused during the MGM days, gobbling up all the plum roles. Crawford could have played her role Mary.. Shearer was the waste of the movie. I would yawn and bite my toenails for entertainment in her scenes.

I give it 4 stars for being very entertaining with the top two stars, Crawford and Russell. The rest of the supporting cast was good too. That includes dowdy Shearer. Without Crawford she wouldn't have been able to roll around in her 1920's style acting throwing her head this way and that way.

They should have put Katherine Hepburn (on contract at the time I do believe) in the role of Mary. Now that would have been fun to watch..Quid Pro Quo indeed!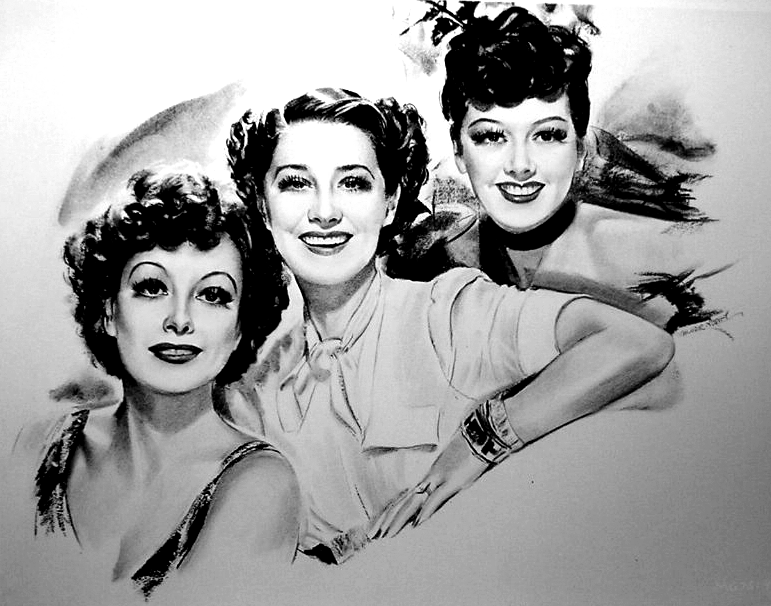 Reviewer, Chad Edwards, says...
Anita Loos wrote the script for this tremendously entertaining screen version of Clare Boothe's Broadway hit about cattiness, jealousy and rivalry in a circle of "friends." Norma Shearer heads the all-female cast as a good-natured woman who finds her marriage threatened by a sexy shopgirl. Joan Crawford found quite a change of pace in the role of bitchy homewrecker Crystal Allen. An actress of highly unique talents, Crawford managed to bring sympathy to her character, certainly no small achievement. Other players worthy of note are Rosalind Russell as the motormouth Sylvia; Paulette Goddard as Miriam, the divorcee who takes up with Sylvia's man and Phyllis Povah, repeating her Broadway role as the perennially pregnant Edith. THE WOMEN was the beginning of a very successful partnership for director George Cukor and Joan Crawford: they would work together on two other MGM classics, SUSAN AND GOD and A WOMAN'S FACE. Metro remade THE WOMEN in 1956 as THE OPPOSITE SEX, this time adding men, musical numbers, and Technicolor. It's a respectable updating of the classic film; however, it cannot top the original.
Reviewer, Chris Hosman, says...
This film is over-flowing with star power. The combination of females make it a must-see for any Crawford fan. Joan plays "the other woman" pitted against Shearer as the "perfect wife". The scenes between the two crackle with energy, which is often fanned to a magnificent flame by the catty, chatty, back-stabbing friend played to the hilt by Roz Russell. Joan lobbied for the part and one can easily see why. The part of Crystal was something Crawford could sink her teeth into and play at her bitchy best. The script is flawless, the cast is perfection, and the Adrian gowns should share equal billing with the stars who don them. Joan held her own in the star-studded Grand Hotel, but she dominates this film outright.
Reviewer, babyc22_5, says...
I thought the movie was great - one of Crawford's greatest movies. It was a bit strange not seeing any men in the movie. It was a great all-star cast and every entertaining and I thought Rosalind Russell was extremely funny and Joan plyed the bitch Cystal Allen extremely well too, well to be honest, they all played their characters very well and I'm so glad I saw it when I did.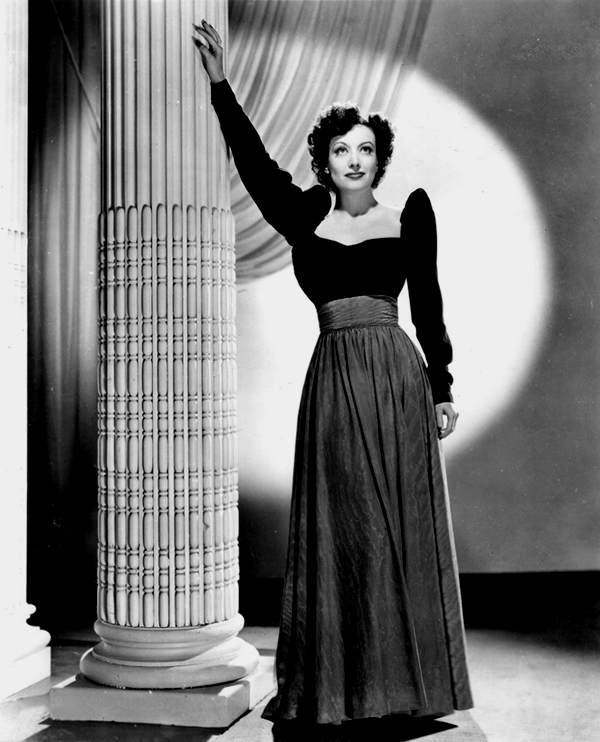 Other Reviews
Frank Nugent of the New York Times had this to say, "Miss Crawford is as hard as nails in the Crystal Allen role, which is as it should be."

The New York Herald Tribune had this to say, "Some of the venom of the play has been extracted, while Miss Boothe's sentimental consideration of her heroine has become even more sentimental. What will matter to most filmgoers is the fact that the show is caustically comic, that is has enlisted a slew of Hollywood's top actresses in its company, and that George Cukor, the atmosphere expert of the screen, has saturated the proceedings in femininity...."The Women" is a women's show, but one which is certain to flatter and amuse most men....Joan Crawford gives a conventional but striking performance as the shopgirl who tries to hook the heroine's husband."
If you have seen this movie, please write a review below. Once your review is submitted, I will post the review below. Thank you for your review on this film.
Click on the decades below to browse movies.