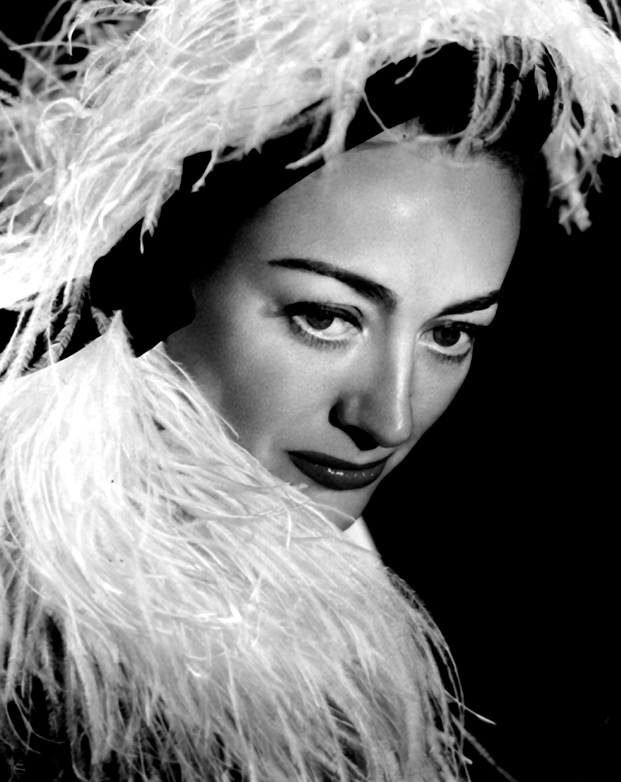 "The first comedy I'd done in ages, and I loved every minute of it." - Joan Crawford
"It's a Great Feeling" 1949
Main Cast: Dennis Morgan, Doris Day, Jack Carson, Bill Goodwin, Irving Bacon, Claire Carleton, Harlan Warde, Jacqueline de Wit. Guest appearances by Gary Cooper, Edward G. Robinson, Joan Crawford (as herself), Danny Kaye, Errol Flynn, Ronald Reagan, Jane Wyman, Eleanor Parker, Patricia Neal, Michael Curtiz, Jacqueline deWit, Sydney Greenstreet, Patricia Neal, King Vidor and many more!


Release date - New York Opening, August 12, 1949; August 20, 1949, Nationwide

Running time - 84-85 minutes

Directed by - David Butler

Writing Credits - I. A. L. Diamond (story), Jack Rose and Melville Shavelson.

Producer - Alex Gottlieb

Cinematographer - Wilfred M. Cline

Costumes - Milo Anderson

Studio - Warner Brothers

Production Dates - August 20 thru October 16, 1949

Working Title - Two Guys and a Gal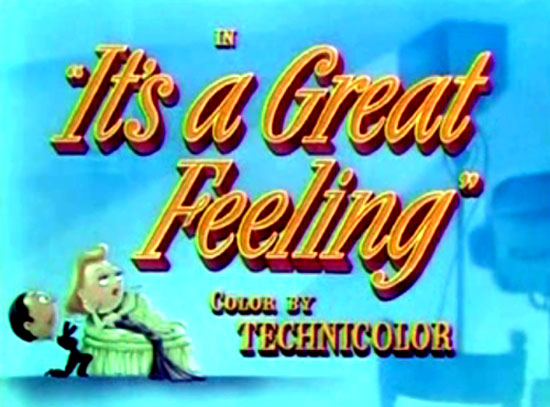 Movie Synopsis
Judy Adams, played by a young Doris Day is thrown into this star studded film, that Warners made to simply showcase their stable of stars. Most appear as themselves, with Joan Crawford demonstrating her perfected slapping skills on Jack Carson and Dennis Morgan, going on to explain, "I do that in all my pictures." She steals the show.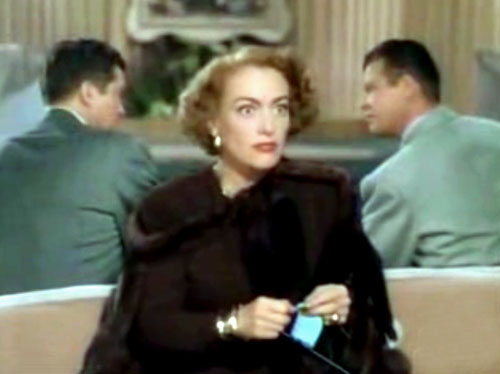 Interesting Trivia
Joan Crawford does a cameo and directs a short speech to Jack Carson before slapping his face. It's the same one she gives to 'Ann Blythe' in Mildred Pierce (1945) before slapping her face. Jack Carson was also a star in that film with Joan.

Both William H. O'Brien and William J. O'Brien appear in this film (uncredited) saloon waiters.

Nita Talbot's film debut.

Songs: "It's a Great Feeling," "Blame My Absent-Minded Heart," "At the Cafe Rendezvous," "That Was a Big Fat Lie," "There's Nothing Rougher Than Love," "Give Me a Song with a Beautiful Melody," "Fiddle-dee-dee," music by Jule Styne, lyrics by Sammy Cahn.

Academy Awards - 1950 - Nominated - Best Music, Song - Jule Styne (music) Sammy Cahn (lyrics) - For the song, It's a Great Feeling.


Cost: $1,452m./Domestic Studio Gross: $2,059m./Foreign Studio Gross: $645K./ Profit: $2,896m.


Box Office Receipts: $2,896,000


Inflation Value in 2008: $26,359,927.39
Photos
Click on images below to see a larger view.
Movie Posters/Lobby Cards etc...
Fan Reviews/Comments
Reviewer, Roger Burke, says...
Without a doubt, classic Hollywood made some great musicals. This film is not one of them. And, there have been much better comedies from Tinsel Town also.

The distinguishing and saving features of this bit of frippery are two fold: first, you'll go a long way before finding another film with so many uncredited cameo appearances by major studio stars of the time (only Mike Todd's Around the World in 80 days, made in 1956, comes even close); and second, this is a snappy and self-referential send-up of the perils and pleasures of working in Hollywood.

The downside is this: if you were born after 1960, you probably won't appreciate the cameos by the actors and directors mainly because they'd gone from the scene - duh - by the time you started going to movies. But, on the upside - well, if you liked Robert Altman's The Player (1992), then this movie may appeal also.

The story, of course, is hackneyed: girl, working as a waitress (Doris Day), wants to get into movies, meets struggling director (Jack Carson) whom nobody likes, but who just happens to have a big-time singing star (Dennis Morgan) ready to help...

Good grief - David Lynch turned that short plot synopsis into a horror movie called Mulholland Drive (2001), minus the cameos - but not the singing. How about that?

Anyhow, back to the dilemmas of Doris...

Okay, the story sucks but the dialog is great and Jack Carson was always the guy to deliver perfect one-liners perfectly. I lost count of the number of times the dialog poked fun at every aspect of Hollywood life. And, the sight gags with the many and varied cameos are spot on, the standout performances coming from Gary Cooper, Edward G. Robinson and - how could anybody miss her? - Joan Crawford. And, look, if like me you don't like Dennis Morgan's singing, just turn off the sound for a minute or two and grab your next beer from the cooler.

And, for the record, the cameos I recognized are: Gary Cooper, Joan Crawford, Micheal Curtiz, Errol Flynn, Sydney Greenstreet, Danny Kaye, Patricia Neal, Eleanor Parker, Ronald Reagan, Edward G. Robinson, King Vidor, Raoul Walsh and Jane Wyman.

Now, after you've seen this very syrupy and mild expose of Hollywood life - but it's a lot of fun - take the time to see what it's really like with Lynch's little plot of horrors, mentioned above.
Other Reviews
Variety had this to say, "Joan Crawford does a pip of a bit in the swank gown shop with the three principals, rating plenty of howls...The guests are brought into the story naturally and this lack of forced use is an aid in spinning the pace alone and spotting unexpected comedy."

A. H. Weiler of the New York Times said, "Joan Crawford spoofs her own woman-of-the world roles."
If you have seen this movie, please write a review below. Once your review is submitted, I will post the review below. Thank you for your review on this film.
Click on the decades below to browse movies.