Joan Crawford met Franchot Tone on the set of her 1933 film, "Today we Live." The two were obviously very attracted to one another but Tone intrigued Joan. Tone was from a well to do family and very cultured, well mannered and seasoned in the acting department. Joan was intrigued by all of Tone's positive traits and the courtship of the two was cemented in 1933. The two would be married two years later in 1935 and star in seven films together: "Today We Live" (1933), "Dancing Lady" (1933), "Sadie McKee" (1934), "No More Ladies" (1935), "The Gorgeous Hussy" (1936), "Love on the Run" (1936) and "The Bride Wore Red" (1937). After four years of ups and downs Joan and Franchot were divorced on April 11, 1939. Another failed marriage for Joan...what caused divorce number two? Below is an in-depth look into the life of Franchot Tone and the courtship of Tone and Crawford.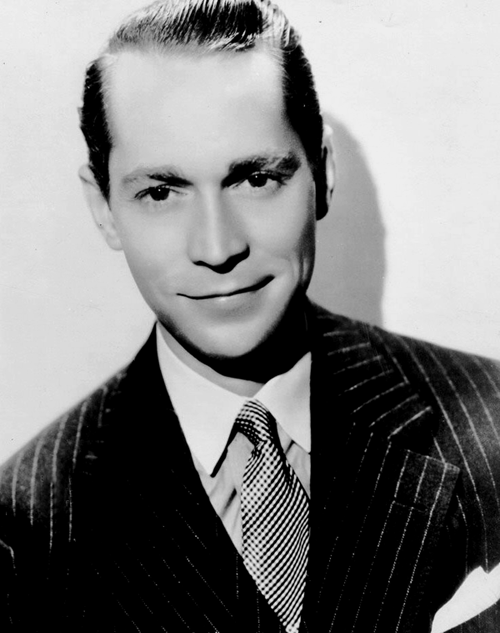 Stanislas Pascal Franchot Tone was born on February 27, 1905 in Niagara Falls, New York to a wealthy family. His parents were Dr. Frank J. Tone (a pioneer in the field of electro-chemistry and former president of the Carborundum Company of America) and Gertrude Franchot Tone (of the socially and politically prominent up-state New York Franchot family.) Tone would end up using his mother's maiden name as his first name. Tone was well-educated and attended Cornell University (Phi Beta Kappa - Class of 1927) and Rennes University in France. It was at Cornell were his interest in acting was began and that brief interest would flourish unexpectedly for Tone. Tone's first major acting experience was on Broadway in "The Age of Innocence" in 1929. Only four years later that Franchot would star in films and meet his 'first' future wife.
After several live stage performances, Tone headed to Hollywood in 1932. At this time Joan was a huge star at MGM so we can be sure that Tone not only heard of Ms. Crawford but also was highly attracted to the screen goddess. Tone's first big screen appearance was for Paramount in 1932 in a film called "The Wiser Sex" starring Claudette Colbert. Tone didn't "catch on" for Paramount's liking so he was dumped and picked up by MGM who saw potentially in the handsome Franchot Tone. His second picture would not only change his life, but also change Crawford's as well. "Today We Live" was originally not supposed to include Crawford; it was supposed to be an all male cast. Joan's part was written in, one can only imagine how fate would have turned out if Crawford never appeared in "Today We Live."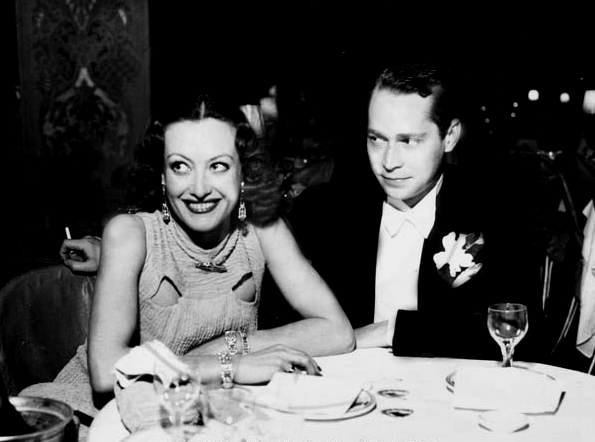 Filming for "Today We Live" started in December of 1932. Joan was newly single from her first husband Douglas Fairbanks Jr. and 1932 was a banner year for Joan with three amazing movies, "Grand Hotel," "Letty Lynton" and "Rain" under her belt. Franchot was just getting his feet wet in Hollywood and making his first picture for MGM when he met Joan. Tone and his dashing good looks instantly took Joan. Tone won Joan over not only with his looks but his sexy masculine voice, his impressive acting capabilities and once Joan got to know Tone a bit more, she was fascinated by his theatrical background, upbringing and manners. "Today We Live" may have been a bomb at the box office but sparks went off when this film was made! Franchot was like any other man she had been intimate with. He was not a "naive little boy" like Fairbanks Jr. and Gable and Joan were so much alike it was scary. Tone was more of a mentor to Joan and the coming years would show just how much Joan would learn and grow through her courtship with Tone.
Even though "Today We Live" was not a hit, Joan and Tone were teamed up the following year in "Dancing Lady." The film also starred Joan's lover, Clark Gable. One can only wonder how uncomfortable, or comfortable, it was for Joan to be in a film with Gable, a man that she was having a torrid love affair with and Tone whom she was falling in love with. It was while making "Dancing Lady" that Joan and Franchot started to get hot and heavy and it showed on-screen, not only in "Dancing Lady," but in the following picture in 1934 "Sadie McKee." Joan was taking baby steps after her first failed marriage to Fairbanks Jr., but their courtship had been going strong for almost two years. Many were wondering if they were going to stay lovers or tie the knot. Rumors were flying around Hollywood on what were the couple's intentions.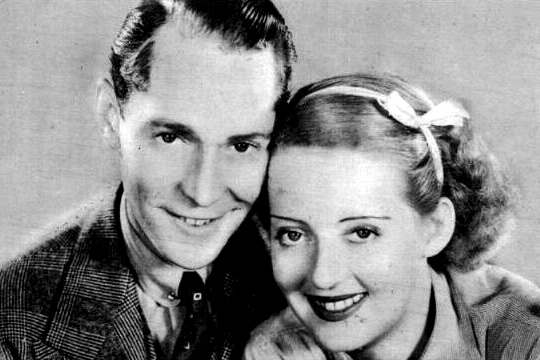 "No More Ladies would be the fourth film the love birds would make together and Joan had to make a decision. Should she marry Tone or stay a single woman? One of the deciding factors in Joan's decision was jealousy. Franchot had started filming "Dangerous" on loan to Warner Bros. and he was co-starring with Joan's future rival, Bette Davis. Bette was love struck over Franchot and Joan admitted she was jealous of what looked like a budding romance between Davis and Tone. Joan crushed anything that might have been and accepted a marriage proposal from Tone. This was most likely another dig that would fester under Bette's skin for years that would form into the infamous rivalry we know today between Crawford and Davis. Joan and Franchot were married on October 11, 1935. The marriage would start showing signs of stress the following year.
One of the highlights of the Tone marriage was Franchot introducing Joan to radio. Franchot encouraged Joan to spread her wings and explore new avenues in her career and radio was one of them. Joan appeared in her first radio broadcast, "Within the Law" with her husband Franchot in October 1935. Joan was so nervous during those live performances that she was on the verge of nausea and would ask producers for permission to sit at a table while reading her lines. Joan also explored singing and attended theatrical live shows. Oh, marriage bliss...it seemed.

As 1936 came and went, Joan was still a huge star at MGM and named the "Queen of Hollywood." Joan was steamrolling right along and she had 40+ pictures under her belt in her short 11 year career. Not too shabby! Franchot was coming off huge successful movies like "Dangerous" and "Mutiny on the Bounty" and he was even a leading man in "The King Steps Out." But Tone was not getting the top billing his wife was getting. MGM didn't think he was handsome enough or have enough "star appeal" to be a leading man... so Franchot had to settle for supporting roles. This resulted in Franchot playing second fiddle to his wife. One of the reasons the marriage would fail.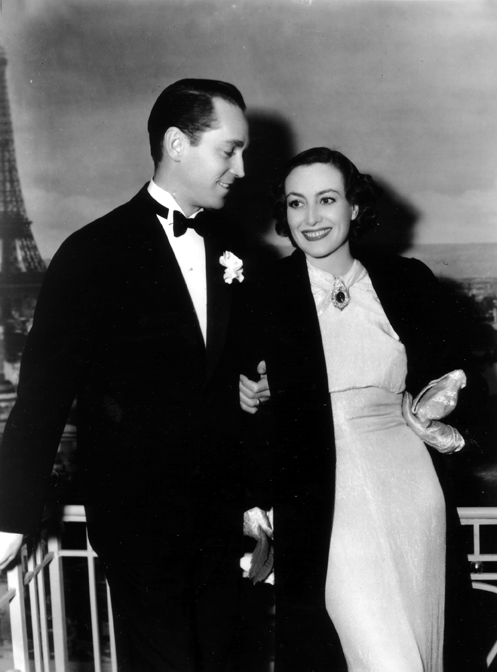 "The Gorgeous Hussy" would be yet another film starring the Tone's but this film was not memorable for either of them. Franchot starred to crack over the way Louis B. Mayer and the studio had been treating him and he started taking his roles less seriously and showing up late on the set. Joan was a professional and didn't take kindly to this behavior. On a few occasions Joan would show up on the set with dark sunglasses to hide the black and blues that she suffered at the hands of Tone during his drunken rages. It became well known that Franchot took out his anger physically on Joan. Back in those days, hitting your spouse was not uncommon and there were no resources for battered women. Joan was strong and I am sure she fought back but on the inside, she was suffering in a doomed marriage that she knew was bound to fail. The couple also around this time tried several times to have children but Joan was noted in saying she had several miscarriages. Their next film together was ironically titled "Love on the Run." Old pal Gable reunited with the Tone's once again on screen.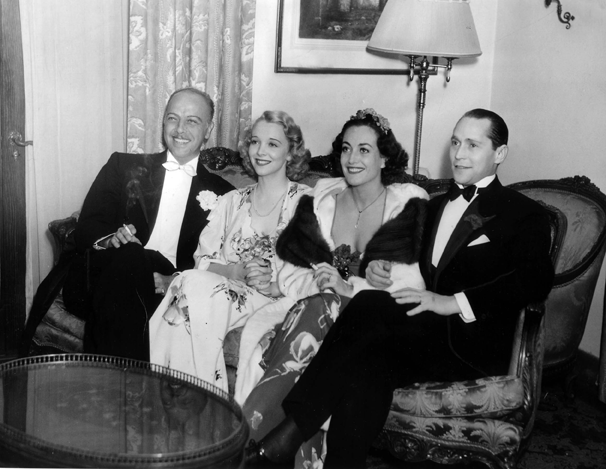 The year 1937 would pair the married couple one last time in "The Bride Wore Red" arguably their best picture together. The two had amazing on-screen chemistry in this film and Franchot was more charming than he had ever been. The movie didn't do much for Joan's career, the movie was not much of a success and Joan went from "Box Office Queen" to "Box Office Poison." One can only imagine how this affected Joan and her marriage. All fans of Joan know she worked even harder on her career and this took time away from her rocky marriage. Franchot was drinking much more and was labeled Mr. Joan Crawford, which didn't help matters. Joan also was concentrating more on her co-stars. Probably Joan's first serious marital affair while married to Franchot was with Spencer Tracey while filming the 1938 movie "Mannequin." This was he beginning of the end of Joan's second marriage.
Joan and Franchot were supposed to star in another film together in 1938 but Joan was said to have not liked the part but the real story was that Joan couldn't handle making another picture with Franchot. She did not want to suffer the repercussions of his jealously and deal with the on set fighting. The marriage was close to being over but Joan was still trying to save her marriage. More attempts to have children were shattered by more miscarriages and Franchot was showing up later and later at home and his drinking was becoming out of control. The straw that broke the camels back for Joan was when she went to surprise Franchot on the set of one of his films and she barged into his dressing room to find Franchot getting head by an unknown starlet. Although Joan had cheated on Tone herself, Joan actually witnessed the event and she was pissed that it was an unknown person. Sounds pretty funny but it sounds like our Joan! Joan was still willing to make it work but Franchot's abuse grew into verbal abuse and Joan had reached her limit. The marriage had spiraled out of control and Joan fled for divorce. On April 11, 1939 the two were divorced after four years of marriage. After the divorce Joan was quoted I saying "If anyone catches me getting married again, they oughta give me a good sock in the jaw!" Joan would see marriage again but it would be several years before she met husband number three.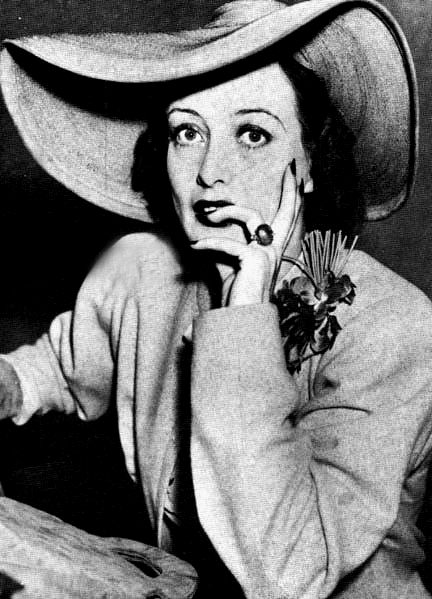 Joan maintained a cordial relationship with Tone throughout her life and as the two grew older they grew closer together. By the 1960s Joan was pretty much taking car of a wheel chair bound Franchot Tone. She cared for him towards the end of his life. One of my favorite stories is a reporter came to interview Joan in her New York apartment and a man was in a wheelchair in the apartment during the entire interview. The reporter was so intrigued as to who this man was in the wheel chair, Joan never mentioned him or introduced them. As the reporter was leaving he politely asked Joan "Who is that man?" Joan replied "Oh, that's just Franchot." It was almost like they were an old married couple. Pretty sweet in away. Joan cared for him in a time of need; it showed how big of a heart Joan had. Franchot Tone died on September 18, 1968 in New York of lung cancer at the age of 63.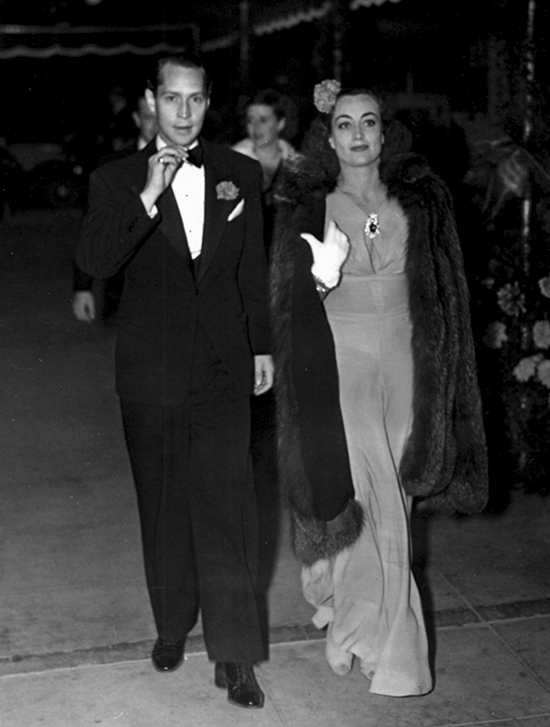 Below are photos that showcase the sexual intellectual romance of Crawford and Tone, starting in 1933, going into their marriage, then into the final years of their courtship. The photographs take you into their lives during the course of their seven-year relationship. The photos, for the most part, are in chronological order. The majority of these photographs come from my personal photographs and/or scrapbook collections.
Joan Crawford & Franchot Tone Films
Joan Crawford and Franchot Tone made an amazing seven films together. Besides Clark Gable, Franchot Tone made more movies with Joan Crawford than any other male actor. Their film career started in 1933 with "Today We Live" and ended with "The Bride Wore Red" in 1937. To see a detailed page of each of their films that they starred in together, click thumbnail images below.
| | | | | |
| --- | --- | --- | --- | --- |
| Today We Live | Dancing Lady | Sadie McKee | No More Ladies | The Gorgeous Hussy |
| Love on the Run | The Bride Wore Red |   |   |   |
Joan Crawford & Franchot Tone Radio Appearances
Franchot Tone introduced his first wife, Joan Crawford, to the world of radio. Their first radio appearance together was "Within the Law' on October 14, 1935. The married couple appeared on four more radio broadcasts in the 1930s for a total of five radio appearances. In 1960, Joan and Franchot reunited in 1960, 25 years after their last radio broadcast together, in "Message to the World." To view a detailed synopsis of the radio broadcasts that featured Franchot and Joan and see many more photos of the two, click the thumbnail below.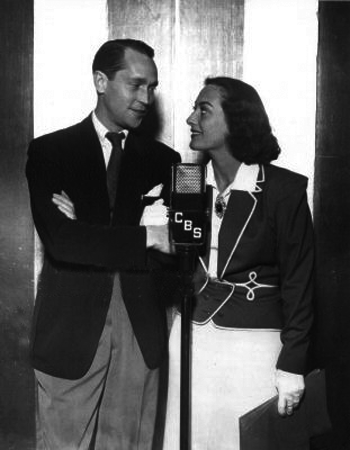 Click the links above to view each page.