""Our Modern Maidens" paired me up with Douglas Fairbanks, Jr.,
and we all know where THAT led to!" - Joan Crawford
Joan Crawford and Douglas Fairbanks Jr. were the "it" couple in the late 1920s into the early 1930s. The two were young, beautiful and in love and married on June 3rd 1929. Even though the young couple came from two different sides of the tracks, they seemed to be perfect for each other. The couple appeared to have it all, but after a four years of marriage the couple divorced on May 12, 1933. What went wrong? Below is a in-depth look into the life of Douglas Fairbanks Jr. and the courtship of
Crawford and Fairbanks Jr.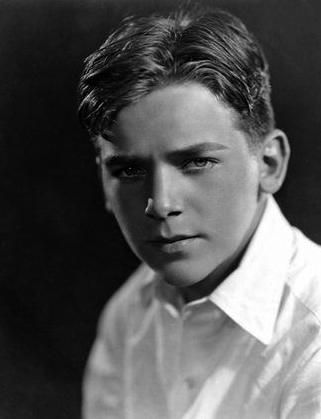 Douglas Elton Ulman Fairbanks Jr. was born on December 9th 1909 in New York. His father, Douglas Fairbanks Sr., was a theater actor at the time and his mother, Anna Beth Sully, was heir to a cotton fortune. Young Douglas had no ambition in his younger years of being an actor as he excelled in school in Paris, sports and art. But the King and Queen of Hollywood in the early 1920s, his father and his new wife Mary Pickford surrounded him. It was inevitable that young Douglas would be exposed to the acting world himself. He had a few uncredited parts as a child but at the young age of fourteen he started in his first film "Stephen Steps Out." Although the movie was a flop, he continued acting throughout the 1920s in such silents as "Stella Dallas," "Man Bait" and "Woman Love Diamonds."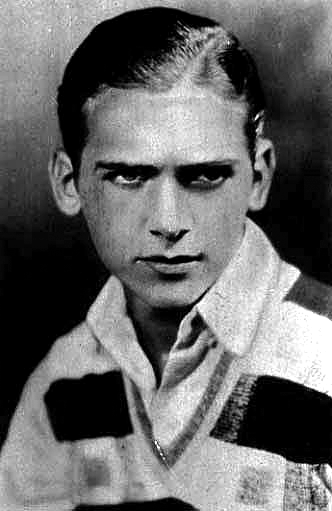 In 1927 young Doug was filming "Woman Love Diamonds" with big silent stars Greta Garbo and John Gilbert. Gilbert was also filming another movie at the same time in the next studio over called "Twelve Miles Out" with Joan Crawford. This was when Joan and Doug first initially met; Joan thought Fairbanks Jr. was stuffy at their brief meeting. It was in 1928 that Joan began to learn more about her future husband. Joan attended a theatrical performance at the Vine Street Playhouse called "Young Woodley" that was starring Douglas Fairbanks Jr. This is when Joan started to take a shine to Doug and Joan sent a telegram complimenting him on his fine performance. Joan was highly attracted to the young stud but she had no intentions of wanting to marry the young man she just wanted a little "fun."
Joan and Doug were coming from different backgrounds and Doug was brought up in fine schools and wealthy parents and he came off as a pretty boy snob to most riding on his father's coattails. Joan came from near poverty and had to earn her way through schools as a youth cleaning and doing menial chores. Joan was earning her way as an actress through hard work and trial and error. But there was one area that Joan was a little more "educated" in and that was sex. Douglas Jr. was not that experienced in this department and Joan introduced Doug to a few techniques to say the least. As the two began to get to know each other intimately they also both started to fall in love with each other.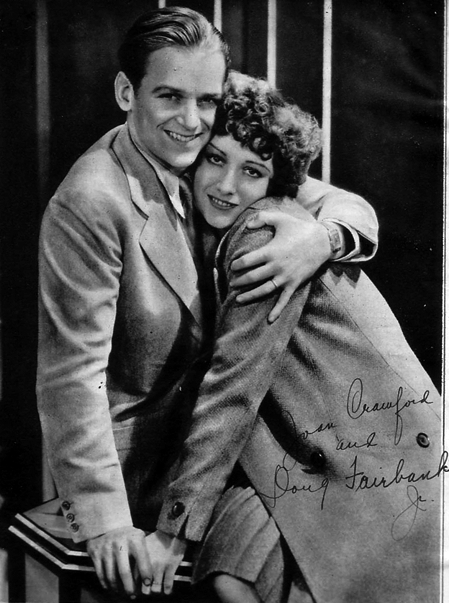 After the two had fallen in love, Joan had a few obstacles to over come, his family. Doug's mother Anna didn't want her son getting married so soon and called Joan "a fast girl." Mary Pickford just plain out didn't like Joan at first; possibly jealous of the young stars rise in Hollywood and her talent and beauty. Douglas Fairbanks Sr. noticed all these qualities of Joan and although he thought Joan was just a fling, he to a shine to Joan. Although Joan and Doug were both in love and seriously dating in 1928, Joan was still not invited to the famous "Pickfair," the house of Fairbanks Sr. and Mary Pickford, and wouldn't be for some time to come.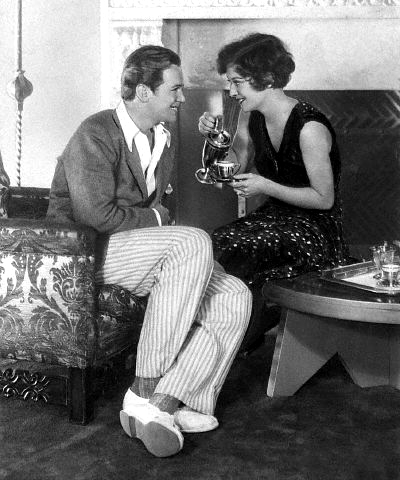 On December 31st 1928, New Year's Eve, Douglas Fairbanks Jr. proposed to Joan Crawford in Long Beach New York and Joan excitedly accepted. Some have questioned whether Joan had a motive in marrying Douglas Fairbanks Jr. Joan wanted that Hollywood "in" to solidify her stardom and success in Hollywood. Notorious gossip columnist Adela Rogers wrote in "Photoplay," "Though it was a love match, Joan was anxious to better herself." Joan was already on her way to becoming one of the biggest actresses ever. She was coming off the success of her monster hit "Our Dancing Daughters" and she was ready to graduate successfully into talking pictures and would soon be named the biggest female star of 1930.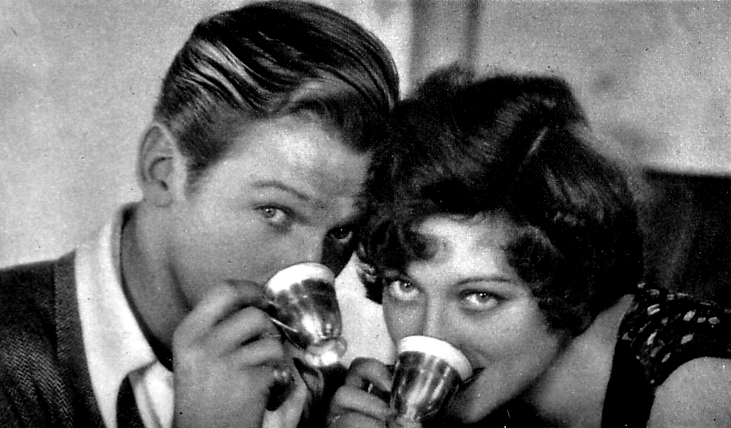 Joan and Doug Jr. worked on their first and only motion picture together during their engagement, "Our Modern Maidens" the studio capitalized on the media's fixation with the two lovebirds. The film was a similar to the 1928 "Our Dancing Daughters" and drew in the jazz and modern crowd. At the time of the release of "Our Modern Maidens" Joan and Doug Jr. were newly married and the movie was a smash-hit.

"On June 3rd 1929 the couple was married at St. Malachy's Roman Catholic Church in New York and spent their honeymoon at the Algonquin Hotel. Joan's family was in attendance but only Doug Jr's mother had been in attendance, there was no sight of Fairbanks Sr. and Mary Pickford, as they still didn't approve of Joan. They were not the only ones that didn't approve; believe it or not many socialites in Hollywood claimed that Doug married beneath himself and out side of his class. Many also were calling Joan a "cradle-robber" with Joan most likely being 5-6 years his senior (Joan's date of birth is peculated to be 1904, 1905 or 1906). There were no Hollywood parties; no gala's at "Pickfair," their marriage was quiet and simple.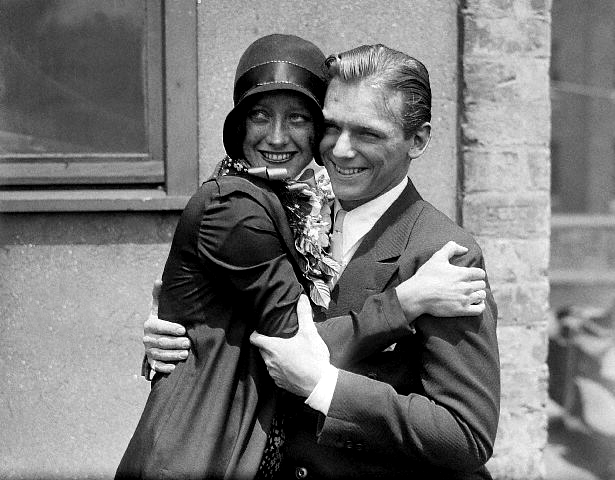 Doug Jr. was helpful in polishing Joan's etiquette and social mannerisms. He was very instrumental in shaping the Joan Crawford of the future. Joan also in turn helps Doug Jr. believe more in him and be more assertive in grabbing the right kind of roles, just like she did. The couple was in love and formed a bond that would last long after their marriage. They soon would cement this friendship at Grauman's Chinese Theatre on September 14, 1929 where their hand and footprints are immortalized in cement. In Fairbanks Jr. biography "Salad Days" he states that there were no provisions for HIS prints to be planted at the theatre, only Joan's!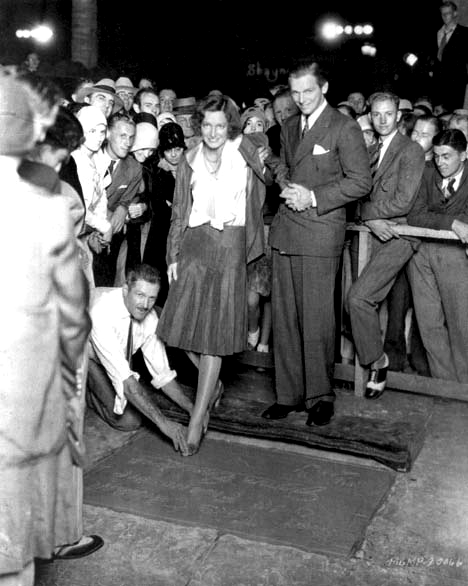 Joan and Doug bought a home together after their marriage at 426 North Bristol Avenue in Brentwood California in 1929. This home would remain Joan Crawford's home for more than 25 years. The home was christened "El JoDo" a take on both of their names and they spoofed the snooty "Pickfair" that Joan was still not invited to. They eventually started having their own parties and both having the time of their lives. They were young, successful and in love.

In 1930, a year after being married, Joan was finally invited to the coveted "Pickfair." Once they were invited, Joan and Doug spent much time their over the course of their marriage. Doug Sr. was smitten with the young and attractive Joan and Joan flirted with this and the two bonded. On the other hand, Mary Pickford remained jealous of Joan and never really warmed up to Joan. Besides Doug Sr., Joan never really felt welcomed at "Pickfair" and as time went on dreaded going there.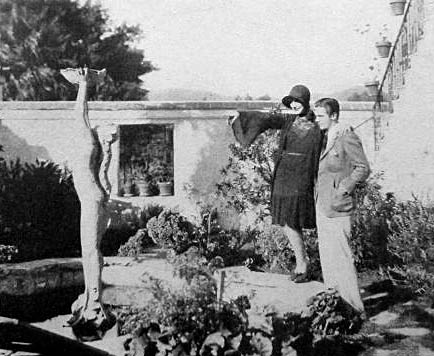 The talkies were in full swing and Joan has successfully transitioned unlike some other silent stars. Joan was focused on her career more than ever and this consumed most of her time and energy. Doug was not as ambitious as Joan and preferred the married life and relaxing out of the limelight. Although they were both still very much sexually attracted to each other, Joan was getting "bored" otherwise. This would be the beginning of the first sign of stress in their marriage.

By the end of 1930 Joan had taken interest in another man, Clark Gable. Joan had first met Clark in late 1929 when they filmed their first picture together "Dance Fools Dance" but it was in late 1930 while filming "Possessed" that a huge love affair had blossomed. It was 1931 and Joan was in love with Gable even though she was still married to Fairbanks Jr. Once "Possessed" (1931) hit the big screen you would have had to been blind to not see that Crawford and Gable were having a love affair and Fairbanks became well aware of this affair.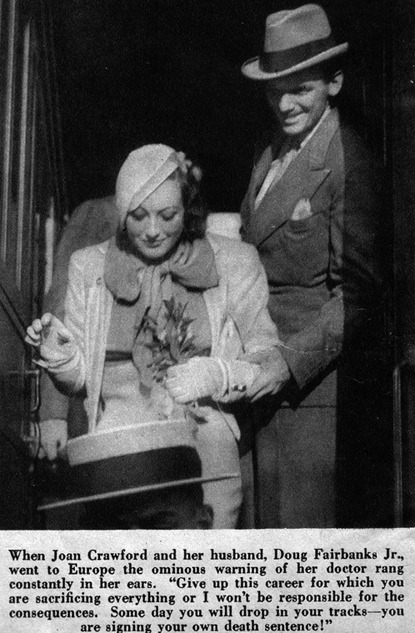 Over the course of 1932, Joan was not only absorbed in her career; she was also entranced with Gable and spends as much time as she could with him. Everyone from Louis B. Mayer to close friends tried to separate the two and try to keep both Crawford and Gable in their respected marriages. During 1932, Joan and Doug Jr. would attend premiers, events and social functions but Joan knew the marriage was over. Even after several attempt of going on trips out of the country to try top rekindle the dying marriage, Joan knew it was finished. While filming "Rain" Doug Jr. made one last attempt to help Joan come to her senses, Doug Jr. didn't want the marriage to end; he still loved Joan very much. They had talked of having children together in hopes of saving the marriage, Joan had a few miscarriages and she even admitted to having an abortion during this time as well. By the end of 1932, Joan had checked out of the marriage and filed for divorce.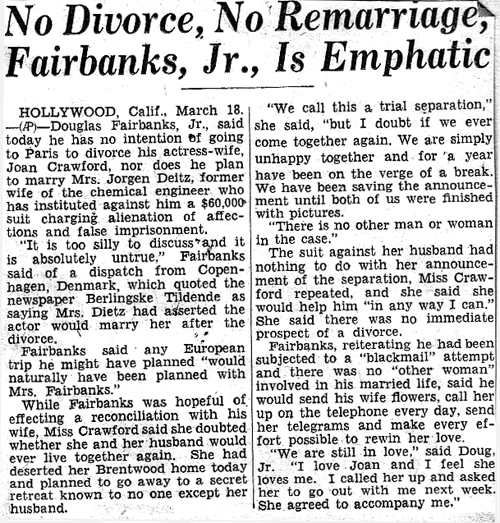 On May 12, 1933 the divorce became final and the marriage of "El JoDo" was over. Joan and Doug stayed cordial to each other for the rest of their lives. They both spoke highly of each other in later years and they even spend tie together going out to dinner. The marriage between the two helped both of them learn from each other in many ways. Douglas wanted a wife that he could take care of and have children with and that's just what he did. Doug Jr. married a woman out of the spotlight Mary Lee Eppling in 1939 and they had three daughters together and stay married until her death in 1988. As we know Joan went on to marry again. She had her sights on another man right after her divorce with Fairbanks Jr. and it was no longer Gable.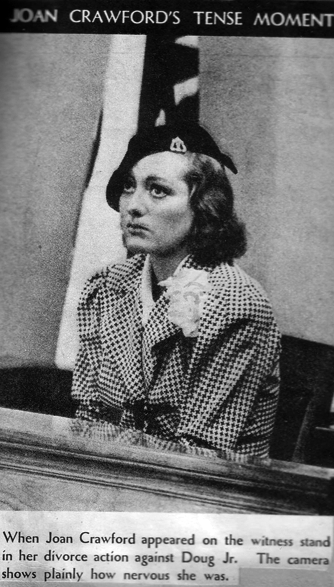 Below are photos that showcase the budding romance of Crawford and Fairbanks Jr., starting in 1928, going into their marriage, then into the final years of their courtship. The photographs take you into their lives during the course of their five year relationship. The photos, for the most part, are in chronological order, for example, you can see in late 1931 that Fairbanks Jr. started wearing his thin mustache and wore it throughout 1932. The majority of these photographs come from my personal photographs and/or scrapbook collections.
Joan Crawford & Douglas Fairbanks Jr. Films
Joan Crawford and Douglas Fairbanks Jr. only made one film together, "Our Modern Maidens" in 1929. The film was released on August 24, 1929, a little more than a month after Joan And Doug were married, and the film was a big success based on the popularity of the two in Hollywood. To see a detailed page on the movie and several more photos of the couple in "Our Modern Maidens," click the image below.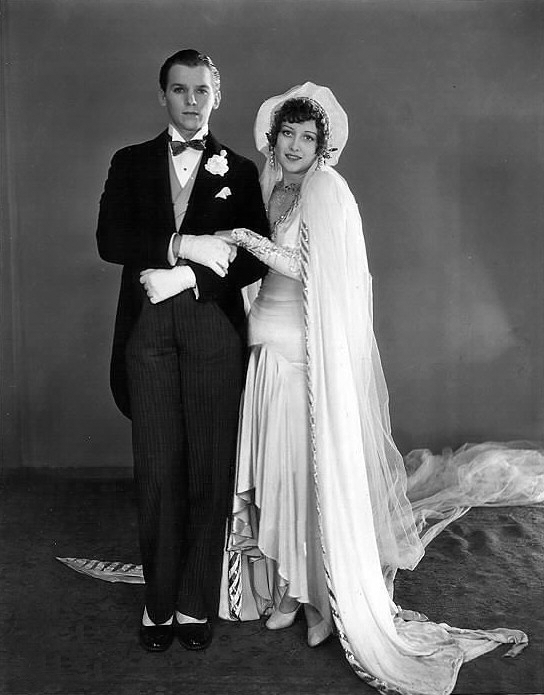 Our Modern Maidens
EXTRA! EXTRA! Read all about it!
As long as there have been famous people in the spotlight there have been gossip, accusations and mystery behind stars. Today more than every famous people are praised, picked on or ripped apart in tabloids, magazines and newspapers. For Joan and Douglas Fairbanks Jr. they experienced the wrath of the media. Below are a variety of "clippings" from newspapers and magazines that shed some light on what was going on at the time of Joan and Doug's marriage. It's great to see these actual articles from that time to see what people were saying about the young married couple. Click the photo thumbnails below to read the articles.
"Lucille, Joan and Mrs. Doug." June/July 1929.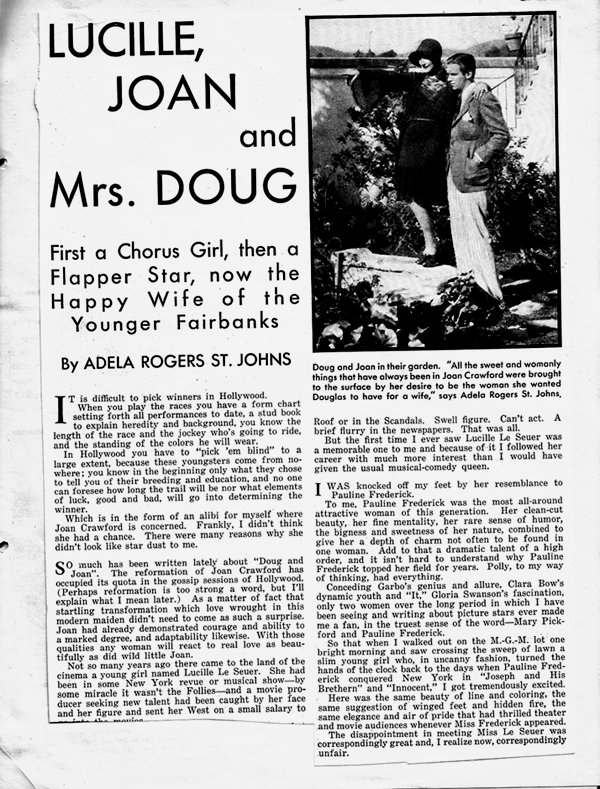 "Cupid Takes a Needed Rest." August 1929.
"Four Rules to a Happy Marriage." Fall 1929.
"An Open Letter to Douglas Fairbanks, Jr." Spring 1930.
"Are Joan & Doug Jr. Through Holding Hands?" Spring 1931.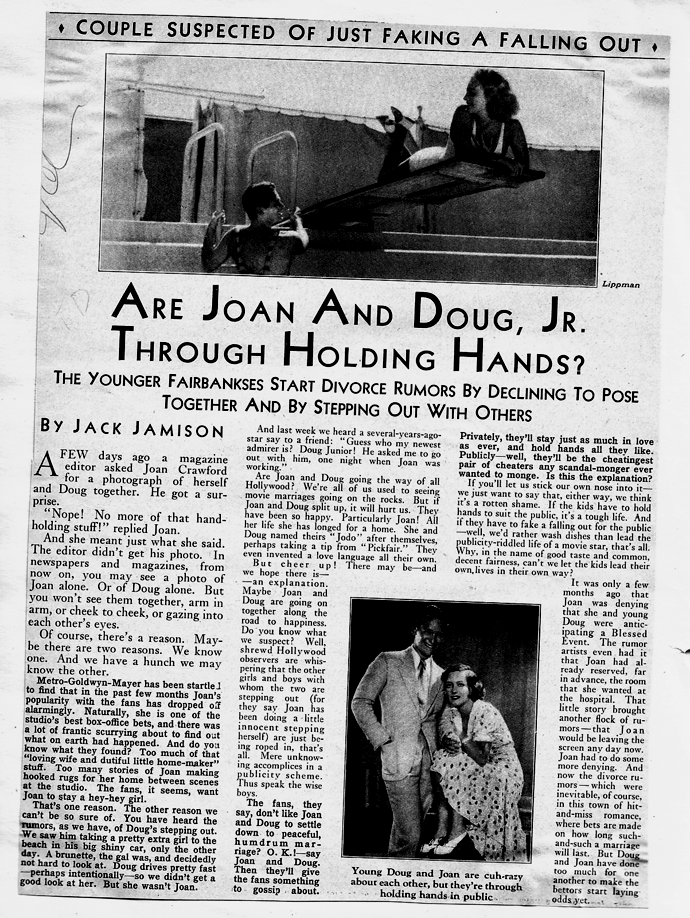 "To Tell the Truth." Summer/Fall 1931
"Joan Crawford Gives Divorce from Fairanks." May 13, 1933

The Springfield Union Newspaper, Massachusetts