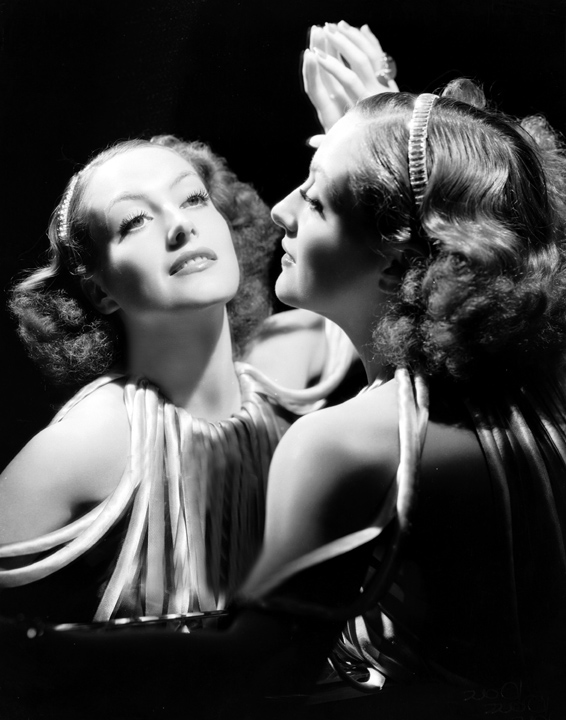 "No, growing old isn't fun, no matter what the Pollyana's say. I liked my elastic body and a mind that worked just a little bit faster than it does now. I don't dig the geriatric scene." - Joan Crawford
Joan Crawford's life not only consisted of her dozens of films, numerous radio performance and television appearances, but also interactions with hundreds of people! This section is designed to take you through all of Joan's encounters with the numerous celebrities, directors, fans and other people that touched Joan's life. Enjoy your journey through the Dictionary of Stars!
Dictionary of Stars "A"

Click letters below to see content for that page.
| | | | | | | | | | | | | | | | | | | | | | | | | | | |
| --- | --- | --- | --- | --- | --- | --- | --- | --- | --- | --- | --- | --- | --- | --- | --- | --- | --- | --- | --- | --- | --- | --- | --- | --- | --- | --- |
| | B | C | D | E | F | G | H | I | J | K | L | M | N | O | | Q | R | S | T | U | V | W | X | Y | Z |   |
Adrian, Gilbert

(3/3/03 - 9/14/59) Adrian Adolph Greenburg, born in Naugatuck, Connecticut, March 3, 1903, to Gilbert and Helena (Pollack) Greenburg. He began his professional career while still attending the New York School for Fine and Applied Arts by contributing to the costumes for "George White's Scandals" in 1921. He is credited for that production by his created name of Gilbert Adrian, a combination of his father's first name and his own. He transferred to NYSFAA's Paris campus in 1922 and while there was hired by Irving Berlin. In the fall of 1922 he returned to New York and began work on Berlin's 1922-1923 edition of "The Music Box Revue". Adrian continued to work on the Berlin reviews as well as other theatrical and film projects. Read more at the link below...

Aherne, Brian

(5/2/02 - 2/10/86) Born William Brian de Lacy Aherne in King's Norton, Worcestershire, England, UK. British actor, Joan's co-star in 1935's "I Live My Life" (both the film and radio versions) and 1959's "The Best of Everything."

Died in Venice, Florida of heart failure.

Was married to Joan Fontaine(20 August 1939 - 14 June 1945)

Brian Aherne was quoted as saying..."Surely nobody but a mother could have loved Bette Davis at the height of her career".

Aldrich, Robert

(8/9/18 - 12/5/83) Director of Joan's 1956 film "Autumn Leaves" and 1962's "What Ever Happened to Baby Jane." He later directed "Hush, Hush, Sweet Charlotte" (which Joan dropped out of) and is also best known for his films "Kiss Me Deadly" (1955), "The Dirty Dozen" (1967), and "The Killing of Sister George" (1968). Rumored to have been a one-time Joan paramour, she later in her 1973 Town Hall appearance excoriated him, saying that he had "many, many insecurities" and loved "evil things, vile things."

Robert Aldrich was quoted in saying on "What Ever Happened to Baby Jane?"..."Judging by the initial press reaction. I wasn't sure whether I was going to produce and direct a motion picture or referee a fight."

Andrews, Dana

(1/1/09 - 12/17/92) Actor whose film and TV career spanned over 50 years, beginning in 1940. President of the Screen Actors Guild from 1963 to 1965, Dana Andrews was one of the first to speak out against the degradation of the acting profession, particularly actresses doing nude scenes just to get a role. Probably the first actor to do a public service announcement about alcoholism (in 1972 for the U.S. Department of Transportation), he was a member of the National Council on Alcoholism and did public speaking tours. Quote from Bob Greene, "Chicago Tribune", November 3, 1993: "To me, Andrews . . . represented both the grand possibilities and the ultimate despair the movies can offer a man. He was a certified movie star, yet by the end of his life he enjoyed neither artistic acclaim granted a Fellini, nor the ease of getting a job taken for granted by a Phoenix." Worked with such directors as Fritz Lang, William Wyler, William A. Wellman, Jean Renoir, Elia Kazan and Otto Preminger. Co-starred with Joan in 1947's Daisy Kenyon. He initially agreed to the role, but tried to decline after reading the script. His lawyer advised him to stay on, so he did.

Angel, Zuzu

(Birth name: Zuleika Angel Jones) (6/5/21 - 4/14/76) Brazilian designer whom Joan met on a trip to that country for Pepsi in 1969. Joan subsequently became a fan of her fashions, joining other American admirers such as Liza Minnelli and Kim Novak. Angel was an activist against her country's dictatorship and died in a suspicious car crash in 1976. A motion picture was completed and released in 2006 (see link below) also there's a great synopsis on Zuzu's life by a reviewer.

Arden, Eve

(4/30/12 - 11/12/90) Eve was born just north of San Francisco in Mill Valley and was interested in show business from an early age. At 16, she made her stage debut after quitting school to joined a stock company. After appearing in minor roles in two films under her real name, Eunice Quedens, she found that the stage offered her the same minor roles. By the mid 30s, one of these minor roles would attract notice as a comedy sketch in the stage play "Ziegfeld Folies". By that time, she had changed her name to Eve Arden. In 1937, she attracted some attention with a small role in Oh Doctor (1937) which led to her being cast in a minor role in the film Stage Door (1937). By the time the film was finished, her part had expanded into the wise-cracking, fast-talking friend to the lead. She would play virtually the character for most of her career. While her sophisticated wise-cracking would never make her the lead, she would be a busy actress in dozens of movies over the next dozen years. In At the Circus (1939), she was the acrobatic Peerless Pauline opposite Groucho Marx and the Russian sharp shooter in the comedy The Doughgirls (1944). For her role as Ida in Mildred Pierce (1945), she received an Academy Award nomination. Famous for her quick ripostes, this led to work in Radio during the 40s. In 1948, CBS Radio premiered "Our Miss Brooks", which would be the perfect show for her character. As her film career began to slow, CBS would take the popular radio show to television in 1952. The television series "Our Miss Brooks" (1952) would run through 1956 and led to he movie Our Miss Brooks (1956). When the show ended, she tried another television series, "The Eve Arden Show" (1957), but it was soon canceled. In the 60s, Eve raised a family and did a few guest roles, until her come-back television series "The Mothers-In-Law" (1967). This show, co-starring Kaye Ballardran for two seasons. After that, she would make more unsold pilots, a couple of television movies and a few guest shots. She returned in occasional cameo appearances including the Principal McGee in Grease (1978), and Warden June in Pandemonium (1982), showing that she still had the wise-cracks and screen presence to bring back the fond memories of Miss Connie Brooks.

Arzner, Dorothy

(1/3/1897 - 10/1/1979) One of the first female directors and an open lesbian. She started out as a typist at Paramount Studios, graduating to continuity, then editing, then directing. She worked at Paramount from 1927 to 1932, then freelanced, directing 17 films total which included, 1929's The Wild Party with Clara Bow and 1933's Christopher Strong with Katharine Hepburn, before retiring from the industry in 1943. During WWII, she directed WACs training films, then later did Pepsi commercials at board-member Joan's request and taught at UCLA.

She directed Joan's 1937 film "The Bride Wore Red" and finished Joan's previous film "The Last of Mrs. Cheyney" after director Richard Boleslawski died during filming; she was uncredited. Joan's husband Franchot Tone initially recommended Arzner to Crawford after seeing her 1936 film "Craig's Wife" which was later re-made as 1950's "Harriet Craig", starring Joan.

Asher, Jerry

Joan got Asher a job in the MGM mail room, and he eventually advanced to the publicity department, later becoming a fan magazine writer who churned out many favorable Joan stories, and then a press agent. He was a Joan confidante and frequent guest at her home. And was also later very gossipy about her personal life. Jerry Asher was partially responsible for helping Joan revitalize her career when moving to Warner Bros.

Astaire, Fred

(5/10/1899 - 6/22/1987) The son of an Austrian immigrant, Fred Astaire entered show business at age 5. He was successful both in vaudeville and on Broadway in partnership with his sister, Adele Astaire. After Adele retired to marry in 1932, Astaire headed to Hollywood. Signed to RKO, he was loaned to MGM to appear in "Dancing Lady" (1933) before starting work on RKO's "Flying Down to Rio" (1933). In the latter film, he began his highly successful partnership with Ginger Rogers, with whom he danced in 9 RKO pictures. During these years, he was also active in recording and radio. On film, Astaire later appeared opposite a number of partners through various studios. After a temporary retirement in 1945-7, during which he opened Fred Astaire Dance Studios, Astaire returned to film to star in more musicals through 1957. He subsequently performed a number of straight dramatic roles in film and TV.

In his film debut with Joan in "Dancing Lady," he performed two numbers with Joan: "The Gang's All Here" and "Let's Go Bavarian."

Joan was quoted in saying..."Some men can't allow a woman to drive, but Fred didn't compete with his wife, he enjoyed her prowess...Fred, you see, is such a virile man, he's never had to prove it. In all his years in show business, I've never known him to be rude and never have seen him make a pass at a girl...He's kept himself intact, and he could because he's such a fulfilled man in his personal life...It was good for me to know that a marriage like theirs could happen in show business. I made a mental note."

Asther, Nils

(1/17/1897 - 10/13/1981) Nils Asther was born in Copenhagen, Denmark, in 1897 and raised in Malmö, Sweden, by his wealthy Swedish parents. After attending the Royal Dramatic Theater School in Stockholm, he began his stage career in Copenhagen. His film debut came in 1916 when the director Mauritz Stiller cast him in the lead role (as an aspiring actor, appropriately enough) in the Swedish film Vingarne (1916). After working with Victor Sjöström in Sweden and Michael Curtiz in Germany, Asther moved to Hollywood in 1927, where his exotic looks landed him romantic roles with co-stars such as Greta Garbo, Pola Negri, and Joan Crawford. Although his foreign accent was a hindrance in "talkies", his Hollywood career continued until 1934 when he was blacklisted for breaking a contract and went to Britain for four years. After his return to Hollywood in 1938, his career declined and by 1949 he was driving a truck. In 1958, he returned to Sweden, where he remained until his death, making occasional appearances in television and on stage. Although he was married in the early 1930s, he was well-known in certain circles as being a homosexual male.

Nils appeared with Joan in 3 films: "Our Dancing Daughters" (1928), "Dream of Love" (1928), and "Letty Lynton" (1932).

Ayres, Lew

(12/28/08 - 12/30/96) Born in Minneapolis he was raised in San Diego, California. A college dropout, he was found by a talent scout in the Coconut Grove nightclub in Los Angeles and entered Hollywood as a bit player. He was leading man to Greta Garbo in "The Kiss" (1929), but it was the role of Paul Baumer in "All Quiet on the Western Front" (1930) that was his big break. He was profoundly affected by the anti-war message of that film, and when, in 1942, the popular star of "Young Dr. Kildare" (1938) and subsequent Dr. Kildare films was drafted, he was a conscientous objector. America was outraged, and theaters vowed never to show his films again, but quietly he achieved the Medical Corps status he had requested, serving as a medic under fire in the South Pacific and as a chaplain's aid in New Guinea and the Phillipines. His return to film after the war was undistinguished until "Johnny Belinda" (1948) - his role as the sympathetic physician treating the deaf-mute Jane Wyman won him an Academy Award nomination as best actor. Subsequent movie roles were scarce; an opportunity to play Dr. Kildare in television was aborted when the network refused to honor his request for no cigarette sponsorship. He continued to act, but in the 1970's put his long experience into a project to bring to the west the philosophy of the East - the resulting film, "Altars of the World" (1976), while not a box-office success, won critical acclaim and a Golden Globe Award.

Co-stared with Joan in "Ice Follies of 1939."

Married to Lola Lane and Ginger Rogers.

Joan is quoted for saying..."Someone very close to me said something absolutely devastating a few months ago...she recalled how furious I'd been because Lew Ayres was ten minutes late on the set one day when we were filming "Ice Follies" and I told him off... anyway, Lew is a beautiful and sensitive man, so easily hurt, and my friend said, a little bitterly, "Does it matter now that he was ten minutes late?""
| | | | | | | | | | | | | | | | | | | | | | | | | | | |
| --- | --- | --- | --- | --- | --- | --- | --- | --- | --- | --- | --- | --- | --- | --- | --- | --- | --- | --- | --- | --- | --- | --- | --- | --- | --- | --- |
| | B | C | D | E | F | G | H | I | J | K | L | M | N | O | | Q | R | S | T | U | V | W | X | Y | Z |   |