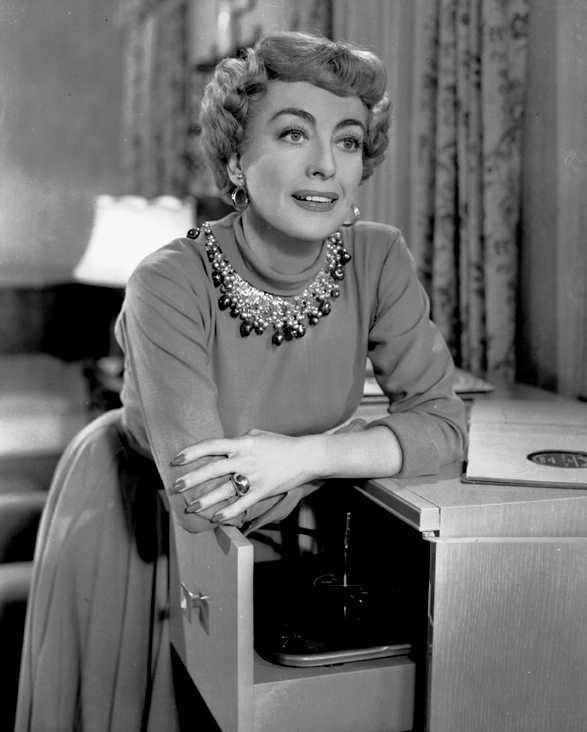 Joan back at MGM, after 10 years, to make "Torch Song."
"Torch Song" 1953
This page is dedicated to David Cerda - a marvelous Joan fan! Keep the camp alive!
Cast: Joan Crawford (as Jenny Stewart), Michael Wilding, Gig Young, Marjorie Rambeau, Henry Morgan, Dorothy Patrick, James Todd, Eugene Loring, Paul Guilfoyle, Benny Rubin, Peter Chong, Maidie Norman, Nancy Gates, Chris Warfield, Rudy Render


Release date - World premiere in Columbus, Ohio, Syracuse, New York and Richmond, Virginia on October 1, 1953. New York City Opening, October 12, 1953; October 23, 1953, Natiowide.

Running time - 89-90 minutes (10 reels)

Director - Charles Walters

Writing Credits - John Michael Hayes, Jan Lustig and I.A.R. Wylie (story)

Producer(s) - Henry Berman, Sidney Franklin and Charles Schnee

Cinematographer - Robert H. Planck

Costumes - Helen Rose

Studio - MGM

Production Dates - April 27 thru late May 1953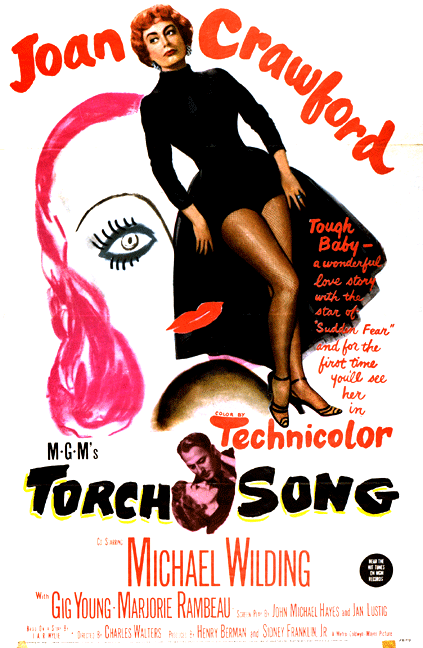 Movie Synopsis
Jenny Stewart (Joan) is the quintessential Broadway star, who falls in love with her blind pianist, Tye Graham (Michael Wilding). At a rehearsal for her new show, temperamental Broadway star Jenny Stewart lashes out at anyone who displeases her, from her dance partner to her arranger, Charlie Maylor (Benny Rubin), who has been driven to drink by her bullying. After abruptly walking out of the rehearsal, Jenny goes home and practices a scene with her sympathetic secretary, Anne (Maidie Norman), then gets into bed and tearfully gives in to feelings of loneliness.

The following day, Jenny's boyfriend, playboy Cliff Willard (Gig Young), comes by as she is redesigning her costumes for the show, and she insists that her love for her audience justifies her domineering ways. When Jenny eventually shows up for rehearsal, she is surprised to discover that Charlie has quit and has been replaced by the distinguished Tye Graham, a blind pianist. Tye proves more than adept at accompanying Jenny and accommodating her changes, although she rudely disregards his suggestions. After Tye tries to change the tempo on one of her songs, Jenny orders director Joe Denner (Henry "Harry" Morgan) to fire him.

When everyone has left the theater, however, Jenny secretly tries the song Tye's way. Jenny then goes to a restaurant, where she encounters Tye. The pianist buys her lunch and suggests that she uses her tough demeanor to conceal her fear of being vulnerable. After lunch, Tye returns to his elegant apartment and tells his house man, Peter, that he paid for his friend Charlie to travel to Cuba so that he could get his job.

That evening, Jenny goes to Tye's apartment, where he is rehearsing with his jazz quintet, and insists that he come back to work for her. After Jenny leaves, Tye admits to fellow musician Martha (Dorothy Patrick), who is in love with him, that despite her fine qualities he will never be able to "see" her as he does Jenny. Tye returns to rehearsals, and Jenny comes to value his opinion.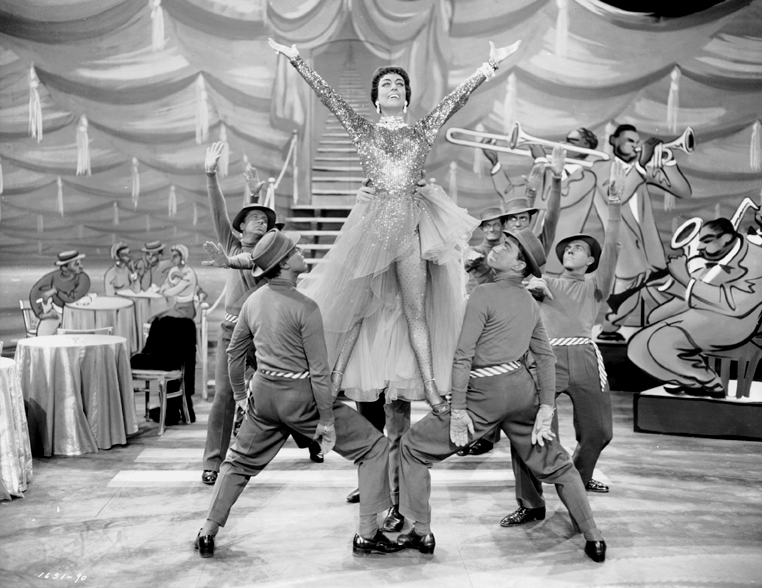 One Sunday morning, as the bored Jenny mopes around her apartment, she tries unsuccessfully to perform simple tasks with her eyes closed, and is struck by the grace and dignity with which Tye lives. In a rush of feeling, she goes to visit her mother, but Mrs. Stewart (Marjorie Rambeau) just nags her for money. Jenny decides to throw a party that night, and instructs her agent, Monty Rolfe (Paul Guilfoyle), to round up guests and arrange for Tye to entertain. Tye is unavailable, however, which puts Jenny in a sour mood, and she abruptly sends her guests home.

Later, after the final dress rehearsal, Jenny is enraged to learn that Tye will not be accompanying the cast to Philadelphia for out-of-town tryouts. She summons Tye to her home later that evening, and he tells Jenny that he used to be a drama and music critic before losing his sight in the war. When he still refuses to go to Philadelphia, they quarrel, and Tye warns Jenny that she is on the road to a terrible decline and lonely end. Jenny goes to see her mother and reluctantly admits her frustration over Tye. Mrs. Stewart produces the scrapbooks she has filled with newspaper clippings about Jenny's career, and Jenny finds a review written by Tye the evening before he went into the service. At her mother's request, Jenny puts on a recording she once made of the song "Tenderly," which Tye had seen her perform. Jenny then goes to Tye's apartment and slips in unnoticed as he is playing "Tenderly" for Martha. After sending Martha away, Jenny surprises Tye with her presence and says she knows how he arranged to get Charlie's job. She adds that she read the old review and knows that he loves her. Tye lashes out in a rage, but Jenny declares her feelings for him. Acknowledging their need for each other, Tye and Jenny kiss.

"Torch Song" is really a "B" picture. Joan's singing number was dubbed by India Adams, but one really has to wonder how bad Joan's voice really could have been, if they replaced her with Miss Adams, and that was an improvement, Joan must have been less than stellar.

Joan's dance number in black face is one reason to watch the film. No, it's not good, it is in fact so bizarre, it's a must see. It's a shame that a film of this quality marked Joan's return to MGM after a decade away. It's a disappointment, to say the least. One can only wonder what "could have been" if Joan returned to MGM with a hit movie.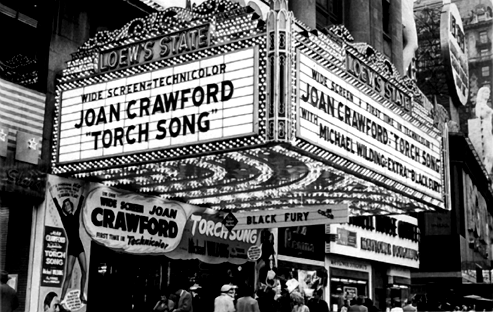 Interesting Trivia
According to 1951 news items in Daily Variety and Hollywood Reporter, the I. A. R. Wylie story "Why Should I Cry?" was originally to be filmed as one of the short sequences in M-G-M's Three Love Stories. A June 23, 1952 HR news item reported that Lana Turner had been cast in the film, and a March 5, 1953 item in HR 's "Rambling Reporter" column announced that Ann Sheridan would star. According to a June 1952 news item in HR, Fred Wilcox was originally set to direct the picture. A HR news item and production charts add Lillian Randolph and Dave O'Brien to the cast, but they were not in the released film.

The song "Two-Faced Woman" was originally recorded by singer India Adams for a Cyd Charisse dance number in "The Band Wagon," but was cut from that film and added to "Torch Song." The 1994 film "That's Entertainment! III" features a segment in which the omitted footage of Charisse is shown on a split screen with the Joan Crawford production number from "Torch Song."

"Torch Song" received an Academy Award nomination for Best Supporting Actress (Marjorie Rambeau) and was Crawford's first color film. The picture also marked her return to M-G-M after seeking release from her contract a decade earlier. Crawford began her career and rose to stardom at M-G-M, and was under contract to the studio from 1925 to 1943, but dissatisfaction with the roles she was being offered prompted her to become a free agent (although some modern sources suggest that the studio was displeased with her recent films and wanted her to leave).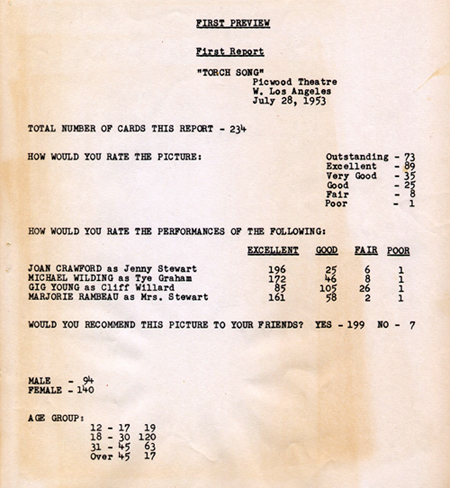 According to a December 16, 1953 HR news item, music publisher Edwin H. Morris & Co. sued Loew's Inc., M-G-M's parent company, for allegedly using the song "Tenderly" in a manner that violated the licensing agreement. The outcome of this suit has not been determined.

Joan was paid $125,000 for the film, in 83 installments for tax purposes.

Tagline: "Tough Baby - a wonderful love story with the star of "Sudden Fear" and for the FIRST TIME you'll see her in TECHNICOLOR!"

Music: "Blue Moon," music by Richard Rodgers.

Songs: "Follow Me," music and lyrics by Adolph Deutsch; "You Won't Forget Me," music and lyrics by Kermit Goell and Fred Spielman; "Tenderly," music and lyrics by Jack Lawrence and Walter Gross; "Two-Faced Woman," music and lyrics by Howard Dietz and Arthur Schwartz.


Was the #153 Top Grossing Film of 1953.

Box Office Receipts: $1,200,000.

Inflation Value in 2008: $9,318,741.57
Photos
Click on images below to see a larger view.
Movie Posters/Lobby Cards etc...
Fan Reviews/Comments
Reviewer, Aric Dietrich, says...
Finally making its way onto DVD this month as part of the second volume of The Joan Crawford Collection, this film brought Crawford back to MGM bigger and more colorful than ever. Her first color picture (she appeared in a color sequence in "Ice Follies of 1939"), "Torch Song" features Crawford as a tempermental, aging musical theatre star, Jenny Stewart, who walks on everyone around her with the exception of her housekeeper and confidante, Anne (played by Maidie Norman who also played a similar role in Crawford's "Whatever Happened to Baby Jane?"). While not a critical or commercial success, the film resonates with Crawford's many fans the world over because of the rich colors, her over-the-top performance, and the sheer camp factor. That said, be on the lookout for a rousing rendition of "Two-Faced Woman" where the very white, redheaded Joan is decked out in turquoise and black face! An Oscar nomination went to Marjorie Rambeau in her supporing role as Jenny's no-nonsense mother. Joan cannot claim the musical numbers -- her voice was dubbed by India Adams. A must see for all musical, Crawford, and kitsch fans.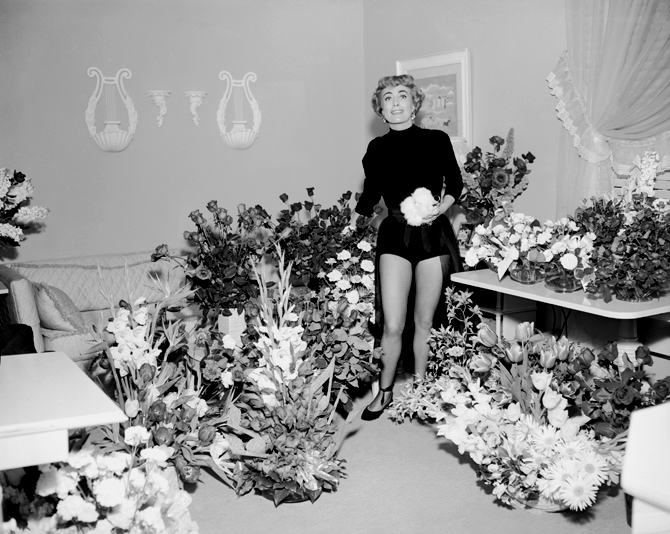 Reviewer, Robert Bertrand, says...
Review: MGM literally rolled out the red carpet for Joan Crawford and the making of this picture. After her ten-year absence from the studio, she was given a massive welcome-back reception and a highly publicized ad campaign for the film; after all, Torch Song was to be Joan's first, full-length Technicolor picture.The film, unintentionally, pokes fun at the roles for which Joan became famous later in her career. Joan, who was 49 at the time of filming, plays huge Broadway star Jenny Stewart. Jenny is cold, overbearing, arrogant and hard as nails; at the least, she's a nightmare to work and live with. (Jenny Stewart is the Harriet Craig of the stage, so to speak.) After running her piano player off with ulcers and panic attacks, Jenny is informed Tye Graham (played by Michael Wilding, Elizabeth Taylors second husband) will be the replacement. One catch: Tye Graham is blind. Jenny is extremely opposed to the idea of a new piano player, much less one who is blind. After relentless attempts to cut Tye down-to-size, Jenny realizes Tye is the only person who wont put up with her diva attitude. Throughout the film, Tye slowly breaks down Jenny's tough exterior. Although the two have countless arguments, they end up as a couple in the end.This film is an absolute riot, but it wasnt meant to be at all. It's very similar to Johnny Guitar in the way that its unintentionally hilarious. "Torch Song" is the prime example of Joan Crawford camp. After watching the film, its obvious why so many drag queens choose to mimic this particular role. Carol Burnett, among her many impersonations of old-Hollywood stars, picked this Crawford picture to imitate in one of her skits and was absolutely uncanny!

The script required Crawford to sing and dance throughout the picture. Under pressure to complete the film quickly, India Adams dubbed Joan's voice so Joan would have more time to rehearse the dances. It would be interesting to hear Joan's voice because it was actually quite beautiful; sadly, she rarely got the chance to showcase it. The dancing is mediocre mainly because of poor choreography. Joan was an excellent dancer, and its a shame she was forced to perform only menial routines in this feature. The films most famous scene is the Two-Faced Woman song and dance in which Joan dawns an elaborate costume and tropical make-up similar to blackface. Even though the plot is not that good, Torch Song is very fun to watch. Joan was beginning to run into her hard face at this point and was taking on those tough-women roles of the 50's. Either way, "Torch Song" is a must-see for any Joan Crawford fan.

Two and a Half Stars
Reviewer, Be Nat Night, says...
Anyone foolish enough to think Joan Crawford can play a musical/comedy star, should think again.  A musical comedy star???  Are you kidding???  As a dancer, she is as clumsy as a blind cow.  The "Two Faced Woman" number makes absolutely no sense whatsoever.  Just what kind of a show is her character supposed to be in?  And no one, NO ONE, would put up with her for very long.  It's easy to see why a BLIND man would fall for her, as she is clearly not the beauty she once was. MGM did her no favors with this film.  And, her director, so wonderfully attuned to films like Easter Parade and Lily must have phoned in his directions.  A lousy film, but yes, you can see the camp value.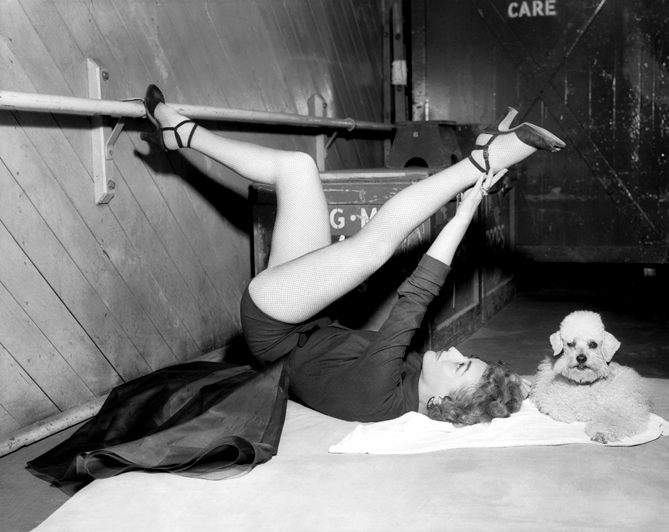 Other Reviews
Otis L. Guernsey, Jr. of the New York Herald Tribune had this to say,..."Joan Crawford has another of her star-sized roles...Here is Joan Crawford all over the screen, in command, in love and in color, a real movie star in what amounts to a carefully produced one-woman show. Miss Crawford's acting is sheer and colorful as a painted arrow, aimed straight at the sensibilities of her particular fans."
If you have seen this movie, please write a review below. Once your review is submitted, I will post the review below. Thank you for your review on this film.
Click on the decades below to browse movies.