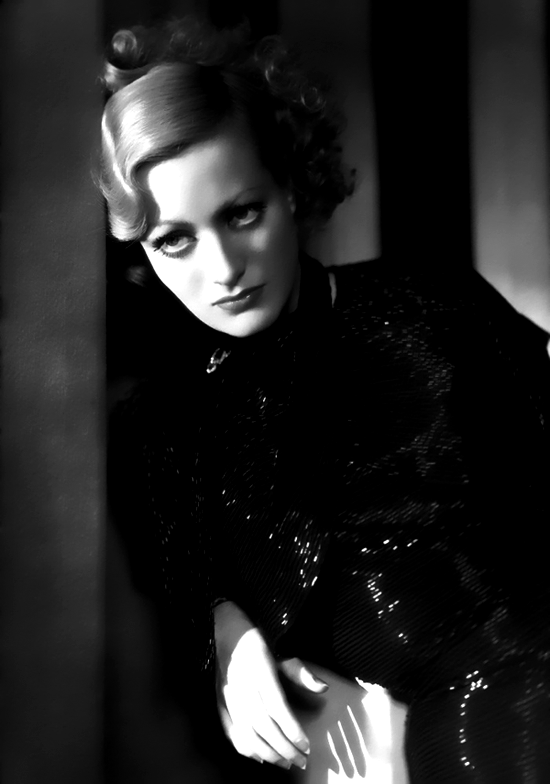 "Forget "This Modern Age."" - Joan Crawford
"This Modern Age" 1931
Cast: Cast: Joan Crawford (as Valentine 'Val' Winters ), Pauline Fredrick, Neil Hamilton, Monroe Owsley, Hobart Bosworth, Emma Dunn, Albert Conti, Adrienne D'Ambricourt, Marcelle Corday.


Release date - August 29, 1931

Running time - 68 minutes (8 reels)

Director - Nicholas Grinde

Writing Credits - Frank Butler, Mildred Cram (for the story, Girls Together),
John Meehan (additional dialogue) and Sylvia Thalberg.

Producer - Unknown

Cinematographer - Charles Rosher

Costumes - Adrian

Studio - MGM

Production dates- Mid March 1931 - Late April 1931

Alternate Title - Girls Together

Production Code - #558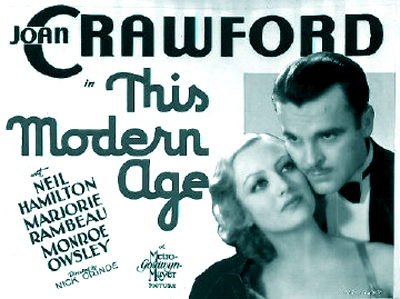 Movie Synopsis
Valentine Winters (Joan) is a young woman from a divorced family who's determined to meet the mother (Pauline Frederick) she has never known. She finds her in Paris, now the high maintenance mistress of a rich Frenchman, a man she merely passes off as a 'friend' to her daughter. Valentine (Joan) gets caught up in some drama of her own when she is saved by a handsome Harvard football star, Robert (Neil Hamilton), rescuing her from a car crash caused by her high living boyfriend, Tony (Monroe Owsley). Love blossoms, relationships are strained, but true love wins out in the end. "This Modern Age" is a blend of drama, romance and comedy. The tried and true formula for 1930's Joan films. As usual it works, but it's fairly predictable.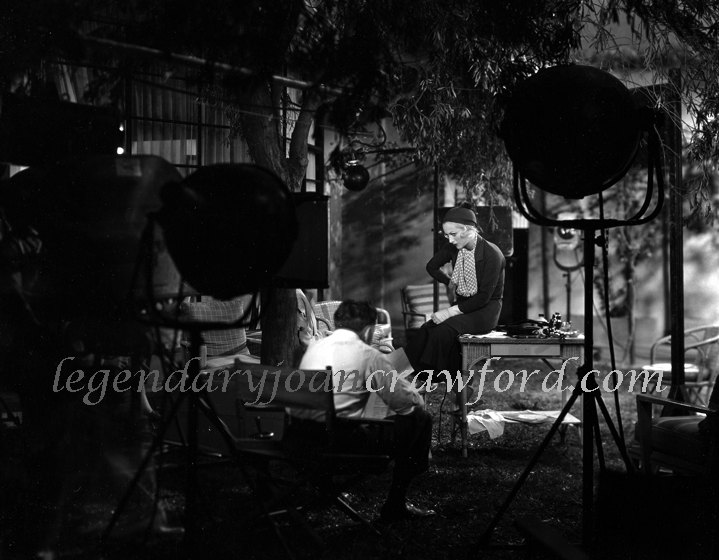 Interesting Trivia
Originally titled, Girls Together, from the story by Mildred Cram, a fifty dollar prize was offered to anyone on the crew who could think of a better name for the film. "This Modern Age" was the winning entry. [www.afi.com].

A June 1931 "Motion Picture Herald" cast list credited Marjorie Rambeau as "Diane Winters," Sandra Ravel as "Louise" and Armand Kaliz as "Diane's sweetheart." Rambeau did not appear in the final film, but the participation of Ravel and Kaliz has not been confirmed. A production still from the picture confirms that Ravel was in the cast, but her role may have been cut from the picture. A production still also shows Ann Dvorak in the cast, but her appearance in the final film has not been confirmed. According to M-G-M publicity material, over one half of the cast of "This Modern Age" was comprised of French actors.

Studio publicity material also notes that a unique sound technique was used to capture and balance the simultaneously occurring sounds of Joan Crawford taking a bath and Pauline Frederick speaking on the phone with Albert Conti. The sound engineers, using an invention they called the "sound recording light valve," accomplished the feat after hours of thought.

Also, a new type of "camera crane," consisting of a balanced beam twenty feet long with a camera secured to one end, was built to facilitate the filming of the scene in which Crawford and Neil Hamilton crawl upstairs on their hands and knees. According to a biography on Crawford, when asked for her comments on this film many years after its release, she responded: "Forget This Modern Age ."


Cost: $361K/Domestic Studio Gross: $708K/Foreign Studio Gross: $183K/ Profit:$218K


Box Office Receipts: $891,000.


Inflation Value in 2007: $12,213,265.26.
Photos
Click on images below to see a larger view.
Movie Posters/Lobby Cards etc...
Fan Reviews/Comments
Reviewer, Jim Tritten, says...
Fast-paced soaper set in Paris during an era in which `nobody cares' what you do. Upon the death of her father, an innocent `nineteen' year-old blonde Joan Crawford seeks out and is reunited with her divorced expatriate mother. The mother comes to realize that a chance at a renewed relationship with her daughter is worth more than a long-standing relationship with the Frenchman who has been paying her way for years. Mother and daughter move in together.

Complications with the boyfriend - a Harvard football man from a good American family. The kids fall hard for each other but when his parents see the kind of mother and friends she has - well there is the dickens to pay. A more sour looking pair would have been hard to find. Joan looks great (but not 19) in this movie and does a good job at being aghast when she finds out the truth about her mother.

Joan plays a girl whose world is to: make virtue of vice, never take anything seriously, and always be amusing. Yet she rebels against her mother's behavior. Will the daughter reconcile with and accept her mother for who she is? Can the sourpusses ever forgive the scandalous behavior of a fallen woman? Does a woman need a man before she is really happy (will those darn kids get together in the end)? Or will Joan run off instead and seek fulfillment elsewhere? These questions and more are answered in the dramatic conclusion of `This Modern Age.'
Reviewer, Dbgbear777 , says...
Comment: And my oh my doesn't Pauline Frederick resemble Joan? In some shots it's eerie!

Three and a half stars.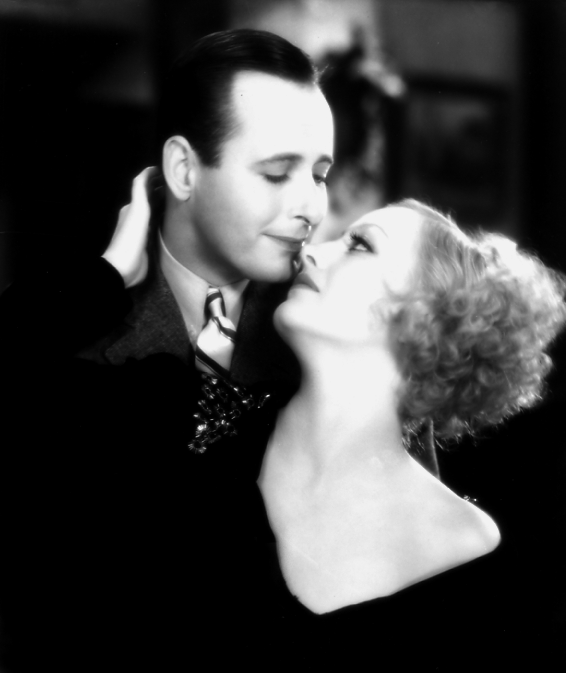 Other Reviews
"Mordaunt Hall" of the New York Times had this to say, "A flaxen-haired Joan Crawford is the principal figure in "This Modern Age"...It is a film story which glides along merrily most of the time, but now and again it has its off-moments...Nicholas Grinde, director of this picture, has done splendid work by his comedy, but his serious interludes might have been handled more effectively."
Dennis Schwartz, Ozus' World Online Reviews says, "This Modern Age" is a romantic melodrama aimed at a female audience. It played to audiences of shop women of that era who fantasize that their lives could suddenly become glamorous. It's directed by Nick Grinde from the story Girls Together by Mildred Cram. The screenwriters are John Meehan, Sylvia Thalberg, and Ms. Cram. It is shot in black and white, and its tame soap opera morality tale belies its title as something modern. The acting was high-strung on all fronts, with Joan Crawford offering a particularly high-handed performance.

The lower-class American Joan Crawford as Valentine Winters goes to Paris to live with her estranged socialite mother Diane Winters (Pauline Frederick, veteran of the silent films) after her father dies. She hasn't seen mom for 14 years, and shows up coifed in dyed blonde hair. The naive Crawford doesn't at first realize her sophisticated mom is a kept woman by Parisian libertine André (Albert Conti). But when she does, she is only too eager to join his fast crowd of swingers. She takes up with the reckless Tony (Monroe Owsley), a young drunkard who lives for fast cars and parties that require tuxedos. While the two are out taking a spin in his car, the inebriated Tony accidentally flips the car over. To the rescue comes the knight in shining armor, Bob Blake (Neil Hamilton), a handsome former Harvard football star. After his good deed, Bob quickly falls in love with Val.

The good lad is eager to do the right thing and marry Crawford, so he brings his uptight, conservative, wealthy parents (Bosworth and Dunn) to meet Crawford's mom. This proves disastrous, for a drunken Tony accompanied by his fellow drunks suddenly appear and stun Bob's puritanical folks. Soon sugar daddy André arrives, and his relationship with Frederick is made crystal clear to Bob's folks--that she's been his mistress for the last seven years and that he pays the bills. The stern parents immediately insist that their son break up with Crawford.

This leads to a teary heart-to-heart between Crawford and mom, where each gets things off their chest that needed to be said. But Hamilton ignores his parents' wishes and follows the flutters in his little heart and returns to Crawford's side, just as she has given up hope about love and is returning to the fast crowd. The reunited pair run off together as a repentant Diane feels she has learned a lesson and reforms, dumping André. As far as I could determine, the situation was resolved when Diane agrees to be kept by Bob instead of André. The melodrama is an attempt to explore the modern age's new morality and the ensuing social conflicts that arise. It can be enjoyed for many of the wrong reasons such as by its campy unintentional comedic moments and its hollow dialogue that caused more giggles than sober reflection. Though entertaining and not without some redeeming features, in her biography Joan Crawford told her fans to forget "This Modern Age." I'd go along with that sound advice from the Pepsi gal.
If you have seen this movie, please write a review below. Once your review is submitted, I will post the review below. Thank you for your review on this film.
Click on the decades below to browse movies.