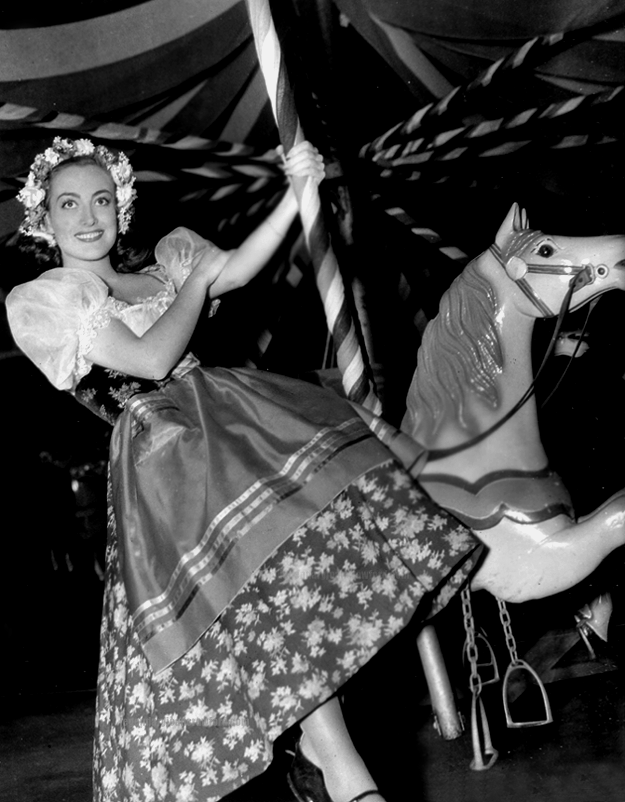 "The Bride Wore Red was a waste of time for everyone...what a botch!" - Joan Crawford
"The Bride Wore Red" 1937
This page is dedicated to a member of the Joan Crawford Movie Night, Robert Viera.
So glad you're a part of the movie nights and a new friend - here's to many more movie nights!
Cast: Joan Crawford, Franchot Tone, Robert Young, Billie Burke, Reginald Owen, Lynne Carver, George Zucco, Mary Philips, Paul Porcasi, Dickie Moore, Frank Puglia, Nino Bellini, Agostino Borgato, Adriana Caselotti, Ann Rutherford.


Release date - October 8, 1937

Running time - 100 or 103 minutes (11 reels)

Directed by - Dorothy Arzner

Writing Credits - Ferenc Molnar (for the unpublished play, The Girl Trieste), Waldo Salt and Catherine Turney, Tess Slesinger and Bradbury Foote (adaptation).

Producer - Joseph L. Mankiewicz

Cinematographer - George J. Folsey

Costumes - Adrian

Studio - MGM - Black and White

Filming locations - Austria (exterior mountain shots)
- Mammoth Lakes, California, U.S.A.

Production dates - 5 June, 1937 thru 10 August, 1937.

Production Code: #997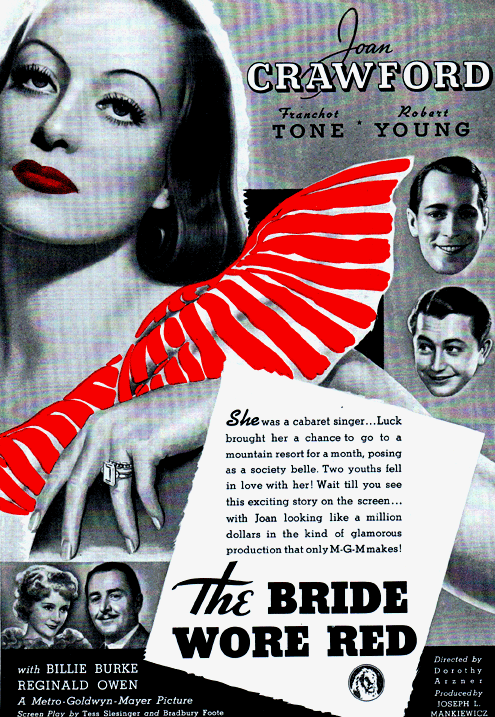 Movie Synopsis
Joan Crawford is once again typecast into one of her many cookie cutter roles as a woman in a love triangle. Anni Pavlovitch (Joan Crawford) is a cynical, jaded, struggling cabaret singer in Trieste, Italy. Anni is approached by the rich Count Armailia (George Zucco) who is interested in testing out an experiment on his fellow rich socialites. He offers Anni an opportunity to go on a two-week vacation in Tyrol Alps and pretends that Anni is a rich socialite. Anni takes him up on the offer since she has nothing to lose and she embarks on the challenge.

The beautiful Anni, now renamed Anne Vivalsi, arrives at the luxurious chalet and is almost immediately noticed by two men, one is a wealthy handsome socialite Rudolph "Rudy" Pal (Robert Young) and the other is the charming towns postmaster Giulio (Franchot Tone). Joan is torn between the two men but drawn to the rich boy, Rudy, who could change her financial and social status.

As Anne's two-week Cinderella story comes to an end and she will be forced back to her pumpkin patch, so to say. As Anne is running out of time, she tries to get Rudy to propose to her before she has to reveal her true lineage. Giulio is aware of her past and contemplates exposing her to Rudy and his upper-class entourage. As the end draws near, Anne makes a dramatic entrance in a shocking red dress. One wonders if this film would have been more effective if it were in color, if only to showcase this particular scene. Finally Anne is revealed for who is really is and although she does love Rudy she knows that she will love and relate better to Giulio.

Many critics and fans were not keen on The Bride Wore Red but the picture actually holds up well today and is very believable. This is by far the best movie Joan Crawford made with her then husband Franchot Tone, they play off well together and the chemistry is strong. Crawford also sported a new long hairstyle that only made her more beautiful than she already was; one wonders why she didn't capitalize on this hairstyle for future roles.

Another one of those girl from the wrong side of the tracks poses as a wealthy society girl in order to snare herself a rich husband type films.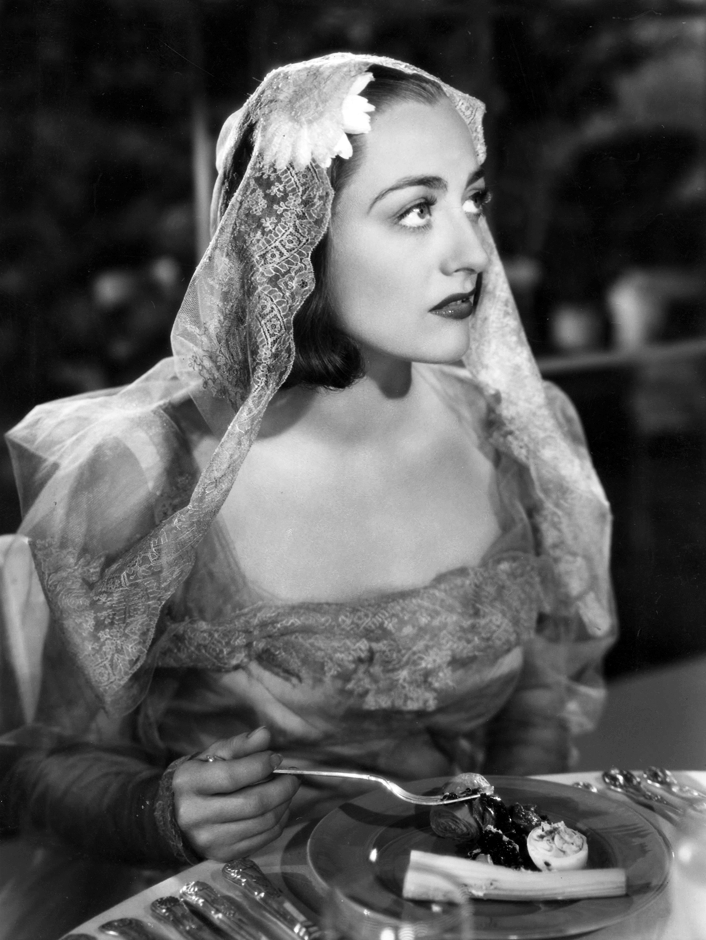 Interesting Trivia
As early as 1937, soon after the release of this film, Joan was cruelly labeled, 'box office poison.'

Luise Rainier was originally considered for Joan's role.

The show stopping, Adrian designed, red gown that Joan wears at the end of the film in the ball scene can be seen in two other films. It was used in a catwalk sequence in The Big Store (1941), and then in it's full glory, thanks to the introduction of color film, in DuBarry Was A Lady (1943).

Joan was married to Franchot Tone (Guilio) at the time of the production, however this was their final film together and they were divorced soon after. Again, their marriage lasted the usual Joan Crawford run of four years (1935-1939).

The picture was filmed partially on location in the Mammoth Lakes area of the Sierra Mountains, CA, and background footage obtained by Fred Wilcox on an Austrian trip were included in this film and in Paradise for Three.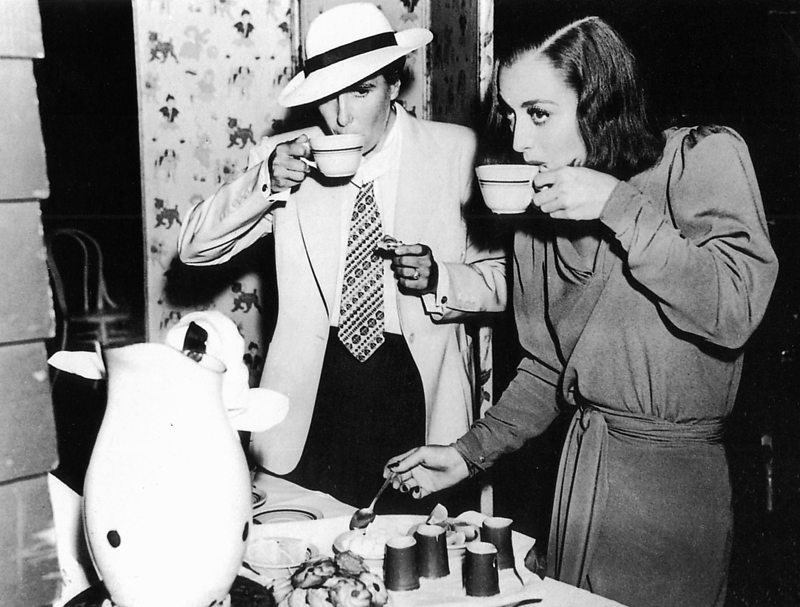 The Bride Wore Red was directed by Hollywood's best known female director, Dorothy Arzner, at the time. Joan was quoted as saying that Arzner "scared the hell out of her." Arzner later directed Pepsi Cola commercials for Crawford's companies.

The red dress Joan wears in The Bride Wore Red still exists today and was shown in 2005 as part of the Fashion Institute of Technology (FIT) museum show "Glamour: Fashion to Die For." You can view a recent picture of the dress at the bottom of this page.

In uncredited roles as peasant girls, both Adriana Caselotti and Ann Rutherford went on to bigger and better roles, both holding different but equally important places in Hollywood history. Ann Rutherford went on to play Scarlett O'Hara's sister in Gone With The Wind (1939) and Adriana Caselotti gave voice to one of the most beloved animated characters of our time - Snow White.

Child star Dickie Moore appeared in this film. He is best known for being the first actor to kiss Shirley Temple on the big screen.

Cost: $960,000

Box Office Receipts: $1.2 million

Inflation Value in 2008: $18,231,916.67
Photos
Click on images below to see a larger view.
Movie Posters/Lobby Cards etc...
Fan Reviews/Comments
Reviewer, beyondtheforest, says...
If this were the typical Cinderella tale, Anni (Joan Crawford), a beautiful but hardened prostitute from Trieste, would have been whisked away to the wealthy vacation resort with clothes and money to spare, and some rich and dashing prince in shining armor would have fallen in love and married her (social class issues notwithstanding). MGM tries their very best to make the film appear to be a Cinderella story of that sort, but I am not unhappy they failed.

The story does not turn out that way at all. We have Anni, given such a stellar characterization by Crawford (so perfect as hardened women who seek, but have been constantly been denied, love, in a quintessential role for her), but she is not simply a poor girl from the wrong side of the tracks. She is a prostitute in a dingy bar. We can see from the very first closeup that she is completely hopeless and disillusioned. Crawford's expression as she sings "Who Wants Love?" (an appropriately and brilliantly cynical love ballad which sets the tone for the film) is so brilliant, evocative, and controlled; the work of a great actress, indeed.

A very wealthy count discovers her and sets her up for a stay in a resort for other wealthy people, where she can pose as an heiress and possibly attract a man. The catch here is the count is not motivated by altruism; he simply wants to satisfy a bet with a friend that social class has nothing to do with breeding, but just luck. Although he is probably right, there is something unkind about the way he treats the girl. Although at first it seems a kind thing to do (and if this was the Cinderella story it would be), this is not a fantasy but the real world, and in the real world dreams can be broken..

The theme of the film is that of dreams being broken. Anni dreams of finding love, wealth, happiness, but eventually she learns no amount of posing or pretending or scheming can get her those things. The rich man she tries to snare turns out to be a cad, only interested in her as a mistress and not as a wife. Another dream is broken.. In the end, although in keeping with the Cinderella aspect of the story it appears she has fallen in love with the postal delivery man, it's obvious she has settled. She has thrown the childhood hopes to the wind, and is ready to accept love in practical terms. And when she settles, we know the biggest dream of all has broken, and Crawford, great actress that she was, shows us her heartbreak by registering extremely subtle emotions in her face, through her walk, and mannerisms.

A remarkable film. An undiscovered masterpiece; perhaps Dorothy Arzner's best work.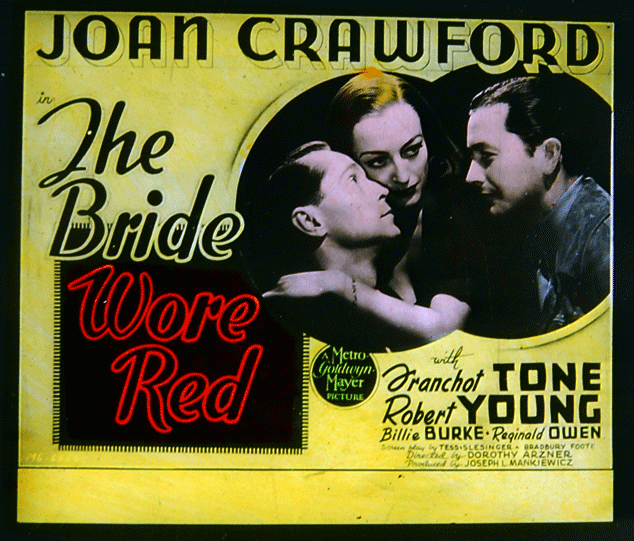 Other Reviews
Howard Barnes of the New York Herald Tribune had this to say,... "Joan Crawford has a glamorous field day in The Bride Wore Red...With a new hairdo and more wide-eyed than ever, she plays at being a slattern, a fine lady, and a peasant with all of the well-known Crawford sorcery..."


Frank S. Nugent in the New York Times had this to say,... "Gowns by Adrian and settings by Cedric Gibbons do not entirely conceal the underlying shabbiness of The Bride Wore Red, one of those seasonal discoveries of Cinderella which Metro-Goldwyn-Mayer turned into the Capitol yesterday. Now it has Miss Joan Crawford who puts on an emotional circus as the shoddy cabaret girl (with dreams) who has been given two glorious weeks with high society in the Tyrol and tries desperately to have the clock stopped before her witching hour strikes.... If anything at all, it is a woman's picture--smouldering with its heroine's indecision and consumed with talk of love and fashions. Tall talk, mostly."
If you have seen this movie, please write a review below. Once your review is submitted, I will post the review below. Thank you for your review on this film.
Click on the decades below to browse movies.