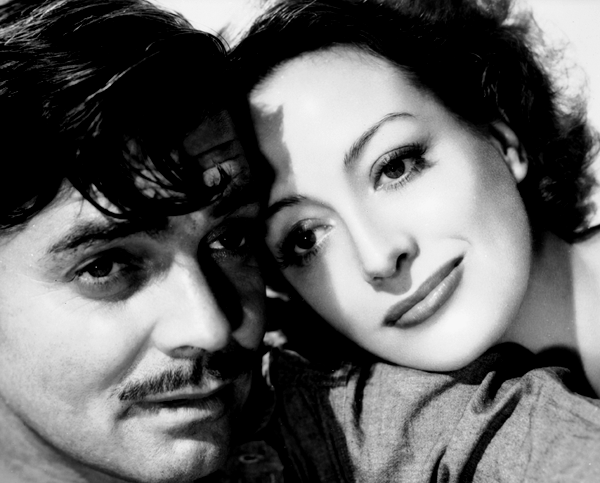 "Clark and I did our best work together in "Strange Cargo." - Joan Crawford
"Strange Cargo" 1940
This page is dedicated to Peter Fitzgerald, thank you for the experience and immortalizing me on DVD.
Cast: Joan Crawford (as Julie), Clark Gable, Ian Hunter Cambreau, Peter Lorre, Paul Lukas, Albert Dekker, J. Edward Bromberg, Eduardo Ciannelli, John Arledge, Frederick Worlock, Bernard Nedell, Victor Varconi


Release date - March 1, 1940

Running time - 111 or 113 minutes

Director - Frank Borzage

Writing Credits - Richard Sale (for the novel, Not Too Narrow....Not Too Deep), Anita Loos (adaptation), Lawrence Hazard (screenplay)

Producer(s) - Frank Borzage and Joseph L. Mankiewicz

Cinematographer - Robert H. Planck

Studio - MGM

Working Title - Not Too Narrow, Not Too Deep

Production dates - 17 October, 1939 - 28 December, 1939; retakes shot in January of 1940.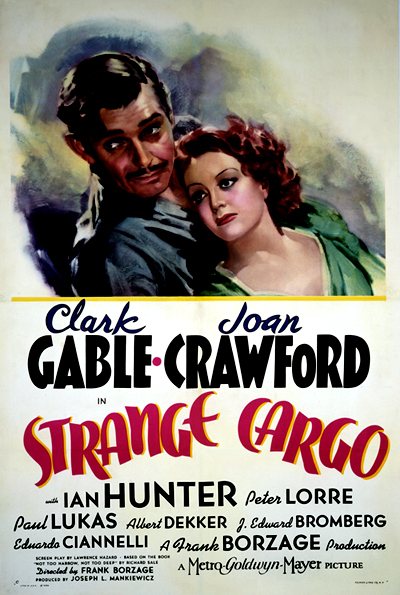 Movie Synopsis
Julie (Joan) is the love interest of Andre Verne (Clark Gable), a prisoner sentenced to life in a tough penal colony in Guyana. When Andre is befriended by the secretive Cambreau (Ian Hunter), he offers to pay for Andre's passage if he cares to make the break with the other prisoners planning an escape. Of course, it takes no convincing for him to agree to join the group and they all successfully avoid the preoccupied prison guards, escaping to freedom in a small boat. Whilst on their journey at sea, Cambreau uses the time to predict the future ups and downs of the escapees. It seems, Cambreau is a form of Jesus Christ, sent to reform the prisoners and guide them down a new and wholesome road.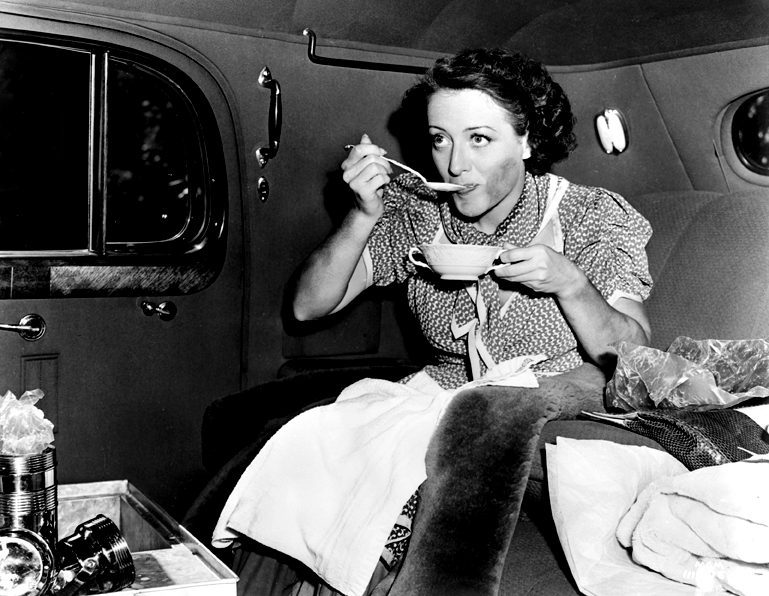 Interesting Trivia
Unlike most of her big budget wardrobe allowances, this was not a glamorous role for Joan. No Adrian designs in this one. Joan's three dresses cost a collective $40 for the entire film.

Many American cities refused to book "Strange Cargo" for their theaters on the grounds that the dialog contained, 'irreverent use of scripture' and 'lustful complications.'
The picture was the last of NINE films co-starring Clark Gable and Joan Crawford. It's often said they teamed up in eight films together, but in actual fact they were both extras in "The Merry Widow" (1925), technically making this film their ninth on screen coupling.

According to the file for the film in the MPAA/PCA Collection at the AMPAS Library, in October of 1939, the PCA urged M-G-M not to show scenes of illicit sex, the "reading of the Bible with sarcasm" and the throwing away of the Bible. A March 1940 New York Times news item notes that the Legion of Decency placed the film in the "condemned" category and protested the film's "anaturalistic concept of religion contrary to the teachings of Christ and the Catholic church." A Hollywood Reporter news item indicates that Strange Cargo was banned in Detroit.

In England, censors deleted the scene in which the convict discusses the Bible and identifies himself with God. Modern sources indicate that the film was also banned in Boston and Providence, RI. Some filming took place in Pico and Laguna, CA. A biography of producer Joseph L. Mankiewicz quotes him as saying: "It was almost a good film. I wish it could have been made later. It was tough doing any kind of film that even approached reality in any way."



Cost: $1,252K/Domestic Studio Gross: $1,311m./Foreign Studio Gross: $603K/ Profit: $21K.


Box Office Receipts: $1,924,000


Inflation Value in 2007: $28,884,324.86
Photos
Click on images below to see a larger view.
Movie Posters/Lobby Cards etc...
Fan Reviews/Comments
Reviewer, Ty Power, says...
MGM legends Joan Crawford and Clark Gable had been a popular screen team since the beginning of the 1930's decade appearing together in 7 feature films of varying quality and popularity. After a four year break from working together the two by now veteran performers came together for their 8th and sadly last appearance together on screen in the unusual drama "Strange Cargo". They had appeared together before in quite serious dramas like the classic "Possessed" in 1931, however "Strange Cargo", marked a distinct change of pace for them and both performers succeeded in producing some of their best work to date in roles with a new dimension and depth to it. Joan Crawford had just enjoyed a triumph in a non typical role as the scheming Crystal in "The Women", and was looking for new opportunities to tackle different types of roles from the shop girl efforts she specialised in during the 30's. The role of the tough cynical dance-hall singer Julie who's been used by many men and spends most of the films running time without makeup or stylish clothes held obvious appeal to the actress anxious to prove she was more than just a glamourous clothes horse. Clark Gable came to this role straight from appearing in "Gone With The Wind", so there was certainly a need by him to follow that classic effort with another demanding role which he handles superbly here. "Strange Cargo", has a raw, rugged look and feel to it which makes it strangely unlike your typical MGM efforts of this period. Also the unusual but highly effective spiritual element to the story embodied in the mysterious supporting character of the convict Cambreau played by Ian Hunter also stamps this story as one which you will find yourself thinking about after the final credits.

Based on the novel "Not Too Narrow, Not Too Deep", by Richard Sale, "Strange Cargo", was another of the highly successful collaborations between Joan Crawford and Producer Joseph L. Mankiewicz that stretched back to the mid 1930's. It takes place in a French penal colony based on Devil's Island where in a neighbouring town Julie (Joan Crawford), an embittered and hardened night club singer performs nightly for the drunken clientle including the sleezy Monsieur "Pig" Cochon (Peter Lorre). Julie fits the description of someone who has "been there, done that", and she holds nothing but contempt for the men that people her life. On a trip to the wharf one day she encounters a prisoner Andre Verne (Clark Gable), from the prison colony who along with others has been assigned to the wharves for heavy duties. Verne is smitten with Julie and informs her that he is planning an escape and will come for her. Verne follows through on his promise and when he does break out he comes to the night club and confronts her in her dressing room. Verne however has misjudged the street wise Julie who promptly double crosses him and turns him into the prison guards. Because there is a rule about the women not mixing with prisoners at any time the owner of the club fires Julie and tells her she has 12 hours to leave the island or face conviction. Meanwhile in the prison Verne is embroiled in another breakout attempt and runs afoul of fellow inmate Hessler(Paul Lukas), who is at the centre of the latest attempt. The group that breaks out includes the mysterious Cambreau (Ian Hunter), who seems to possess a strange Christ-like presense among the men, Moll (Albert Dekker), and Telez (Eduardo Ciannelli). Double crossed by Hessler, Verne ends up in the prison infirmary with a blow to the head but makes his own seperate escape in the confusion. Coming across Julie, Verne takes her along on a perilous journey through the snake and crocodile infested jungle to catch up with the others at the ocean where a boat is waiting. The journey is not an easy one and one by one Hessler's group are killed off by the natives or snakes before the remainder finally make it to the boat. Verne and Julie catch up with the group however and the rivalry between Verne and Hessler continues. Once at sea real difficulties arise and the death toll continues as young Dufond (John Arledge) dies for which Hessler feels responsible. Cambreau seems to influence all around him to more responsible behavour and when the water supply is thrown overboard but later retrieved, Hessler sacrifices himself tasting the salt water out of his guilt at Dufond's death. Verne at first is cynical about Cambreau and his supposed spiritual powers however after he pushes Cambreau into the sea during an argument he then feels strangely compelled to rescue him. It seems Cambreau by some unexplained power manages to turn around even the most hardened and disbelieiving of individuals and soon both Verne and Julie begin to see the error of their past behaviour. When Verne encounters the Prison Head Grideau (Frederick Worlock), he sees that to get his life going again repeated attempts at escape are pointless and he agrees to return to the prison to complete his sentence. Julie also realises that once again she can trust a man and that she truly loves the rough but essentially good Verne and she agrees to wait until he is released when hopefully they can be truly together.

A most unusual drama of a kind not often seen is the best way to describe "Strange Cargo". What is so pleasing is that this effort could never be called your typical Joan Crawford or Clark Gable vehicle. Certainly Gable still displays that lovable roguish quality but his character this time has a much harder edge to it and Gable really rises to the occasion to show he was capable of portraying less glamourous characters of some dimension. Joan Crawford delivers what I believe is one of her most carefully thought out performances as the world weary Julie and her total abandonment of any kind of beauty with no makeup or beautiful clothes confirms in my mind her ability to deliver a powerful acting performance. Ian Hunter shines in his role of Cambreau and we never really know who this mysterious christ-like man really is and whether he is in fact some divine presense among the men who guides them into seeing the error of their ways. His is a truly great performance which really gets the viewer thinking long after the closing credits. Veteran Peter Lorre has an effective supporting role as the unlikeable "Pig" Cochon. His scenes in particular with Joan Crawford involve some wonderful exchanges that elicit alot of on screen electricity. Amazingly this film upon release ran into trouble with the Catholic Legion of Decency over its light hearted views on marriage and in particular for the representation of Ian Hunter's "Christ" character which was considered not in good taste at the time. Visually "Strange Cargo", benefits greatly from the many seamy locations employed which help tremendously to give the film its non glamourous hardened edge. Everthing here belies the fact that it was made by Hollywood's most glamourous studio, MGM, from Julie's bordello-like dance hall, to the primitive prison quarters and especially the hot steaming jungle that the party try and survive through. The quite graphic (for the times) shark attack on one of the men trying to retrieve the water barrel is also starkly portrayed adding to the raw feel of this film. Direction by Frank Borzage, a Crawford regular from the late 30's is servicable here and he manages to keep the action moving along with just enough time for a little exploration of the main characters.

"Strange Cargo", was a most worthy vehicle for both Joan Crawford and Clark Gable after both of their previous classic efforts. It certainly reveals two performers at the peak of their abilities who now could feel confident in taking some risks with the characters they are playing. It is a shame that this film marked the end of their legendary screen partnership with Gable in particular from then on being teamed with the new crop of MGM leading ladies such as Lana Turner and Hedy Lamarr. However it is a most interesting film to say goodbye to these two as a team with. Raw and realistic with an underlying message not common in films around this time "Strange Cargo", makes compulsive viewing for all Crawford/Gable fans and for those that enjoy well thought out adult dramas.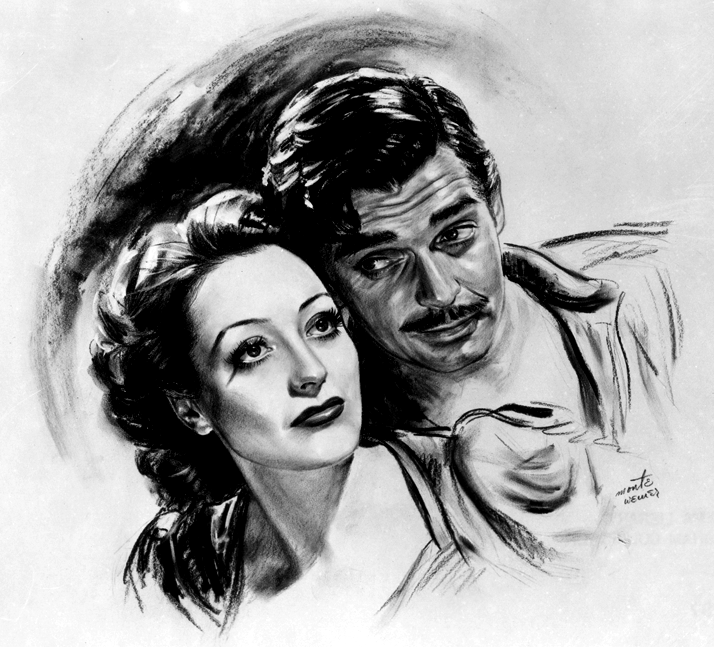 Other Reviews
Variety had this to say, "Miss Crawford is provided with a particularly meaty role as the hardened dance-hall gal who falls hard for a tough convict. Role is a departure from those handed her during past several years by her studio, and reminiscent of her earlier work that carried her to popularity originally."
If you have seen this movie, please write a review below. Once your review is submitted, I will post the review below. Thank you for your review on this film.
Click on the decades below to browse movies.