"Everything about "Sadie McKee" was right, the actors, the script, direction, costumes, the works."
- Joan Crawford
"Sadie McKee" 1934
This page is dedicated to Robert Bertrand.
Thanks for being a loyal fan to this site and a fun online friend!
Cast: Joan Crawford (as Sadie McKee Brennan), Gene Raymond, Franchot Tone, Edward Arnold, Esther Ralston, Earl Oxford, Jean Dixon, Leo G. Carroll, Akim Tamiroff, Zelda Sears, Helen Ware, Helen Freeman, Gene Austin, Candy Candido, Otto Heimel.


Release date - May 9, 1934

Running time - 90 or 95 minutes (10 reels)

Director - Clarence Brown

Writing Credits - Vina Delmar (for the story, Pretty Sadie McKee), John Meehan

Producer - Lawrence Weingarten

Cinematographer - Oliver T. Marsh

Costumes - Adrian

Studio - MGM

Production Dates - February 12 - April 7, 1934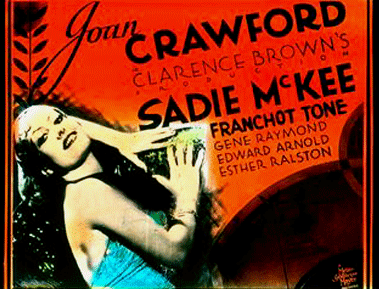 Movie Synopsis
Sadie Mckee (Joan) is the daughter of a cook currently employed with the well to do Alderson family. Michael Alderson (Frachot Tone) likes Sadie but despite his infatuation, she decides to go to New York City to marry her boyfriend, Tommy (Gene Raymond). When Tommy (Gene Raymond) cheats on Sadie with a showgirl, Dolly (Esther Ralston) he deserts her in the big city with his new love.

Sadie decides to stay in New York, where she meets and marries the millionaire alcoholic Jack Brennan (Edward Arnold) for his money. He also happens to be Michael Alderson's boss. As Sadie helps her husband beat his alcoholism, Michael sees her in a whole new light.

However, Sadie ends up leaving Jack when she hears that her past love, Tommy has stumbled upon some health troubles. With the help of Michael they track down Tommy in a hospital and soon find out that he's dying. Before his death, Sadie confesses her love for him and he tells her he only ever thinks of her. Through tears, Sadie watches her one true love, Tommy slip away.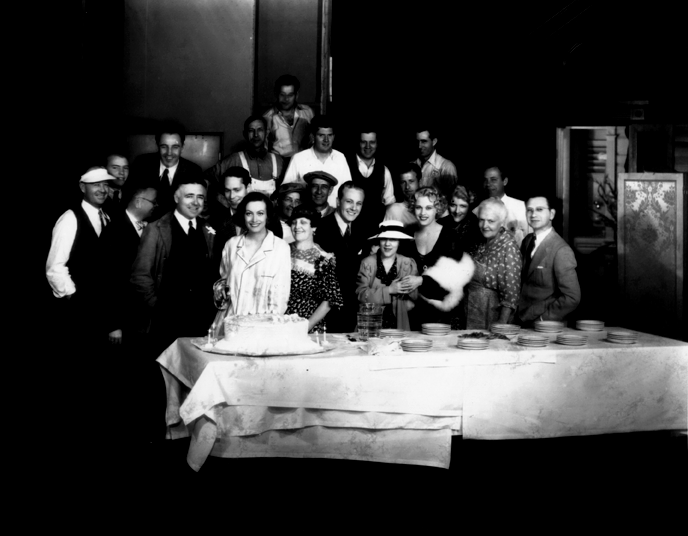 Interesting Trivia
Joan and Franchot Tone fell in love during the production.

Singer Gene Austin and jazz musicians Candy and Coco, who were known as "the hottest boys this side of Hades," made their screen debuts in this film. Before Gene Raymond was added to the cast, various actors were considered for his role, including James Dunn, Leif Erickson, Arthur Jarrett, Donald Woods and Robert Young, according to a Hollywood Reporter news items. A pre-production HR news item stated that director Clarence Brown went to San Francisco to scout locations for the picture. It is not known if any scenes were actually shot there, however.

In a May 1948 Saturday Evening Post article, actor Edward Arnold states that the role of "Jack Brennan" was, to that date, his favorite part.


Songs: "All I Do Is Dream of You" and "I Looked in Your Eyes" words and music by Nacio Herb Brown and Arthur Freed. "After You're Gone," written by Turner Layton with lyrics by Henry Creamer in 1918.


Cost: $612K/Domestic Studio Gross: $838K/Foreign Studio Gross: $464K/ Profit: $226K


Box Office Receipts: $1,302,000.


Inflation Value in 2007: $20,257,759.70
Photos
Click on images below to see a larger view.
Movie Posters/Lobby Cards etc...
Fan Reviews/Comments
Reviewer, Gary Sweeney, says...
We've all heard the saying "nice guys finish last". If that concept ever applied to a woman, it was Sadie McKee, or at least, it certainly looked that way. Nine years into her career, and already with over 40 films to her credit, Joan Crawford was in the middle of MGM's star-making hurricane. Sadie danced in the glare of the pre-code era, though it wasn't nearly as blatant as its counterparts. The 1934 melodrama is heavy in theme and a great example of how good acting used to look.

Joan Crawford is Sadie McKee, a young girl working with her mother (played by Helen Ware) as a servant to the Alderson family. The Aldersons are clearly part of society's upper crust and have no qualms about proclaiming it amongst each other. Michael Alderson (Franchot Tone) is the golden child of the family. He seems to care for Sadie on a deeper level and even recounts fond memories of her as a child in specific detail. But despite Michael's outward affection, Sadie's heart lies with Tommy Wallace (Gene Raymond), a prime example of whom the Aldersons hold in disregard. Tommy has little money and it's obvious that he can offer Sadie no more than her current lot in life. Sadie is painfully obedient to her mother and spends more time biting her tongue than expressing her true feelings. Click on the photo below to keep reading this review!!
Reviewer, bkoganbing, says...
Sadie was a lady!

I'd have to describe Sadie McKee as both the typical Joan Crawford vehicle and the typical Franchot Tone vehicle. The two of them who were husband and wife when the film was made are perfectly cast in roles that typified their images in the Thirties.

Crawford is the daughter of a cook on the sumptuous palatial Long Island estate where Tone is the young heir and a lawyer by trade. To earn a few extra bucks Crawford occasionally helps mom out serving at formal meals.

At one of those meals she hears Tone disparaging her sweetheart Gene Raymond who was caught in a petty theft. Tone makes a big point in saying we can't give people like these help because they're no good. Crawford throws a fit and runs to Raymond.

She almost marries Raymond, but he runs out on her for Esther Ralston. In New York working as a nightclub cigarette girl she runs into Edward Arnold who is a millionaire with a severe drinking problem. No doubt caused by drinking a lot of rotgut liquor during recently repealed Prohibition. And wouldn't you know it, Tone is his lawyer.

So Sadie has her three men, give you one guess who she winds up with in the end. You'd probably guess right, but let's say it's a character altering experience for all.

Sadie McKee is probably a good example of the Joan Crawford shop girl before she became a hardened creature like Crystal Allen in The Women. As for Franchot Tone, MGM just loved casting him as rich men in a tuxedo, probably because he looked so darn good in them. The only way either of them escaped type casting was as they got older they varied their parts due to age. Crawford was ever the film star, even in some of the horror flicks she did in the sixties. Tone went right into television and worked steady right up to his death.

Sadie McKee however is a good opportunity to see them both young and at the height of their fame. Also note the Nacio Herb Brown-Arthur Freed ballad All I Do Is Dream Of You comes from Sadie McKee.

Three Stars
Reviewer, dkeithhunt67, says...
I think this was a great movie. It was one of the first late night movies I saw of Joan. The plot was a little predictable but was overall great. I liked it that she took control of the household and made the staff take her lead. I enjoy the one scene where she berates the staff for keeping on enabling her older husband's drinking in the kitchen. What force!

A little tidbit that was freaky: There is a woman at the far end of the table in that scene smoking a cigarette. A friend and I both blurted out, "OMG! That looks like surly Bette Davis giving her the evil eye!" A scene near the end where she runs to the deathbed of Gene Raymond could've really been taken advantage of. He dies and as she is looking sadly at his dead face there is snow blowing outside the window. We both thought it would've been great had Joan did her usual raising of the eyebrows, looked outside and "picture" his "soul" taking off in the blowing snow. That could have been an Oscar moment. But regardless. She speaks beautifully, looks beautiful and adds charisma to a weak plot.

Three Stars!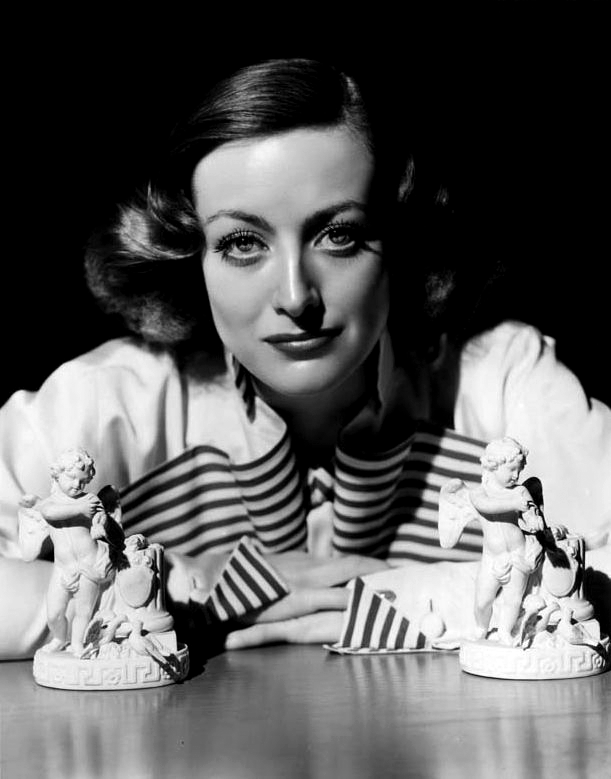 Other Reviews
The Hollywood Reporter had this to say, "Swell picture...sure-fire audiences...well-tailored for the talents of Joan Crawford...the stuff the fans cry for...director of Clarence Brown something to rave about...Joan Meehan's dialogue expert and amusing...a humdinger for the femme fans."

Marguerite Tazelaar of the New York Herald Tribune (1934) said, "...Miss Crawford seems a bit miscast in the role of girlish innocence, but she does a competent job with Sadie, and in certain of her scenes is genuinely moving."

Mordaunt Hall in the New York Times (1934) says..."Clarence Brown's direction of this film is studied and in its way effective but it scarcely improves the flow of the story. There are many static interludes, a great deal of talk, which is by no means as interesting as the producers evidently thought it to be. Miss Crawford assuredly does well by her part, but even so the incidents in which she appears often are hardly edifying. It is in fact an exasperating type of motion picture."


If you have seen this movie, please write a review below. Once your review is submitted, I will post the review below. Thank you for your review on this film.
Click on the decades below to browse movies.