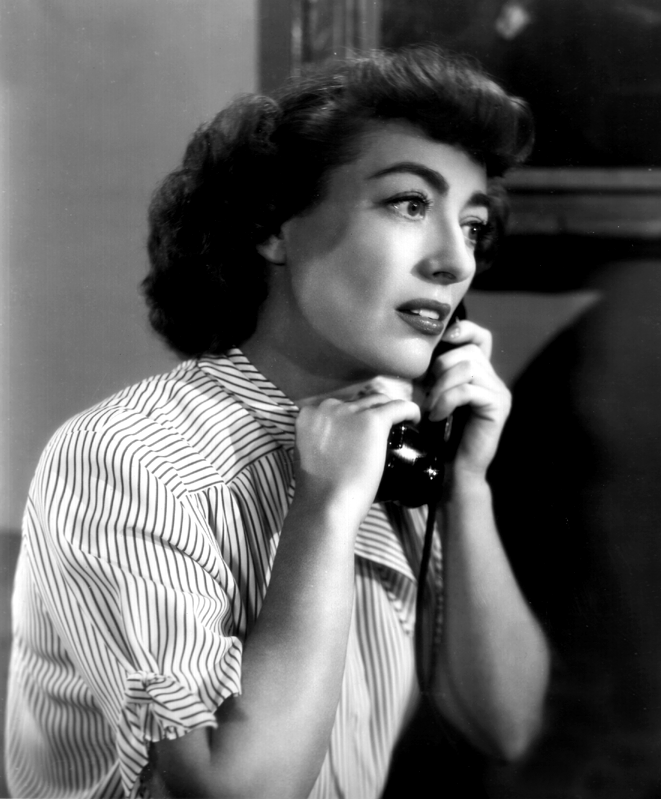 "Don't let anyone tell you it's easy to play a madwomen, particularly a psychotic." - Joan Crawford
"Possessed" 1947
This page is dedicated to an amazing Joan Crawford fan, a collector, a person I admire,
respect and am honored to know, Sean.
Cast: Joan Crawford (as Louise Howell Graham), Van Heflin, Raymond Massey, Geraldine Brooks, Stanley Ridges, John Ridgely, Moroni Olsen, Erskine Sanford, Gerald Perreau, Isabel Withers, Lisa Golm, Douglas Kennedy, Monte Blue, Don McGuire, Rory Mallinson, Clifton Young, Griff Barnett.


Release date - New York Opening, the week of May 29, 1947; July 26, 1947, Nationwide

Running time - 108-109 minutes

Director - Curtis Bernhardt

Writing Credits - Ranald MacDougall, Lawrence Menkin, Silvia Richards and Rita Weiman (story)

Producer - Jerry Wald

Cinematographer - Franz Waxman

Costumes - Adrian (Joan Crawford's wardrobe) and Bernard Newman (wardrobe)

Studio - Warner Brothers

Production Dates - Mid June thru July 26, 1946 and August 19 thru early November 1946.

Production Code: #667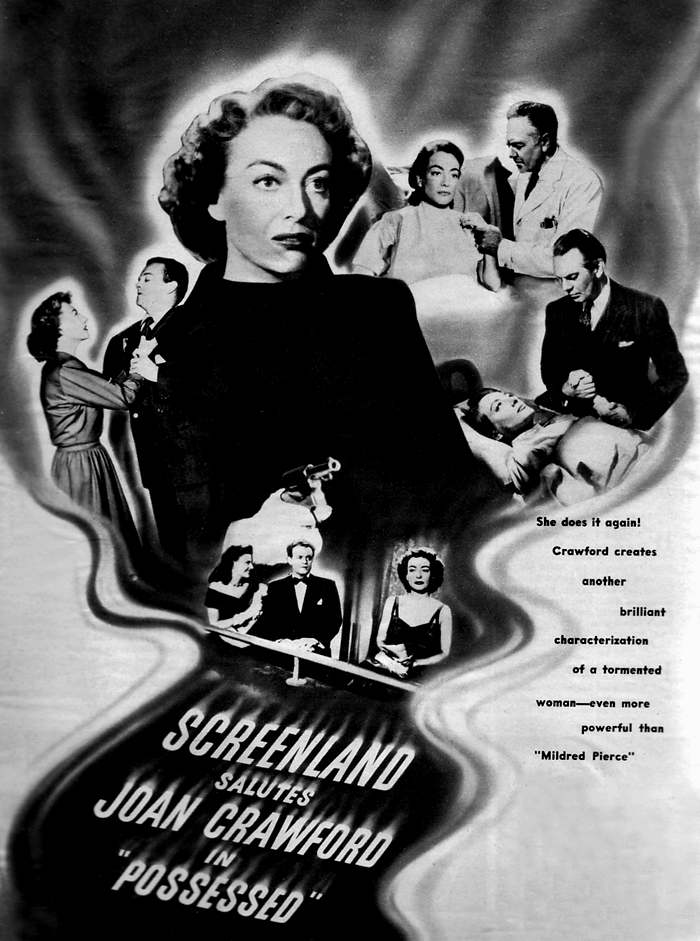 Movie Synopsis
"David" is the first word spoken from Louise Howell Graham's (Joan Crawford) mouth as she is walking aimlessly around the streets walking up to strange men asking if they are this mysterious "David." Louise is a mentally ill woman but how did she become that way, what pushed her over the edge and how did she end up in a hospital? Possessed is told in flashbacks as Louise is a "Jane Doe" in the local hospital of a town she mysteriously arrived in.

The flashbacks start with David Sutton (Van Heflin) and Louise spending a quiet romantic day together on a lake cabin. Louise is fixated and so in love with David that she expresses her true feelings to David while he plays sweet music on the piano. But Louise's dreams of being married and in love with David are short lived when he bluntly tells her that he doesn't feel the same way, he coldly tells her that he doesn't love her. Louise is very hurt by David's rejection and she demands to be brought home and agrees with David that they shouldn't see each other anymore.

Louise is a nurse that works for wealthy Dean Graham (Raymond Massey) in a large home taking care of his mentally ill wife; Dean and David are also very good friends. Louise tries to break free from the love and wanting she has for David but he keeps reappearing in her life almost as if he is purposely taunting her and rubbing it in her face that she will never have him in the way she wants.

After the tragic death or Mrs. Graham, Dean proposes marriage to Louise and even though Louise doesn't love him she accepts this proposal thinking that this will upset David and make him jealous. Dean's daughter and son arrive home from boarding school and Carol Graham (Geraldine Brooks) does not take kindly to having Louise fill the shoes of her deceased mother. She immediately blames Louise for the unhappiness of her parents and the death of her mother. After Carol is sent back to boarding school for her rude behavior, Louise seeks her blessing of marriage before she accepts Dean's proposal.

At the marriage ceremony, David arrives as an uninvited guest to crash the party; while he is there he is reintroduced to a grown-up Carol who he takes a shine to. As there relationship blossoms into something serious Louise starts to show signs of mental illness and starts to hear voices and becomes delusional about events and what's going on around her.

The story plays out, as a fatal attraction between Louise and David and the ending is exciting, thrilling and tragic! Possessed is film noir at its best and probably showcases Joan Crawford's best acting performance on screen.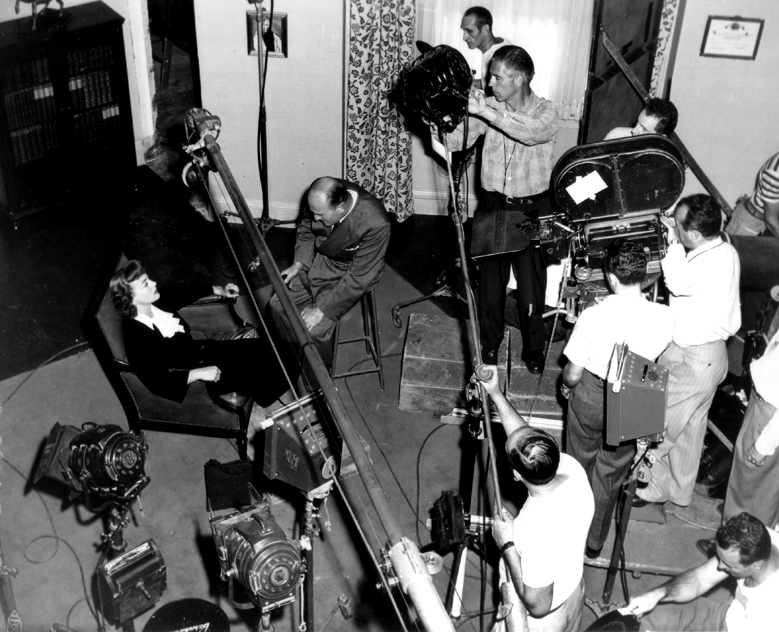 Interesting Trivia
Has no connection, other than name, to the 1931 version of Possessed, also starring Joan.

Bette Davis was originally offered the role of Louise, but turned it down to go on maternity leave.

Joan suffered a bout of bad publicity in relation to this film when she, Warner Brothers and a Pasadena sanitarium were sued for $200,000 by a woman. Mrs. Pauline McKay, who claimed to have undergone electric shock therapy while Joan and three Warners employees stood by and watched the procedure. Mrs. McKay and her husband, Charles, complained that without their authority, Joan and others watched her receive a shock treatment while she was a patient at a Pasadena sanitarium. The visit was said to have been made to obtain atmosphere and a realistic understanding of current mental health procedures for their upcoming film, Possessed (1947).

This bizarre research decision cost the studio a lesser amount than the initial claim of $200,000. An out of court settlement was reached but the months of unfavorable publicity was by far worse for Joan and the studio than any monetary payout. [Los Angeles Times, February 3, 1948].

On a personal note, Joan finalized the adoption process on twins, Cindy and Cathy, after the completion of this film.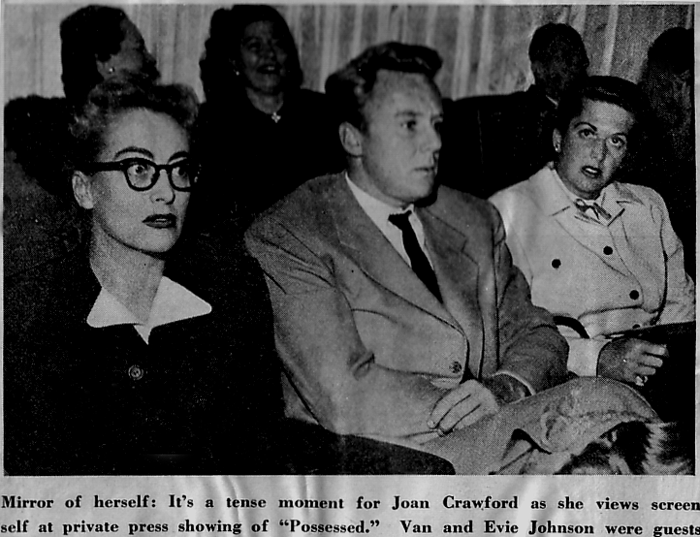 Joan's own suggestion to studio execs for the film's title was "The Secret."

Joan's co-star Van Heflin said a few years after filming: "Damn, I knew Joan had perfected the art of projecting her personality, but I never took her that seriously as an actress until I found myself up against her in that. She outplayed me, Raymond [Massey], everybody in the cast..."

Geraldine Brooks has her first major film role here as the daughter/love interest of Van Heflin's character.

The music featured in the film is the "Chopin" section of Robert Schumann's Carnaval.

Director Bernhardt had just finished working with Bette Davis on "A Stolen Life" and kept absentmindedly calling Joan "Bette," until Joan finally threw her purse at him. One day during filming, Bernhardt, Joan, and Davis surprised onlookers at the studio commissary by enjoying an animated lunch together.

This was the last movie for which the famed Adrian would design Joan's clothes.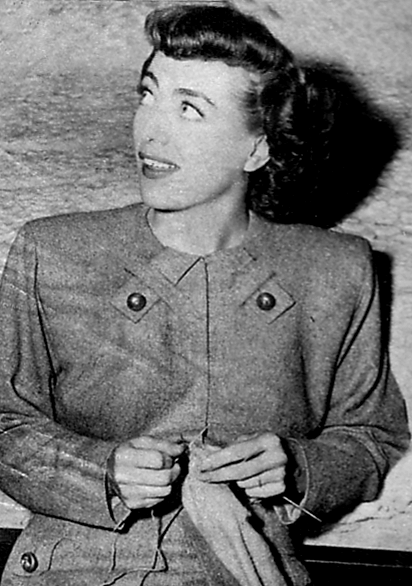 1948 - Nominated - Best Actress in a Leading Role

Movie Mistakes:

Continuity - During the opening sequence, while Louise is wandering the streets of Los Angeles, her shoes change from pumps to sling-backs and back again.

Continuity - When Louise and Carol are at the piano recital, David and his friends can be seen in the distant background taking their seats. When it cuts to a medium shot of David, they are taking their seats for a second time.

Continuity - During the opening sequence, while Louise is wandering the streets, her shoes change from pumps to sling-backs and then back to pumps again.


Joan's salary was $167,000.

Inflation Value in 2008: $1,638,419.78

Top Grossing Film Position: #59 out of #75

Cost: $2,592m./Domestic Studio Gross: $1,987m./Foreign Studio Gross: $1,085m./ Profit: $3.1m.


Box Office Receipts: $3.1 million

Inflation Value in 2008: $30,413,780.27
Photos
Click on images below to see a larger view.
Movie Posters/Lobby Cards etc...

Fan Reviews/Comments
Joan's grandson, Casey LaLonde, says...
Mildred Pierce stands up as perhaps Joan Crawford's greatest film role. After twenty years in the film industry, Joan was awarded a leading actress Academy Award©. I had seen Mildred Pierce literally dozens of times on local and cable television but it was not until the 1998 Warner Bros. 75th anniversary celebration that I first saw Mildred Pierce on the big screen.

The film is easily classified as film noir, with additional interesting elements. As film noir expert Eddie Mueller recently noted, Mildred Pierce is perhaps the greatest melodrama ever produced by Hollywood. The family dynamics between Mildred and daughter Veda is fascinating and ultimately very cruel.

Joan's transition from Metro to Warner Bros. was complete. Oscar© in hand, she went on to complete her magnificent trio of Warner Bros. films that included Mildred Pierce, Humoresque (1946) and Possessed (1947). In my opinion, these three films showcase some of Joan's finest work and abilities as a leading dramatic actress.
Reviewer, Simon Davis, says...
Any of the numerous detractors who always complain about Joan Crawford's acting ability (why do they need to?), and continue to regard her merely as a "star", and not as an "actress", really need to take the time to sit through a screening of the Warner Bros Noir classic "Possessed". I'm sure that even the most hard nosed of Miss Crawford's critics would be pleasantly pleased by the depth of character and dramatic range displayed by Joan in what is without a doubt one of her finest performances during the 1940's.
Nominated for her second Best Actress Oscar this film, (confusingly the second with that same title that Joan did in her long career), is often overshadowed by her wonderful Oscar winning performance in her first Warner film in 1945 "Mildred Pierce". Coming two years later "Possessed" involved in many ways a far more complex acting task for Joan Crawford in a role involving many layers of expression dealing as it did with the tragic issue of schizophrenia and its effects on the mind. Joan rises admirably to the task and throughly deserved the Academy Award nomination for her work here. Told in flashback "Possessed" opens with a stark and very uncharacteristic beginning for a Crawford film that clearly indicates that we will be seeing a different kind of Crawford picture from the roles during her heady MGM days. Joan plays a personal nurse Louise Howell, who suffers through a one sided love affair with  David Sutton (Van Heflin in a stand out performance), an eternal bachelor type who is not willing to commit to an ongoing relationship and treats Louise with a dimissive attitude that feeds her inner uncertainity. The tragic consequences of this lack of love in Louise's life eventually leds to murder and a total mental breakdown with her being taken to a psychiatric hospital. Despite earlier marrying her employer (Raymond Massey in a surprisingly sympathetic role), whose now deceased wife was in her charge, for Louise the marriage proves to be an unsatisfactory form of compensation and the obsession with David continues and preys on Louise's mind. With David's return from a job in Canada the old pattern of obssession returns  resulting in ultimately tragic circumstances for all parties involved. The lack of response in David to her new advances unhinges Louise's mind completely and she eventually forsakes her new family for drastic measures that result in murder and in Louise's hospitalisation from symptoms of complete memory loss and chronic identity confusion.
I throughly enjoy 1947's "Possessed", and I can see why Joan was attracted to this part coming so soon after her stunning Warner Bros. debut in "Mildred Pierce", that proved the many doubters totally wrong who predicted Joan's inability to reestablish her career in first class roles after leaving the security of MGM. Along with her stunning performance in 1946's "Humouresque",  Joan achieved what I refer to as her "Holy Trinity", of unforgettable parts that gained her a new form of immortality as one of Hollywood's greatest actresses. While her work as Louise in "Possessed", is light years away from much of her earlier romantic work at MGM it is her depiction of the schizophrenic mind at work and how it distorts a normally capable woman's mind and personality that is such a standout. Crawford made a famous, often repeated quote about this film where she stated that she worked harder on "Possessed" than on any other film in her career and it is easy to see that she was correct in saying that. This performance is no simple reading of a characters lines but a full bodied depiction of an individual who through distressing circumstances  experiences a gradual slide into mental chaos.  Joan's characters progression from capable nurse to an individual capable of murder regardless of the consequences is a memorable piece of acting that I feel very few other actresses of her time would be capable of achieving. She is at times loving, desperate, frantic in her illusionary world and lack of control of it, and heart wrenching as her character progressively looses her grasp on reality. Besides Joan's power house performance most of the other characters have a hard time competing. Van Heflin is fine as the object of her desire who moves from a playful dismissing of Louise's affections to an almost open hostility towards her to his own detriment. Heflin represented the "new leading men", that Joan now enjoyed working with at Warners after years of being teamed with the same male stars over and over who were on the star roster at MGM.  For me the big surprise of the cast of "Possessed",  was Raymond Massey in a non typical performance as the patient  and sympathetic husband of Louise who marries her despite knowing her attention is elsewhere and who battles trying to fully understand Louise's condition and possible treatment. Another standout in the cast is young Geraldine Brooks as Louise's step daughter Carol who begins a relationship with David under Louise's nose unwittingly triggering off Louise's psychotic tendencies. She has a quality about her actiing that brings to my mind Ann Blyth who of course teamed so memorably with Joan in "Mildred Pierce". Done with all the customery gloss of the noir genre at its height the film benefits from beautiful photography courtesy of Jospeh Valentine who excels especially in the opening sequence when Louise is roaming the dull and grainy streets lost and disoriented. The film has a remarkable shadowy noir look and feel to it  which superbly heightens the "grey" feel of the story and makes the progression of Louise's character so much more engrossing to witness. This is an instance where colour photography would have been a grave error. Joan Crawford in my belief achieved a whole new look of beauty during her Warner Bros. years and rarely has she been photographed more stunningly  than she was here. The film also marks her final collaboration on screen with the legendary designer Adrian who creates his usual range of beautiful outfits for Joan to wear. Gone are the flamboyant creations considered essental in every Joan Crawford vehicle during the 1930's and instead we see in "Possessed" a more tailored look employed with suits Joan's more mature persona here. Knowing the legendary collaboration that always existed between Joan and Adrian, this new look  again is a total success being totally in line with the post war era and again displays Joan's amazing ability to keep up with the times in all things to do with the look of a film. Adrian's work on "Possessed", comfirms in my mind that he could have still been one of Hollywood's leading costume designers after the war had he chosen to continue working in the industry.
Depressing and heavy the theme of "Possessed" may appear to the reader however what unfolds is an fascinating story that is bold in its theme and execution. Schizophrenia is not a topic often tackled by mainstream Hollywood with any level of maturity but it is dealt with here in "Possessed", in an honest and straightforward manner. Joan Crawford's understanding of this role gives the film a strong conviction that always rings true and it all adds up to an engrossing melodrama of the higest order with an interesting storyline, terrific performances and a bit of education of just how the mind can react under different circumstances. I highly recommend the 1947 noir classic "Possessed", above all else to see the legendary Joan Crawford in her greatest acting role of her 1940's career. Enjoy! 
Reviewer, Danny Fortune, says...
From the moment we see her shuffling across town in a comatose stupor to the homicidal climax, this is Joan's picture all the way. It is also one of her best, once you get past all that contrived psychobabble.

Louise Howell is a private-duty nurse who has an inexplicable obsession with David Sutton, a cynical, hard-drinking mechanical engineer. Which brings up my biggest objection--the casting of Van Heflin as David. This role requires an actor who has some sensual animal magnetism, but Heflin is so bland. The audience never understands what makes him put the starch in her ankle-strap pumps. I would rather see Richard Widmark in the part. Someone with sex appeal.

That said, this movie contains a scene in which Joan is given the same I.V. concoction that she will give to "Trog" some 23 years later, to induce a confessional. Only Louise doesn't think about dinosaurs. Instead she remembers the circumstances that caused her mental breakdown.

The movie contains some fine plotting, directing, and technical skill. It is a believable representation of a woman who is obsessed with a man who rejects her, which finally sends her into a psychotic daze. It does bother me how David continues to taunt her, even when she marries someone else and tries to forget him. In fact he is not a very nice person. He is such a nasty slob that he deserves what he gets.

The problem I have with the conclusion is that we never really know what will happen to Louise. She just killed a man but there is no talk of police or being under arrest. The doctor says she is not responsible for her actions. She has already suffered enough, so it concludes with that. Her husband comes to her bedside to remain with her during her recovery.

I guess it's just too bad about David.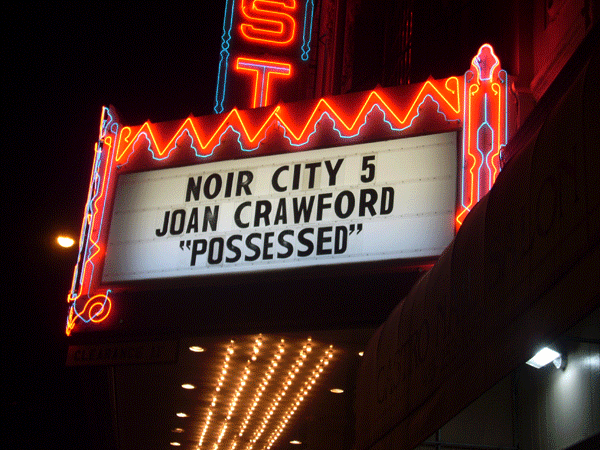 Reviewer, JoanLoverForever, says...
Quite possibly Joan's finest hour. Van Heflin's character doesn't really get much done in this movie and actually gets his ass shot off for his troubles, but he does get Joan Crawford to disintegrate beautifully from a healthy, emotionally needy nurse to a deranged rich dame that imagines things and suffers from enormous mood swings.

If it's one thing we all know, it's that crazy people can be extremely entertaining, but be extremely cautious if you decide to tell them to leave you alone! And Joanie delivers in this department in this movie, big time! The plot has some troubles, though - and implausible incidents frequently occur. Everything starts with with a very wan-looking Louise wandering around town looking for David. She stops random men on the street and thinks they are this David guy and eventually passes out on a diner. She gets hauled off to a mental hospital and the doctors shoot her up with some magic truth serum, and the flashback-driven plot is set in motion.

Back in the past David finally told her to get a life of her own so she went back to being a nurse to this nasty rich hag and it just so happens that this woman's husband knows David. This is how David gets hooked up with this tour of duty in The Great White North leaving Louise and her mean old patient. But the patient isn't mean for long and before you know it, they're pulling her out of a lake, and the police decides it was suicide. Louise eventually marries the widower (even if she doesn't love him) and gets the misguided notion that she killed that rich bitch.

She had her day off at the time when his wife departured from life as we know it, so her husband knows she's innocent. Louise is relieved to hear this and they take a trip back to the home where the first wife suicided so that they can relax and so that Louise's stress levels can go down. Sounds like that's exactly what she needs!

Louise of course never gets better(crazy people never do, you know) and things play out to their tragic conclusion. Joan does a terrific job in this movie. She is able to move convincingly along the spectrum of emotions and actions that someone who is going crazy might have to endure. Sometimes she seems fine, sometimes angry, sometimes inconsolably sad, and sometimes all three of these things within moments of each other.

The movie's message is clear, if mental illness is not treated, you(or in this case, David) are in dire straits. Them crazy folks'll kill you if you leave them to their own devices! Joanie really shines in this part and is believable in all of her transitions throughout the entire picture. 4 out of 4 stars, easy!
Reviewer, babyc22_5, says...
I think that it must have been quite hard to play someone whose kinda insane, when your not it real life. A very good movie. If I was like Louise, I would be kinda freaked out a little after the therapy. When you look back at what you where like and plus Joan's big lovely eyes help her more than any other actress trying to play that part eg: Marilyn Monroe, maybe Bette Davis also could of played that part but I think Joan was the best choice.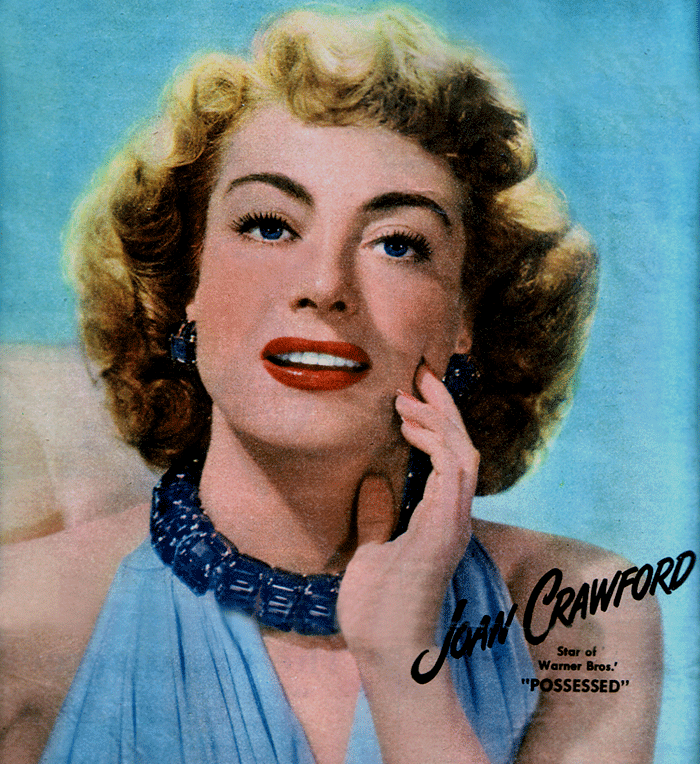 Reviewer, Harley, says...
First, I don't think Possessed is a noir even though there are noir elements. There's not the moral ambiguity, the choice between good and evil and the equal appeal that there is in so much noir. Also, most of the characters are pretty decent people and the crime that's committed isn't out of lust or greed but insanity. It's kind of like a dark weepie. Drew Casper (I always like his commentaries) in the audio commentary argues that noir is a style of movie making. I've always seen it as more of a genre. Either way though I can't see the Robinson movie House of Strangers as a noir even though Fox is selling it that way.

Possessed is a very interesting piece though. It combines a number of elements. In the middle section, when Joan's Louise is visiting the lake house, it could have almost been Val Lewton psychological horror. That was the whole essence of Cat People-- is she really a monster or is it in her mind and more importantly is there a difference?

When I saw the plot description I thought it was going to be a Fatal Attraction-type deal. It wasn't that at all. The Crawford character is very likable and sympathetic througout. Reaching out to the daughter at the college was an act of human decency they wouldn't have granted Glenn Close.

Heflin's David to me is the villain of the piece if there is one. His character is kind of one of those annoying people who doesn't want someone but doesn't want them to have someone else. He has a right to pick whom he chooses but he keeps inserting himself in her life. The day after he dumps her, he decides to pay her boss a visit. At the wedding he stops by even though neither Crawford or Raymond Massey invited him. While there he's completely insensitive. Meanwhile he then chooses to date her step-daughter knowing full well that if it goes anywhere, it will create more pain and awkardness for Crawford. It is clear to him by her own admission that this is Crawford's first true love. And he risks and eventually does insert a constant permanent reminder of that painful loss into her life. He treats terribly at the opera when she is basically doing the decent thing. In many ways I feel he is reinforcing her psychosis by making her more worthless and reminding her of her passion for him.

While the Crawford character sticks around for him at first, she marries Massey because she needs the attention and so does he. She's up front about not being in love with him. The moment she's put some of her demons to bed and is ready to be happy with Massey, he shows up with the daughter. To paraphrase Major Rufus T. Cobb from the Jesse James' movies: "Maybe he needed killing."

I would have preferred that David's killing be in her mind as well though. It would have increased the Lewton-like ambiguous tension.

I find it interesting that despite the image of a ballsy dame portrayed in Mommie Dearest that Joan's screen persona was often very delicate and fragile like it is here or in Grand Hotel or The Unknown or even Baby Jane. (I haven't seen the Castle flicks where her persona hardened though.)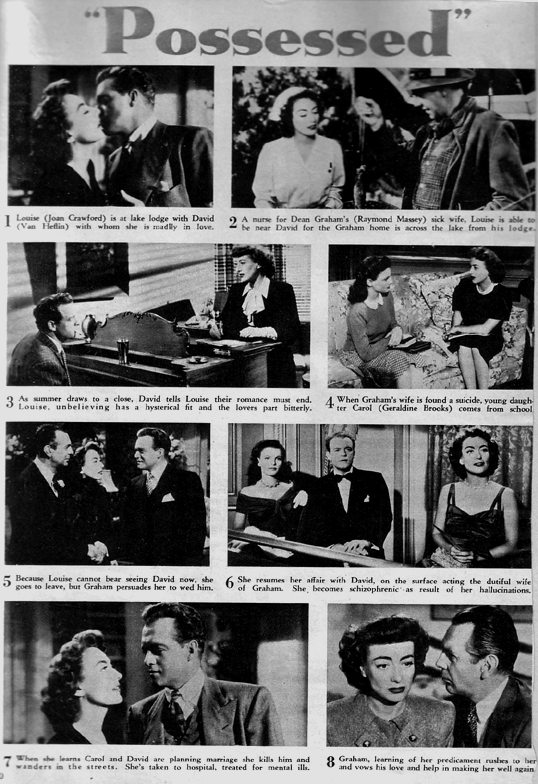 Other Reviews
Howard Barnes of the New York Herald Tribune had this to say, "Miss Crawford is at her best in the mad scenes. The actress has obviously studied the aspects of insanity to recreate a rather "

Dennis Schwartz had this to say, "In German émigré director Curtis Bernhardt's melodrama Possessed, Joan Crawford plays a mentally disturbed person who can't distinguish reality from her imagination. Through use of German expressionism techniques and many familiar film noir shadowy shots, the b/w film takes on a penetrating psychological tone and makes a case for a not guilty of murder plea due to insanity. Though Joan has a powerful presence in this movie, she played her mad role in a too cold and campy way to be thought of as a sympathetic figure. All the psychological treatment therapy sounded like psycho-babble and Joan's acting was overstuffed, though some of her morbid imaginations were gripping and held my attention. Too heavy with German stimmung, it still is fun to watch the melodramatics play out in this tale of overbearing love, painful rejection, paranoia and murder.

A dazed Louise Howell (Joan Crawford) roams the downtown streets of Los Angeles in search of "David." While in a trance-like state in a restaurant, Louise calls out again for David and is rushed to a hospital. The emergency room doctor diagnoses her as being in a non-traumatic stupor and she's sent to the psychopathic ward, where she's treated by the efficient and kindly Dr. Williard (Stanley Ridges) with drugs so that she recalls the events that brought her there. At that point the film goes into flashback, and the scene is set in Washington, D.C. where the thirtysomething Louise is madly in love with a 35-year-old bachelor construction engineer and amateur classical pianist David Sutton (Van Heflin). The trouble is he doesn't love her and finds her possessive and overbearing, but she's so obsessed with him she can't let go.

As a coincidence, David shows up later at the house of her wealthy oil company owner employer Dean Graham (Raymond Massey) and asks for a job on a project in Canada. Louise is the home nurse taking care of the invalid and mentally disturbed and jealous wife named Pauline. The wife has a dislike for Louise and falsely accuses her of having an affair with her husband, which is only in her mind. Pauline's mental condition causes her to commit suicide in a lake by drowning. At the inquest, which rules the death as accidental, Dean's two children return from school. The 20-year-old daughter Carol (Geraldine Brooks) hates Louise with a passion based on the jealous letters her mother wrote. The young son Wynn disappears from the tale and we never learn what he thinks."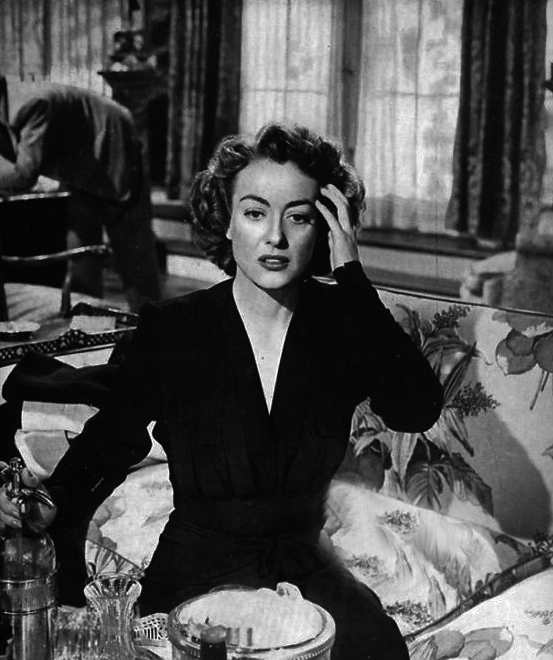 Bosley Crowther in the New York Times had this to say... "The last time we saw Joan Crawford, in the Warner's "Humoresque" - the last time, that is, before just seeing her in that same studio's "Possessed" - she was walking out into the ocean with the intention of drowning herself because John Garfield didn't love her as much as he loved music - speaking fictionally, of course. Apparently she succeeded, to judge by Hollywood's new film, and apparently this is her spirit - or a transmigration thereof - which we now see.

For not only does Miss Crawford resemble anything so much as a water-logged cadaver at the outset of "Possessed"- and, for that matter, never looks completely dehydrated at any stage of the film, but her whole attitude throughout the drama is that of a desperate woman's ghost wailing for a demon-lover beneath a waning moon. And, indeed, the basic conflict in the story is so similar to that in "Humoresque" that the ghost aspect of the characterization seems to be almost studiously contrived.

In this picture, as in the former, Miss Crawford plays a dame who goes mad because the man of her devotion doesn't love her the way she loves him. Only this time she goes completely batty and lands in a psychopathic ward, where, under the influence of narco-hypnosis, she relates her tragic tale.

It is the tale of an unbalanced woman - a schizophrenic, as they point out - who develops a persecution complex when her lover refuses to marry her. (All of this clinical data is orally noted by the doctors attending the case, and it is to them that we are indebted for keeping us posted as the story unfolds.) And, although she eventually marries another - a man whose wife has committed suicide - she can never forgive the gent who jilts her, especially when he starts romancing her step-daughter. She grows hysterical, she has hallucinations, hollow voices ring in her ears. Finally she shoots her old lover and is off to the looney-bin.

As a visualized psychoanalysis, this film has its fascinating points, even though it does leave some broad areas of the lady's neurosis unexplained. Her crack-up is fairly documented, within the frame of a primarily fictional film, and the efficiency and dispassion of science are suggested in a rather credible way. Stanley Ridges, as the psychiatrist, is the one person in the film whose preoccupation with his problem can be reasonably believed.

But the morbidness of the drama and particularly its one-track emphasis upon the frustrations of a female are a little too thick for free flow. It is just a bit oppressive to see so much exclusive attention and sympathy lavished upon a woman whose life has been so conveniently warped. And, despite some rather classy histrionics, Miss Crawford in this role appears more a representation of a pampered actress than of a truly jangled dame.

We'd like to sense, for instance, more respect and sympathy for Van Heflin, who is eminently worth it as the lover whom Miss Crawford shoots, or for Raymond Massey, who is sketched but lightly as the poor, unlucky man who marries her. Both of these unhappy fellows are given much too short and casual shrift. And we'd like to see treated more fully the role played by Geraldine Brooks, a newcomer who Hepburns brightly and warmly as Miss Crawford's sensitive step-daughter.

However, it is wholly obvious that the writers and Director Curt Bernhardt were told to concentrate on the torments of Miss Crawford, Hollywood's current Great Sufferer, Academy style.
If you have seen this movie, please write a review below. Once your review is submitted, I will post the review below. Thank you for your review on this film.
Click on the decades below to browse movies.