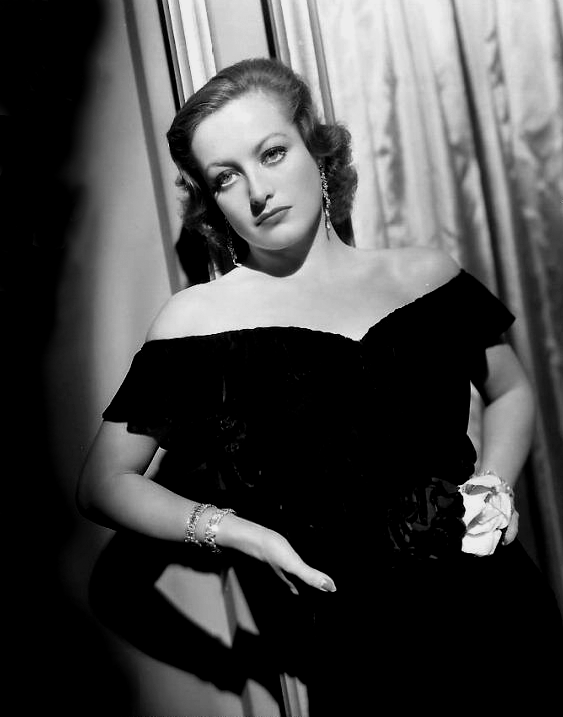 Above: "Back with Clark, both of us in strog parts, great reviews." - Joan Crawford on "Possessed"
"Possessed" 1931
Cast: Joan Crawford (Marian Martin, aka Mrs. Moreland), Clark Gable, Wallace Ford, Richard 'Skeets' Gallagher, Frank Conroy, Marjorie White, John Miljan, Clara Blandick.


Release date - November 21, 1931

Running time - 76 minutes (9 reels)

Director - Clarence Brown

Writing Credits - Lenore J. Coffee, Edgar Selwyn (for the play, The Mirage)

Producer(s) - Clarence Brown and Harry Rapf

Cinematographer - Oliver T. Marsh

Costumes - Adrian

Studio - MGM

Production dates - 2 September, 1931 - October 1931

Working titles - Mirage and The Mirage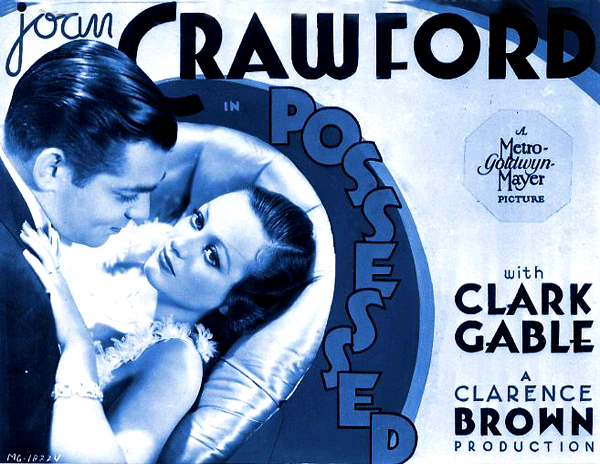 Movie Synopsis
Paper box factory worker Marian Martin (Joan) wants more out of life than marriage to her small town boyfriend, Al Manning (Wallace Ford). As she looks through the windows of a stopped railroad car carrying wealthy passengers, she meets Wally Stuart (Richard Gallagher), a New Yorker who gives her champagne and tells her to look him up. After Al angrily accuses her of impropriety, Marian leaves and goes to New York. Wally gives her some advice on meeting and keeping wealthy men, which Marian uses to begin a relationship with his friend Mark Whitney (Clark Gable), a divorced attorney.

Three years pass and Marian has acquired sophistication, culture and a lot of money from Mark. Despite her original intentions, though, she loves him. He loves her as well but will not marry her because he is afraid that she will hurt him the way his ex-wife did. To cover their relationship, she has changed her name to Mrs. Moreland and poses as a wealthy divorcee. When Al, now running a prosperous cement business, comes to town hoping to land a big contract, he asks her to marry him, but she refuses. When she overhears Mark talking with some politicians, she realizes that he now plans to marry her, even though their past relationship might cause a scandal that would ruin his proposed gubernatorial campaign. She pretends not to love him and says that she is going to marry Al. He then runs for governor, but when Marian discovers that Al will only forgive her past if she will help him get the contract from Mark, she sends him away and disappears.

As the election approaches, the rival candidate tries to interrupt a rally for Mark by having hecklers distribute flyers saying "Who is Mrs. Moreland?" As the crowd rumbles, Marian steps up from the audience and tells them that Mark has always been an honorable man, who once belonged to her, but now belongs to them. The crowd cheers as she leaves, sobbing. Outside, Mark catches up to her and tells her that from now on they will be together no matter what.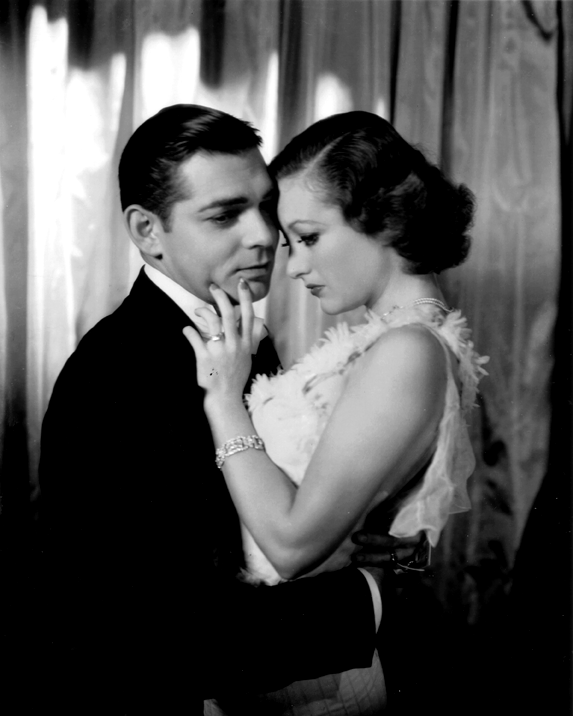 Interesting Trivia
A remake of "The Mirage" (1924), starring Florence Vidor and Clive Brook.

The film was released in France with the title "Fascination."

Back in the days when films were churned out in a month, "Possessed" was no exception. Shot in twenty-six days at a cost of $378,000, the familiar Gable/Crawford combination brought in a profit of $611,000 for the studio.

Joan's relationship with Clark Gable began whilst filming "Possessed." It was an affair that was frowned upon by the studio, but the two lovers maintained their discreet liaisons, between their respective marriages, until Clark Gable's death. Joan's grandson, Casey LaLonde said of their relationship, "Clark and Joan's relationship was complex and passionate. Their love affair was intermittent in between their respective marriages through the years. I believe their love affair never truly ended, but was interrupted by each other's marriages."

The working titles of this film were "Mirage" and "The Mirage." According to a July 7, 1931 news items in Hollywood Reporter, Charlotte Greenwood was signed to play a role in the film, however, she did not appear in the picture and was not mentioned in any source after the start of production. Actors mentioned in news items during production whose participation in the released film has not been confirmed are: Ruth Renick, Marjorie White, Florence Lake, Virginia Sale, Florence Enright, Barbara Tennant, Wilfred Noy, William von Brincken, Francis Ford, Phyllis Crane, Janet Curie, Fred Malatesta, Joan Standing and Wade Boteler.

Although most territories accepted the picture without eliminations, some did require the elimination of various lines of dialogue deemed objectionable. A June 1932 letter in the MPAA/PCA file from Jack Warner complained that MGM was "getting away" with things in their films, such as "Possessed," which other studios could not.

This was the first of two films that Joan made under the same title, but with different plots. The second "Possessed" was made for Warner's sixteen years later.

"Possessed" was advertised as a film, "for those who like their film fare hot and the morals of their screen heroines loose."


Cost: $378K/Domestic Studio Gross: $1,030m/Foreign Studio Gross: $492K/ Profit:$611K


Box Office Receipts: $1.5 million.

Inflation Value in 2007: $20,561,052.63.
Photos
Click on images below to see a larger view.
Movie Posters/Lobby Cards etc...
Fan Reviews/Comments
Joan Crawford's Grandson, Casey Lalonde, says...
"In comparison to "Laughing Sinners," "Possessed" is my favorite Crawford/Gable film. Excellent drama, politics and romance make this one incredible film. The smoldering fire between Crawford and Gable is unmistakable. The interesting angle is that this film appears to be the beginning of the lifelong Crawford/Gable love affair. Friends and lovers until Gable's death in 1960, their relationship transcended time. Although paired in several other films, including "Chained," "Love on the Run" and "Strange Cargo," I find "Possessed" to be the finest pairing of these Hollywood legends."
Reviewer, Jim Tritten, says...
Excellent soaper with a Joan Crawford billed above the soon-to-be superstar Clark Gable. The possibility of upward mobility afforded to women, especially at this time during the Great Depression, remains a theme of interest today. Women can play on men and get upward mobility but there is often a price to be paid -- and Joan pays it in this movie.

Excellent photography makes the best of the stars and Adrian's dressing of Joan. Notable train sequence in beginning of film has the poor Joan facing the possibility of the good life if she is willing to defy convention and joint those "inside the car." Gable teaches her how to act and she becomes a refined, but kept, woman. He refuses to marry her for all the "right" reasons but in the end, Joan is affected by society's opinion of women in her station.

Grandstand speech sequence at the end of the film is a bit too unbelievable but my wife was moved to tears when she saw it. One of Joan's better films. Recommended.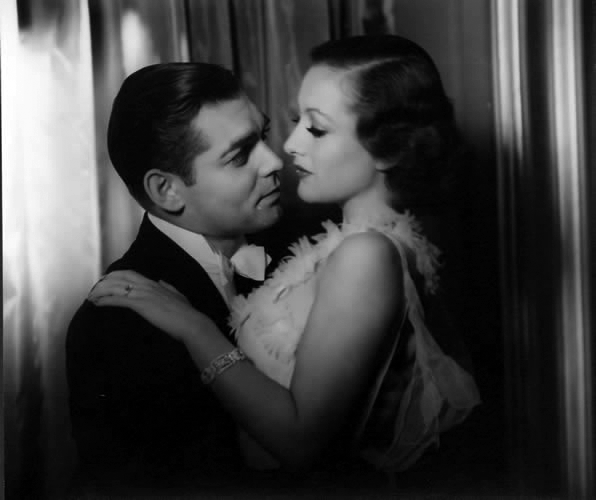 Reviewer, robert.bertrand, says...
""Possessed" was the third film Crawford and Gable did together, and its beautiful. Joan made this picture a year before "Letty Lynton," and she looks just as stunning in this film as she does is Letty. This picture, like Chained, has much more romance and drama than the other films the two made, which are more like today's romantic comedies. Crawford delivers one of her finest performances; Gable wasn't far behind her either. He was still very young and without the pencil-thin mustache for which he became famous.This picture contains the much-repeated shop girl-makes-good formula that was so popular for Joan in the early 30's. She plays Marian Martin, a small-town girl who belongs in the city. She works in a paper box factory in a Podunk town with her clingy, hickish boyfriend Al Manning, played by Wallace Ford."

"Once night, Marian takes a walk after work and ends up having to stand in front of railroad tracks waiting for a train to pass by while it makes its stop. She gazes into the boxcars upon rich, elegant people living the life she desires. While the train is stopped, she meets Wally Stuart (Richard Gallagher), a wealthy playboy who, in a drunken stupor, gives Marian his address in New York City and tells her to come visit him when she decides to get a real life. She goes home to her mother played by Clara Blandick (Auntie Em in "The Wizard of Oz"), and proclaims to her and Al that she is going to New York City to make good for herself."

"The naïve Marian tracks down Wally asking for his help to find a wealthy man. Wally refuses to help her, but Marian meets an even wealthier, lawyer friend of Wallys, Mark Whitney (Clark Gable) who decides to take Marian as his mistress. Three years pass, and Marian becomes quite an elegant lady. Mark provides her with the best of everything, including a fake wedding band and surname Mrs. Moreland so she can pretend to be a divorcee living on alimony instead of the scandalous mistress she is. Mark avoids marriage because of a bitter divorce in previous years."

"Al, who was inspired by Marian to make good for himself, comes back to Marian with money and a business proposition which he later makes to Mark. He has no idea of the relationship the two have. When Al finds out the truth about Marian, he is disgusted and leaves. Meanwhile, Mark's colleagues advise him to run for a political office but tell him he must marry Marian or get rid of her all together, as not to ruin his reputation. Not wanting to marry or leave Marian, Mark declines the political offer. Knowing this, Marian declares that her love for Mark was all pretend and breaks up with him in hopes that he will run for office and better himself. Hurt and angry, Mark does decide to run for office and forget about Marian. During a political speech, Marks opponents expose the relationship he had with Marian, who is in the audience. Marian stands and defends Mark as well as their legitimate love for each other. Mark and Marian realize no matter what they gain or lose, they will always have each other.The story is fairly simple, but the romance is wonderful on screen. Note some of the sexual innuendoes between Crawford and Gable; they're quite entertaining. (This film was made just prior to the implementation of the infamous Hayes Code.) Joan also gets a chance to sing, which she always did beautifully when she was given the opportunity. The song is How Long Will It Last, and Joan looks stunningly gorgeous while she performs it. She and Clark were said to have had their biggest love affair during the filming of this picture. So big, in fact, that the affair made the public news. It's one of Joan's best films and a must-see for those who love that Crawford-Gable combination."

Three Stars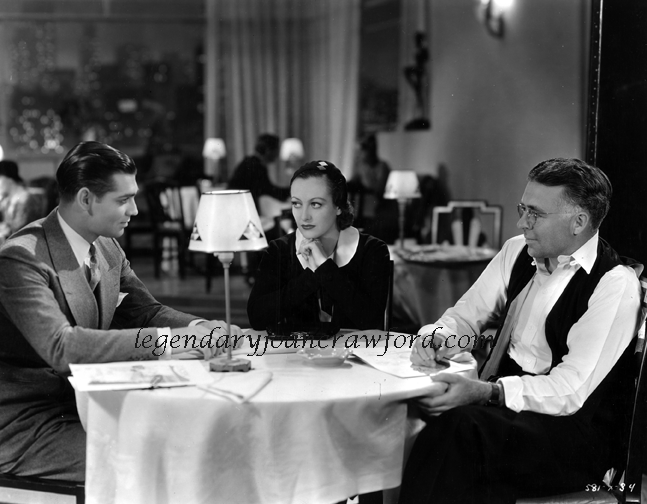 Other Reviews
James R. Quirk in "Photoplay" says... "Lots of luxury; lots of charm; lots of smooth talk about courage and marriage and what women want--that's Possessed, and you really don't care if the story is old and some of the lines a little shopworn....It's the best work Joan Crawford has done since "Paid," and Clark Gable--he's everybody's big moment. If Joan weren't so good, he'd have the picture.

"Mordaunt Hall" in the "New York Times" says... "Through Clarence Brown's able direction, handsome settings and a fairly well written script, Possessed is gratifying entertainment....Miss Crawford adds another excellent performance to her list...."
Chris Dashiell on cinescene.com says,... "The Joan Crawford - Clark Gable matchup was bread and butter for Metro in the 30s. This one is about a small-town girl who goes to the city and has an affair with an up-and-coming politician. The first half is quite good. The script (Lenore Coffee, based on an Edgar Selwyn play) has some crackling Depression-era repartee about what it takes to be a success in the big world. There's a beautiful sequence near the beginning where Crawford is looking into the windows of a slowly moving train, the people inside representing everything exciting that she wishes for in her own life. As was common for those days, however, the plot descends to a laughably melodramatic level, with the heroine having to sacrifice herself for the good of her man, and suffer torment for it. Gable's charm is undeniable - at this time his name was still under the title while his co-star got the big letters above it, but this would soon change. I wouldn't call what Crawford does acting exactly - rather, she poses beautifully in her glamorous outfits. She succeeds at what she does best - radiating star charisma. As a whole, not too shabby, if you can ignore the silliness of the film's second half and just enjoy it as a good example of early 30s MGM formula."
If you have seen this movie, please write a review below. Once your review is submitted, I will post the review below. Thank you for your review on this film.
Click on the decades below to browse movies.