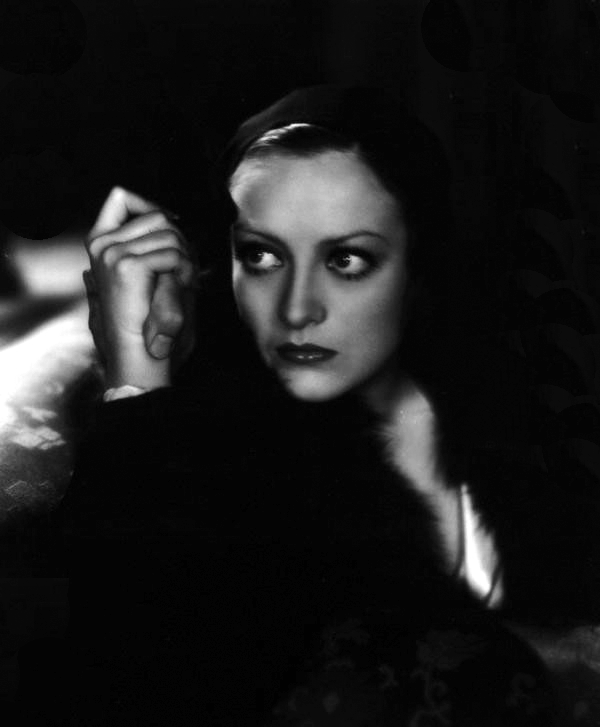 Above: ""Paid" was my first really heavy dramatic role, and I did a good job, a damned good job..." - Joan Crawford
"Paid" 1930
Cast: Joan Crawford (as Mary Turner), Robert Armstrong, Marie Prevost, Kent Douglass aka Douglass Montgomery, John Miljan, Hale Hamilton, Purnell Pratt aka Purnell B. Pratt, Polly Moran, Robert Emmett O'Connor, Tyrell Davis, William Bakewell, George Cooper, Gwen Lee,
Isabel Withers (her scenes were deleted).


Release date - December 30, 1930

Running time - 80 minutes (10 reels)

Director - Sam Wood

Writing Credits - Bayard Veiller (for the play Within the Law), Lucien Hubbard
and Charles MacArthur (adaptation), Charles MacArthur (dialogue)

Producer - Sam Wood

Cinematographer - Charles Rosher

Costumes - Adrian

Studio - MGM

Working Title - Within the Law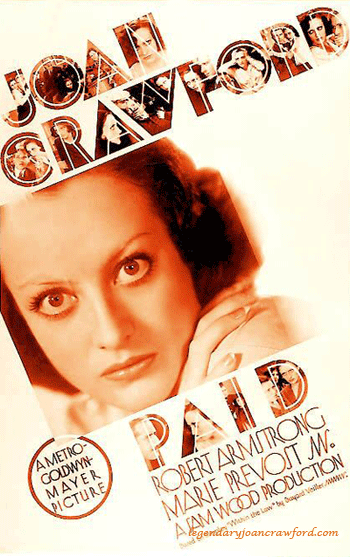 Movie Synopsis
Mary Turner (Joan), a shopgirl, is sentenced to a 3-year prison term for a crime she did not commit, and she declares in the courtroom that she will someday even the score for the way in which she has been treated by the law. After serving her term, she becomes associated with three criminals: Joe Garson (Robert Armstrong), Agnes Lynch (Marie Prevost), and Red (George Cooper), with whom she instigates numerous activities bordering on embezzlement, blackmail, and larceny, but which are always within the law.

To gain revenge on her former employer, she marries his son, Bob (Douglass Montgomery), who loves her and for whom she comes to care. His father, Edward Gilder (Purnell Pratt), attempts to have the marriage annulled, and failing in this, he persuades Eddie Griggs (Tyrell Davis) to act as informer and aid Joe and Red in robbing Bob's home. But Mary learns of the scheme and exposes Eddie, causing Joe to kill him. The police do not believe her claim of self-defense, but Joe is ultimately captured and through third degree methods is forced to confess, thus freeing Mary to be happily reunited with Bob.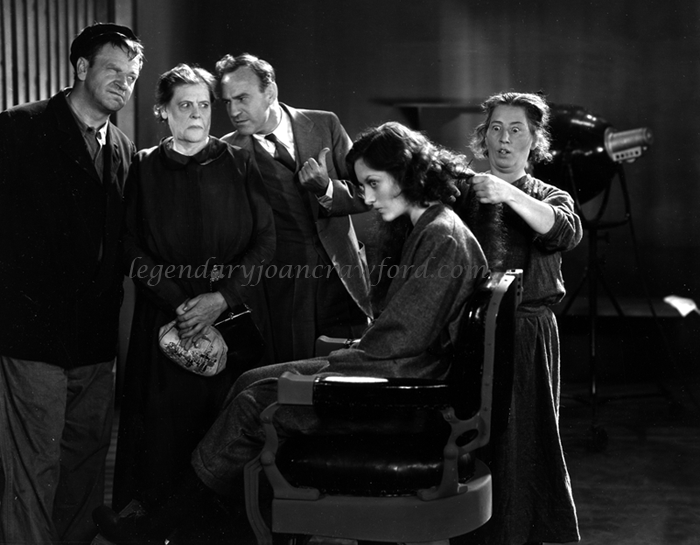 Interesting Trivia
There were three previous versions of "Paid" - 1916, 1917 and 1923, however all were entitled, Within the Law. In 1939 there was a remake of the 1930 version, this time starring Ruth Hussey in Joan's role. It was also entitled, "Within the Law."

The role of Mary Turner was initially given to Norma Shearer, however when she found out she was pregnant, her husband, Irving Thalberg wouldn't allow her to do another film until after the baby was born. It was Norma Shearer's 'delicate condition' that opened the door for Joan.

Because of MGM's $415,000 profit on this film, Louis B. Mayer wrote Joan a bonus check of $10,000 with the following note attached, "In appreciation of the co-operation and excellent services rendered by you, we take great pleasure in handing you your check made payable to your order in the amount of $10,000...this does not affect the terms of your contract dated November 2, 1928."

Former silent star Marie Prevost co-starred with Joan and the two became friends. Marie was found dead in 1937, among her belongings was an uncashed check made out to her and signed by Joan Crawford.

Cost: $385K/Domestic Studio Gross: $920K/Foreign Studio Gross: $311K/ Profit:$415K

Box Office Receipts: $1,231,000.

Inflation Value in 2007: $15,328,456.23
Photos
Click on images below to see a larger view.
Movie Posters/Lobby Cards etc...
Reviews
Reviewer, Arne Andersen, says...
Although this is clearly a play adaptation, the script is a particularly fine one and the young Crawford's performance is simply superb - this is pure actress rather than star personality. Robert Armstrong plays Joe, a good time racketeer, who takes on Mary Turner (Crawford) as a business associate, when she makes it clear she does not want to be his amour. Mary is smart - falsely sent to prison for a crime she didn't commit, she studied law while in the clink, and is now seeking revenge by using the letter of the law to get away with petty larceny. With Mary at the helm, Joe and his entourage are sailing sweetly.

Part of Mary's revenge is to seduce the son of the man who falsely accused her into marriage, which she does. But she falls for the guy at the same time- Douglass Montgomery in a strong performance that supports Crawford's every step of the way. He only has six scenes but makes the most of them. Montgomery and Crawford are an appealing couple and one wonders why they didn't make more films together.

This is one of the very best of the early talkies - don't miss it.


Reviewer, Jon, says...
"Paid" is an early talking film (her 5th) for star Joan Crawford. The film is an important one for her since it's a straight drama and signals an end of her "Dancing Daughter" days. Up until that point Joan appeared in much lighter fare singing or dancing and maybe falling in love. This particular film changed all of that -- just in time, too, since the depression was just beginning and audiences were tiring of musicals. In 1930 the number 1 box office star in the U.S. was Joan Crawford -- "Paid" is one reason why.

The story starts off strong with "Mary Turner" (Joan) being sentenced and sent to the pen for stealing from the department store where she works -- of course she is innocent. In jail she meets up with "Agnes" and agrees to look her up when she's out. Upon release she hooks up with "Aggie" and her gang and persuades them to "act within the law" in their future pursuits.

Mary becomes the new leader of the group and they find success doing things her way- -she is also carrying on a romance which leads to marriage with "Bob," who is the accuser's son. This makes the story very interesting. Later on the gang gets greedy and falls for a set up; the cops want to catch them all, especially Mary.

The quality of this film is quite good considering its age and the sound technology of the time. A few early scenes are a little creaky, but once the plot kicks in things pick up considerably. Joan for one proves herself a convincing dramatic actress and at times her performance still looks contemporary. Robert Armstrong is also very good as a bad guy that isn't that bad after all. One entertaining scene is when gang member "Aggie" (Marie Prevost) is called into the police station to give statements -- she poses as a society girl and tells the inspector to "call my father and then plan your vacation." She soon is discovered and reverts back to her ordinary "Brooklyn" accent and admits defeat. Marie Prevost could easily have had a more successful career judging from her work in this film.


Four Stars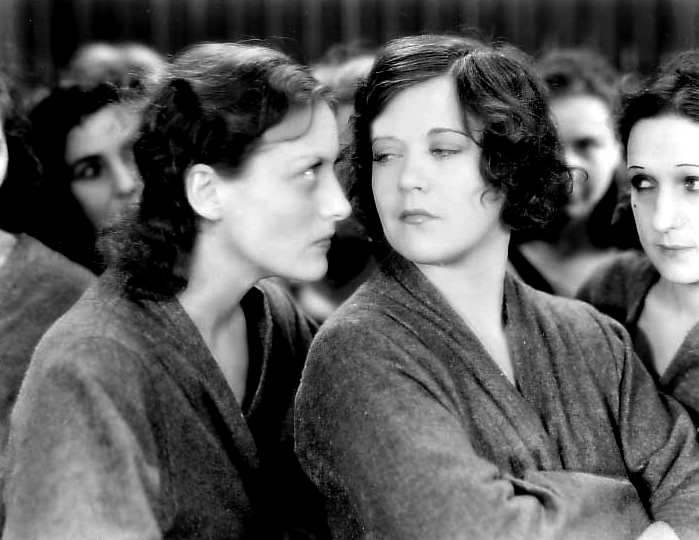 Other Reviews
TV Guide said: "Studio chief Thalberg's wife was scheduled to play in this adaptation of the successful play, but, when she became pregnant, Crawford talked him into letting her have the role. Filmed as a silent in 1917 with Alice Joyce, then again with Norma Talmadge in 1923 (both with the original title of WITHIN THE LAW), this talkie version was an improvement due mainly to Crawford's dynamic presence. Crawford is a department store employee who is sent to prison for a crime she did not commit. Her sentence is three years, and she meets inmates Prevost and Moran as she plots vengeance on the District Attorney who prosecuted her, Hamilton, and the wealthy store owner, Pratt, who testified mistakenly against her. After Crawford's release, Prevost takes her to meet Armstrong, a successful crook. Armstrong and his strongarm aides have some crimes in mind, but Crawford, fresh out of jail, thinks there may be safer ways to make some money than engaging in illegal activities. Crawford and Prevost get ancient, lonely and rich men to write them love letters, then take legal action for "breach of promise" and collect large sums under the guise of "heart balm," which was a popular trick in those days. The plot pays off and Crawford is riding high, but her dreams of revenge are not forgotten. She meets Pratt's son, Montgomery, and gets him to fall for her. They get married without Pratt's knowledge. Meanwhile, the cops, led by Miljan, spread the word that the "Mona Lisa" is not in Paris. Rather, it is secretly reposing in Pratt's mansion. This is a ruse to bring out Armstrong and entrap him into robbing the house where the law will be waiting. At the same time, Crawford is actually falling in love with her own husband. Armstrong leads his men in the robbery by tying up electrical company workers and wearing their uniforms. The cops nab the crooks and get the truth out of them. Crawford, who was not part of the scheme, is happy that she wasn't and decides that enough is enough. She has her revenge as well as a husband she adores. Some good suspense during the robbery and a crackerjack job by Crawford as she goes from a soft woman to a tough cookie then back to sweet as sugar again."

TV Guide gave the film four stars.

"Photoplay"(1930) reviewed it like this, "Just wait until you see Joan Crawford in this powerful dramatic role! The story is absorbing and Joan is simply grand!"
If you have seen this movie, please write a review below. Once your review is submitted, I will post the review below. Thank you for your review on this film.
Click on the decades below to browse movies.