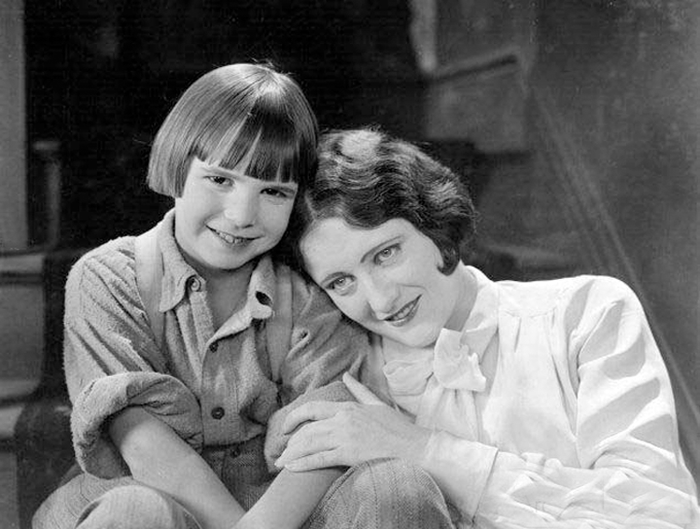 "Jackie Coogan stole "Old Clothes," but his father cast me in the film and insisted I use the new name (Joan Crawford)."
- Joan Crawford
"Old Clothes" 1925
Cast: Jackie Coogan,Joan Crawford,Max Davidson,Lillian Elliott,Allan Forrest,Jim Mason,
Stanton Heck,Dynamite the Horse


Release date - November 9, 1925

Running time - 65 minutes (6 reels)

Directed by - Edward F. Cline

Writing Credits - Robert E. Hopkins (titles), Willard Mac

Producer - Jackie Coogan Sr.

Cinematographer(s) - Harry Davis and Frank B. Good

Studio - MGM / Jackie Coogan Pictures - Black and White - Silent.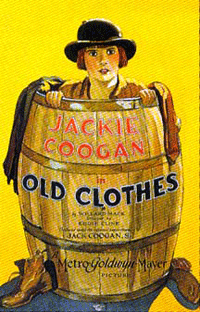 Movie Synopsis
Mary Riley (Joan) is a poor girl who's boarding with Timothy (Jackie Coogan) and Max (Max Davidson), part owners of a junk business. She finds a job in a local office, and falls in love with Nathan (Allan Forrest), however his mother, (Lillian Elliot) feels her son is too good for Mary (Joan).

Nathan is facing another problem, a stock that he wants desperately to corner, just happens to be the wall paper in Timothy (Jackie Coogan), Max (Max Davidson) and Mary's (Joan) apartment. Oooops!

Interesting Trivia
It's the first time since the highly publicized Movie Weekly naming competition that the winning name choice of - 'Joan Crawford,' appears on screen.

Before nabbing a lead role in the film, Joan was hired to teach little Jackie Coogan how to dance the Charleston. [www.afi.com].

Producer Jackie Coogan Sr. (Yes, little Jackie Coogan's father) had detectives follow Joan for two weeks and report everything she did back to him. In a scene where Joan was to walk down a staircase and start to cry, Coogan used his evidence against her. He ordered everyone off the set and then proceeded to tell Joan the long list of things he knew about her, every little move she made, everything, he knew it all. With camera's still rolling, she broke down in a flood of tears and Coogan got the scene in one take. [www.imdb.com].

Jackie Coogan and Max Davidson revived their roles as "Max Ginsberg" and "Timothy Kelly" from the film The Rag Man, released earlier in 1925 and also directed by Eddie Cline.

Joan's salary in 1925 was $75 per week. By 1928 it was $500 per week.

Inflation worth in 2007: Joan's Salary $5,905.31 a week.
Photos
Movie Posters/Lobby Cards etc...
Reviews
"New York Times" says..."Old Clothes," Jackie Coogan's latest production, is the chief screen offering at the Capitol, and those who have enjoyed the past performances of this youngster will be agreeably entertained by this new production. Something had to be done to cope with Jackie's present age (he is on the sunny side of 11) and, therefore, the producer, which means Jack Coogan Sr., has seen fit to have Jackie characterize a somewhat precocious youngster, who at the same time is thoughtful and lovable. His acting, which is thoroughly expressive, is more studied than it was in "The Kid," "Peck's Bad Boy" or "Oliver Twist." However, it suits the part he plays, that of Tim Kelly, business partner of an old fellow named Max Ginsberg, Tim being the brains of the so-called junk firm.

At first Tim and Ginsberg are depicted on the threshold of financial failure. Tim is having his last game of golf and old Ginsberg is having his last cigar in his comfortable home. The images fade out from prosperity to rags, and little Tim is portrayed wearing trousers that were once knickerbockers. Their copper stock has gone to to pot; all it is worth is the paper on which it is engraved. When Mary Riley joins the partners they want to surprise her by repapering her room. They run short of wall paper and therefore make use of the copper-stock certificates. The scenes in which little Tim and old Ginsberg are depicted working at the wall-papering job are quite amusing, and the result of their efforts is a nightmare.

A bad man follows Mary wherever she goes and Tim decides to push a brick off the window sill without looking where it drops. Unfortunately it lands on Ginsberg's head, the scoundrel being uninjured. Nathan Burke, a wealthy young man, brings Tim home in his expensive car when Tim's junk cart is smashed by a truck. The boy is not hurt. However, when the adjuster comes to Tim's abode to settle for the accident, Tim succeeds in wheedling $300 out of him, with a promise of a like sum for his cart. The adjuster goes out for more money and when he returns with it he is amazed to see Jackie going through the contortions of the Charleston. The consequence is that Jackie receives only $50 for the cart, much to Ginsberg's chagrin.

There is a thick layer of hokum in this production and the story turns out happily, even all the copper stock stuck on the wall returning to its full face value. Jackie's eyes and his precocious antics displayed in this photoplay are constantly amusing. Many of the situations brought forth peals of laughter yesterday.

Joan Crawford is satisfactory as Mary Riley and Max Davidson is splendid in the rô1e of Ginsberg.

-Mordaunt Hall (November 9, 1925)


Louella Parsons of the New York Journal-American gave this 'new actress' a favorable review, saying, "The girl, Joan Crawford, is a discovery of Jack Coogan, Sr. She is very attractive, and shows promise."

Delight Evans of The New York Morning Telegraph, said, "The love interest, supplied by Alan Forrest and Joan Crawford, should satisfy such spectators as the antics of the small star fail to amuse - if any."




If you have seen this movie, please write a review below. Once your review is submitted, I will post the review below. Thank you for your review on this film.
Click on the decades below to browse movies.