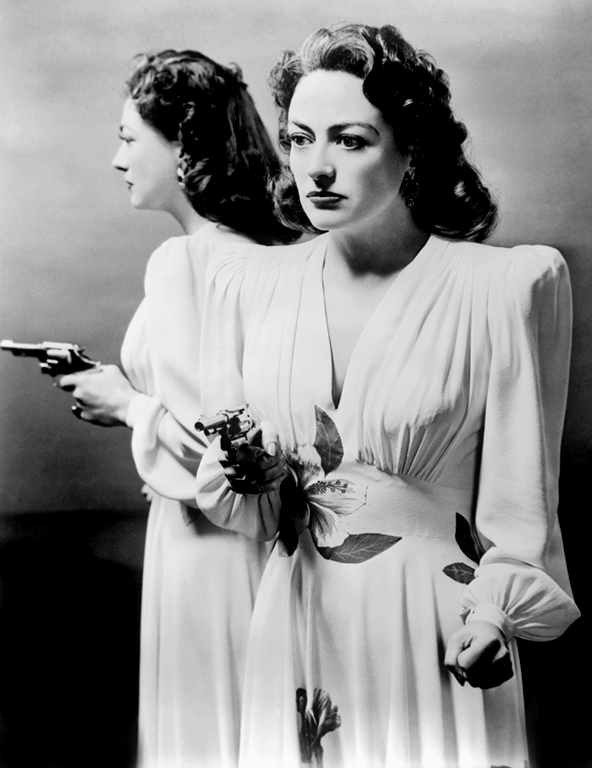 "Whether the Academy voters were giving the Oscar to me, sentimentally, for Mildred
or for 200 years of effort, the hell with it - I deserved it." - Joan Crawford
"Mildred Pierce" 1945
This page is dedicated to the two men in my life, Paul and Zach Johnson. You're both the best things that have happened in my life, so it's very fitting that you both get the best film page dedicated to the both of you.
Cast: Joan Crawford (as Mildred Pierce Beragon), Jack Carson, Zachary Scott, Eve Arden, Ann Blyth, Bruce Bennett, George Tobias, Lee Patrick, Moroni Olsen, Jo Ann Marlow, Barbara Brown,
Butterfly McQueen.

Release date - September 24, 1945 (premiere), October 20, 1945 (Nationwide, U.S.A.)


Running time - 109 or 113 minutes

Directed by - Michael Curtiz

Writing Credits - James M. Cain (novel) and Ranald MacDougall

Producer - Jerry Wald

Cinematographer - Ernest Haller

Costumes - Milo Anderson, Clayton Brackett and Jeanette Storck

Studio - Warner Brothers

Working Title - House on the Sand

Production Code: #638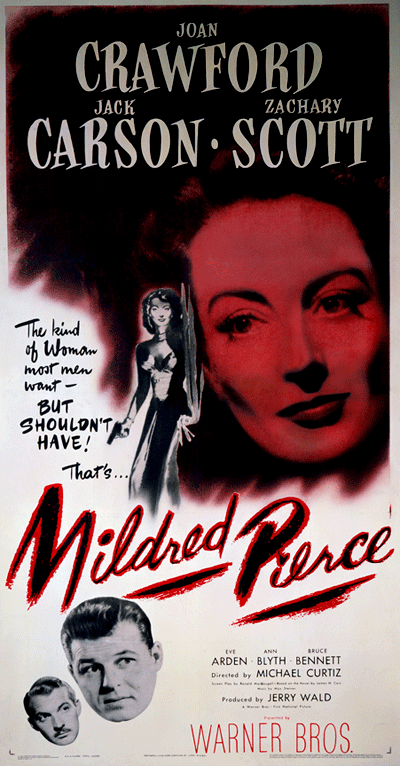 Movie Synopsis
"Mildred Pierce" is without doubt, a classic example of 40's film noir. Warner's rolled the dice and gambled on Joan to give them a hit, and she thanked them by giving them a five million dollar return in profits. In turn, she put her name back in the hat as one of the hottest movie stars around, taking home a Best Actress Oscar and showing MGM (the studio that let her go), that she was far from washed up.

Told in flashbacks, "Mildred Pierce" starts with gun shots at a beach house and the appearance of a victim in a body bag. It is only through Mildred's (Joan) interrogation at Police Headquarters that we begin to understand what really happened.

The story centers around doting mother, Mildred Pierce and her eldest daughter, Veda (Ann Blyth). A bratty teenager who gets what she wants, when she wants it, it's clear that Mildred will stop at nothing to appease her every whim. However, Mildred's seemingly perfect world is shattered when she finds out her husband, Bert (Bruce Bennett) is having an affair with a neighborhood woman, Mrs. Biederhof (Lee Patrick).

After leaving her husband, Mildred takes a job as a waitress. Her primary goal is keeping her bratty daughter, Veda living in the style she's become accustomed to, however the ungrateful Veda is ashamed of having a mother who works for a living and makes no secret of letting her know how she feels.

Having worked her way up from waitress to owner of a now successful chain of restaurants, Mildred meets and marries, the smooth talking, Monte Beragon (Zacharay Scott), but after going through her money and sleeping with her daughter, it seems both Monte and Veda were meant for each other.

Now, with the perfect motive for murder, Mildred is brought in for questioning when Monte turns up dead. Once again, Mildred's world begins to collapse around her. As we reach the film's climax, we learn there is one thing a mother's love can't protect..........murder!

Joan pulled off the performance of her career in "Mildred Pierce." After a confidence destroying exit from her beloved, MGM, it could not have been easy for her to reinvent herself and give a performance worthy enough to take home the Academy Award for Best Actress of 1946. But she did, she wasn't done with yet........Joan Crawford was officially back!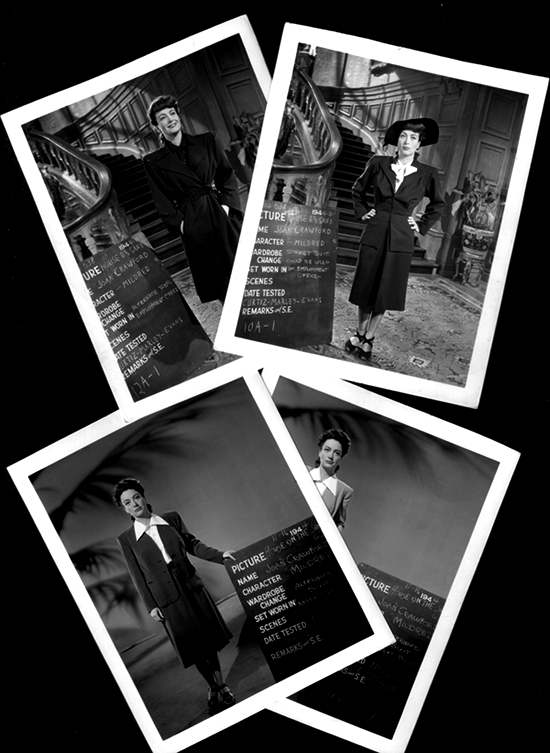 Interesting Trivia
In a glaring movie mistake, Mildred's house is shown in several exterior shots as a ranch style home, however interior shots show a staircase leading to the upstairs bedrooms. Shirley Temple was the original choice for Mildred's daughter, Veda Pierce. Ironically, Joan's main career rival, Bette Davis, turned down the role of Mildred Pierce as well as Rosalind Russell and Barbara Stanwyck.

Monty's Beach House, used in the key opening scene was actually owned by the film's director, Michael Curtiz. It was built in 1929 and stood at 26652 Latigo Shore Dr. in Malibu. Tragically, after a week of heavy storms in January 1983, it collapsed into the ocean. [www.imdb.com].

Other than a brief appearance in Warner Bros.' Hollywood Canteen, this film was the first that Joan Crawford made for Warner Bros. According to information included in the file on the film in the Warner Bros. Collection, Cain sent a first edition of the novel to Crawford on March 7, 1946, which was inscribed, "To Joan Crawford, who brought Mildred to life just as I had always hoped she would be and who has my lifelong gratitude."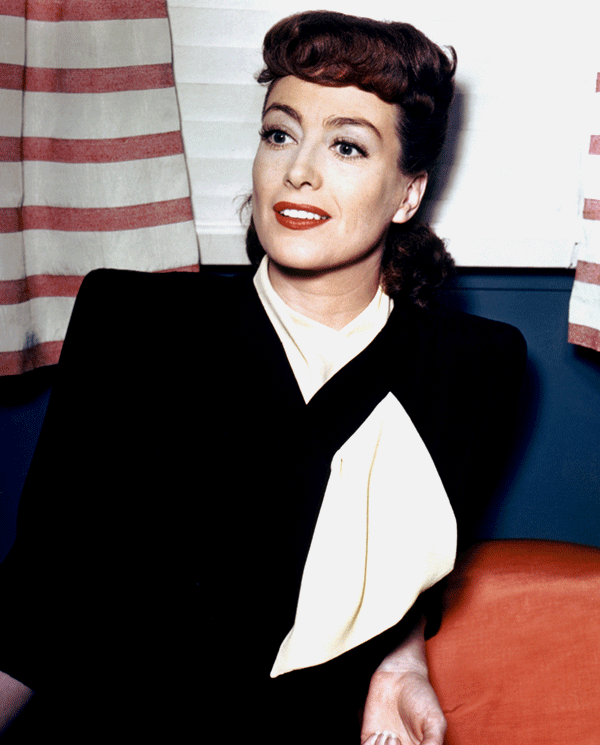 Crawford's performance in this film earned her an Academy Award for Best Actress. The film also received an Academy Award nomination for Best Picture; Eve Arden and Ann Blyth were both nominated for Oscars for Best Supporting Actress; Ernest Haller was nominated for his cinematography and Randall MacDougall received an Oscar nomination for Best Screenplay.

Joan's Best Actress Oscar statuette was auctioned after her death. It sold for $68,000. The auction house predicted a top bid of $15,000. The high bidder was from the Middle East and the whereabouts of the Oscar's location are unknown today.

Joan Crawford had been under contract with Warner Brothers for two years before starring in this movie. To get the role, she had to submit to a screen test after years of flops at MGM--her previous studio--and turning down several scripts at Warner Brothers.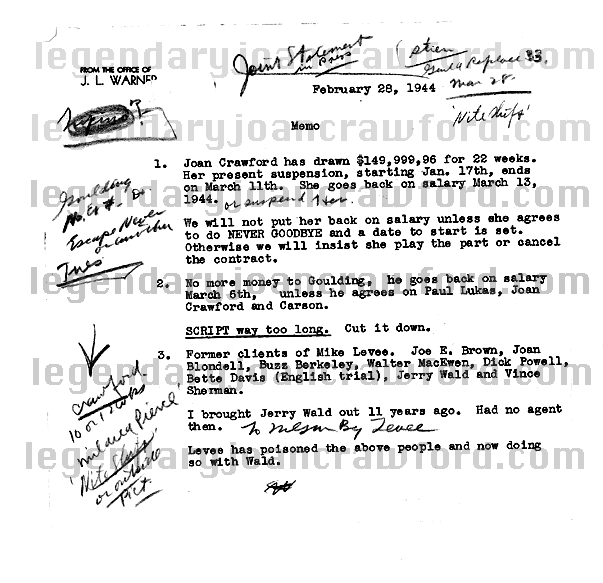 Above: This document dated February 28, 1944 shows that Joan was already considered for the role of Mildred Pierce long before
anyone knew. If you look at the handwritten footnote in the lower left hand corner you can see "Mildred Pierce."


Shooting the early scenes, director Michael Curtiz accused Joan Crawford of needlessly glamorizing her working mother role. She insisted she was buying her character's clothes off the rack, but didn't mention that her own dressmaker was fitting the waists and padding out the shoulders.

William Faulkner contributed to the script, but his additions were not used. He wrote a scene that had Butterfly McQueen consoling Joan Crawford while singing a gospel song.
Monty's Beach House, used in the key opening scene and several others, was actually owned by the film's director, Michael Curtiz. It was built in 1929 and stood at 26652 Latigo Shore Dr. in Malibu. It collapsed into the ocean after a week of heavy storms in January 1983.

Michael Curtiz was initially less than keen at working with "has-been" star Joan Crawford as she had a reputation for being difficult. Curtiz was soon won over by Crawford's dedication and hard work.

Mirroring her own life, Joan Crawford had also supported herself as a waitress and saleswoman before she achieved success as an actress.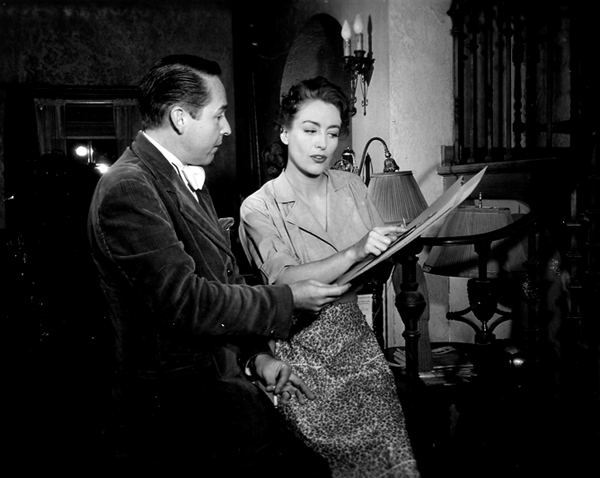 Producer Jerry Wald was keen to exploit the potential of James M. Cain's novel. He envisaged the idea of a climactic murder, then restructuring the story using flashbacks. He also infused the project with a higher moral tone that is in the original novel. With these changes, he was able to extract a cautious go-ahead from the Breen Office, which then prompted studio head Jack L. Warner to approve the purchase rights to the novel in early 1944.

Eight different screenplays from a succession of writers were written before Ranald MacDougall's version was accepted.

The film's release was deliberately held back until September 1945 in the hopes that it would find a more sympathetic audience in a post-war atmosphere.

Jack L. Warner originally wanted Vincent Sherman to direct the film but Jerry Wald held out for Michael Curtiz.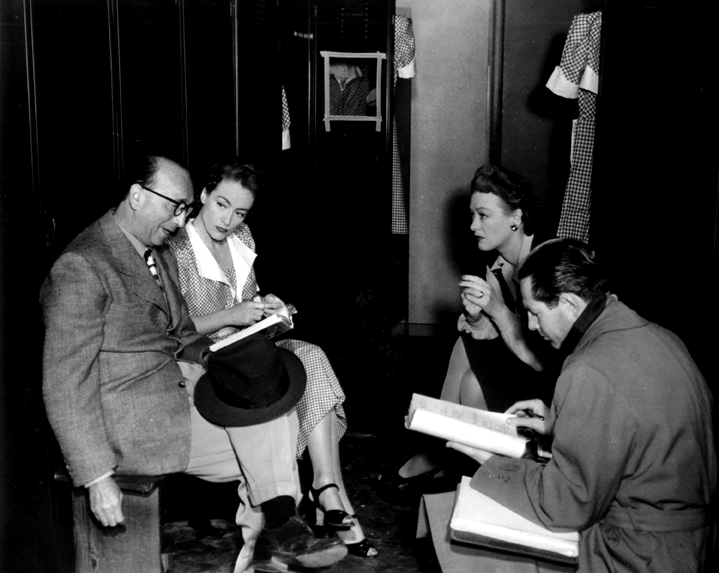 Academy Award Winners and Nominations:

-1946 - Won - Best Actress in a Leading Role - Joan Crawford
-1946 - Nominated - Best Actress in a Supporting Role - Eve Arden
-1946 - Nominated - Best Actress in a Supporting Role - Ann Blyth
-1946 - Nominated - Best Cinematography, Black-and-White - Ernest Haller
-1946 - Nominated - Best Picture - Jerry Wald
-1946 - Nominated - Best Writing, Screenplay - Ranald MacDougall

National Board of Review (U.S.A):

-1945 - Won - Best Actress - Joan Crawford.

Songs: "The Oceana Roll," words by Roger Lewis, music by Lucien Denni.

Movie Mistakes: Audio/visual unsynchronized: Just before Veda is taken into custody, she tells Mildred: "I'll get by," but her lips don't move.

Taglines: "In her heart of hearts she knew it would happen this way!"

"A mother's love leads to murder."

"Please don't tell anyone what Mildred Pierce did!"

"The kind of woman most men want - but shouldn't have!"


Joan's salary was $167,000.

Top Grossing Film Position: Ranked in the Top 10 films of 1945


Cost: $1,453m./Domestic Studio Gross: $3,483m./Foreign Studio Gross: $2,155m./ Profit: $3.5m.

Box Office Receipts: $3.5 million

Inflation Value in 2008: $42,122,888.89
Photos
Click on images below to see a larger view.
Movie Posters/Lobby Cards etc...
Fan Reviews/Comments
Joan's grandson, Casey LaLonde, says...
Mildred Pierce stands up as perhaps Joan Crawford's greatest film role. After twenty years in the film industry, Joan was awarded a leading actress Academy Award©. I had seen Mildred Pierce literally dozens of times on local and cable television but it was not until the 1998 Warner Bros. 75th anniversary celebration that I first saw Mildred Pierce on the big screen.

The film is easily classified as film noir, with additional interesting elements. As film noir expert Eddie Mueller recently noted, Mildred Pierce is perhaps the greatest melodrama ever produced by Hollywood. The family dynamics between Mildred and daughter Veda is fascinating and ultimately very cruel.

Joan's transition from Metro to Warner Bros. was complete. Oscar© in hand, she went on to complete her magnificent trio of Warner Bros. films that included Mildred Pierce, Humoresque (1946) and Possessed (1947). In my opinion, these three films showcase some of Joan's finest work and abilities as a leading dramatic actress.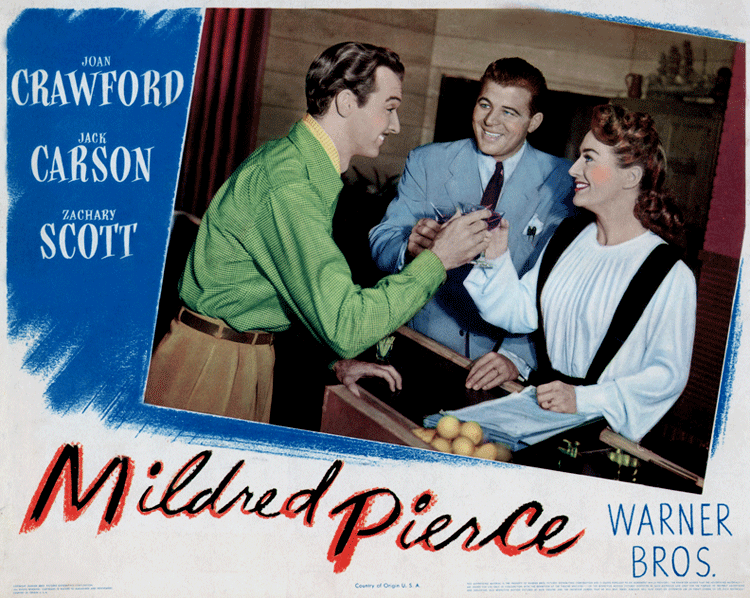 Reviewer, Gary from Midnight Palace Website, says...
Please don't tell anyone what Mildred Pierce did! With a tagline like that, so much is left to the imagination. By 1945, Joan Crawford had made a series of flops at MGM and her career was fizzling out. At 40 years old, she'd already passed her prime. Many of the big studios had employed younger stars, so Crawford was more likely to be a mentor than a headliner. Nevertheless, after Bette Davis and Rosalind Russell turned down the part, Crawford beat Barbara Stanwyck to the punch for the starring role in Mildred Pierce. In retrospect, no other actress could have become this character, so perhaps there is something to fate.

A shot rings out...what could have happened? Joan Crawford stars as Mildred Pierce, an over-worked housewife whose husband Bert (Bruce Bennett) has an affair with their neighbor Maggie Biederhof (Lee Patrick). Bert takes the defensive when Mildred confronts him, even though he is clearly in the wrong. He suddenly leaves Mildred to raise their two daughters, Veda (Ann Blyth) and Kay (Jo Ann Marlowe). Veda, the older of the two, is completely consumed with the idea of material wealth. With this new living arrangement, she can no longer enjoy the benefit of two parents who are financially comfortable. Veda belittles her mother for causing the broken home and pulling her monetary rug out from under her. She also condescends anyone who works an ordinary job. With her back against the wall, Mildred secretly takes a job as a waitress just to make ends meet. She knows this position would mortify Veda, so she hides her uniform. Veda does eventually find the uniform and assumes it belongs to their live-in housekeeper Lottie (Butterfly McQueen). Mildred admits to the waitressing job, causing Veda to cry tears of shame. However, while working at the diner, Mildred devises a brainstorm to open her own restaurant. She believes this will have a two-fold effect...she can earn the respect of her daughter by becoming a business owner, and she can return to a life that does not count every penny. Mildred finds the perfect spot for her venture, a place owned by Monte Beragon (Zachary Scott). The only problem is, she has no start-up money, so she offers to give Monte a percentage of the business as soon as it thrives. Monte is hesitant at first, but Mildred's desperation and persistance win him over and the deal is made with the help of Wally Fay (Jack Carson). Wally is Mildred's realtor, but longs to be more despite her constant rejection of his advances.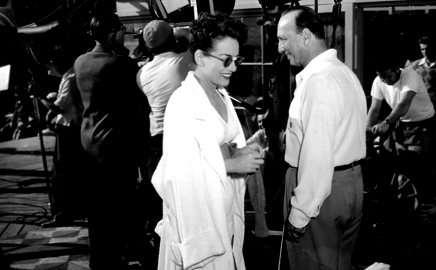 Veda begins to take a liking to Monte. Monte has money, and to Veda, that's as important as having a pulse. As Mildred's restaurant becomes increasingly popular, her finances soar, making her a certified millionaire. Veda and Monte begin a romance, and when Mildred finds out, Veda plays the victim (in true drama queen fashion). She puts on the act of perpetual innocence..nothing is ever her fault and she is merely a victim of circumstance. As time goes on, Veda's expenditures spin out of control and she continues to get herself in trouble. Though she has endured verbal abuse from her daughter on countless occassions, Mildred's maternal instinct will not allow her to leave her child to the wolves, so she rushes to her aid. Mildred wants her and her daughters to be a family again, and she sacrifices her dignity to make that happen. Veda has other plans. Her extravagance knows no limits; her star-like deameanor feeds her a complex of superiority that her mother cannot satisfy...so she moves out. Mildred is heartbroken but understands that she has little say in the matter. Veda's troubles continue until she finds herself in the worst situation she's ever caused...a terrible turn of events...an unforgiveable criminal act. Mildred is now torn between the right thing to do and rescuing her daughter. What's a mother to do?

Mildred Pierce took a typical family and shattered it to pieces. In a time where glamour and status defined the worth of people, the idea of money reigning over values was a realistic view of life. This was a role made for Joan Crawford. In real life, she was at a crossroad with a string of unsuccessful movies that all but promised the end of her career. It stands to reason that she ran for this part, and in art imitating life, her character was in a similar position. It was interesting to see such a strong personality (Mildred) brought to her knees by the incessant whining of a spoiled child (Veda). Ann Blyth did a great job portraying Veda. She played her in a split-personality type of way. Veda was a Jeckyl and Hyde character, on one hand she was the face of adolescent confusion, yet, on the other she was a ruthless, materialistic monster. Children are usually demanding with no concept of cost, and in this case, Veda was at the forefront of the movement. Jack Carson was a great choice to play Wally Fay. As mentioned in the Arsenic and Old Lace review, Carson often played characters that never got what they really wanted. Wally was a respectable businessman and a genuinely nice guy, but he couldn't resist the opportunity to ask Mildred out, or to proclaim his desire for her. She shot him down repeatedly, and lesser men would have given up or even become angered by the rejection. Wally keeps walking back into the firing squad. He has a hint of a self-esteem issue, and even though he tries to cover it with playful banter, it comes through in his facial expressions. Zachary Scott was another strong additive to this mixture. As Monte, he carried himself very cool and laid back...very fitting to the era of suave actors. His words were spoken softly, yet confidently. He very seldom needed to raise his voice, because his choice of words were so dead-on that the point was made with little effort. This was a great balancing act for the film. Mildred herself was similar, but Veda was like a wedge of cold steel that forced its way into the calm.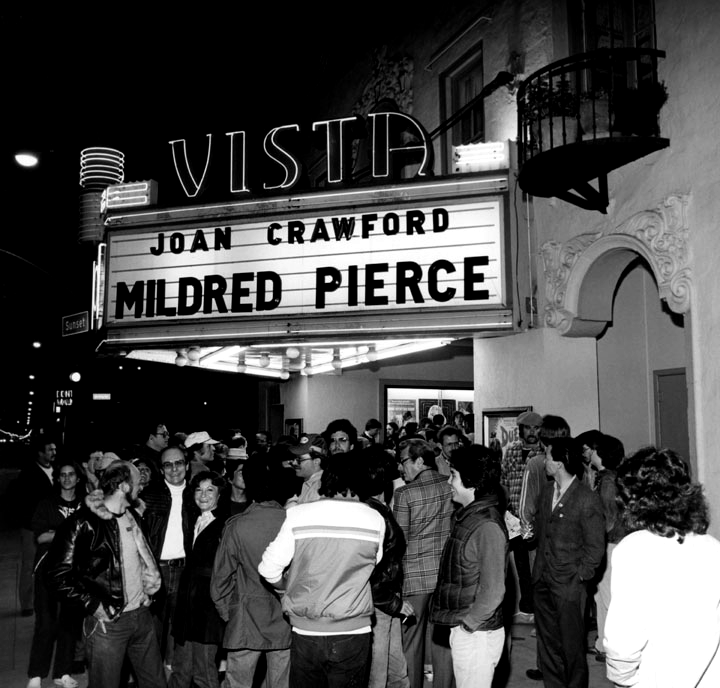 Other Reviews
Thomas M. Pryor of the New York Times, gives Joan two thumbs up for her performance, saying, "Joan Crawford is playing a most troubled lady, and giving a sincere and genuinely effective characterization of same, in the new drama of James M. Cain origin, Mildred Pierce. It is a tribute to Miss Crawford's art that Mildred comes through as well as she does."

TV Guide Online had this to say..."Everything about Mildred Pierce is first-rate, from stellar production values to Curtiz's marvelously paced direction, which refuses to allow sentiment to rule the story. The MacDougall script, adapted from Cain's terse novel, is adult and literate, with plenty of sharp dialogue. The Curtiz string-pulling is greatly aided by Grot's imposing sets, Haller's moody photography and Steiner's haunting score. Bravely cresting the waves of disaster is a mature Crawford in a real tour de force, defying the industry to write her off as washed up. She's matched every slap of the way by Blyth, here giving the performance of her career."

David Denby from the New Yorker had this to say..."In the early forties, Joan Crawford left the suffocating glamour of M-G-M and entered the noirish shadows of Warner Bros. Her second film there was the startling "Mildred Pierce," from the James M. Cain novel, which is perhaps more candid about money and social status than any American movie of the period. ...Crawford is the poor divorcée Mildred, who works as a waitress, then starts a restaurant, then a chain of restaurants, and finally marries the quintessential heel, Zachary Scott, all to satisfy the snobbish demands of her daughter, Ann Blyth, who resents her mother's common origins. Crawford's performance is convincing and intelligent, and the bitterness feels genuine (Crawford herself was a wrong-side-of-the-tracks girl who struggled for respect). Like other good forties movies, "Mildred Pierce" starts with a murder and then works back to the roots of the crime. The director, Michael Curtiz, keeps the palette dark and rich and the psychological undertones resonant."
If you have seen this movie, please write a review below. Once your review is submitted, I will post the review below. Thank you for your review on this film.
Click on the decades below to browse movies.