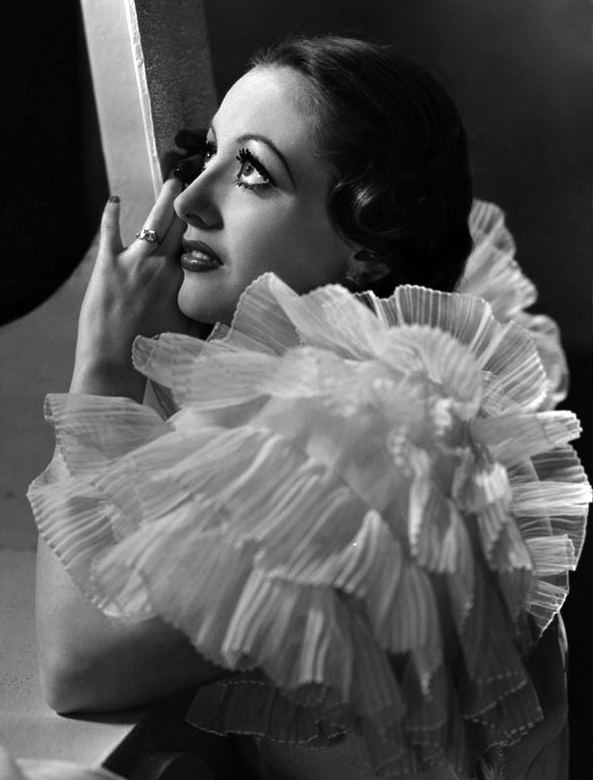 "If there is ever a Joan Crawford retrospective, I hope they show this one;
the acting may be a little out of style now, but not that much." - Joan Crawford
"Letty Lynton" 1932
This page is dedicated to Patricia Carrier.
I loved your sense of style and your inner beauty will forever be with me. You are missed.
Cast: Joan Crawford (as Letty Lynton), Robert Montgomery, Nils Asther, Lewis Stone, May Robson, Louise Closser Hale, Emma Dunn, Walter Walker, William Pawley.


Release date - April 30, 1932 (premiere), May 14, 1932 (Nationwide, U.S.A.)

Running time - 84 minutes (9 reels)

Directed by - Clarence Brown

Writing Credits - Marie Belloc Lowndes (novel),
John Meehan and Wanda Tuchock (adaptation)

Producer - Hunt Stromberg

Cinematographer - Oliver T. Marsh

Studio - MGM

Production Dates - 24 February - 28 March, 1932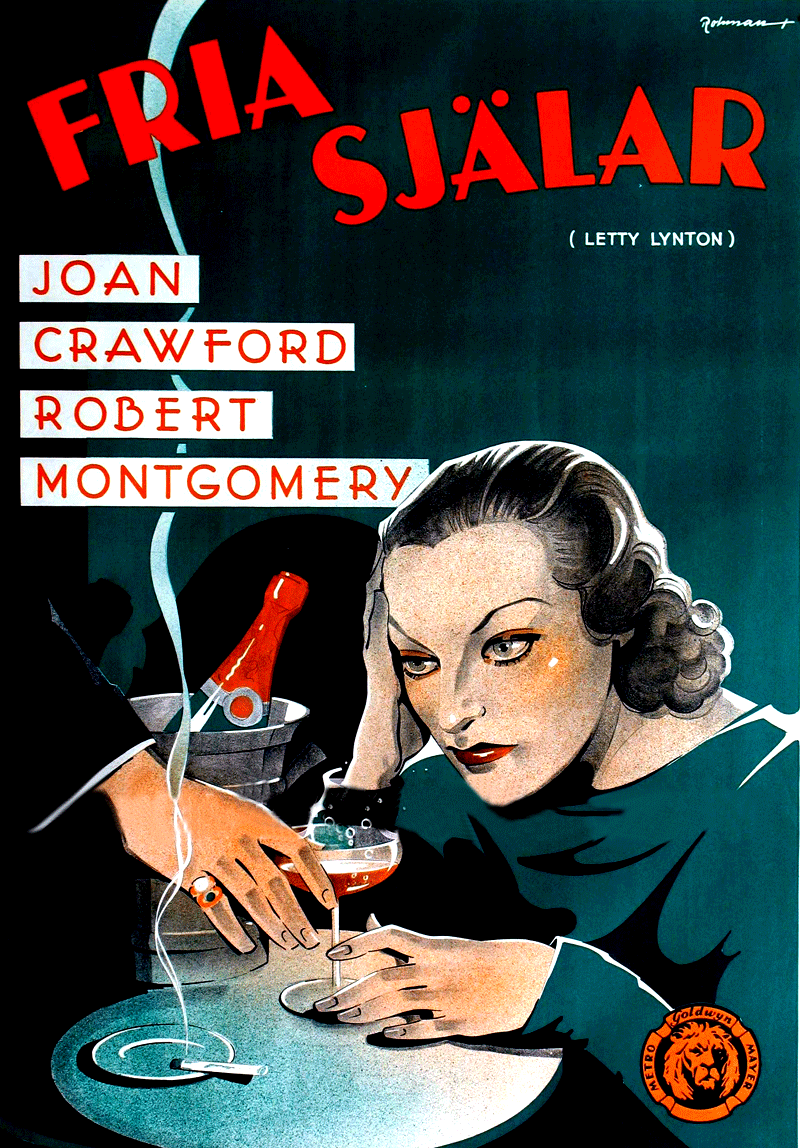 Movie Synopsis
Letty Lynton (Joan Crawford) plays a wealthy New York socialite who is vacationing in South America where she meets a charming persuasive man named Emile Renaul (Nils Asther). Though not in love with Emile, she enjoys his company and when she decides to return to New York, Emile tries to persuade Letty in staying with him. Letty refuses to be lured to stay with Emile and returns on a ship to New York with her maid, Miranda (Louise Closser Hale). On the ship, Letty meets a dashing handsome young man named Jerry Darrow (Robert Montgomery) and a heated romance develops between the pair. Before the boat can even dock, the two are engaged to marry.

Meanwhile, Emile has flown to New York and is waiting at the pier to great the woman he loves, Letty Lynton. There is a great scene on the boat when Letty is filled with happiness with her new fiancé and she sees Emile on the dock waiting for her. Her expression from happiness to sadness is priceless and so is the amazing black mink coat she is wearing!

Letty confronts Emile and he insists that she meet him later that night. Letty returns to live with her mother, Mrs. Lynton (May Robson), whom she never had a close relationship with and Letty appears to have given up on trying. When Letty does continue to avoid Emile, he comes to the Lynton mansion and threatens Letty with exposure of the letters to her new fiancé if she does not come to his apartment that night. In despair, Letty goes to Emile's apartment taking with her some poison in a vile--she plans to kill herself.

Once at Emile's apartment, an argument breaks out and Letty secretly pours the vile of poison into her wineglass. Deep in thought, Letty stares at the poisoned wine glass BUT before she can even pick up the wineglass, Emile confuses the glass to be his own and drinks the poisoned drink. This is the best scene in the movie. Letty realizes that Emile is going to die and stares at him wide-eyed waiting for his death. Once Emile realizes what happens he attacks Letty but is too weak to get off his feet. " Yes! Yes! I did it! I meant it for myself. I'm glad I did it you dirty, filthy, greedy mongrel. If I hang for it, I'm glad I did it," Letty hisses. That part is unlike any scene we have ever seen our Joan play. It is so harsh and intense. Her words slide off her tongue like a tortured snake. Emile then dies from the fatal brew and Letty flees the scene but before she leaves she tries to cover up that she was ever there.

Joan really played this part well panicking and fleeing the scene of a crime. An investigation develops and detectives find evidence that Letty forgot to discard. They track down Letty and she's confronted with the evidence that clearly puts her at the scene of the crime. All looks doomed for Letty and her new found love, but to her surprise, Jerry concocts an alibi for Letty and to her surprise, her mother backs it up. Letty and Jerry live...happily ever after.

Being that this film was made in 1932, the subject matter was a definite risk, but the right blend of actors, director and script, produced the perfect balance of drama, sympathy and romance. Definitely one of Joan's early gems.


Cost: $347K/Domestic Studio Gross: $754K./Foreign Studio Gross: $418K/ Profit:$390K


Box Office Receipts: $1,172,000.

Inflation Value in 2007: $17,819,447.30.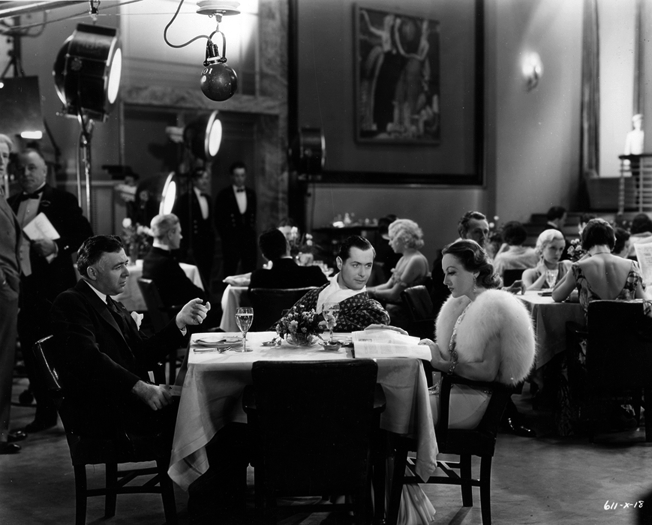 Interesting Trivia
Both, "Dishonored Lady" (1947) and "Madeleine" (1950) were later versions of the film.

The Adrian designed dress that Letty (Joan) wore throughout the film was so popular, Macy's Department store manufactured an inexpensive knock off of it. The 'new look' that caused such a fashion frenzy was the introduction of 'shoulder pads' - That look would become Joan's trademark for the rest of her career. Macy's records show that 50,000 women put the cheaper version of 'that dress' into their wardrobes that season.

Marie Belloc Lowndes's novel was inspired by an actual trial that took place in Glasgow, Scotland in 1857. The twenty-one-year-old defendant, Miss Madeleine Smith, was accused of poisoning her lover, Pierre Emile L'Angelier. Smith's explicit love letters to L'Angelier were produced during the trial, but she was acquitted of the crime, due to insufficient evidence. Descriptions of the Smith trial have been included in several books on famous British court cases, as well as in a Vanity Fair article in August of 1926. The conclusion of that article, and the books, was that Smith was guilty of poisoning her lover because she was tired of him.

According to information contained in the file on the film in the MPAA/PCA Collection in the AMPAS Library, M-G-M production and clippings files at the USC Cinema Library, and contemporary news items, M-G-M bought the rights to Lowndes' novel in December of 1931 after the Hays Office refused to approve production of a film version of the Edward Sheldon and Margaret Ayer Barnes play "Dishonored Lady" (New York, February 4, 1930). That play, like the Lowndes novel, was inspired by the Smith case.

In early 1931, M-G-M agreed to buy the rights to the Sheldon-Barnes play for $30,000 if it could be approved for production by the MPAA. The office would not approve the play, and M-G-M bought the rights to "Letty Lynton." [www.afi.com].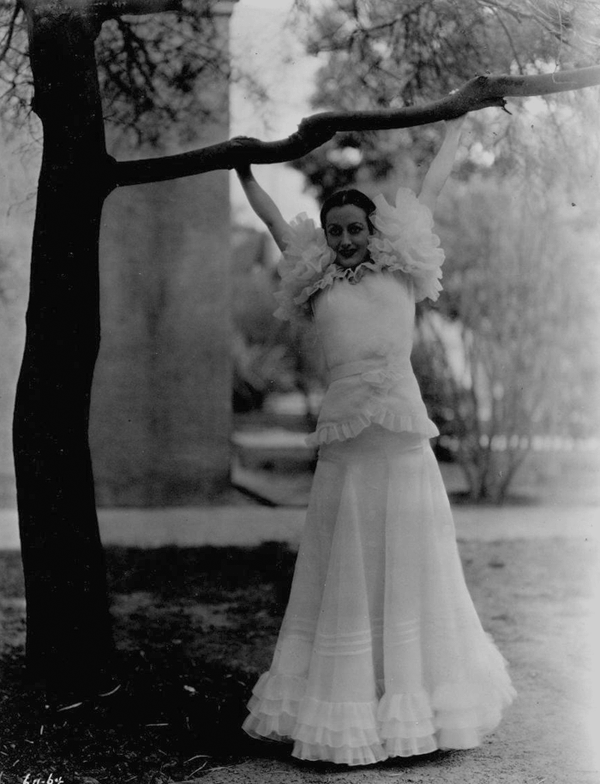 MPAA records prior to the film's production include a detailed comparative analysis of "Dishonored Lady" and the "Letty Lynton" script, which was also called Redeemed and Promiscuous. In the analysis, which Col. Jason S. Joy and Lamar Trotti of the MPAA office in Hollywood thought necessary to dispell any hint of plagiarism, six major points of similarity were illuminated: in both stories, the female protagonist has affairs "because of the sex urge, not love," the murder is similar in execution in both instances; the man is Argentine in both cases [the exact nationality of the character Emile Renaul is left vague in the final version of the film]; in the play the girl's mother has run off, but in the script her father has been unfaithful; in the play a friend provides an alibi, while in the film, the fiancé does; and in the play the father perjures himself, while the mother does in the film.

"Letty Lynton" is another remarkable pre-Hayes production code film. Only bootleg versions of the film exist today, due to a 1940 United States Supreme Court decision barring future screenings because of copyright issues. I only recently saw the film and consider it one of Joan's best early films.

Similar to "Rain," "Letty Lynton" exposes the audience to intense situations created throughout the film. Joan's poisoning of Nils Asther's character Emile is an especially taut and striking moment. Even given the film's pre-code timeframe, it is fascinating that Joan's character escapes punishment.

The makeup, wardrobe and sets make "Letty Lynton" a stylish and classic film. The gowns worn by Joan throughout the film are iconic and perfectly suit her socialite character. Robert Montgomery and Nils Asther round out the love triangle in superb roles.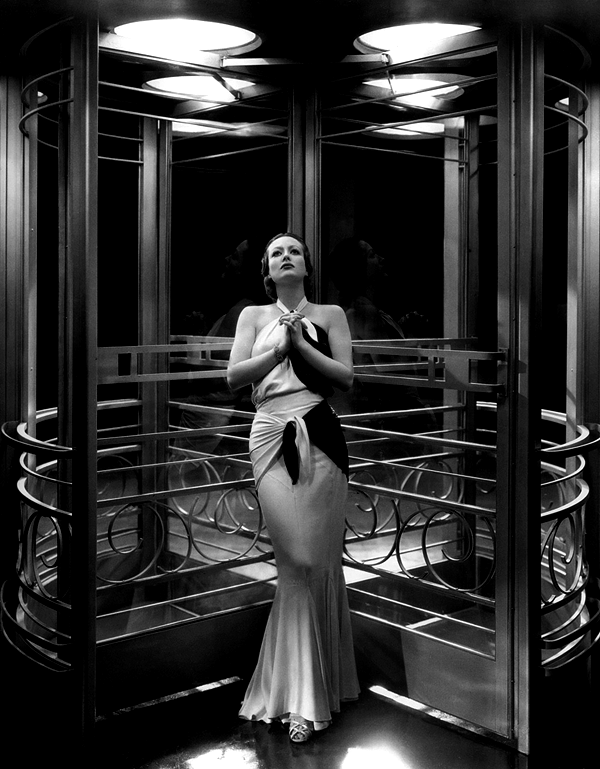 According to letters from Joy and Trotti to M-G-M production head Irving Thalberg and producer Hunt Stromberg, the "happy ending" of the script was a major difference in tone from the "punishment" that the play's character received at the end. The conclusion was that the Lowndes novel could be filmed, but that critical exception might be raised after the film's release, due to its similarities to the play. Letty Lynton was approved for production and release by the MPAA, but, a few states and the countries of Switzerland and Italy either rejected the picture for distribution or accepted it only after deletions.

Shortly after the film's release, depositions were filed against M-G-M by Sheldon and Barnes charging copyright infringement of their play "Dishonored Lady." Though a preliminary hearing in July 1932 in a New York Federal District Court "exonerated" M-G-M of the charge, a formal suit was filed a short time later. Over the course of the next eight years, the case moved from court to court in both California and New York. The case was dismissed in one court in 1934, then a decision was made for the plaintiff in another court in August 1936, which M-G-M appealed. During the course of the suit, several news items in trade publications pointed out that the case was causing other studios to worry about plagiarism cases that might be directed at them, and that the outcome of the case would have a bearing on the entire motion picture industry.

The U. S. Supreme Court refused to hear the case, and hearings on the appeal continued until May 1938, when Special Master Gordon Auchincloss of the U. S. District Court fixed damages for copyright infringement against all of the defendants, Metro-Goldwyn-Mayer Pictures Corp., Metro-Goldwyn-Mayer Distributing Corp., parent company Loew's, Inc., and foreign distributor Culver Export, Inc. The damages collectively equalled $587,604, the amount of the film's net profits, plus various legal fees and court costs. M-G-M appealed the size of the award, but it was only reduced to $532,153 in Jan 1939 by Federal Judge Vincent L. Leibell, who denied M-G-M principal attorney John W. Davis' claim that the judgment was too harsh.

In his judgment, Leibell stated, "In my opinion it is punitive and unjust to award all the net profits of the motion picture "Letty Lynton" to the complainants in this case. Yet under the wording of the Copyright Act as interpreted by the decisions of the appellate courts, I can do nothing less."

The case eventually went to the Supreme Court, not to consider a reversal of the decision, but to determine whether or not the plaintiffs were entitled to all or part of the profits from the film. In March 1940, the decision was handed down by Chief Justice Charles Evans Hughes that the authors were only entitled to $167,528, one-fifth of the profits of the picture, because movie stars, not authors, were the chief drawing cards for motion pictures. A May 18, 1940 news item in HR reported that "a satisfaction of judgment of $4,723 against the Moredall Realty Co." by Sheldon and Barnes for showings of "Letty Lynton" at the Capital Theatre in New York had been filed the previous day. No additional information on the Capital Theatre judgement has been located.

According to a pre-production news item, Robert Young was initially considered for the part of Jerry Darrow, and E. B. Derr was originally set to produce the picture. Hunt Stromberg, who became the film's producer, produced another screen adaptation of the Sheldon and Barnes play, "Dishonored Lady," in 1947, directed by Robert Stephenson, and starring Hedy Lamarr and Dennis O'Keefe. A British film inspired by the Madeleine Smith trial was directed by David Lean under the title Madeleine in 1949, starring Ann Todd and Leslie Banks.
If you would like to own a copy of "Letty Lynton," please email me. I have copies available on DVD. jcrawford1904@yahoo.com
Photos
Click on images below to see a larger view.
Movie Posters/Lobby Cards etc...
Fan Reviews/Comments
Joan Crawford's Grandson, Casey Lalonde, says...
"I believe Letty Lynton was one of my grandmother's early favorites. As Joan is famously quoted, 'If there is ever a Joan Crawford retrospective, I hope they show this movie.'"
Joan Crawford's Grandson, Fernando Silva, says...
This is one of those "mythic" films, the 1932 Joan Crawford vehicle not available anywhere, not even for TV broadcasting, because it's been in a legal tangle for decades and decades; the film in which Crawford wore one of the most famous outfits ever displayed on screen, a beautiful Adrian creation, a white evening dress which was copied in its time and sold to eager female fans in Department Stores along the United States.

In this glossy film, Crawford plays the title role, a rich and spoiled heiress, who's been living the "wild life" in Montevideo, the capital city of Uruguay with debonair man-of-the-world Emile Rénaul, played by Nils Asther only to regret it when clean-cut Jerry Darrow (Robert Montgomery) comes into her life.

This is a star-vehicle all the way, with Crawford being photographed in the most ravishing poses, positions, from the best angles; much care was put in the in the lighting and her make-up & wardrobe. Perhaps this is one of the films in which I've seen Crawford at her prettiest and sexiest, wearing a chain of exquisite, sophisticated Adrian designed evening dresses and suits, furs et al, all carefully designed to conceal her broad shoulders, which later became a trademark of hers. At this time she had not fully developed into the dramatic actress she later became, but in spite of some heavy melodramatics, her performance is good.

Her co-star Robert Montgomery has little to do in comparison but being well-bred and nice and he is good, as usual, at it. Nils Asther is the "heavy" here and being a Swedish, believably interprets an European, evil, magnate who doesn't want Letty let go; maybe his style of playing the continental lover (sometimes displaying heavy emoting) may seem somewhat artificial to modern audiences, but in all he's OK as the villain, considering it was filmed in 1932.

One of the greatest rewards of the films is watching seasoned pros as Lewis Stone, May Robson, Louise Closser-Hale and Emma Dunn playing expertly their secondary roles. Robson is magnificent as Crawford's long-suffering dowager mother; Closser-Hale endearing as Crawford's loving personal traveling companion and maid; Emma Dunn, very sweet as Montgomery's mother and Lewis Stone at his usual "knows-best" as a D.A.

It is a shame that this film is not available for everybody to see, because it's good and part of America's Cinematic inheritance and history and should not be prevented from airing because of some 70 years-old legal entanglement. I'm grateful of having had the chance of buying a fair-quality copy from a private collector, but I would like to have the chance of seeing a sharp, clear, pristine transfer of the notorious "Letty Lynton".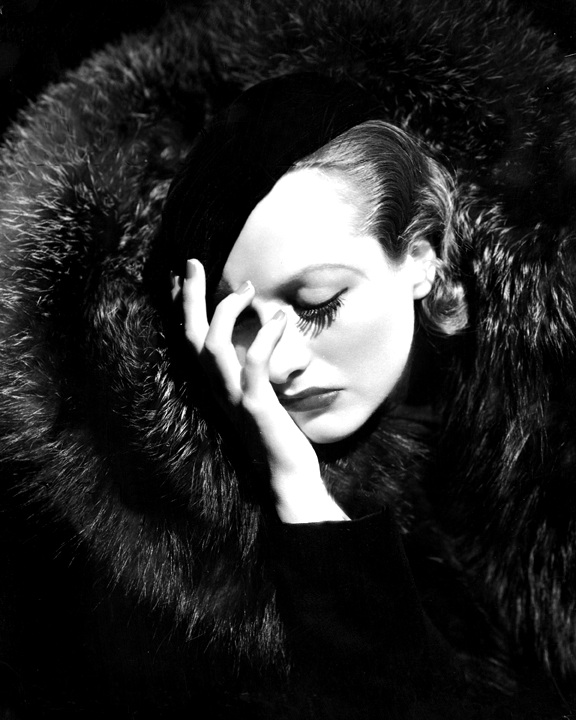 Other Reviews
The Motion Picture Herald's review said, "Almost everything one can wish for in entertainment has been injected into this superbly acted and directed production. The gowns which Miss Crawford wears will be the talk of your town for weeks after...and how she wears them!"

Photoplay said, "The gripping, simple manner in which this picture unfolds stands it squarely among the best of the month. Yet there is little that is new, and no attempt at ultra-sophistication...Joan Crawford as Letty is at her best. The direction, plus a strong cast, make Letty Lynton well worth seeing."

Mordaunt Hall in the New York Times says... "Joan Crawford and Robert Montgomery are the principal participants in "Letty Lynton," the film at the Capitol, which is based on a novel by Marie Belloc Lowndes. It is a feature with beautiful photography and good direction, but most of its incidents are implausible and the dialogue is often of the synthetic variety."

"The opening scenes are in Montevideo, and one soon learns that a wild and wealthy young woman named Letty Lynton appears to have a great deal of difficulty in resisting the smooth talk and good dancing of a man known as Emile Renaud. One gathers that the affair between these two has gone far, for Emile appears to be sanguine that Letty cannot leave him."

"Letty, however, does succeed in tearing herself away from Renaud. Aboard a vessel bound for New York, Letty, who has an elderly companion, Miranda, arranges to sit at Hale Darrow's table. Incidentally this rich young man also had asked to have Letty assigned to his table."

"The scenes between Letty and Hale are moderately amusing, but the conversation between them strikes one as being an inexpert imitation of Noel Coward's dialogue. These two soon decide that they are in love, and Letty is highly gratified at having left Emile so far away. When the steamship reaches New York, however, Emile turns up on the pier. He had decided to take an airplane to meet Letty."

"In as much as Emile has several very affectionate missives from Letty, is it not astonishing that she does not wish to have the two men meet? Do what she will to avoid Emile, he succeeds in trailing her and in threatening to publish her letters in the newspapers. On the night that Letty is to follow Hale to his home in the Adirondacks, Emile insists that she come to his apartment."

"By that time Letty hates Emile and she is so distraught by his conduct that she pours poison into a vial, which she takes with her when she goes to Emile's apartment. It is to be presumed that she intended committing suicide, but it chances that Emile drinks the champagne into which she has poured the poison and that is the last of him."

"From then on the story is disappointing, for there is a District Attorney who appears to be crafty at first and subsequently extraordinarily sympathetic."

"Clarence Brown, the director, pays too much attention to his photographic effects and not enough to the necessary psychology of the characters or the plausibility of the incidents. Both the comedy and the drama are forced."

"Miss Crawford gives an efficient portrayal, and Mr. Montgomery does capital work in his rôle. Louise Closser Hale makes the most of the part of Miranda, but her lines are by no means easy to handle. Nils Asther impersonates Emile in an acceptable fashion, but Emile is a very strange person. Lewis Stone appears in the minor rôle of the District Attorney."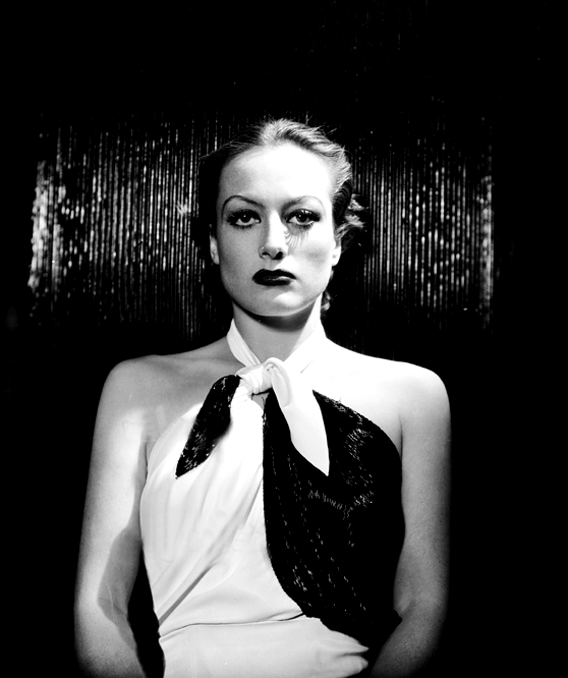 If you have seen this movie, please write a review below. Once your review is submitted, I will post the review below. Thank you for your review on this film.