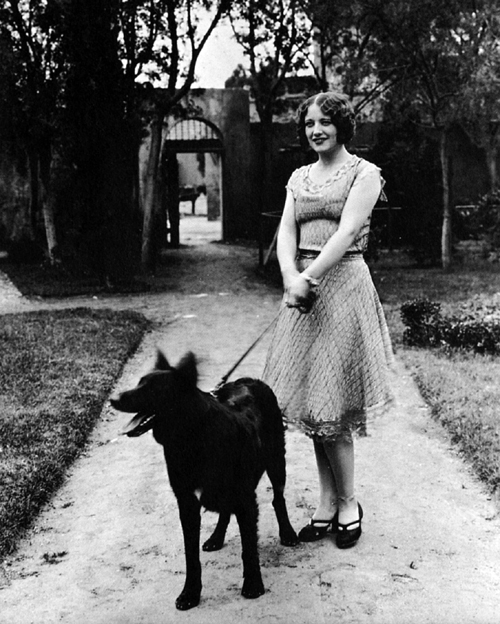 January 2008

Casey,

I discovered your wonderful website dedicated to your legendary grandmothr when I did a Google search on Joan Crawford this evening.

My first exposure to her was after I saw "Mommie Dearest" on HBO in 1982. The movie actually had a positive affect on me because I became a huge fan of hers after that.

Not only was she a stunningly beautiful woman, but a damn good actress. I've read just about every book written about Joan, have seen many of her films many times and over the past 25 years, have acquired a great knowledge about your grandmother. I love all her films, but include Mildred Pierce, The Women, Sudden Fear, Queen Bee and Whatever Happened to Baby Jane? as my favorites. Mildred Pierce being at the top of my list!

Her ambition was fierce and her dedication to her fans was legendary and second to none. Priceless in my book.

I am very pleased that you are continuing the tradition of corresponding with the fans and your generosity and loyalty as a family member to "rebuild her reputation". Personally, her reputation never suffered with me.

Here are a few minor things I have in common with Joan:

My grandmother was born in San Antonio, Texas in 1906 and I, too was born and raised in San Antonio. Additionally, my sister and brother in law live in Brentwood two streets from Joans home on Bristol. They live off of Sunset Blvd on Mandeville Canyon Road. I always take the time to drive by Joan's home several times during my visits. I was sad to see how drastic the recent renovations have changed the look of the home. I personally like the original design much better. But, as you stated, this is what happens in Los Angeles. At least the owners didn't tear it down. I have a few pictures taken of me in front of her home with the address of 426 in view. They were taken in the late 80's way before the drastic renovations. I recently moved and they are stored in a box somewhere in my home. Hopefully, the pics will resurface soon.

I was born in 1965 and was too young to know who Joan Crawford was. But, if I had been born sooner, I can guarantee I would have been a dedicated Joan Crawford fan while she was living and would love to have met and gotten to personally know her. Talk about a fans dream come true. If only...... I love old Hollywood and would have been mesmerized listening to her fascinating stories about Bette Davis, Marilyn Monroe, Clark Gable, Robert Taylor, lovers, husbands, movie making, Hollywood, Pepsi, Al Steele, and her childhood. I've got a book called "Conversations with Joan Crawford" and have read it many times. The book is very telling and every time I read it reminds me she was a tough dame and didn't put up with bs.

Nobody before, during or after compares to Crawford. She will always be in my eyes the one and only original true glamorous movie star she deserves to be remembered as. True Legend! I'm in awe everytime I see a picture of her because she was so beautiful and was blessed with perfect bone structure and the camera absolutely loved her. Again, nobody compares to Crawford. She's STILL in a league of her own.

Thank you for this wonderful website. It was such a pleasure discovering it and I will definitely visit often. Furthermore, I will stay in touch with you as I come across memories or have questions.

Thank you from a true fan,

Patrick Plumb
Houston, Texas



January 2008

Dear Patrick,

Thank you for the AWESOME letter! Welcome!

It is truly a small world. Just imagine, your grandmother and my grandmother may have known each other! Amazing! On another small world moment, my spouse was born in San Antonio.

The Joan films you mentioned are some of my favorites also. Mildred Pierce is always at the top of my list too! A Woman's Face, Letty Lynton and Possessed (the 1931 version with the love of Joan's life, Clark Gable) also top my list.

Just like you, many fans come to be exposed to Joan through Mommie Dearest. Not an all bad thing, as most fans move on like you to know Joan's real career and life through further reading and watching of her films. I think my Aunt Christina's attempt to bury her mother's name only helped to sustain Joan's staying power.

I love Conversations With Joan Crawford as well. Her quotes are priceless and show just how important her career, family and friends were to her. I highly recommend the book to anyone wanting to get an insight into Joan's life.

If you ever find those photos, please forward them to me. I would love to see them!

Thanks again for the fantastic letter and please keep in touch.

Best,
Casey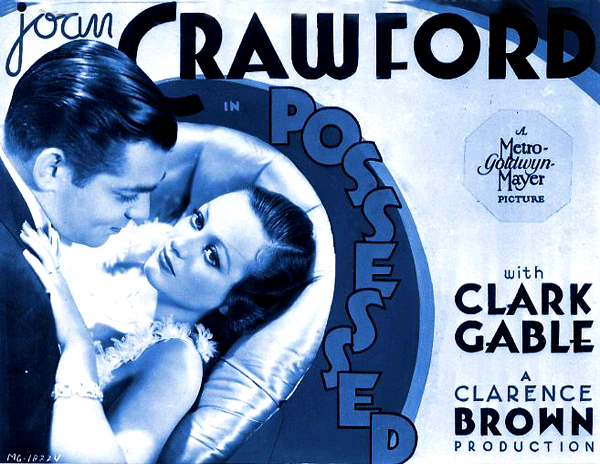 January 2008

Hi Casey,

I love Joan Crawford! What a hard working talented LADY. I was glad to see your work on restoring your grandmothers name.

I must confess that I have watched "Mommie Dearest" but could see past the yellow jounalism and still love Joan Crawford.

Where did most of her money go to?

Thanks.

David
Houston Texas



January 2008

Hi David,

Thanks for the letter and welcome to the website!

I just smile when I read "I love Joan Crawford!" Thank you for the warm comments.

I saw "Mommie Dearest" when it first came out. I was nine years old. Words can't describe how confused and shocked I was at seeing how my grandmother was depicted on screen. I recently saw the "film" again in San Francisco and as an adult, I realize now just how crazy and unbelievable it was.

Most of my grandmother's estate was donated to several notable charities, including The Muscular Dystrophy Association, The American Cancer Society and the very important Motion Picture Country Home and Hospital. The Country Home and Hospital provides medical services and a retirement home to the Hollywood film community. As you know, my grandmother cared deeply for the artists and craftspeople she worked with at the movie studios. She provided for them once again through her last will and testament.

My Aunt Cindy, my mother Cathy and several very close friends received some money after my grandmother passed away. My mother received a bulk of the remaining property.

Thanks for the letter and please write again!

Best,
Casey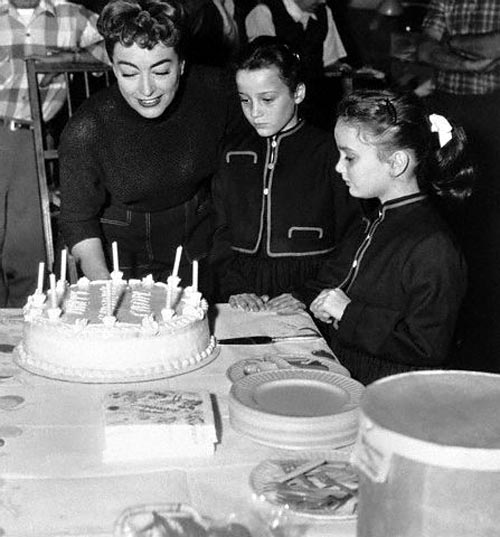 January 2008

Hi Casey.

I too, am trying to do research on a family movie star. My "mom"/aunt is the great niece of silent film actress Florence Vidor, as well as Florence Vidor's two husbands, King Vidor (director of the black and white sequences on "The Wizard of Oz") and violinst Jasha Heifetz.

Do you know if your grandmother ever met Florence, King, or Heifetz? I imagine she must have known King, as he was under contract at MGM too.

Many thanks.

Jeremy
Los Angeles



January 2008

Dear Jeremy,

Thank you very much for contacting me! Your family has quite a storied Hollywood history! King Vidor was one of the greatest early Hollywood directors and Florence Vidor appeared in fifty-eight early Hollywood films.

I want to do a bit more research, as this early period of Hollywood history fascinates me. Just imagine the new frontier in Hollywood as an entire industry and city grew up around film making! It must have been a very exciting time.

My grandmother had a bit part in King Vidor's 1925 film "Proud Flesh." I don't believe they worked together again. As the Hollywood film industry boomed in the 1920's and 30's, Hollywood appeared to be a really close-knit community. Most of those people involved in film production knew each other, so I would believe my grandmother knew King and Florence Vidor on a personal level.

But as I said, I will look into this a bit further and write you again.

Thanks again for writing and please keep in touch.

Best,
Casey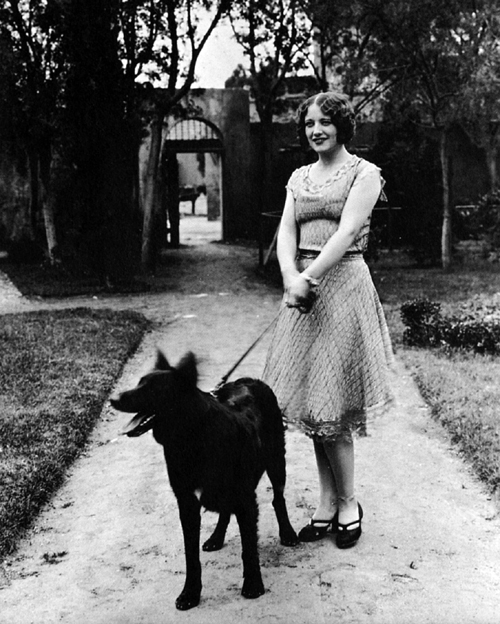 January 2008

Hello Casey,

I am a published author and I have been asked to write an article about the designers who made the stars shine. Your Grandmother has always represented a very classic classy and understated elegance to me, and I have chosen her and her love for Miriam Haskell Jewellery as one of the Stars I am highlighting. Do you know offhand, how many pieces of Haskell your Grandmother had?

I know she had one of the best collection ever owned by one woman. I am also an antique dealer and we sell Vintage Costume Jewellery. I too treasure the Haskell pieces and share your Grandmothers love for her designs. I understand that the collection was sold at auction but I cannot find any information .

I would love to hear from you, and any information at all would be delightful.

Thank you so very much.

Valerie Hammond
Canada



January 2008

Dear Valerie,

Thanks for contacting me and welcome!

My grandmother was an avid buyer of Haskell jewelry for decades. After she passed away in 1977, my mother Cathy did receive many pieces of jewelry, no doubt some of it was Haskell. Joan had a love for costume jewelry because of the amazing and intricate designs that artisans like Haskell could create.

I don't know an exact figure of Haskell designed pieces my grandmother owned, but I suggest she owned at least many dozen. Of the pieces remaining after she passed away, my mom gave my now spouse a lovely large teardrop shaped ring. It is fabulous, large and very striking. I believe it is a Haskell piece. If you want, I could photograph the piece and forward it to you.

Please keep in touch and if, I may ask, could you forward a copy of your article when complete? Thanks!

Best,
Casey
January 2008

Dear Casey,

First of all I need to say that I think it is absolutely wonderful what you're doing and I totally agree with you that Miss Joan Crawford deserves a newborn and positive reputation in the continuing 21st century. I therefore hope that your mission will attract good publicity on a larger scale; internationally.

Ive never read or seen Mommie Dearest and am not planning on it either. The attack on people after they've died, which is how I look at this piece and other biographies like it, is slightly cowardly. I cant imagine Joan Crawford being anything less than a very interesting, lovely mother and grandmother with great knowledge to learn from during her lifetime (and also after, speaking for myself), even though she was just human and theres good and evil in everyone of us. No parent will do perfect, but Im sure she was nothing of the sort your aunt Christina described.

Im a 22 years old girl, or woman - depending how you look at it, and acting has been my greatest passion the past 10 years. I am however studying to become a teacher of English in secondary education here in The Netherlands (Holland) having something to fall back upon is always smart. But I act whenever I can, often in London where the love of my life, also an actor, lives. Ive done my first feature film early last year, it was a great experience. Im amazed by a lot of the stars of back then, but mostly with your grandmother; whos intriguing face let expressions drift across it like clouds, a real film Actor. Her eyes said all. Shes a great teacher to me in terms of the craft and also in terms of her vividness as a person. I would really like to know what she would advise me to do. In other words, what you think shed advise me about the following.

My passion to become an actress is often painful and very overwhelming at times. I have to finish my degree in teaching first and after this I will have no money for further training as an actor. Also, with my boyfriend being a starting actor in London, most likely not earning a lot in the beginning, we need my job as a teacher. Ive had good training, but only short course. I know Joan hasn't had a full drama school training either. But I myself, I hope Im not sounding arrogant now, am convinced of my talent and believe I can do without a full training. What would Joan advise me to do, you think?

I hope Im not being too vaguely. I really admire you for doing this and wish you had known your grandmother longer. I wish you, your wife, your mother and your aunt Cindy all the best in this new year, 2008! And I hope you wont mind if in the future I come up with another question.. I will keep it a bit shorter then, sorry :-)

May Joan rest in peace and may the world view her again as the amazing woman she was.

All my love,

Iris Charlotte
Sneek, The Netherlands



January 2008

Dear Iris,

Thank you for the honest and heartwarming letter! I believe this is the first letter I have received from The Netherlands. Welcome!

Your comments are greatly appreciated.

It sounds like you have an exciting and fulfilling career ahead of you! You are very smart and practical to have a career to fall back to make ends meet while you get your acting career moving.

I believe my grandmother was destined to be an actress. She risked rejection and failure by taking the offer to move to Hollywood and through incredibly hard work, perseverance and sometimes sheer luck, she became one of Hollywood's most recognizable and bankable stars.

Joan wasn't professionally trained, but again, she worked incredibly hard and pushed herself to become a star. In my opinion, European cinema is much more exciting and cutting edge than Hollywood. Through your hard work and perseverance, you are sure to land acting jobs and you just might get a big break into the business!

I wish you well in your career and please keep in touch. I look forward to seeing your name on the marquee some day!

Best,
Casey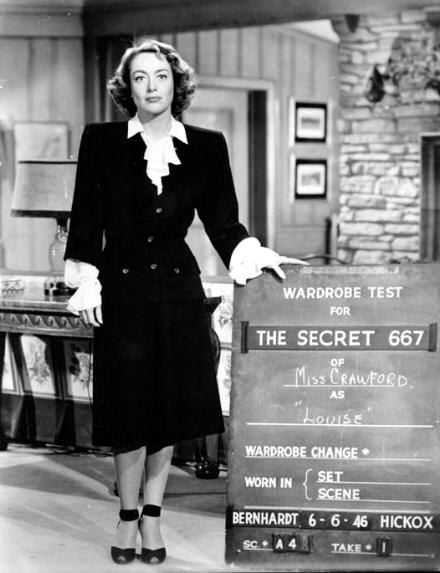 January 2008


Dear Casey,

I have been a fan of your grandmother for close to 40 years. Her work truly was wonderful. If you have not seen "Our Dancing Daughters" yet you should try and find a copy. In this film your grandmother jumps off the silent screen in a way I never thought possible.

Thank you for all you are doing to preserve the memory of your grandmother. I'm sure she would be very proud of you.

I would also like to express my sympathy to you and your family at the loss of your Aunt Cindy. It must be especially hard for your mother.

Keep up the good work.

Best regards,

Ken Mensing
Rockville Centre, New York



January 2008

Dear Ken,

Thank you for the lovely letter! Welcome.

I love "Our Dancing Daughters!" Joan really becomes a Hollywood star in this film. She has a screen presence that really became a hit with her fans at this point. "Our Modern Maidens" (1929) and "Our Blushing Brides" (1930) furthered her career and made her a household name. I have seen all three films and truly believe they catapulted her career into the stratosphere.

I am pleased to receive comments like yours on my efforts to preserve my grandmother's memory.

Thank you for the condolences.

Thanks again for the letter and please write again!

Best,
Casey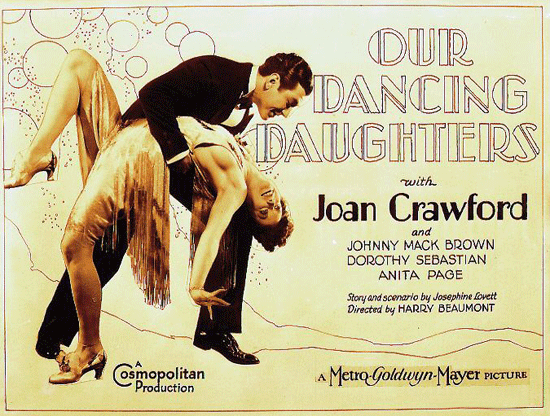 January 2008

Hello Casey,

Not so much a question as a story. I wrote your grandmother in 1960 when I was 11 as part of a class project on corresponding and letter writing. To my great surprise it got to her and she kindly answered me! Imagine how thrilled I was.

I later wrote Ann Blyth about the experience when I heard her lovely piece on TCM about working with your grandmother. Ann wrote me back, just like Joan did, and even sent a lovely autographed picture.

So, I find it difficult to believe all the Christina drama. Such a nice thing you are doing for Joan!

Peter Petraitis
Boston, MA



January 2008

Dear Peter,

Thank you for the lovely letter!

I am overjoyed to read heartwarming letters like yours. Unlike most of today's celebrities, my grandmother cared deeply for her fans. Her dedication manifested itself in the literally hundreds of thousands of fan letters she wrote during her career.

Ann Blyth's segment on Turner Classic Movies, recalling her work with Joan filming Mildred Pierce is always a treat to watch. Ann recollects very fondly on her time with Joan during filming. Furthermore, Ann recounts Joan's caring, yet professional attitude. Ann Blyth is in a class all her own!

Thanks for the great letter and please write again!

Best,
Casey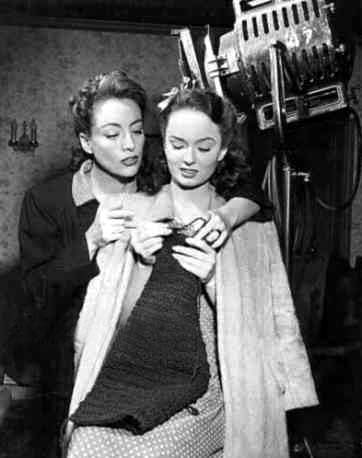 January 2008

My dad and his second wife worked for Joan Crawford. Do you have any pictures of the house men or cooks?

What a about a picture of her dog Clico or Chico?

Also, my dad said he stayed upstairs in one of the rooms. Do you have pictures of where they may have lived?

He said the house he worked at had a theater in the back. The house was in Brentwood. He meet Clark Gable and Charlie Chaplain at her house, along with others.

Thanks for your time.

Gwen Williams
Oklahoma



January 2008

Dear Gwen,

Thanks for the fabulous letter and a warm welcome!

I just love receiving letters like yours! I don't have any personal photos of any of those who worked with my grandmother or of their living quarters. Some photos exist of her Brentwood house, but they are mostly from fan magazines of the day.

I would love to hear more stories about your dad's time with Joan. First-hand knowledge is always the best! I couldn't imagine meeting Clark Gable and Charlie Chaplin in person! What a thrill and a fantastic time in Hollywood history.

If you have any more stories, I would love to hear them!

Thanks for the letter and please do write again!

Best,
Casey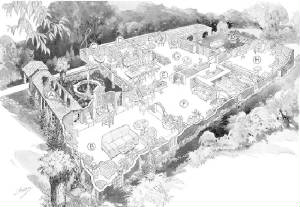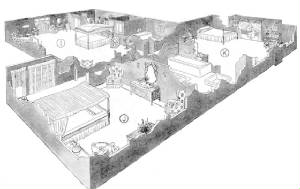 Above: Click on the photos to see larger views of the Brentwood floor plan.



January 2008

Casey,

Thank you for carrying on Joan's wonderful legend!! She truly is my favorite screen star and I own many of her films. Some on VHS and now on DVD.

One question I have is I notice that her birth year ranges anywhere from 1904 to 1908. I realize you may not know what year she was born, but I thought I would ask.

And lastly, I notice that she studied Christian Science. Does any of her family practice Christian Science today??

Terri Cole
Sarasota, FL



January 2008

Dear Terri,

Thanks for the letter and welcome!

It has been a great pleasure corresponding with my grandmother's fans from around the world.

I do believe Joan was trying (somewhat) to hide her age from the world. She always gave her age as being born in 1908. It was rather easy to conceal her age, as it is widely known that San Antonio, Texas didn't begin issuing birth certificates until 1908.

After much reading and speaking with many Joan fans, I am of the opinion that she was born in 1906. Given her age separation from Hal LeSeuer, 1906 would most likely be her correct age. Joan never cleared up the mystery, so as of today, no definitive proof of her age exists.

Joan was most definitely a devotee to Christian Science. Not Scientology, mind you. Christian Scientists believe that the Bible should be interpreted in a symbolic, as opposed to Christian Fundamentalists who believe in the literal interpretation. Joan didn't impose religion on her family, to my knowledge. None of her children practiced Christian Science.

Thanks for the great letter and please write again!

Best,
Casey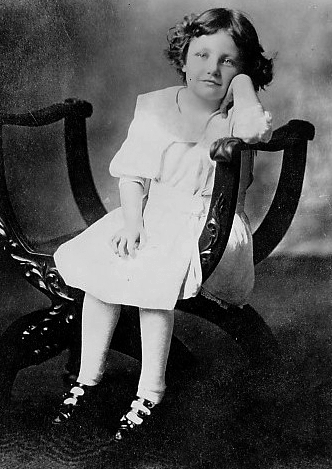 January 2008

Dear Casey,

Who's living in Joans home now?

Also I hope they are not making a complete make-over of the home. I would like to visit it one day.

Thanks for your time.

Albert LeMay Jr.
Ludlow MA.




January 2008

Dear Albert,

Thanks for the letter and welcome!

Happy New Year to you!

I will make the leap that you want to discuss Joan's fabulous house in Brentwood. I have been visiting the home periodically for many years just to check on its condition and it has gone through two complete transformations since 1999. The latest incarnation is of a Mediterranean inspired villa. I personally like the original style when my grandmother first purchased the home in 1929.

There are lots of photos of the renovated house on the Internet. Just type in "Joan Crawford Brentwood house" and see what comes up or you could check out the "Joans Homes" section on this Website. It is sad to see the house changed so drastically, but that is what happens in Los Angeles. New property owners tear down the older homes to build new, erasing much of the city's lavish history.

The latest rumor is that Leeza Gibbons owns the house, but I haven't been able to definitively confirm that information. It is a shame, because the newly renovated home really doesn't have any character.

Thanks for the letter and please write again!

Best,
Casey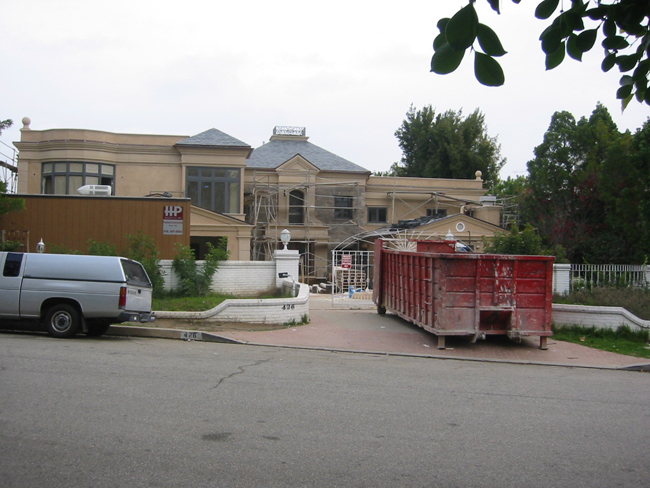 Click on the above photo to see more photos of Joan's Brentwood home, past and present!



January 2008

Does anyone know what happned to the Joan Crawford biography Karen Swenson was writing? It was supposed to end a lot of rumours about your grandmother.

Thank you,

Boris Michaluk
Winnipeg,Canada



January 2008

Dear Boris,

Thanks for the letter and Happy New Year!

I haven't read anything recent about Karen's book on Joan. I know she has been working on it for years, but nothing new to report.

Karen's last biography, Greta Garbo: A Life Apart was an excellent book and I encourage you to take a look.

Thanks for the letter and please write again!

Best,
Casey