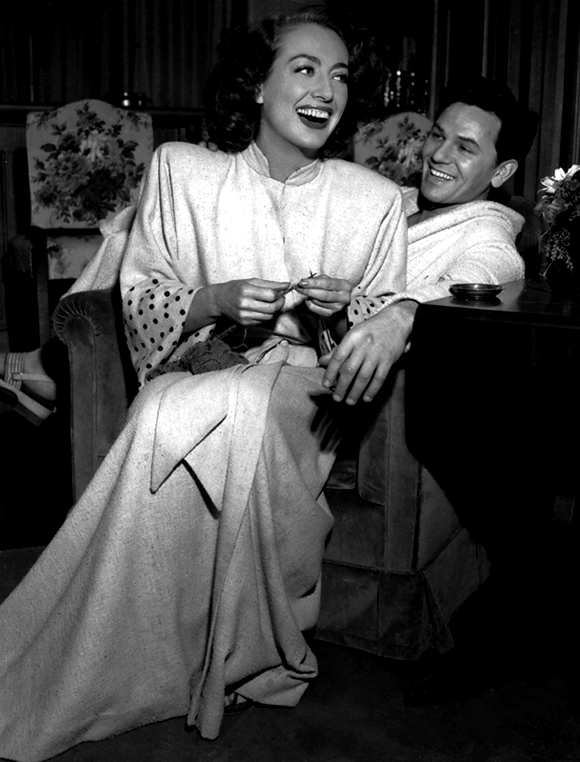 "When I finally saw it (Humoresque), it reminded me of 'Rain' and I cringed.
I overacted and overreacted in so many scenes." -Joan Crawford
"Humoresque" 1946
In Memoriam of Tony Sparacino.
This page is dedicated to Sam DeLong - a longtime Joan fan who was introduced to Joan through this wonderful film.
Cast: Joan Crawford (as Helen Wright), John Garfield, Oscar Levant, Carroll Naish, Joan Chandler, Tom D'Andrea, Peggy Knudsen, Ruth Nelson, Craig Stevens, Paul Cavanaugh, Richard Gaines, John Abbott, Bobby "Robert" Blake, Tommy Cook, Don McGuire, Fritz Leiber, Peg La Cenrta, Nestor Paiva, Richard Walsh.


Release date - December 25, 1946 (New York City Opening)

Running time - 123-124 or 126 minutes

Directed by - Jean Negulesco

Writing Credits - Zachary Gold, Fannie Hurst (short story) and Clifford Odets.

Producer - Jerry Wald

Cinematographer - Ernest Haller

Costumes - Bernard Newman, Adrian (Joan Crawford's wardrobe), Vic Vallejo. Ralph Hibbs, Jeanette Storck and Mary Deery.

Studio - Warner Brothers

Production Dates - Mid December 1945 thru mid April 1946

Academy Award - 1947 - Nominated - Best Music, Scoring of a Dramatic or Comedy Picture
- Franz Waxman

Production Code: #658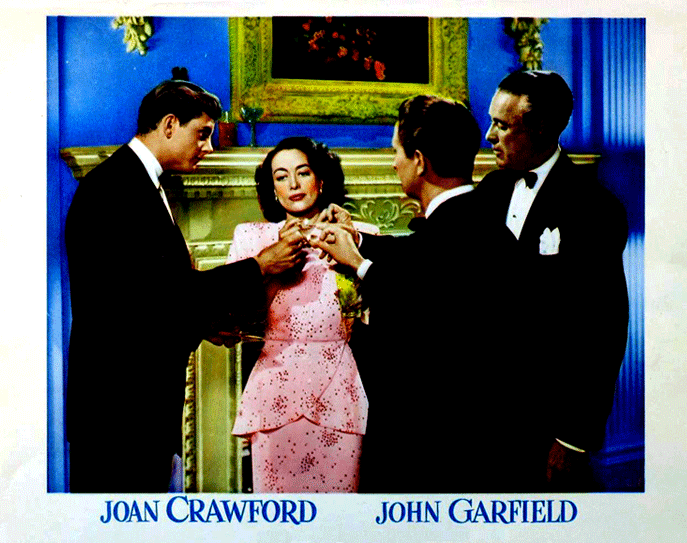 Movie Synopsis
A tragic love story and one of Joan's best dramatic performances, perhaps inspired by her win of the Best Actress Oscar for "Mildred Pierce" in the midst of the production. Helen Wright (Joan) plays a troubled society woman in a loveless but open marriage. Upon meeting gifted violinist, Paul Boray (John Garfield), her initial fascination with him stems from the fact that he shows no interest in her. With the excuse of nurturing his talent, she offers to sponsor him, introducing him to the right people and pushing his talent as a violinist to its peak.

Grateful for the success she has brought him, Paul quickly gets caught up in the world that Helen has given him To the disapproval of his family they become lovers. Turning his back on his modest roots, he continues his relationship with Helen and rises to the pinnacle of his music career, becoming a concert violinist. With Helen's help, Paul has become all he could be, but Helen's jealousy takes over and she now feels his music is her greatest rival.

When Paul makes it clear that his music is first and foremost over anything, including her, she pursues a new love affair, with alcohol. Realizing her lover isn't willing to give up his love of music for her, she decides to end it all by taking that very memorable walk into the ocean. The flawless musical score throughout the film help lift "Humoresque" to one of the finer examples of classic Hollywood movie making of times past. Joan's tortured performance of Helen Wright could arguably be the best of her career.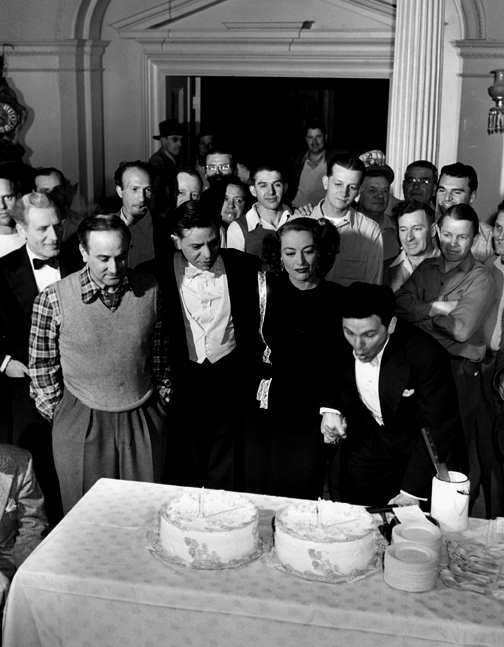 Interesting Trivia
John Garfield's violin "performances" were actually dubbed by acclaimed violinist Isaac Stern. A trained violinists arm was passed through Grafield's coat sleeve so the fingering would look correct, whilst at the same time, another violinist crouched behind Garfield took care of the bow work. This very cramped method of movie trickery, made for such an authentic look, that Garfield was asked to play the violin time and time again, long after the film was made.

"Humoresque" is a remake of the 1920 film of the same name. The original title of this 1946 version was, "Rhapsody In Blue."

Despite their on screen chemistry and box office success, "Humoresque" was the only time John Garfield and Joan were teamed together. His long term heart problems and untimely death at age 39, in 1952, saw the biggest attendance at a movie stars' funeral since silent screen heartthrob, Rudolph Valentino.

Child star Bobby Blake, who appeared in this film, was brought up on charges, in 2001, for the murder of his wife Bonnie Bakley. Admittedly having married Bakley through the coercion of her pregnancy, a routine Bakley had apparently tried with various other celebrities, Blake made no denial of his distaste for the woman, but was by all accounts thrilled with the daughter born to them. Blake was arrested for his wife's murder, but the presumption of innocence trumped what jurors believed to be flimsy evidence, and Blake was acquitted in a trial which made worldwide headlines. Reportedly broke from legal costs, Blake indicated hopefulness that he might be allowed to return to acting work.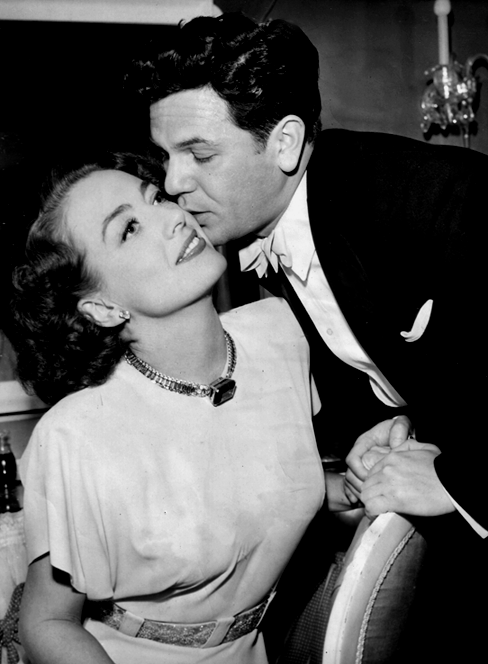 Music: "Humoresque in G-flat Major" (Opus 101) by Antonín Dvorák; selections from the opera Carmen , music by Georges Bizet; "Liebestod" from the opera Tristan and Isolde by Richard Wagner; "Zigeunerweisen" by Pablo Sarasate; selections from Violin Concerto in E Minor by Felix Mendelssohn; Violin Concerto in D Major by Peter Ilyich Tchaikovsky; Violin Concerto in D Major, Op. 22 by Henryk Wieniawski; Sonata for Piano and Violin in A Major by César Franck, Symphonie Espagnole by Édouard Lalo; Piano Concerto in A Major by Edvard Grieg; Piano Concerto by Sergei Prokofiev; Polka by Dmitri Shostakovich; Waltz in A-flat Major by Johannes Brahms; Sonata in G Minor by Johann Sebastian Bach.


Songs: "Embraceable You," music by George Gershwin, lyrics by Ira Gershwin; "What Is This Thing Called Love?" and "You Do Something to Me," music and lyrics by Cole Porter.


Taglines: TWO WHO MET AND KISSED AND NEVER SHOULD HAVE MET AGAIN!

THE NEW WARNERS ACHIEVEMENT - One Of The Greatest Of Them All!

"MILDRED PIERCE" DOES IT AGAIN! LAST YEAR'S ACADEMY AWARD STARS IN THIS YEAR'S ENTERTAINMENT TRIUMPH!


Joan's salary was $167,000.


Top Grossing Film Position for 1946: #46 out of 75 films.


Box Office Receipts: $2.6 million.


Inflation Value in 2008: $28,225,733.33.
Photos
Click on images below to see a larger view.
Movie Posters/Lobby Cards etc...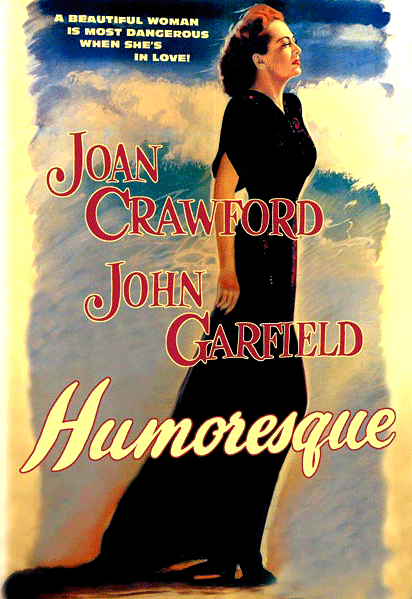 Fan Reviews/Comments
Joan's grandson, Casey LaLonde, says...
The second of Joan Crawford's initial three films at Warner Bros. was the excellent Humoresque. As with Mildred Pierce, Joan shows her talent playing a mature woman attempting to seduce a younger man, Paul Boray, played wonderfully by John Garfield. This is just a great film, with the ambitious and likable John Garfield playing against a slightly dark and foreboding Joan Crawford.
Reviewer, Chris Morris, says...
Love triangulated. Artist, patron, and art. Exponentially intensified by time itself. Not only by the noteworthy margin of years between two lovers but the time it takes for an anxious foreground to frame the dormancy of beyond. Like attempting to combine Cubism with Futurism. Balancing, for example, the timelessly STILL life of a Braque about which we endlessly move, and Duchamp's descending nude which we timelessly watch from an offsetting stasis. To posit a permanent now, where relativity's gravity and light are married as one. Grand unification.

Joan Crawford herself had personally asked me what had been my favorite movie of ALL time. She had already known the answer because I had told her often that it was "Humoresque" (still is). But she just wanted to hear it one more time. Only this time I'd do it better: "Miss Crawford, the movie's a Capricorn, just like me; born two-days shy of exactly six years before me; I'm Garfield's virtuoso artist: "The Great Paul Boray"; you're my drop-dead-bombshell-gorgeous patron (Helen Wright); we're madly in love; only THIS time don't tortuously challenge my mantra of Wagner's "Liebestod"; and if you need to take a dip, don't forget to take off your gawdam clothes for crisis sake!"

But like the felled tree in an empty woods, could Boray's passion be heard if love's equivalent ominously tests their death-do-they-part? Why not heaven-sent perfection as in an Italian Renaissance "Annunciation" where the Angel Gabriel, Virgin Mary, and God's glory are that evenly matched triumvirate? Each answering to a different vertex; no problem. But alas, music can't love back! Humoresque's answer for the tragic lovers doesn't get any clearer threetween: Garfield's virtuosity passionately peaked; Crawford's overwhelmingly piqued; music's unequivocally the winner to thunderous applause.

Miss Crawford no doubt admired my dream's safety net for grander unification where love could transcendently evolve -- not fatally stemmed -- so that Garfield/Crawford, Siren/Ulysses, teacher/student, artist/model, and especially MovieStar/fan CAN truly love, where neither knows who's luckier. But when she truly died, "Humoresque" had sadly trumped my dream. But like Garfield's violin, mine was never ransomed for her love. The art she so inspired me to keep seamlessly keeps me loving her and hers. And every time I see "Humoresque," gravity and light are but one. Like two islands having beneath them a single continent. Or what's heard in a hand-held conch shell. A synchronicity between something both local and universally at large. Like the sand in Paul Boray's shoes and the stardust from which Joan's art forever blankets our dreamy nights.
Reviewer, Danny Fortune, says...
This one always frustrates me because the first 25 minutes are so boring until Joan finally makes her appearance during the party scene.

She plays Helen Wright, a rich society lush in love with a tough-guy violin player, Paul Boray (John Garfield), who is in love with his music. Fine support is offered by Paul's parents played by Ruth Nelson and the fabulous chameleon-like character actor, J. Carroll Nash. Oscar Levant is the sarcastic, wisecracking piano player, who plays his part to the verge of annoyance. The scenes between Paul and his mother are very intriguing in their complexity. I like the way his mother conveys her objection to Helen:"There's something wrong with a woman like that!" she laments. Those scenes ring true for me. But the highly anticipated confrontation scene between the old lady and Helen ends much too abruptly, with no resolution.

Then comes the concert! That famous Crawford puss goes to work in the close-up. She visually looks as though she is having an orgasm as she watches him play, with her eyes closed and her mouth open. It's so sensual. Joan never looked better, especially in all those black, tailored dresses she wears.

But I always wonder why the supposed near-sighted Helen isn't wearing her glasses in that scene, unless she's afraid her sultry look would steam them up. Anyway, the glasses seem to be a metaphor for her character's near-sightedness in not being able to see that Paul's music comes first.

Lastly, we get one of the most romantic suicide scenes in celluloid history. Joan walks into the ocean and drowns to the strains of Tristan and Isolde as her lover performs a concert on the radio. As far as I know this is the only movie where Joan Crawford dies at the end.

The only thing that bothers me about the violin scenes---which are very good---is that I keep imagining Isaac Stern standing behind Garfield with his arms wrapped tightly around him and manipulating his instrument.

I'd love to have seen those rehearsals.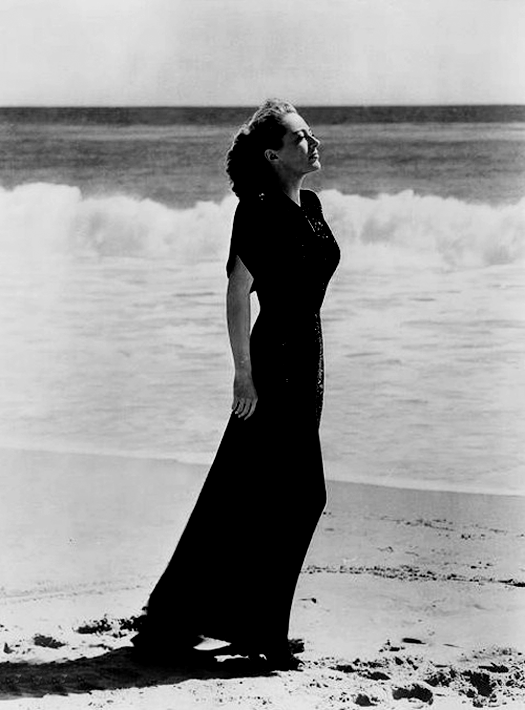 Reviewer, dkeithhunt67, says...
I own the VHS to this movie. I don't know how many times I have watched it. I always know how it's going to end but I enjoy the journey getting there. I am a classical music fan (especially the violin, it does pull at the heart strings) and incorporating it into this Crawford flick made the movie fantastic. When you finally see Joan from afar (the backside) and she she turns around for the closeup at the party my heart melted. I think this is one of the movies that she looked her best in the 40's. Hot is all I can give. Her acting is perfect and on the dot. This film, another Warner's production, lets the actress repeat a realism that was seen in "Mildred Pierce." However, I think she kicks it up a notch. Her emotions are raw and convincing. Her jealousy is something everyone can relate to. Her love is so real. One wonders if she's actually acting at all. When the music provided by her love interest (on a stage somewhere in the city) goes to a fever pitch near the end and her wandering off to the beach, the scenes are neatly intertwined. When she takes that fateful walk into the ocean, it's hard to tell if it's her actions or the music that makes your heart race. One can't help but shed more than a few tears when her love interest is finishing up the solo. When he plays those final notes he doesn't know that his dramatic exit of the piece is coinciding with her death. But as the viewer you do.

I remember the first time I saw this my partner and I were both sobbing. We almost didn't care what happened after that point. The movie was over for us. We were too busy blowing our noses and playing that dramatic scene all over in our heads and talking about it. Joan deserved an Oscar nomination for this film. It was a powerful and doomed character.

All I can say is "wow'! If you want to see a character so real and pitifully desperate for love you need to see this movie. It's a tour de force. I don't think I have felt so sorry for one movie character as I did this one.

4 stars!
Reviewer, babyc225, says...
I thought this was a very great movie. It made me cry at the end of it. I was really shocked at the ending, but I must say, I was really surprised I liked it. I thought this movie was one of Joan's best.
Reviewer, muryniak20, says...
Undoubtably Joan's most phenomenally perfect performance. Looking her most divine, from the moment Joan appears, she owns the film. John who? Garfield does his best and is expertly matched opposite Joan, but the fact remains THIS IS HER PICTURE. Although it is wonderful that she won the Academy Award for Mildred Pierce, she deserved another for this one. Exceedingly divine. Necessary viewing for any Joan Crawford fan.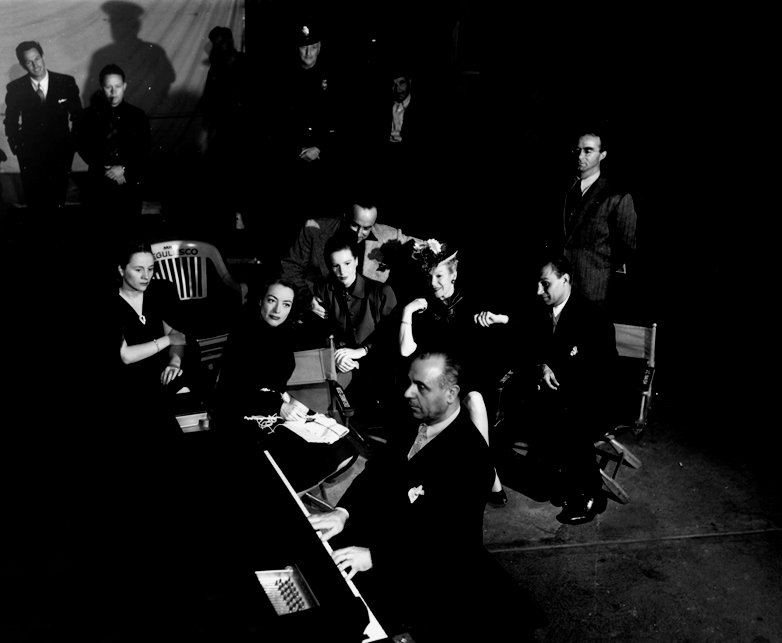 Other Reviews
Hal Erickson in the All Movie Guide had this to say,... "The ultrastylish suffering of Joan Crawford and the street-punk insouciance of John Garfield (who looks like a "Dead End Kid" even while wearing a tux) is counterpointed by the phlegmatic comedy relief of Oscar Levant. Together with Mildred Pierce, Humoresque is the best of the Warner Bros. Joan Crawford vehicles."

Lawrence J. Quirk in Screen Stars had this to say,... "I suspect that Crawford attained an extra dimension of romantic lyricism and dramatic sincerity in this because it was made at the time she received her Oscar for Mildred Pierce, and, for the first time truly confident of her powers, and inwardly fortified by the acclamation of her peers, she strode through the role with a grand self-confidence and a sweeping grasp of the part's emotional possibilities. A glamorous role for Crawford, a glamorous picture..."
If you have seen this movie, please write a review below. Once your review is submitted, I will post the review below. Thank you for your review on this film.
Click on the decades below to browse movies.