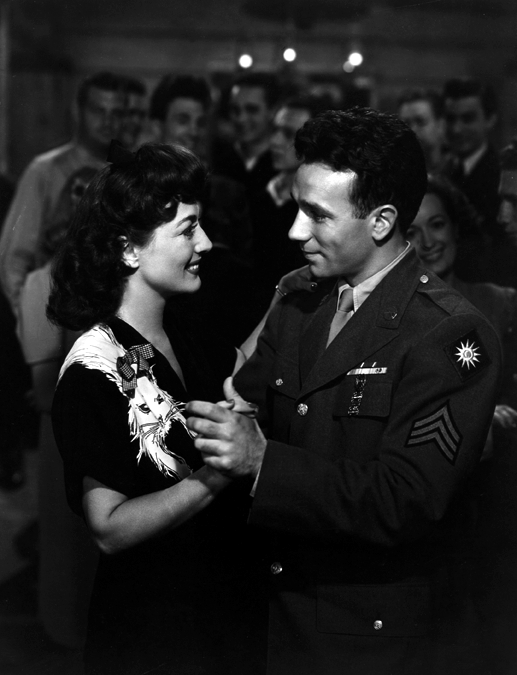 "A very pleasant pile of shit for the wartime audience, but forget I even appeared in it.
I don't think I did." - Joan Crawford
"Hollywood Canteen" 1944
Main Cast: Joan Leslie, Robert Hutton, Dane Clark, Janis Paige. Guest stars include: the Andrews Sisters, Jack Benny, Joe E. Brown, Eddie Cantor, Kitty Carlisle, Jack Carson, Joan Crawford (as herself), Bette Davis, John Garfield, Sydney Greenstreet, Paul Henreid, Peter Lorre, Ida Lupino, Irene Manning, Joan McCracken, Dennis Morgan, Eleanor Parker, Roy Rogers and Trigger, Barbara Stanwyck, Jane Wyman.


Release date - December 15, 1944 (New York Opening)

Running time - 124 or 126 minutes

Directed by - Delmer Daves

Writing Credits - Delmer Daves

Producer - Alex Gottlieb

Cinematographer - Bert Glennon

Costumes - Milo Anderson, Leon Roberts and Martha Giddings

Studio - Warner Brothers / First National Pictures

Production Dates - June 5 thru August 31, 1944

Production Code: #617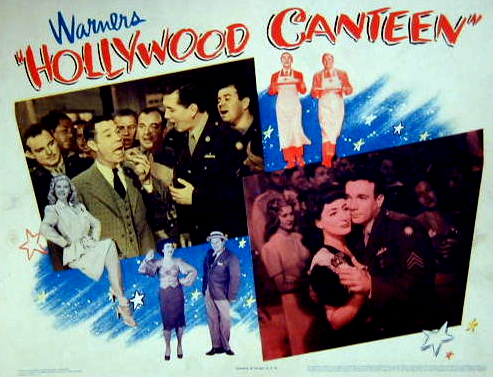 Movie Synopsis
An all star cast turn out to support the war effort, and just happen to star in a film, (as themselves), at the same time. Two soldiers on sick leave spend three nights at the Hollywood Canteen before going back to active duty. Slim (Robert Hutton) is the lucky one millionth soldier to enter the canteen, his prize? A date with his dream girl, Joan Leslie. Slim's buddy Sergant (Dane Clark) dances with Joan Crawford and Canteen President Bette Davis praises the canteen for it's part in the war effort. A pleasant enough documentary type film all rolled into one. If for no other reason, it's fun to play spot the star!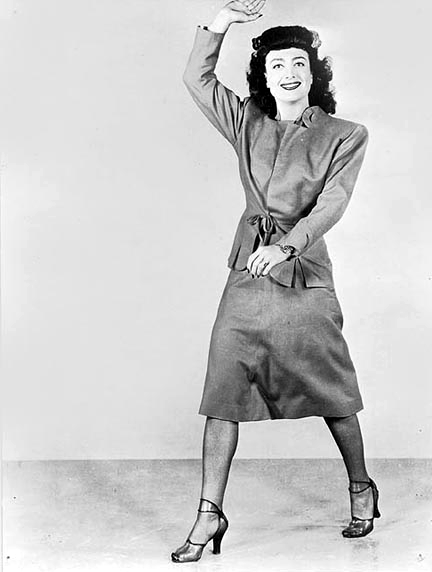 Interesting Trivia
The real Hollywood Canteen was started by John Garfield, Canteen vice-president, and Bette Davis, president. Located on Cahuenga Blvd. near Sunset Blvd. in Hollywood, CA, it opened on October 3, 1942. [www.afi.com].

Despite both Joan and Bette Davis appearing in the film, they shared no screen time together.

Music: "The Bee" by Franz Schubert; "Souvenir," composer undetermined.

Songs: "Don't Fence Me In," music and lyrics by Cole Porter; "Sweet Dreams Sweetheart," music and lyrics by Ted Koehler and M. K. Jerome; "You Can Always Tell a Yank," music and lyrics by E. Y. Harburg and Burton Lane; "We're Having a Baby," music and lyrics by Harold Adamson and Vernon Duke; "What Are You Doing the Rest of Your Life," music and lyrics by Ted Koehler and Burton Lane; "The General Jumped at Dawn," music and lyrics by Larry Neill and Jim Mundy; "Getting Corns for My Country," music and lyrics by Jean Barry, Leah Worth and Dick Charles; "Voodoo Moon," music and lyrics by Obdulio Morales, Julio Blanco and Marion Sunshine; "Tumbling Tumbleweeds," music and lyrics by Bob Nolan.


Academy Award - 1945 - Nominated - Best Music, Scoring of a Musical Picture - Ray Heindorf

Academy Award - 1945 - Nominated - Best Music, Song - M.K. Jerome (music), Ted Koehler (lyrics), for the song "Sweet Dreams Sweetheart".

Academy Award - 1945 - Nominated - Best Sound, Recording - Nathan Levinson


Cost: $2,126m./Domestic Studio Gross: $3,831m./Foreign Studio Gross: $1,621m./ Profit: $5,452m.


Box Office Receipts: $5,452,000


Inflation Value in 2008: $67,106,685.45
Photos
Click on images below to see a larger view.
Movie Posters/Lobby Cards etc...
Fan Reviews/Comments
Reviewer, angelsunchained, says...
Hollywood Canteen was made in 1944 as World War II was hitting it's peak. This star-studded film, captures a time now long gone-the glamor which was Hollywood.

Robert Hutton plays Corporal Slim Green. A purple-heart winner on a one week leave in Hollywood, California. After catching the local sights, he goes to the Hollywoodcanteen for servicemen in the hopes of meeting his dream girl, Joan Leslie. The innocence of this romance is a real trip down memory lane; when a kiss, a gentle touch, and a starry-eyed stare meant everything.

Dane Clark as Hutton's sidekick from New York, Sgt. Nolan, steals the show. Clark is at his finest, as the wounded buddy trying his best to find a girl of his own. He finally does in the stunningly beautiful Janis Paige. As Angela, Paige is witty, sexy, and sets the screen ablaze.

The farewell ending at the train station (re-acted in the 1979 Richard Gere film, YANKS), is one of the most moving and romantic in screen history.

An enjoyable, upbeat, romantic, and entertaining movie.
Other Reviews
Variety had this to say, "There isn't a marquee big enough to hold all the names in this one, so how can it miss? Besides, it's basically solid. It has story, cohesion, and heart. That's not a bad parlay, either."

Kate Cameron of the New York Daily News said, "It is an elaborate show, but it is presented by author-director Delmer Daves in such a patronizing manner as to make one blush for its complete lack of reserve in singing the praises of Hollywood. The players in the picture seem constantly awed by their own gracious and hospitable entertainment of the servicemen."
If you have seen this movie, please write a review below. Once your review is submitted, I will post the review below. Thank you for your review on this film.
Click on the decades below to browse movies.