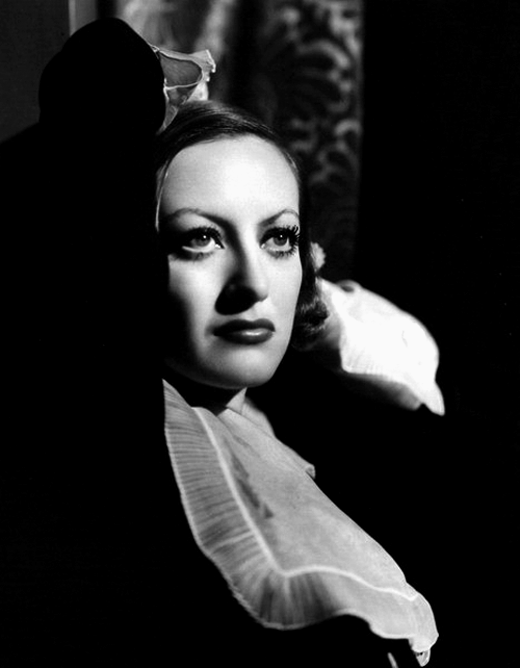 "Little Joan was called upon to match Garbo, Beery and the Barrymore's
and she came off smelling like a rose." - Joan Crawford
"Grand Hotel" 1932
This page is dedicated to Patrick Lentz.
Cast: Greta Garbo, Joan Crawford (as Flaemmchen), Wallace Berry, John Barrymore, Lionel Barrymore, Lewis Stone, Jean Hersholt, Robert McWade, Purnell Pratt, Ferdinand Gottschalk, Rafaela Ottiano, Morgan Wallace, Tully Marshall, Frank Conroy, Murray Kinnell, Edwin Maxwell.


Release date - April 12, 1932 (premiere) - Nationwide release - September 11, 1932

Running time - 96 minutes (12 reels)

Directed by - Edmund Goulding

Writing Credits - Based on the novel Menschen im Hotel by Vicki Baum (Berlin, 1929)
and her play of the same name (Berlin, February, 1930) as adapted in English under the title
Grand Hotel by William A. Drake (New York, November 13, 1930).

Producer(s) - Paul Bern and Irving Thalberg

Cinematographer - William H. Daniels

Costumes - Adrian

Studio - MGM

Production dates - Mid December 1931 thru February 18, 1932

Academy Award - 1932 - Won - Best Picture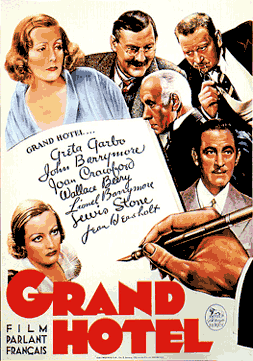 Movie Synopsis
An entertaining film, with an all-star cast, surrounding the comings and goings of the guests of Berlins most lavish hotel - "Grand Hotel" - The story unfolds over two nights, we see people falling in love, falling out of love, getting drunk, there's even a master jewel thief concocting a plan to steal a string of pearls, only to steal the heart of the owner instead.

Dr. Otternschlag (Lewis Stone), a resident at the Grand Hotel, Berlin's most expensive hotel, observes that life at the hotel is "always the same. People come--people go, nothing ever happens." Guests check in, share parts of their lives with one another and then leave. One such guest is Grusinskaya (Greta Garbo), a beautiful Russian ballet dancer who knows that her popularity is waning and complains that everything in her life has become "threadbare." Grusinskaya's stay at the hotel becomes greatly affected by her acquaintance with Baron Felix Benvenuto Frihern Von Gaigern (John Barrymore), a charming hotel thief who plans to steal her pearls.

Another guest, ailing bookkeeper Otto Kringelein (Lionel Barrymore), has been told that he has only a short time to live and is intent on spending his last days in the grandest style possible. Kringelein's intentions, however, are thwarted by the presence of his inimical boss, textile magnate General Director Preysing (Wallace Beery), who is in Berlin to make an important business deal. When the baron meets Flaemmchen (Joan) , Preysing's stenographer, they flirt and make make plans to attend the hotel dance together. The baron then goes to his room, where he waits for Grusinskaya to depart for the theater. The baron enters Grusinskaya's room through her balcony and quickly finds the pearls, but is forced to hide when he hears someone at the door. Grusinskaya, who has returned from the theater after refusing to perform, calls Pimenov (Ferdinand Gottschalk), the ballet master, and learns that her presence was missed by no one.

Left alone, the depressed Grusinskaya is about to kill herself when the baron emerges and tells her that he is a great admirer of her talent and professes his love for her. After they make plans to leave for Vienna and start their lives over, they spend the night making love. The following day, Preysing negotiates a dishonest business deal and goes to the hotel's Yellow Room for a drink. There, he tries to steal Flaemmchen away from her conversation with the lonely Kringelein, which results in a bitter argument between Kringelein and Preysing.

Later, when Flaemmchen realizes that she has been spurned by the baron, she accepts Preysing's offer to travel with him. The baron, meanwhile, tries to quit the hotel robbery racket, but is forced to continue stealing in order to pay his debt. Kringelein offers the baron money, but he refuses it and instead organizes a card game with Kringelein and some other men in the hope that he can win enough money to settle his debt. The baron soon loses all of his money, while the drunken Kringelein wins easily. When Kringelein collapses from over-excitement, the baron steals his wallet, but then returns it when he sees how upset it has made the bookkeeper.

Later that night, while Grusinskaya places a call to the baron in his room, Preysing catches him trying to steal his wallet and kills him with a telephone receiver. Horrified at the sight of the murdered baron, Flaemmchen runs to Kringelein for help, and he, despite Preysing's pleadings, calls the police and turns Preysing in. The baron's body is removed the next morning and Preysing is arrested. After Flaemmchen accepts Kringelein's invitation to travel and live with him, they depart for Paris, certain that they will find another Grand Hotel there. Meanwhile, Grusinskaya's maid shields the departing dancer from the news of the baron's death and assures her that he will meet her at the train station. Grusinskaya, ignorant of the truth and certain of her happy future with the baron, is whisked through the lobby of the hotel to her car. After all that, Dr. Otternschlag blurts out that famous line,"People come, people go. Nothing ever happens."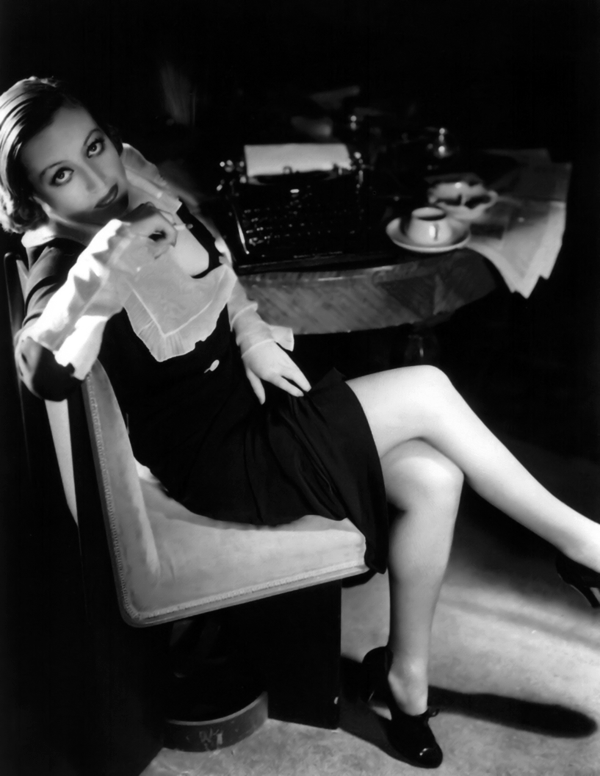 Interesting Trivia
Joan and Greta Garbo aren't seen together in the same frame was a purposeful plan in order to avoid one actress from upstaging the other. Greta Garbo insisted on top billing which infuriated Joan to the point of exacting a little revenge of her own during production. Knowing that Greta Garbo hated tardiness and Marlene Dietrich on an equal level, Joan made it a habit of arriving late on set, and in between scenes, she would play Marlene Dietrich records - loudly! [Joan Crawford:The Essential Biography, Lawrence Quirk and William Schoell, University Press of Kentucky, 2002].

At the film's premiere, the crowd became excited at the sight of Greta Garbo but it was actually actor Wallace Beery in drag.

According to a March 1932 New York Times article, author and playwright Vicki Baum based Menschen im Hotel both on a true story about a scandal at a hotel involving a stenographer and an industrial magnate, and on her own experiences working as a chambermaid at two well-known Berlin hotels. The first American stage version of Baum's Menschen im Hotel, entitled Grand Hotel , starred Eugenie Leontovich as Grusinskaya and Sigfried Rumann as Preysing. According to the Variety review of the film, M-G-M financed the stage production of Grand Hotel and in return acquired the film rights to the play for $35,000. Although Hollywood Reporter production charts and a New York Times news item credited Hans Kraly with preparing the script "with the assistance and supervision of Vicki Baum," his contribution to the final film has not been determined.

HR pre-production news items announced Clark Gable, Jimmy Durante, George E. Stone and Buster Keaton as the male leads. According to modern sources, Keaton was slated to play "Otto Kringelein." Although HR production charts list actors Otto Matieson, Kathryn Crawford and Ruth Selwyn in the cast, their appearance in the released film has not been confirmed. HR pre-production news items also noted that Greta Garbo initially refused to play the part of the dancer.

Modern sources list actors John Davidson (Hotel manager) and Sam McDaniel (Bartender) in the cast. A HR pre-release news item notes that guests and visitors were barred from the set during the filming of John Barrymore's death scene. M-G-M publicity material indicates that Garbo rehearsed her romantic scenes under red floodlights to provide her with inspiration, and that two hundred pairs of woolen socks were worn out daily during the filming of the busy lobby scenes. The socks were worn on the outside of the actors' shoes to prevent noise.

Following the New York opening of Grand Hotel, New York Herald drama critic George Nathan called the film "dull to the point of complete enervation," and accused Lionel Barrymore of "[looking upon] Hollywood as a mere golden sewer from which to fish up some easy, if aesthetically tainted, manna." Nathan also said that Garbo was "one of the drollest acting frauds ever press-agented into Hollywood histrionic eminence." Garbo's famous line, "I want to be alone," is spoken in the fourth reel of the film. For reasons unknown, the NYT review neglected to include starring actor Lewis Stone's name in the cast list. Both the Moving Picture Herald and NYT reviews allude to a "gruesome" scene in the picture, which both reviewers agreed should be cut before the film's release. The exact content of the scene in unknown.

Grand Hotel received the 1932 Academy Award for Best Picture. It was also voted as the best directed, best written and best acted picture of the year by the HR poll of national film critics, and was voted best picture by both the HR and Film Daily poll.

According to an unidentified source in the AMPAS files, art director Cedric Gibbons was assisted by Edwin B. Willis and Alexander Toluboff. Modern sources indicate that the film was produced and distributed at a cost of $700,000, and was initially perceived as a John Gilbert vehicle. A biography of the Barrymore family notes that M-G-M production head Thalberg decided against Gilbert following the failure of his first three sound pictures. The Barrymore biography also notes that Wallace Beery, "protective of his lovable-brute image," initially rejected his "Preysing" assignment, but eventually accepted the role when Thalberg assured him that his character would be the only main character in the film with a German accent. In a filmography in the biographical film for Edgar G. Ulmer at the AMPAS Library, he is listed as production designer for this film and as the director of German and French versions. As no information has been located concerning any foreign-language versions of this film, it is possible that the versions in questioned were dubbed versions.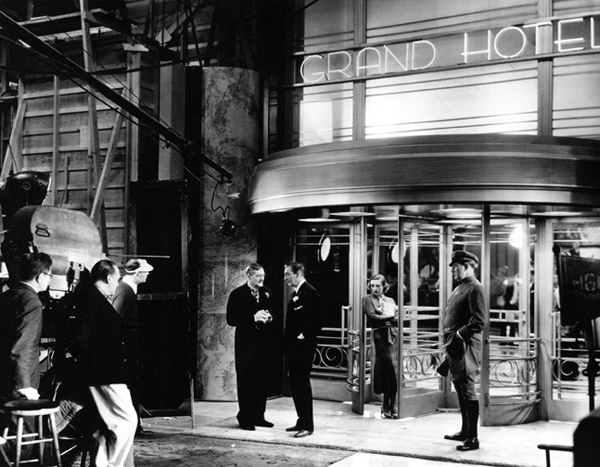 The file for the film in the MPAA/PCA Collection at the AMPAS Library contains an AMPP memo, dated November 27 1931, in which Lamar Trotti, an AMPP official, wrote that the synopsis contained only one scene that offered "much occasion for worry." Trotti called the scene in which the dancer "flings herself into a bath, comes out stark naked and is seen from the Baron from behind curtains...wholly unnecessary." In January 1932, Jason S. Joy, another AMPP official, told Thalberg that there were two scenes that required "the most delicate handling" possible: the scene in which "The Baron" remains in "Grusinskaya's" room all night, and "the scene in Preysing's room when Flaemmchen visits him." Joy also objected to scenes involving "drinking, dancing women" and references to childbirth. When M-G-M submitted the film for reissue certification in 1936, the PCA suggested a number of eliminations, including "dialogue concerning reference to the mating practices of dogs"; "Grusinskaya" exiting a room dressed in white; references to "Flaemmchen's" figure; "Preysing" snoring; and the entire scene of "Preysing hitting Baron on the head and knocking him down and killing him."

Grand Hotel was spoofed in the 1934 Reliance film Transatlantic Merry-Go-Round in which Jack Benny impersonates John Barrymore and Nancy Carroll imitates Greta Garbo in a mock radio parody of the film. The film was also spoofed in a 1933 Vitaphone two-reel musical burlesque entitled Nothing Ever Happens, directed by Roy Mack. The title of that film was taken from the closing line of this film, spoken by Lewis Stone: "Grand Hotel, always the same. People come--people go, nothing ever happens." The delivery of Garbo's line, "I want to be alone," was spoofed in the 1932 M-G-M film Blondie of the Follies by Marion Davies, while Jimmy Durante imitated John Barrymore in the same film. A 1945 M-G-M remake of Grand Hotel, entitled Weekend at the Waldorf, was directed by Robert Z. Leonard and starred Ginger Rogers, Lana Turner, Walter Pidgeon, Van Johnson and Edward Arnold. A 1959 German version of Grand Hotel , entitled Menschen im Hotel , was directed by Gottfried Reinhardt and starred O. W. Fischer and Michele Morgan.

On November 12, 1989, the Broadway musical Grand Hotel, opened at the Martin Beck Theater in New York. The musical, which was adapted and choreographed by Tommy Tune, starred Liliane Montevecchi and Karen Akers. Hotel Berlin, a 1945 Warner Bros. film, was based on Vicki Baum's novel of the same name and concerned characters in a hotel during the decline of Nazi Germany.

Filming was delayed on numerous occasions when actor Lionel Barrymore's fake mustache fell off and cast and crew members would search for it. Despite this mishap, the film was shot in 49 days, cost $700,000 and made a profit of $947,000. Grand Hotel is the only Best Picture Oscar winner not to be nominated for any other Academy Award.

Tagline: "Thank The Stars For A Great Entertainment!"

Movie Mistakes: As the drunken Mr. Kringelein slams his door shut, the fake movie wall visible shakes.

Continuity: At the end of the scene in which the Baron asks Flaemmchen for a date, he moves from behind her left shoulder to behind her right shoulder - twice!

Joan's salary was $3,500 per week.


Cost: $700K/Domestic Studio Gross: $1,235m./Foreign Studio Gross: $1,359m./ Profit:$947K


Box Office Receipts: $2.9 million.


Inflation Value in 2007: $44,092,489.05.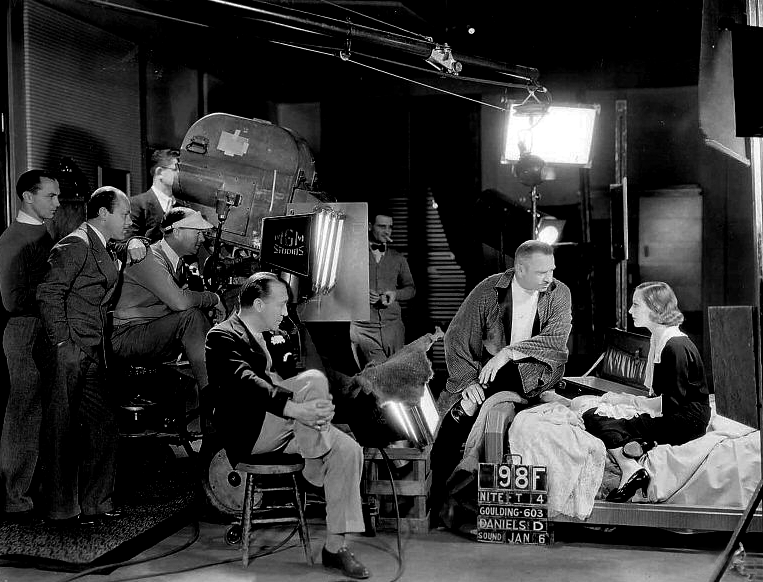 Photos
Click on images below to see a larger view.
Movie Posters/Lobby Cards etc...
Fan Reviews/Comments
Joan Crawford's Grandson, Casey Lalonde, says...
"This wonderful ensemble drama showcases the talents of John Barrymore, Lionel Barrymore, Greta Garbo, Wallace Beery, Lewis Stone and Joan Crawford. The film deservedly won the 1932 Best Picture Oscar©. Although deliberately planned by the studio, it is disappointing not to have Crawford and Garbo appear in any scenes together. Next to The Women this is my favorite Joan Crawford ensemble film."
Reviewer, The_Singing_Cricket, says...
More than 70 years later and it stood the test of time. Edmund Goulding directs the movie which starts at a slower pace but towards as things proceed, pace picks up. Greta Garbo was definitely the star of the time but here she's quite a drama queen. It's Joan Crawford who gives the best performance (and has a more fleshed out role than Garbo). The actress indeed has a stronger presence than Garbo and she's simply terrific. Lionel Barrymore and John Barrymore are equally impressive. Lionel is particularly good in balancing his characters tragedy and comedy. The supporting cast is adequate.

The cinematography is amazing as it gives us a marvelous glare of the grandness of the Grand Hotel, the overhead shot of the operators who're connecting the incoming calls, and then focussing on the different characters who're all either desperate for money, happiness or nothing (as they are satisfied with what they have e.g. the head hotel clerk). Everyone is shown to be busy with their own individual life and this is further stressed on in the final scene.

In addition to that, the set designs are spectacular reflecting the indifferent atmosphere and the beauty of the hotel. The reference to the War is also put in a very subtle way (as the film was made in the 30s) through the Baron's story and the scar on the doctor's face. Some might be bored in the beginning (due to the slow pace) but just bear with it, the film does get better and one will indeed understand why it stood the test of time. A grand classic it is indeed!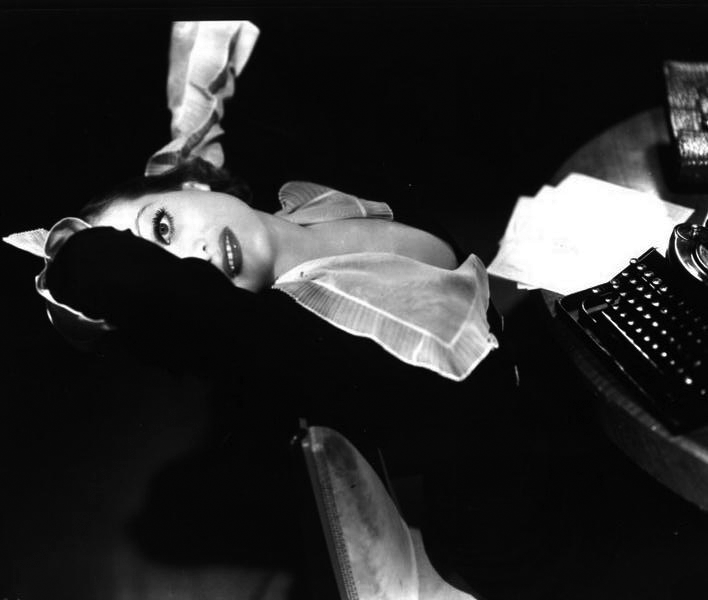 Reviewer, Patrick C. Lentz, says...
"With an all star cast of MGM's greatest stars at the time, Joan Crawford steals this movie away from them all! She is captivating to watch every second she is on the screen.This is Joan Crawford at her most beautiful. The movie tells several different stories and laces them all together in a fascinating plot. The period Art Deco sets are stunning and makes me long to have lived in a time such as this. One of Joan's best films. I must say, Garbo is stunning as well. With a film that has both Garbo and Crawford in it, how can you go wrong?"

Four Stars
Reviewer, Lonnie745, says...
"Without question 1932 was Joan Crawford's breakthrough year as an actress. With Lewis Milestone's RAIN and Edmund Goulding's GRAND HOTEL, Crawford proved that she had more than just looks and sex appeal to offer; she also possessed genuine talent.

GRAND HOTEL was an exciting, all-star affair produced by the greatest of all motion picture studios, Metro-Goldwyn-Mayer. The plot of the film is not overly complicated. A penniless aristocrat turned jewel thief, Baron von Gaigern (John Barrymore) has established himself at Berlin's Grand Hotel to steal the gorgeous pearl necklace of a great dancer, Grusinskaya (Greta Garbo); however, when he meets her, he falls in love. Also staying at the hotel is an industrialist (Wallace Beery), who has hired a hotel stenographer (Joan Crawford) to take notes during an important business meeting, but he becomes quite smitten with the young woman and it soon becomes clear that he wants her to perform more than just secretarial duties. And finally there is the minor clerk (Lionel Barrymore) in Beery's company who is blowing his life savings at the hotel, having learned that he has a terminal illness.

In the company of Garbo, Beery and two Barrymores, Joan Crawford really had to work hard to keep up, but she managed to do it. She is particularly effective in her scenes with Lionel Barrymore. After taking on such a difficult task and pulling it off so brilliantly, it was clear to MGM that they had more than just a star on their hands. They had an actress, and a damn good one!

Four Stars
Reviewer, babyc22_5, says...
"I think it's a great movie, it has a brilliant cast and I really enjoyed the movie when I saw it on tv in england where I live. Joan played the stenographer part very well and garbo played the ballerina very well too, well to be honest they all played their characters well."

Four Stars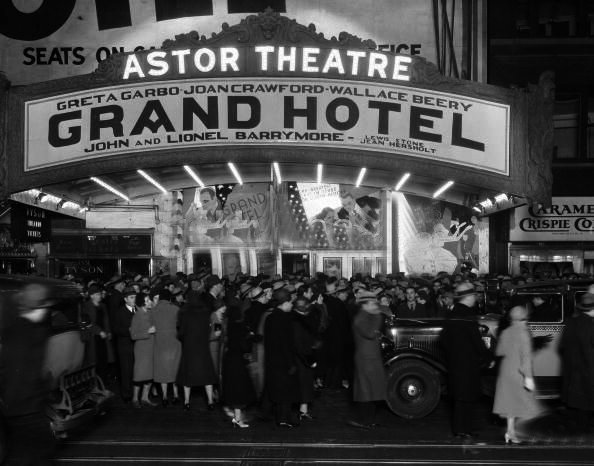 Other Reviews
Benjamin de Casseres of the Motion Picture Herald had this to say, "...The acting registers one hundred percent...fairly walked out of the screen...Joan Crawford put all of her wiles into the stenographer who is on the make...The solidity of Grand Hotel not only lies in its vivid character creations and dramatic web that is so cleverly woven around these persons unknown to one another in the Grand Hotel, and who are destined to affect one another's lives, but there is also an allegorical background to the whole story. Grand Hotel is the world we live in. These people are you and I. This is a great adult picture. It once more announces that the screen is rapidly coming of age."

James R. Quirk of Photoplay said, "Here it is, the picture in which you may see Garbo, Crawford, both the Barrymores, and Wally Beery in a magnificent two hours you'll never forget. Joan Crawford gives excellent competition and moves up along her ladder of successes...You may argue about who deserves the most praise and not get anywhere, for the picture, as a whole, steals the show. It is produced on a scale of grandeur that the stage couldn't touch. If you don't already know the story, telling it would take the edge off. You can't miss this."
If you have seen this movie, please write a review below. Once your review is submitted, I will post the review below. Thank you for your review on this film.
Click on the decades below to browse movies.