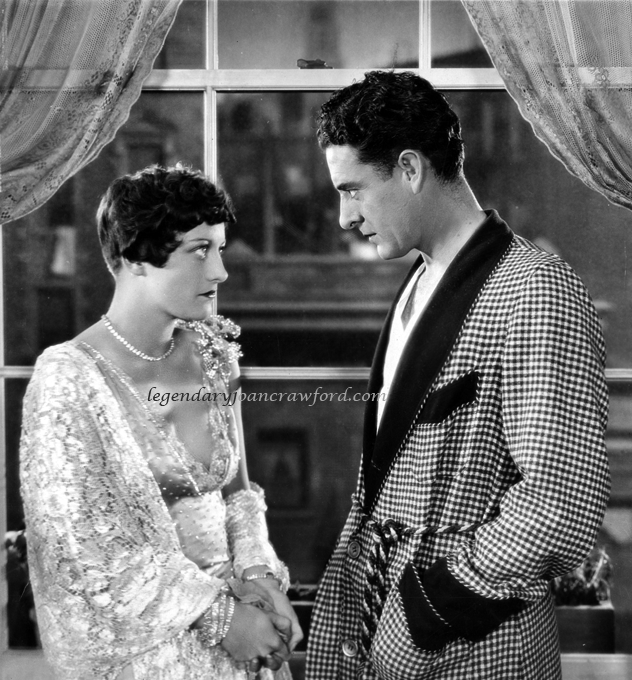 "In "Four Walls" I was back with John Gilbert again,
and the chemistry worked all over again, even stronger." -Joan Crawford
"Four Walls" 1928
Cast: John Gilbert, Joan Crawford (as Frieda), Vera Gordon, Carmel Myers,
Robert Emmet O'Connor, Louis Natheaux, Jack Byron.


Release date - August 11, 1928


Running time - 60 minutes (6 reels)


Directed by - William Nigh


Writing Credits - George Abbott (play and script), Dana Burnet (play),
Joseph Farnham (titles)


Producer - Unknown


Cinematographer - James Wong Howe


Costumes - David Cox


Studio - MGM - Black and White - Silent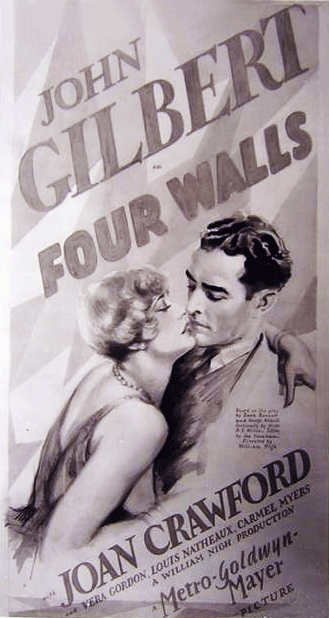 Movie Synopsis
An underworld romance, surrounding the arrest of Benny (John Gilbert) and his subsequent stint in jail. He gives his fellow gang member, Monk (Louis Natheaux) the job of taking over for him as gang leader, and throws his girlfriend, Frieda (Joan) in as a bonus. Despite Monk (Louis Natheaux) wanting nothing to do with Frieda (Joan), she pursues him to make Benny (John Gilbert) jealous, she even publicly announces their engagement at a party. As a rival gang crashes in on the party, Benny (John Gilbert) escapes with Bertha (Carmel Myers), and they run across rooftops to escape the angry mob behind them.

During this dangerous escape route, Monk (Lois Natheaux) falls to his death and once again, Benny (John Gilbert) is pinned as the one who's responsible. However, he is later cleared of all charges.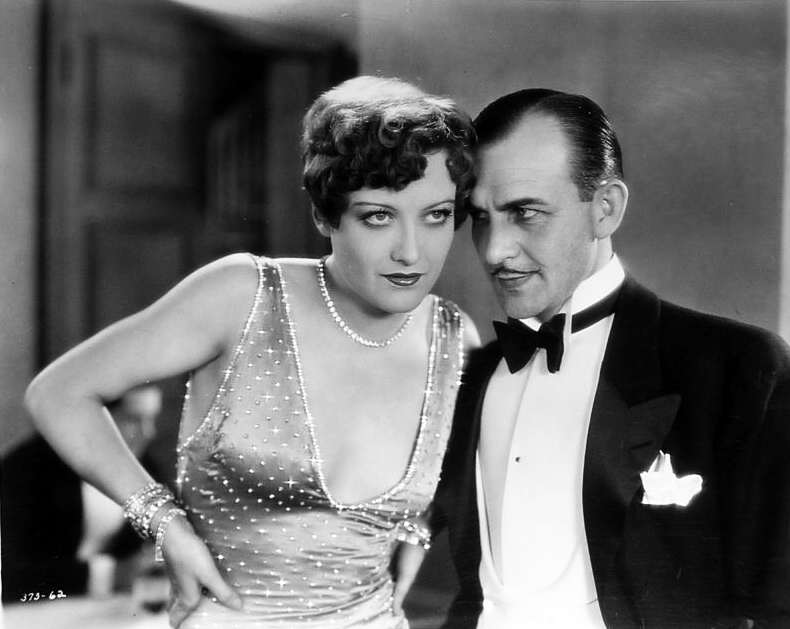 Interesting Trivia
Box Office Receipts: $803,000
Inflation Value in 2007: $9,705,781.17
Photos
Click on images below to see a larger view.
Movie Posters/Lobby Cards etc...
Reviews
George Gerhard, of the New York Evening World, saw Joan's performance as a sign of things to come, saying, "It isn't often that a supporting player manages to steal a picture right from under the nose of John Gilbert...But that's what happens in Four Walls...For Joan Crawford simply walks off with it. Not that Gilbert isn't very far behind her. ...[The picture] will go a long way toward lifting Miss Crawford to a point nearer the top of Hollywood circles, a point toward which she has been rapidly climbing the last year or two."


Photoplay said, "For getting down to earth with the practical sort of lovemaking that folks like, our hat is off to John Gilbert and Joan Crawford. John certainly takes that girl in hand, and boy, how she loves to be taken!"


Variety said, "Another underworlder, well done and with John Gilbert, Joan Crawford and Robert Emmet O'Connor in three great roles, surrounded by a one-hundred-percent cast."
Click on the decades below to browse movies.