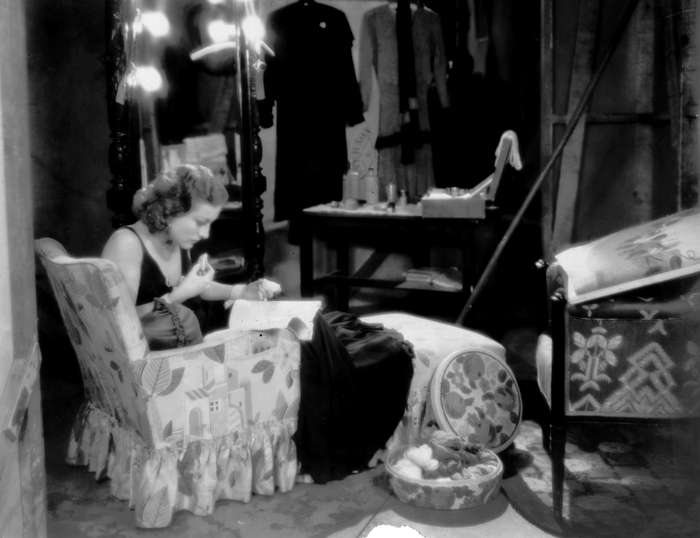 "It (Dance, Fools, Dance) was a disaster! I gave a lousy performance,
the overacting thing again." -Joan Crawford
"Dance, Fools, Dance" 1931
Cast: Joan Crawford (as Bonnie 'Bon' Jordan, aka Mary Smith), Lester Veil, Cliff Edwards, William Bakewell, William Holden, Clark Gable, Earle Foxe, Purnell P. Pratt, Hale Hamilton, Natalie Moorehead, Joan Marsh, Russell Hopton, Clara Blandick


Release date - February 21, 1931

Running time - 82 minutes (9 reels)

Directed by - Harry Beaumont

Writing Credits - Aurania Rouverol and Richard Schayer (continuity)

Producer - Unknown

Cinematographer - Charles Rosher

Costumes - Adrian

Studio - MGM

Production Dates - Began November 4, 1930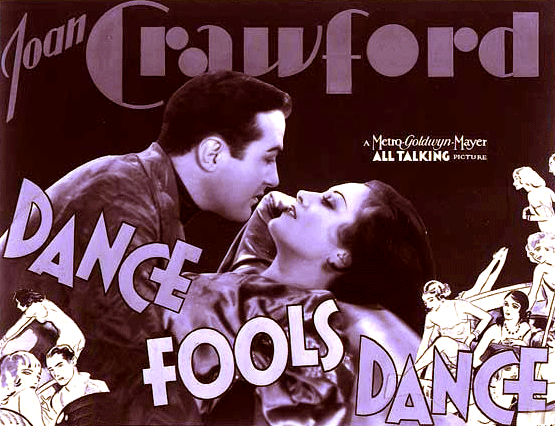 Movie Synopsis
Bonnie Jordan (Joan), formerly a spoiled, carefree socialite, is faced with poverty and hard work when her father, Stanley Jordan (William Holden), dies of a heart attack during the stock market crash of 1929. Though she in in love with Robert "Bob" Townsend (Lester Vail), she refuses his proposal of marriage, because he offers it merely as "the gentlemanly thing to do."

Instead, she goes to work as a cub reporter on the "New York Star." Her brother Rodney (William Bakewell) takes an easier way out by helping bootlegger Jake Luva (Clark Gable) peddle his liquor to Rodney's wealthy friends. Bonnie grows to love her work and is befriended by Bert Scranton (Cliff Edwards), the Star 's top reporter.

When a group of bootleggers are murdered, both Bert and Bonnie are assigned different aspects of the case. While investigating the crime, Bert unwittingly encounters Rodney, who, realizing that Luva is responsible for the murders, lets information about his gang slip out. When Luva hears about it, he tells Rodney that the only way out is to shoot Bert or be shot himself. Though he doesn't want to do it, his own fear leads him to kill Bert. Bonnie, who doesn't know about Rodney's connection to Luva, is then assigned by her editor to infiltrate Luva's gang and find out who actually did the murder, as all of his gang have airtight alibis. She gets a job as a dancer in Luva's nightclub, posing as "Mary Smith" from Kansas City, and although both Rodney and Bob see her at the club, Luva doesn't know her real identity.

One evening Luva invites her to his apartment to seduce her. She goes along with him, hoping to get her story, but when she answers his phone and hears Rodney's voice, she realizes the extent of her brother's involvement and tries to leave. When Rodney arrives, the three argue and Rodney kills Luva, but is killed himself, trying to protect Bonnie. Bonnie then phones in the real story to the Star. The next day her boss and others at the paper try to discourage her from leaving, but she feels that she must. As she walks out, Bob finds her and proposes again, this time for real, and as they kiss, some of her friends on the paper capture the moment for the announcement of their marriage on the society pages.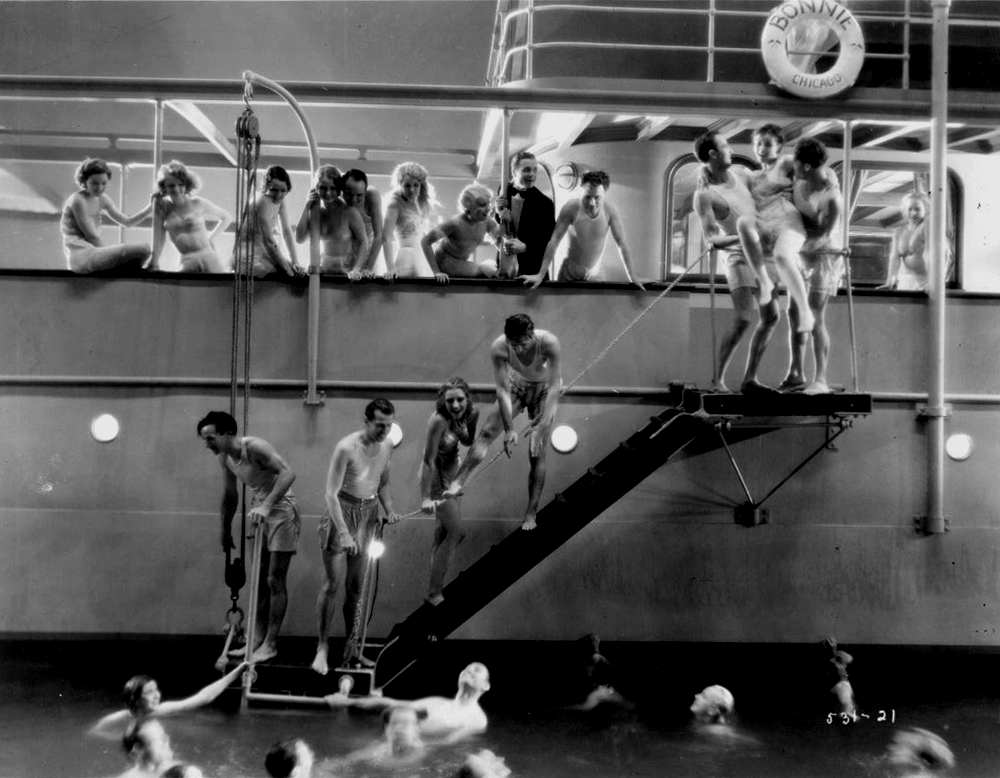 Interesting Trivia
The powerful combo of Crawford/Gable starred together for the very first time here, however, this is technically their second film. It's often mistakenly referred to as their first (it's their first starring roles together), but they were both extras in The Merry Widow (1925).

The film cost approximately $289,000 to make and the Joan Crawford / Clark Gable combination ensured it made a profit of close to one million dollars.

Funnily enough, both Joan and Clark Gable had initial insecurities in working with each other so closely. Joan explains her feelings on playing opposite Gable: "The first time I met him, I was terrified. I kept thinking, 'He is a stage actor. He knows how to read lines. I am suffering by comparison. He's laughing at me." Gable later confessed he had similar anxieties about working with Joan: "She's a star. She knows all the ropes in pictures. She's laughing at me." [www.afi.com].

Clara Blandick had a bit part and was uncredited in this film. A successful stage actress, and with over 100 films to her credit, she is best remembered as Dorothy's beloved 'Auntie Em' in "The Wizard of Oz" (1939). On Palm Sunday, April 15th, 1962, she went to church as usual, then came home, fixed her hair, put on her best outfit and scattered her room with family photographs. She then took an overdose of sleeping pills and pulled a plastic bag over her head. She was 80 years old and had been suffering poor health for years, severe arthritis and imminent blindness had taken it's toll. She left a note explaining that she was about to embark on the greatest adventure of her life. [www.imdb.com].

The William Holden playing Joan's father in this film was an early character actor who died as a result of a stroke in 1932, just one year after this film's release. He is not to be confused with the more well known William Holden.

The multiple murder which is part of the film's plot was loosely inspired by the infamous St. Valentine's Day Massacre that happened in Chicago in 1927. According to a news item in Film Daily on August 16, 1932, actress Lita Friede had been signed to appear in an M-G-M produced German-language version of this picture, however no additional information on such a production has been located.


Cost: $234K/Domestic Studio Gross: $848K/Foreign Studio Gross: $420K/ Profit:$524k

Box Office Receipts: $1,268,000.

Inflation Value in 2007: $15,819,780.60
Photos
Click on images below to see a larger view.
Movie Posters/Lobby Cards etc...
Reviews
Reviewer, Ian Sowers, says...
Terrific Early Crawford Vehicle

I disagree strongly with anyone who might dismiss this film as "just" entertainment. Set right after the carefree, roaring 20s, during the early days of the Great Depression, "Dance, Fools, Dance" is at its heart an earnest cautionary tale, with a clear message about how best to endure these hard times. Yet this fast-paced and tightly-plotted film is far from being a dreary morality tale.

In the 30s, Hollywood had a knack for churning out one entertaining *and* enlightening audience-pleaser after another, all without wasting a frame of film. "Dance, Fools, Dance" -- one of *four* films that Harry Beaumont directed in 1931 -- is barely 80 minutes long, yet its characters are well developed, its story never seems rushed, and despite its many twists in plot, the audience is never left behind.

With the lone exception of Lester Vail as flaccid love interest Bob Townsend, the supporting cast is uniformly strong. Worthy of note are William Bakewell as Crawford's brother, Cliff Edwards (best known as the voice of Jiminy Cricket) as reporter Bert Scranton, and Clark Gable in an early supporting role as gangster Jake Luva.

But this is Joan Crawford's film, and she absolutely shines in it. Made when she was just 27, this lesser-known version of Crawford will probably be unrecognizable to those more familiar with her later work. However, here is proof that long before she took home an Oscar for Mildred Pierce, Crawford was a star in the true sense of the word, a terrific actress with the charisma to carry a picture all by herself.

Score: EIGHT out of TEN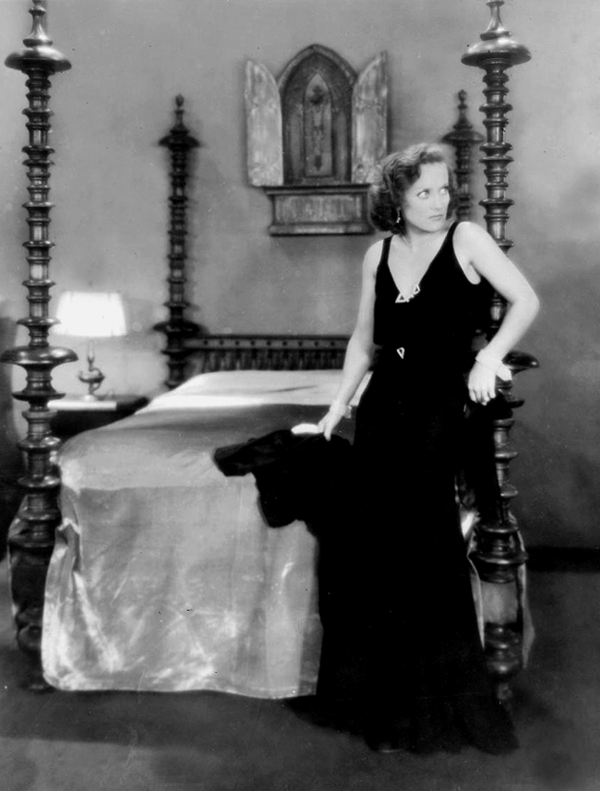 Reviewer, Simon Davis, says...
It probably wasn't realized at the time of its release but 1931's "Dance, Fools, Dance", gave birth to one of the greatest screen teams of the 1930's in Joan Crawford and Clark Gable. Both made many noteworthy films with other costars during this decade but the personal and professional chemistry between these two was undeniable. I personally love all their teamings which included eight films from 1931 through to 1940. Regardless of the quality of the film in question Crawford and Gable always appeared as two ideally matched actors who were experiencing real emotion up there on the screen. At the time of this film's release Joan Crawford was already a bankable star at MGM while Clark Gable was still a rising actor of some promise. His work in this film and in others that year such as "A Free Soul", with Norma Shearer and "Night Nurse", with Barbara Stanwyck confirmed the promise already evident in the former lumberjack turned actor and a new star of enduring fame was born.

"Dance, Fools, Dance", is very much of its era and being from this early sound pre-code period has a certain frankness about it that is refreshingly and which I find highly appealing. Certainly the slant taken on relationships or "love on approval", as it is referred to in the script would be something considered unacceptable only a few years later in films with the stronger censorship laws that came into place. The most famous scene in "Dance, Fools, Dance", is the "notorious" underwear swimming party that takes place near the beginning of the film where the well-heeled members of a society party strip down to their underwear and dive off the side of a yacht to cool off. Heady stuff for 1931 audiences! "Dance, Fools, Dance", draws on real life incidents of the time like the recent Stock Market Crash and the St. Valentine's Day Massacre in telling its story of breezy society girl Bonnie Jordan (Crawford) and her idle and weak willed brother Rodney who lead a life of privilege and endless parties until the Stock Market crash wipes out their father Stanley Jordan (William Holden) who dies as a result of the shock. Deserted by their shallow fair weather friends Bonnie does the responsible thing and finds work as a Cadet Reporter while Rodney drifts into a life involved in the underworld. He becomes involved with ruthless gangster Jake Luva (Clark Gable), and finds himself being forced to murder a colleague of Bonnie's on the Newspaper, reporter friend Bert Scranton (Cliff Edwards) who has learned too much about Jake's setup. Assigned to infiltrate Jake's dealings Bonnie goes undercover as a dancer at his seedy nightclub where she gains the information she needs to nail Jake. Trying to warn her brother however the results are tragic for both him and Jake. Gaining new respect for her abilities in reporting Bonnie nevertheless then leaves her job on the paper and is reunited with her old beau from the earlier carefree days Bob (Lester Vail).

"Dance, Fools, Dance", makes a perfect vehicle for Joan Crawford at this time in her career in my belief and takes a non sentimental look at the underworld and its dealings that is surprising for an MGM production. I do feel that for all its grittiness it still doesn't have the same hard edge of some of Warner Bros. efforts of this time such as the classic "Public Enemy", it still deals however with the material in an honest and noncompromising manner. Joan Crawford at this time had been a full fledged star for roughly four years and while the famous "Joan Crawford Persona" had not been fully created at this point she does a sterling job in the role of the flighty society girl who learns about life in the new school of hard knocks. As stated previously her chemistry with the rising Clark Gable is exceptional in their scenes together and Gable already displays the star quality that made him a Hollywood legend. I was surprised to see how ruthless he is in his characterization and his acting has a surprisingly hard edge to it that is perfect for the villain in this story. While Lester Vail as Joan's on again off again love interest has a fairly bland role, I really enjoyed William Bakewell's performance as Rodney, the spoiled society boy who gets in over his head in underworld dealings to his own personal cost. The film really comes alive in his scenes with both Crawford and Gable. He is one of the definite strong points of "Dance, Fools, Dance", and I think it is a shame his career didn't develop into more leading parts based on his performance here. Directed at a fast pace by Harry Beaumont who guided Joan Crawford to real stardom in the earlier classic "Our Dancing Daughters", the film at 82 minutes doesn't waste time on developing deep characterizations but focuses more on telling an interesting and at times suspenseful story.

The first of three films they would make together in 1931 the Crawford/Gable team is still here in its infancy. Joan looks wonderful in this early period and the unique qualities that made both a constant success in their later films together are already strongly in evidence. In many respects "Dance, Fools, Dance", is not your typical MGM product that we have all come to know so well from the 30's decade. However it is certainly an interesting product from the beginning of the sound era when both the Crawford and Gable famous screen personas were still a "work in progress".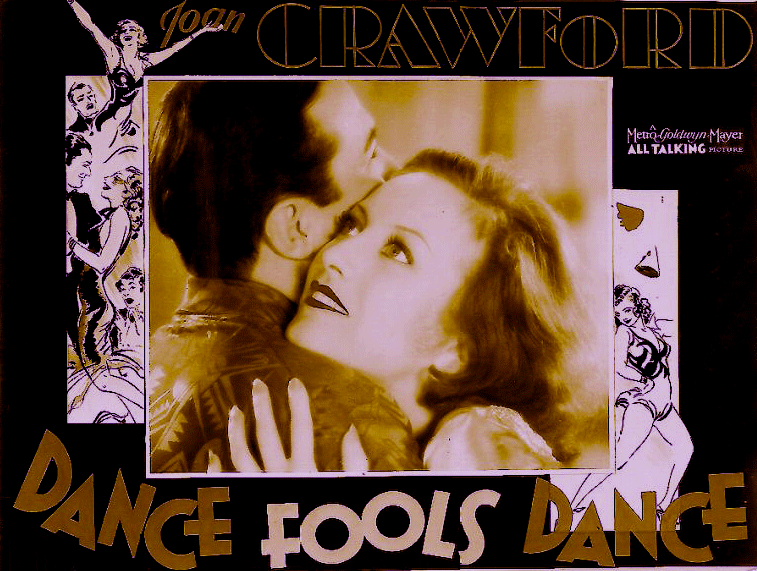 Other Reviews
"Photoplay" canned the movie but gave Joan a glowing review, saying, "Again, Joan Crawford proves herself a great dramatic actress. The story...is hokum, but it's good hokum and Joan breathes life into her characterization."


"The New York Times" said, "Miss Crawford's acting is still self-conscious, but her admirers will find her performance well up to standard."


If you have seen this movie, please write a review below. Once your review is submitted, I will post the review below. Thank you for your review on this film.
Click on the decades below to browse movies.