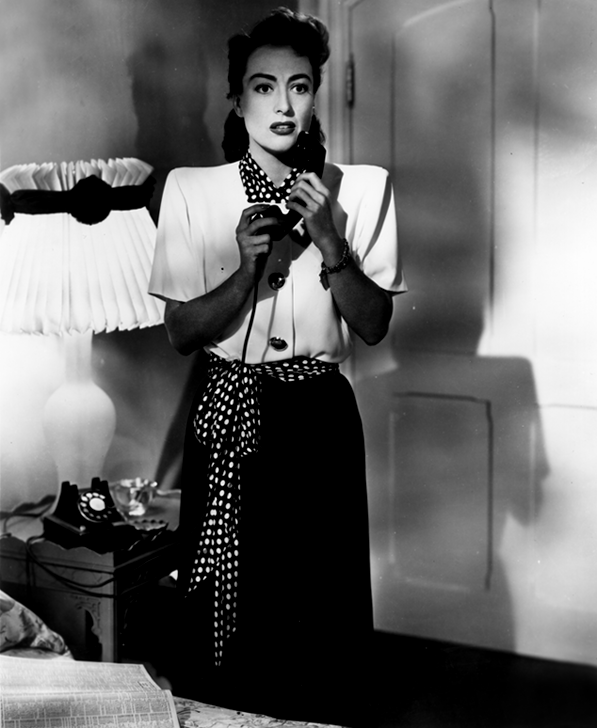 "If Otto Preminger hadn't directed it, the picture would have been a mess. It came off. Sort of." - Joan Crawford
"Daisy Kenyon" 1947
This page is dedicated to director Steven Smith. Thanks for including me in your project - I'll never forget it.
Cast: Joan Crawford (as Daisy Kenyon), Dana Andrews, Henry Fonda, Ruth Warwick, Martha Stewart, Peggy Ann Garner, Connie Marshell, Nicholas Joy, Art Baker.

Release date - November 27, 1947 (Los Angeles Opening) - Nationwide, December 25, 1947.

Running time - 98-100 minutes (10 reels)

Directed by - Otto Preminger

Writing Credits - David Hertz and Elizabeth Janeway (novel)

Producer - Otto Preminger

Cinematographer - Leon Shamroy

Costumes - Charles Le Maire

Studio - Twentieth Century Fox

Production Dates - June 16 - Early August, 1947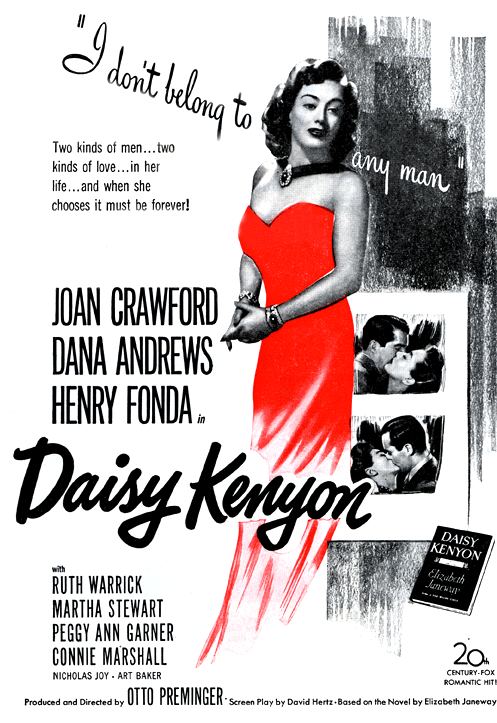 Movie Synopsis
Joan Crawford revisits her 1930 MGM love triangle vehicles in the 1947 film, "Daisy Kenyon." Daisy Kenyon (Joan Crawford) is a successful, smart and sexy businesswoman living in Greenwich Village, NY, who appears to have her life in order. Daisy is having a love affair with high profile lawyer Dan O' Mara (Dana Andrews) who is married with two daughters. Daisy has fallen in love with Dan but it's made clear that she will always play second fiddle to his wife Lucille (Ruth Warrick). Daisy has reached her limit in trying to convince Dan to divorce his wife when she meets Peter Lapham (Henry Fonda) a decorated Army officer and former Yacht designer. Peter is almost instantly taken by Daisy and in a short time professes his love for her. The shy and passive Peter couldn't be any more opposite from Daisy's lawyer lover Dan. Peter is also attached to another woman, his dead wife. Peter cannot let go of the memory of his deceased wife and this leaves Daisy in another predicament where she is once again the "other woman."

Peter ultimately asks Daisy to marry him and Daisy is faced with the decision to marry a man that she doesn't truly love but knows that he will be a good man for her or choose a man who she loves but will always be a cheater. Daisy chooses to marry Peter and all seems happy in paradise until Dan persues Daisy to express his undying love for her but is caught by his wife Lucille. Lucille plays a shrew of a wife, that beats her young daughter, and you can't help to feel that Lucille is getting what she deserves. Lucille publicly exposes her high profiled layer husband about his infidelities and the whole thing plays out in the courtroom. Daisy is then faced with the newly divorced Dan who sacrificed his children to be with her.

In the end Daisy chooses what she feels is best and stays married to Peter. After watching this film you cannot help but want Daisy to ditch both men and live out her life as a single, independent, successful woman. Otto Preminger directs this beautifully filmed and well-lit movie to perfection. You will notice that in the film, Crawford is lit just so with a band of light across her face to showcase her amazing features.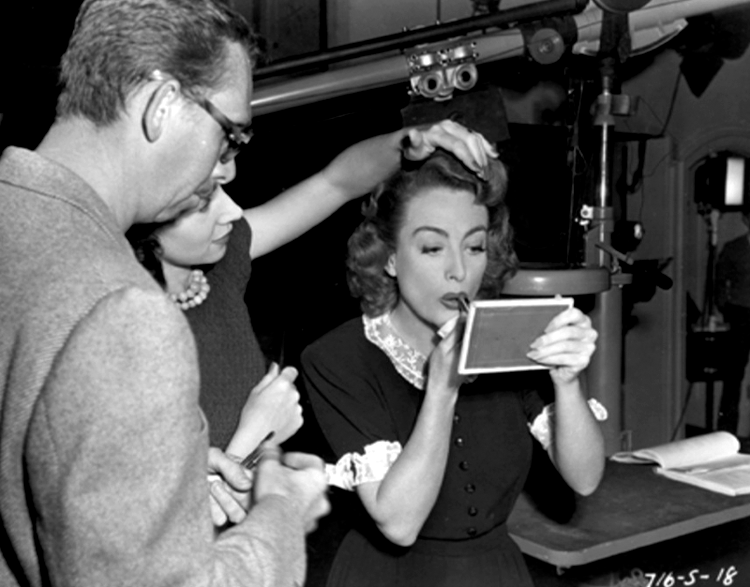 Interesting Trivia
Joan Crawford was very attracted to handsome actor Henry Fonda on the set. Joan had a custom designed jockstrap designed for Fonda with colorful jewels and fancy fixings. Crawford gift-wrapped the hot little jockstrap and had it delivered to Fonda. When Fonda opened the gift from Crawford it took him a while to figure out what in the world it was. Once he realized it was a jockstrap he was quite embarrassed by the gift. Later during the filming of "Daisy Kenyon," there was a scene where Fonda had to carry Crawford up the stairs. As Fonda was carrying her up the stairs, Joan whispered in his ear, "How about you try on that little gift I gave you later tonight?" Fonda was so taken back by Joan's aggressive nature that he almost dropped her! Rumors from other co-stars stated that Crawford and Fonda did have a little fling while filming but Fonda and Crawford kept mum to whether or not the rumors were true.

A replica of New York's famed Stork Club was built for one of the scenes in the film. The club was known for its high profile clientele and Otto Preminger wanted to stock the scene with famous faces. To his luck, media personality Walter Winchell and columnist Leonard Lyons were in town for a fundraiser and agreed to play themselves. Preminger gave them dialogue and shot their scenes in one take. Another notable face was Joan's co-star in the 1946 film "Humoresque," John Garfield. He can be seen sitting in the bar, it is said he did the scene as a favor for Preminger. Below is the list of uncredited stars/actors that appeared in the film: Jimmy Ames, Monya Andre, Don Avalier, John Butler, Les Clark, Robert Cole, John Davidson, John Garfield, Victoria Horne, Mauritz Hugo, Robert Karnes, Norman Leavitt, Leonard Lyons, Marion Marshall, Mae Marsh, Charles Meredith, Robert Neury, William H. O'Brien, Roy Roberts, Damon Runyon, Jeffrey Sayre, Ann Staunton, George E. Stone, Tito Vuolo, Walter Winchell.

According to publicity materials contained in the film's production files at the AMPAS Library, Joan Crawford wanted to buy the rights to the novel for herself, but Fox purchased them before she had a chance to bid. According to materials contained in the Twentieth Century-Fox Produced Scripts Collection, located at the UCLA Arts--Special Collections Library, Margaret Buell Wilder and Ted Sills wrote an incomplete first draft of the screenplay in August of 1945. In May of 1947, Ring Lardner, Jr. was hired to revise David Hertz's screenplay, but the extent of their contributions to the final screenplay has not been determined.

Joan Crawford's contract stipulated that the set be kept at temperatures that Henry Fonda and Dana Andrews found "too cold," so Crawford bought both of them long underwear.

Otto Preminger told an interviewer in the 1970s that he had no memory of this film.

Continuity: Near the end of the movie, there are snow chains already on the wheels when Daisy leaves the cottage at the cape. No one had been to the cape since it had snowed.

When Daisy backs out of the garage, the passenger window is down. A few minutes later, she wrecks the car and the window is up (and cracked).

At the divorce trial, Dan still has the bad scrape on his forehead. Soon after, he's at the cape with Peter and Daisy and his forehead is all healed.

The Webmaster of legendaryjoancrawford.com, Neil Maciejewski, appears in the special feature documentary on the "Daisy Kenyon" DVD, "Life in the Shadows - The Making of Daisy Kenyon."


Box Office Figures for "Daisy Kenyon":

Top Grossing Film Position: #71 out of #93 films.
Gross Rentals: $1,750,000.
Inflation Value in 2008: $16,612,679.37.
Photos
Click on images below to see a larger view.
Movie Posters/Lobby Cards etc...
Reviews
Reviewer, Charlene Jones, says...
Joan is great as usual in "Daisy Kenyon," directed by tyrant/genius Otto Preminger. I guess even Joan didn't cross Otto in this one, as he is quoted to say she was quite the professional on set. She completely emasculates both Henry Fonda and Dana Andrews. I find the two children, a gawky Peggy Ann Garner and especially young, troubled Connie Marshall, quite affecting. The typical cold wife played by Ruth Warrick of "Citizen Kane" fame is enjoyable, so much more interesting than the men. No wonder Joan couldn't decide between them, they were both so boring. Joan as fashion designer/artist is intriguing. I wonder if she wore her own creations as Daisy? I'll call the shots, I'll be my own creation, thank you. She is understated in this film, perhaps mirroring the cynical noir direction of Mr. P, perhaps she responds to the somber, gray postwar enviros as somber and gray, beautiful but a bit muted. No ecstatic romance here, almost a practical choice - married lover Dana or neurotic Henry, returning from the Great War with no place to go except to Joan's bed. No man could match Joan except perhaps Gable, the love of her life, because he was the King, he was big, and she taught him the ropes in Hollywood when he was green, and he grew to match her in strength. But Henry and Dana and even Otto pale in comparison to Joan and her noir shadows, her shoulders and great hats, her boredom at the whole thing, life, love, weakness, the ineffectuality and faults of others wasting her time. Daisy made a practical choice as did Joan in making this atmospheric and dispassionate triangle.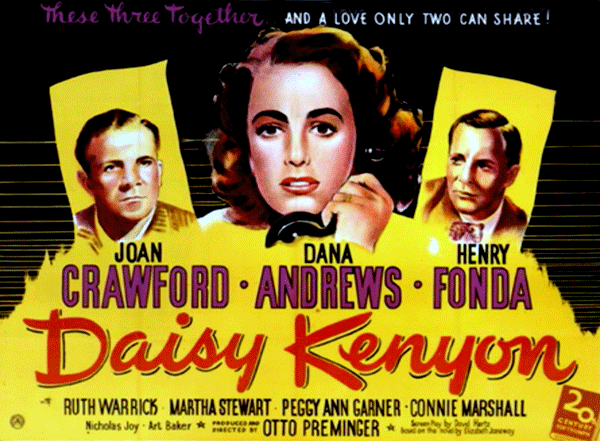 Other Reviews
The New York Times says..., "Joan Crawford is having man trouble again...Miss Crawford is, of course, an old hand at being an emotionally confused and frustrated woman, and she plays the role with easy competence."

Otis L. Guernsey, Jr., in the New York Herald Tribune says..., "Preminger accomplishes no mean feat in guiding these people in and out among the interweavings of their own complexes, and he does wonders in varying the action of similar scenes. Working with Miss Crawford's iridescence, Fonda's diffidence, and Andrews' aggressiveness, he stages these synthetic involvements as though he believed every minute of them."