Above: Yours truly with just a small portion of my vast Joan Crawford collection. October 2007.
Collecting Joan Crawford memorabilia is not only fun but a history lesson. I have learned so much in the past three years that I have started buying and collecting vintage Joan Crawford items. This "Collecting Joan" page is where I will share my private collection with all the fans to enjoy as well. EVERYTHING on this page with feature items that I personal own. I only started collecting Joan Crawford memorabilia three years ago but my collection is rather large. Through my collection, it has helped me date several photographs, discover rare photos and learn many new historical facts about the star. I hope you enjoy this collection as much as I have enjoyed collecting it. If you are ever in the San Francisco area and would like to stop by and view the collection, please email me.
Description: Joan Crawford once owned this comb and mirrored case. The comb measures 3 3/4" across and the engraving on the sterling silver portion of the comb reads " Lucille LeSueur March 23 1926." The comb section is made of tortoise shell. The comb lives in a purple velvet case and when opened there's a small beveled mirror on the inside. This comb was a very expensive item in its day. With the sterling silver, beveled mirror and the engraving showing the high quality of the item.


History: I was very excited when I purchased this comb this past year. It came from an English woman who purchased it in the 1940's in the USA and she resides in England. She had the comb for sometime and decided to sell it for a very reasonable price. What I find so interesting about this item is that Joan owned this before she was "Joan Crawford." Joan probably didn't hang onto this comb for long since her name changed. Also, depending on whom this comb came from. A lot of thought went into the gift so it could have come from a sweetheart she was dating. The comb is dated 1926 and at this time Joan was dating Michael Cudahy. It also could have come from Louis B. Mayer or William Haines who both had an admiration for Joan. We may never know the true origin of who gave young Lucille the comb but I do know that it has a happy home now and it is treasured.

Description: A framed miniature painting of Joan Crawford from the film Love on the Run 1936. After completion of filming Love on the Run, Joan Crawford reportedly gave this painting to director and past lover Joseph Mankiewicz's secretary. With frame the painting measures 4 1/2" x 5 1/2".

History: As stated above, this painting was given to Joseph Mankiewicz's secretary. Joseph Mankiewicz directed Joan in several films and they had a brief affair together. Joan was probably good friends with Mankiewicz's secretary to give her such a beautiful painting like this. 

The painting is signed by the artist Matt Leod. The detail is exceptional, the photo above does not do it justice. Most of the times these small painting were pictures first and the artist would paint over the photo. This is most certainly a one-of-a-kind piece of art.
Joan Crawford Vintage Glass Movie Slides
In the early years of the twentieth century glass lantern slides, mostly hand-tinted, were a popular form of entertainment, known as "magic lantern" exhibitions. They were also used in education and eventually evolving to films. Glass magic lantern film slides were a way to preview a movie before the feature film was going to play. It's funny to see how far we evolved from showing a pretty painted glass slide to several annoying previews played before we watch a feature film at the theatres. Below is my collection of Joan Crawford glass magic lantern slides. It will be a treasure hunt to find other glass slides from Joan's films but I welcome the challenge! I am always looking to buy ones I don't have! I hope you enjoy my collection below!

Joan Crawford Vintage Scrapbooks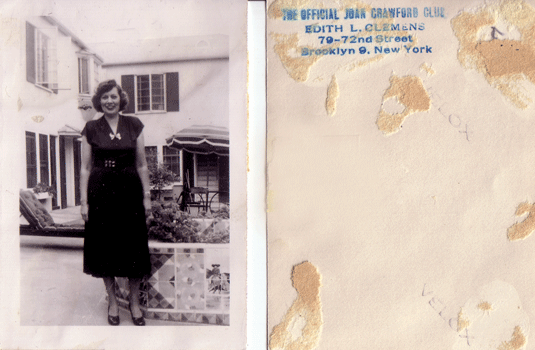 Above: A picture of the president of the original Joan Crawford Official Fan Club, Edith L. Clemens.


These next items are probably my most treasured in my Joan Crawford collection are four vintage scrapbooks. The scrapbooks below have given me a wealth of valuable information, photographs and knowledge about Joan. I have not been able to share these in person with any Joan Crawford fans yet, but the people that have seen these have been awed by them and are amazed at the time and energy someone put into these jewels. I will go in depth about each scrapbook below. The owner and the designer of these scrapbooks was the president of the Official Joan Crawford Fan Club at the time, Edith L. Clemens. She was born in 1909 and lived in Brooklyn NY for most f her life. Edith was a faithful fan of Joan's and headed up her fan club for many years. Edith sadly died on January 22nd 1999 in Ohio. It would have been great to contact her and interview her on the fan club and Joan.
Vintage Scrapbook A (1927-1937)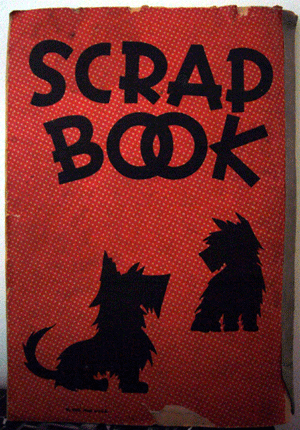 The first scrapbook is dear to me because it was my first. Firsts are always special. This scrapbook came from a woman who was selling it through an antique store in the Midwest. This woman was elderly and the scrapbook was in her family. That's all the information I have on the origin. The scrapbook is 48 pages, both sides are plastered with photos and newspaper articles making it 96 individual pages of content. This is the oldest of my scrapbooks dating back to 1927 and ending in 1937. Many of the pictures date back to 1924-1925 since the newspapers ran stories on the star about her early beginnings. Below is only a taste of what's in this scrapbook. As I scan each photo, I will include a photo gallery for this scrapbook. The scrapbook is in overall good condition. It's a soft cover large scrapbook and since it's 80 years old it's quite brittle but the content is very much intact. This scrapbook is marked "A" as the others are marked numerically.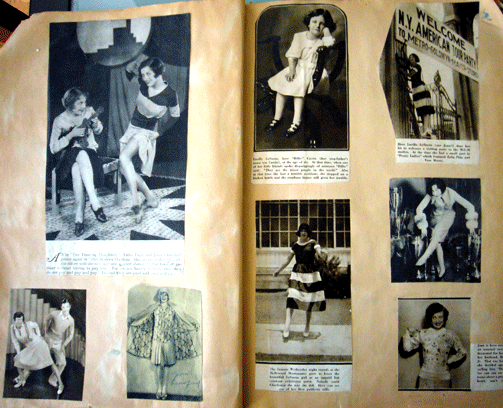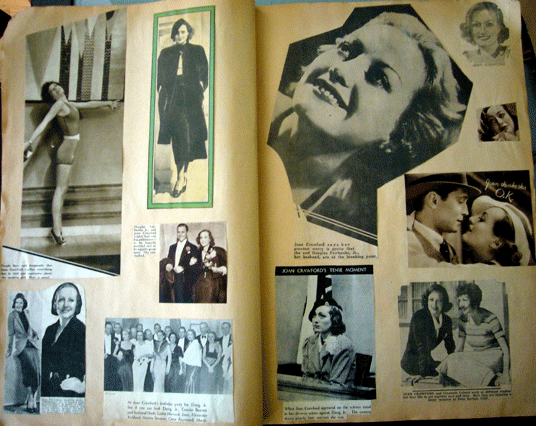 Vintage Scrapbook B (1927-1932)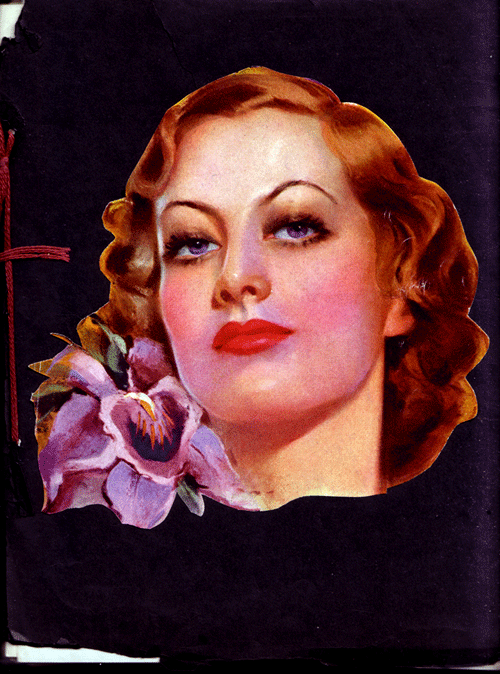 This is the most recent addition to my scrapbook collection. I purchased this off of eBay. This scrapbook is handmade with construction paper and a yarn tied binding - very sweet and personal. This scrapbook had a lot of love put into it. A young girl who lived in New York owned the scrapbook - she seemed to be a huge fan of Joan during the late 1920s and early 1930. The scrapbook emphasizes the courtship of Joan and Douglas Fairbanks Jr. Once they split - the scrapbook ends. The daughter of the woman who constructed the scrapbook sold the scrapbook to me. I am honored to add this to my collection. More photos of the inside to come shortly.
Vintage Scrapbook #1 (1928-1938)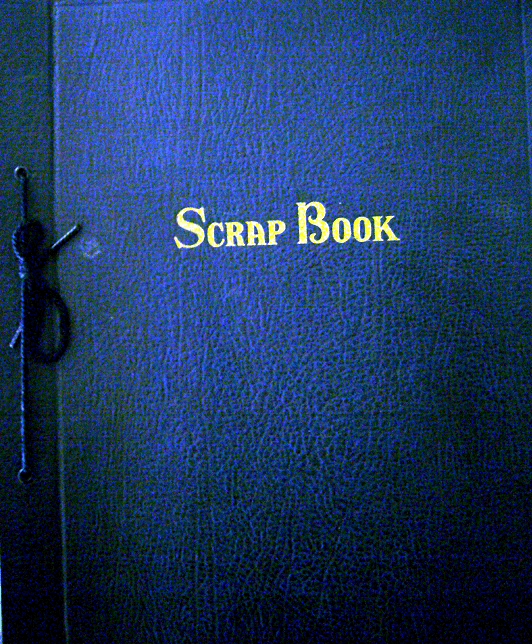 This scrapbook came from a collector, Scott Lambert. Scott obtained this scrapbook from the ORIGINAL Joan Crawford fan club!!! This scrapbook and the other two below were assembled by the fans that ran and were involved in the ORIGINAL Joan Crawford fan club. I am truly honored to have this scrapbook and the ones below in my possession. This scrapbook is labeled #1 on the inside cover. It is a sturdy hardcover and is 90 pages, double sided plastered with photos and newspaper clippings making it 180 individual pages. This is the largest scrapbook in my collection. It dates from 1928-1938. It's very interesting to see this scrapbook really track Joan's life and her first two marriages. The fan club did a great job at neatly placing the photos and articles and they reinforced the books binding so the condition is excellent. It appears the fan club had at least a total of six scrapbooks since the other two are marked #5 and # 6. I am really hoping I can find scrapbook #2 and #3. Enjoy the glimpse of this scrapbook below. I will be scanning the majority of the photos and placing a photo gallery from this scrapbook below.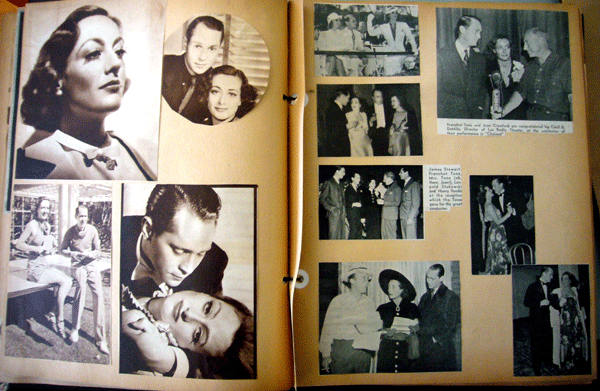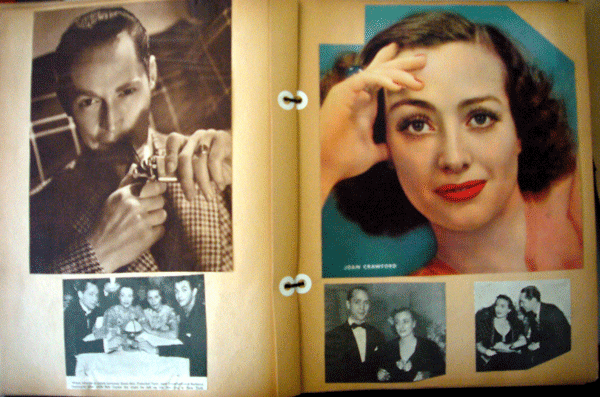 Vintage Scrapbook #5 (1946-1951)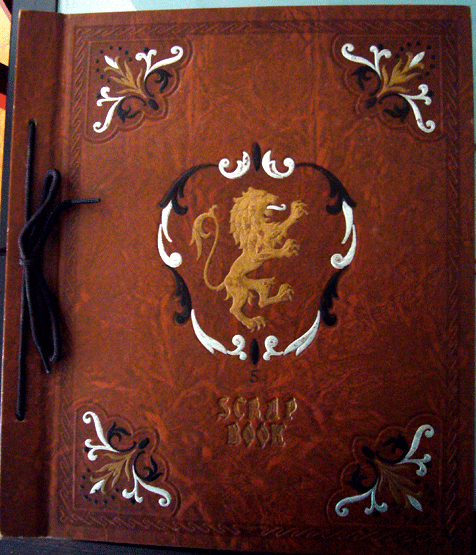 This is the second scrapbook I own from the ORIGINAL Joan Crawford fan club. It's marked on the ornate cover #5. This scrapbook takes us through 1946-1951. It's interesting because this scrapbook is #5 and goes much later into Joan's life and career than scrapbook #6. Regardless, this scrapbook really goes into her relationship with Greg Bautzer and many other men that the tabloids had her linked with at this time. It's very interesting because Joan was an unmarried woman during this entire scrapbook and a lot of the articles focus on this. Also all of her movies during this time period can be found in this book from behind the scene shots, candid set shots and promo photographs. This scrapbook has a lot of interesting information about Joan during the height of her career. A photo gallery of this scrapbook will be coming soon.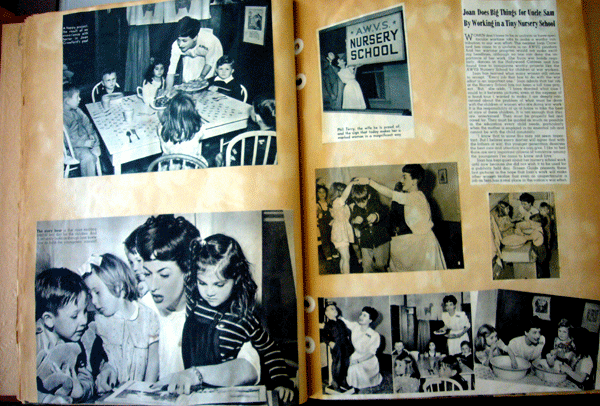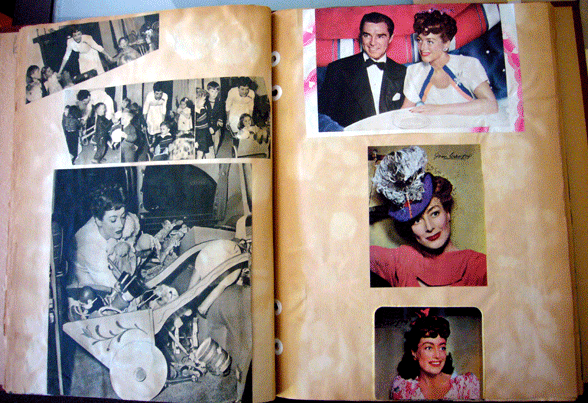 Vintage Scrapbook #6 (1940-1947)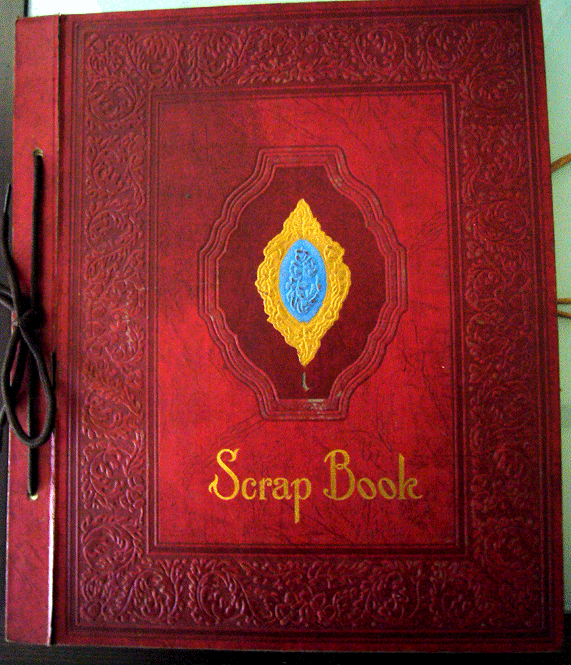 This is the third scrapbook in this fan club series and the one labeled #6. This scrapbook goes into her last days at MGM, her marriage to Phil Terry and all four of her adopted children. Looking through this scrapbook, it appears that this one has some of the more candid and unique shots of Joan. A large part of this scrapbook focuses on her time after MGM and all he volunteer work she did. Many shot of her and Phil Terry and the children. Later in the book it's mostly Joan alone with the four children and many Hollywood stars. I am hoping to find the scrapbooks #2-#4. I would love to complete this scrapbook collection with the others that belong with this collection. As with the other scrapbooks above, this will feature a photo gallery of this scrapbook soon.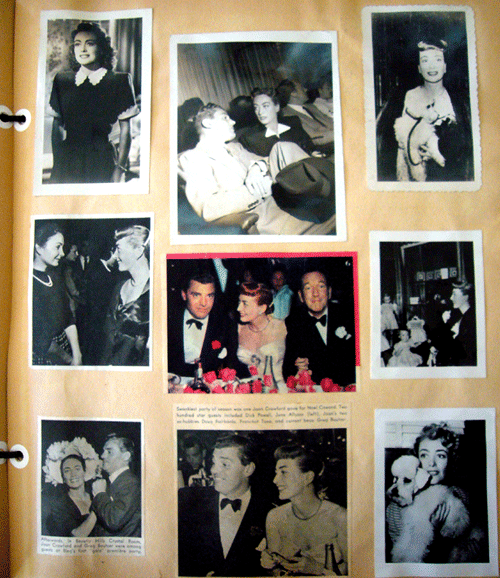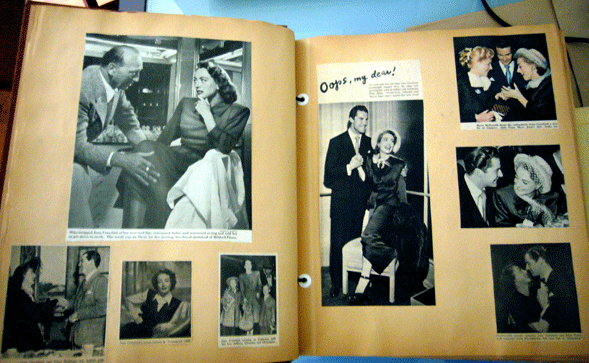 Joan Crawford Tobacco/Cigarette Cards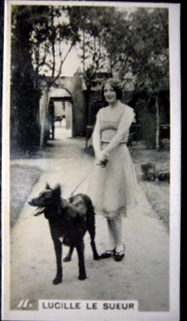 Tobacco/Cigarette trading cards were popular from the late 1800s right up until the 1940s when they started losing interest. I am not sure why I love collecting these little cars. I think it's fun finding as many as I can and seeing all the different styles. Below are all the Joan Crawford tobacco cards in my collection. I am always adding new ones as I find them. More detail on each card to come. Check them out below!
I own a total of 52 unique Joan Crawford Tobacco Cards!
Joan Crawford Vintage Letters
Any fan of Joan Crawford knows the thousands of letters she wrote to her fans. She was and still is the most dedicated star to her fans. She loved her fans and showed them by meeting with them, attending events and typing and signing numerous letters. Her devotion and dedication is unlike any star past or present. One of my first pieces to my collection was this letter. I purchased rather inexpensively and I really like this letter for many reasons. For one, it's hard to find letters that are from the 1920s and 1930s from Joan, they are either gone or owned in private collections. Letters from the 1960s and 1970s are pretty common on auction websites. Second, look at the date of this letter, December 31, 1931. New Years Eve and Joan is typing away to fans!!! What devotion! Lastly, it was right before Joan's 1932 banner year where she made some of her finest work, "Grand Hotel," "Letty Lynton" and "Rain." I am hoping to add more letters to my collection.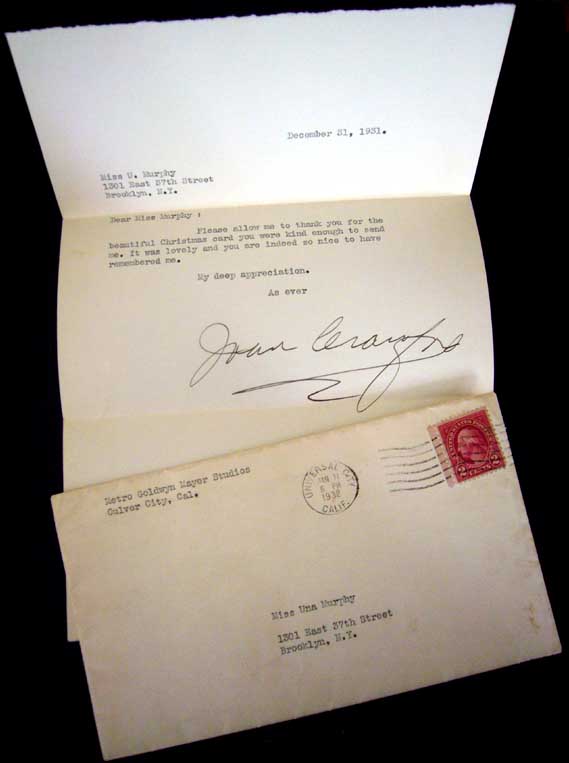 Joan Crawford Vintage Postcards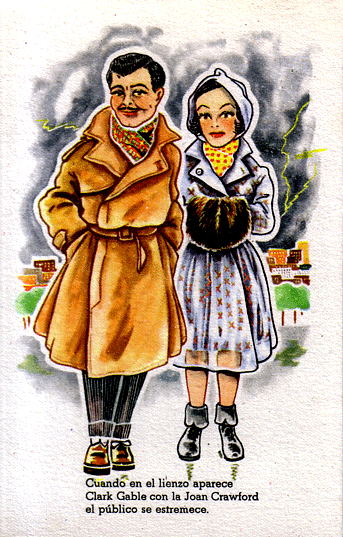 Postcards are really fun to collect and have been around for many years. I try to only collect vintage/original postcards of Joan and below are only a few that I own. Some of them are black and white, sepia and tinted. I really find the tinted postcards to be the most unique.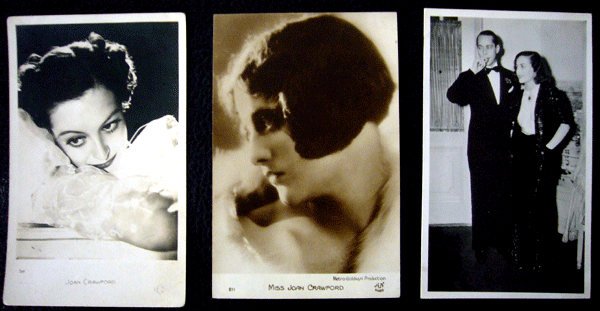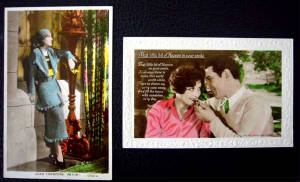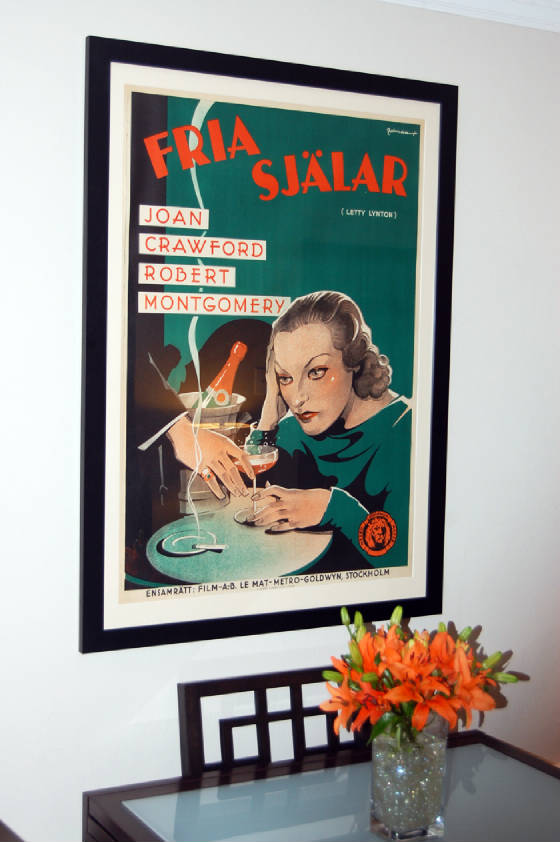 My new favorite movie poster is the above Swedish Letty Lynton poster from 1932. This an original poster that measure 3 feet by 2 feet and it is in pristine condition.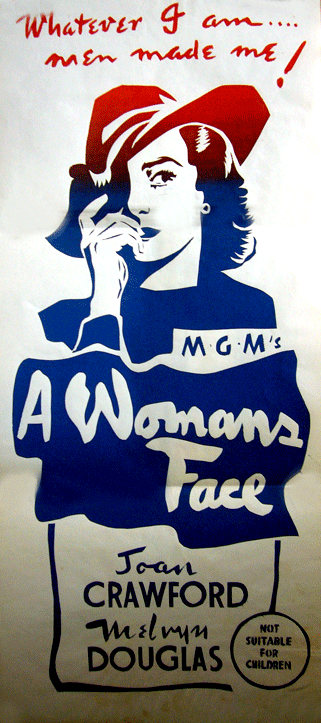 Above is a silk screen thin narrow poster from "A Woman's Face" circa 1941.
Original magazine and newspaper clipping are some of my favorite Joan items to collect. I love reading what was being written at the time in the film magazines, gossip columns and newspapers about Joan. Vintage clippings are also a great way to date photographs and give accurate historic information for this website. Since I cannot possibly scan and put every single clipping on this site, but the content and photos from these clippings will be scattered throughout the website. Below is taste of the vast collection of clipping on Joan that I own.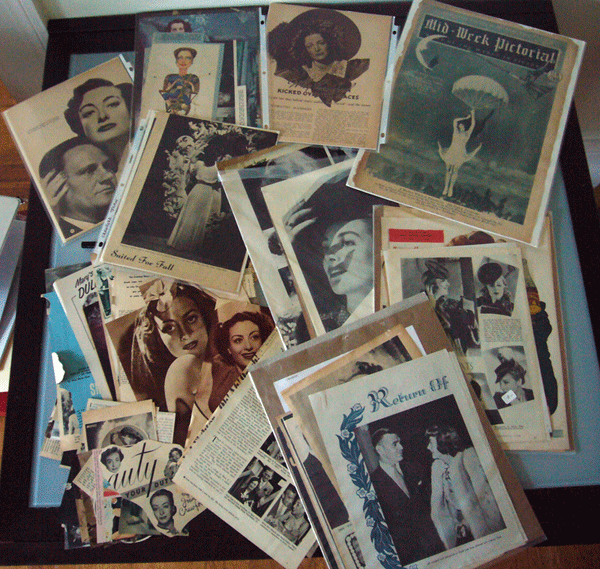 Joan Crawford Magazines/Pamphlets
Joan Crawford's face graced the cover of hundreds of magazines all over the world. Many of the magazine covers in the 1920s and 1930s were beautiful art illustrations, pastels or copies of original paintings. These early magazine covers were rich, vibrant and works of art.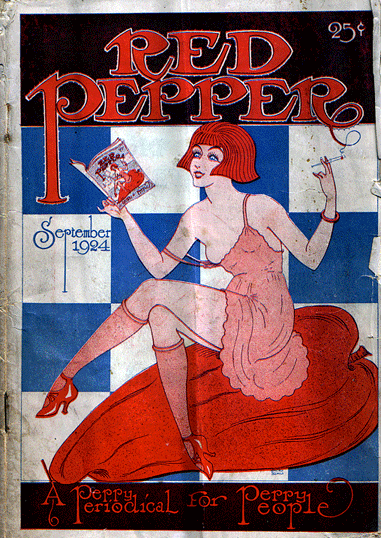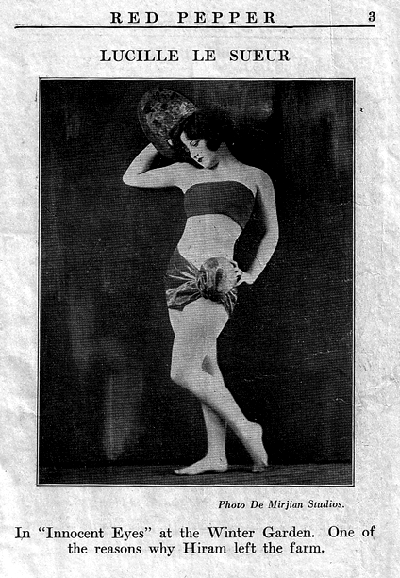 Above: A very rare magazine called "Red Pepper" dated September 1924. This magazine features a young Joan Crawford before she was discovered by MGM. Joan was going by her birth name, Lucille LeSueur, at this stage in her life and would be discovered by Harry Rapf three months after this magazine appearance.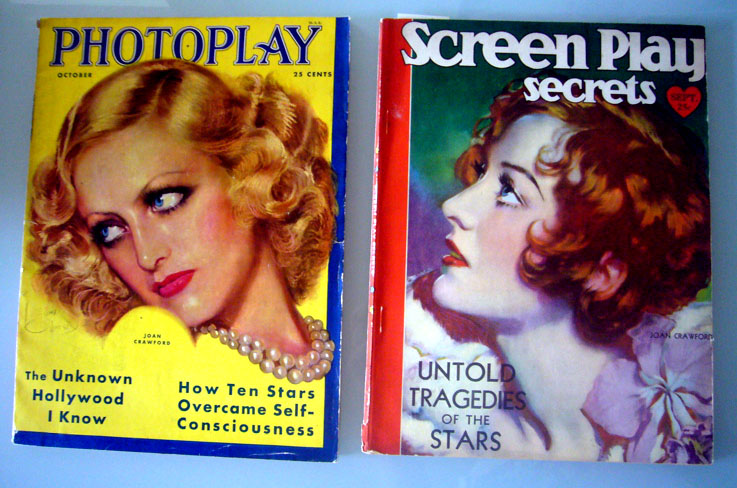 Above: Photoplay magazine from October 1932 & a Screen Play Secrets magazine from September 1930.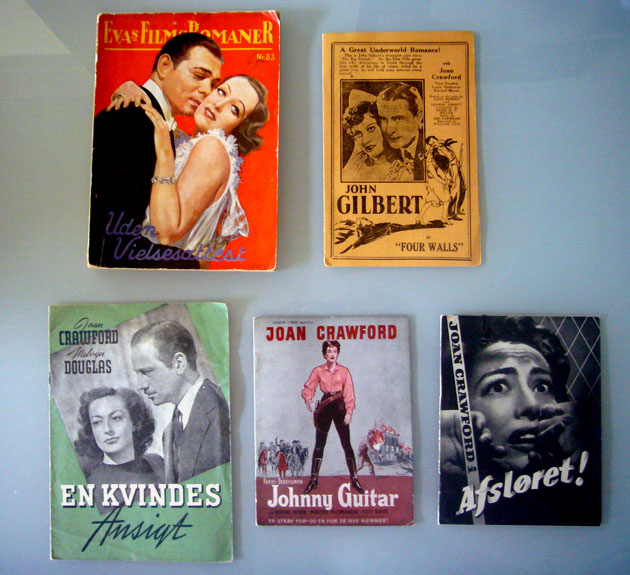 Above: A variety of domestic and international movie press books.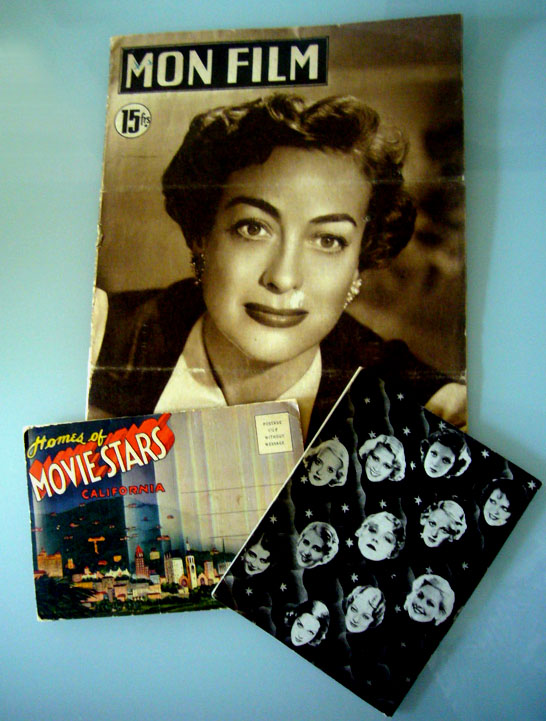 Above: French magazine from 1952, movie home postcards from the 1930s and a makeup secrets book from 1932.
Joan Crawford Campaign/Press Books
Press Books or Campaign Books were very common in the 1920s and 1930s to promote a film by offering merchandise, paraphernalia and early reviews and photos from the film.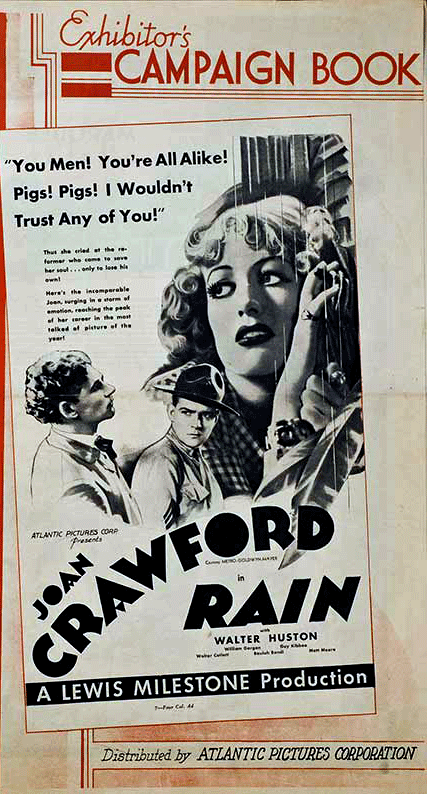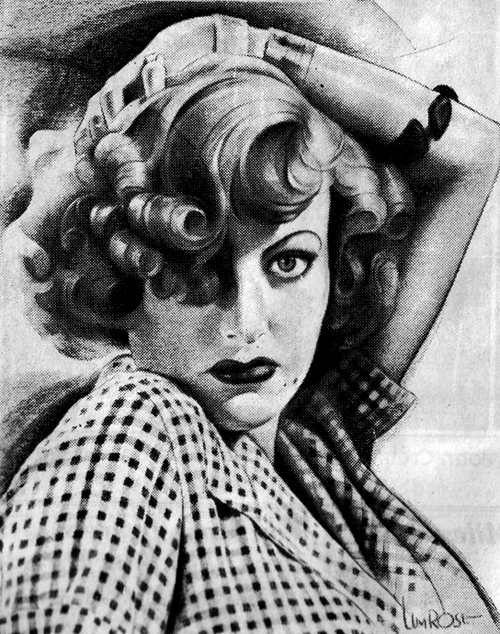 Above: The Campaign book for the 1932 film, "Rain." Above are just a few samples of what's inside the eight page campaign book. It's interesting to see all the merchandise that could be ordered to promote the film. Wish I had it all!:-)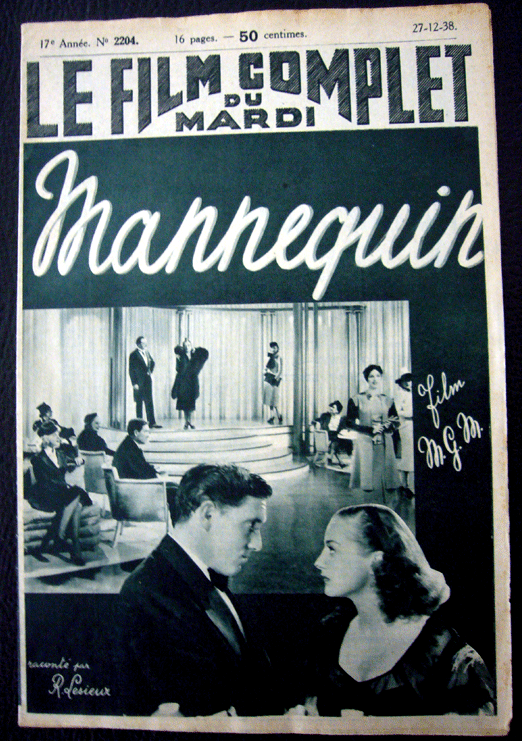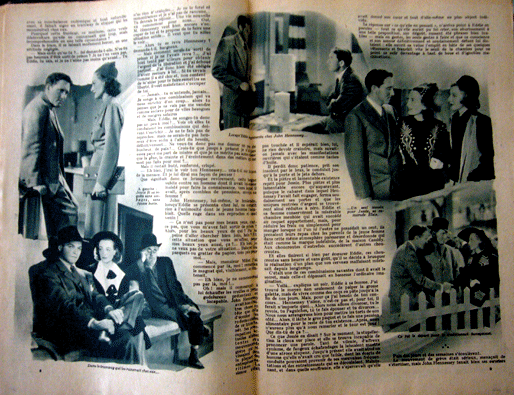 Above: An original French promotional book for the 1938 movie "Mannequin." This book is 14 pages filled with French content on the movie and several great photos from the film as well.
Joan Crawford Miscellaneous
It never ends! Below is a collection of miscellaneous Joan collectibles with brief descriptions of each piece. This section will grow just like the others. If you have any Joan Crawford collectibles that you are looking to sell that I might be interested in, please email me.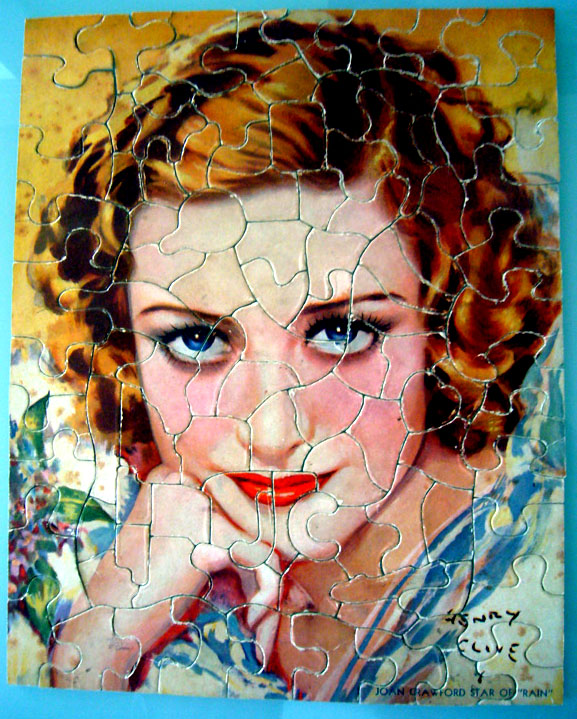 Above: An original puzzle from 1932 promoting the film "Rain."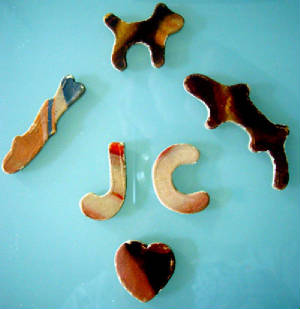 Above: A few intricate pieces from the above puzzle.
I love how a few of the pieces spell out Joan's initials and a sweet heart!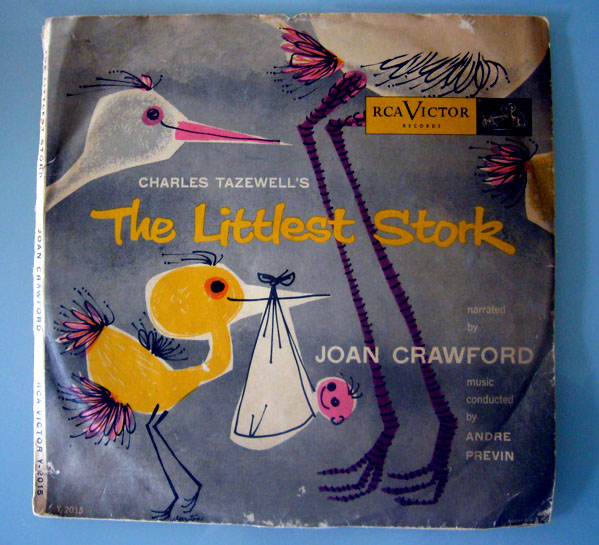 Above" Original recording of "The Littlest Stork." Joan recorded this in 1953,
the book opens and has two records inside. Very rare item.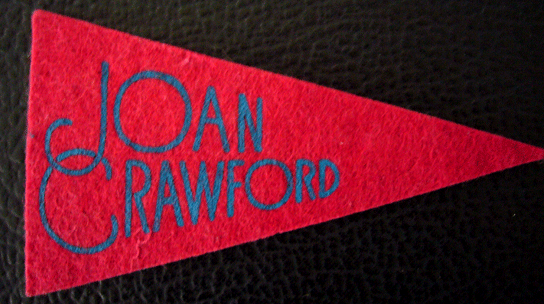 Above: Cute vintage mini felt banner. Circa early 1930s.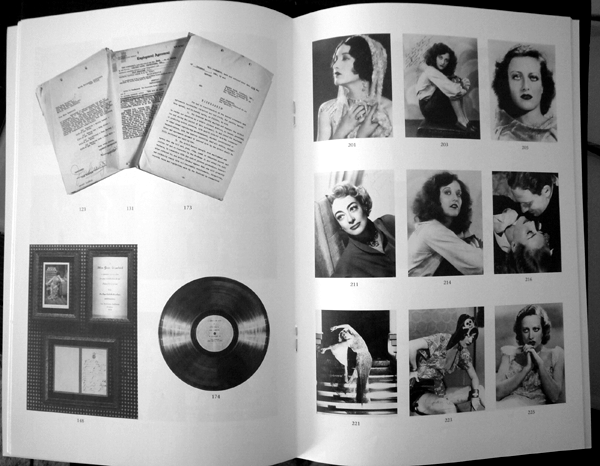 Above: The original 1994 auction book being held by. There were many items of Joan's auctioned off including her 1945 Best Actress Oscar. The catalog goes into detail about every one of the Joan items being auctioned off and there are many pictures of the items as well in this auction book.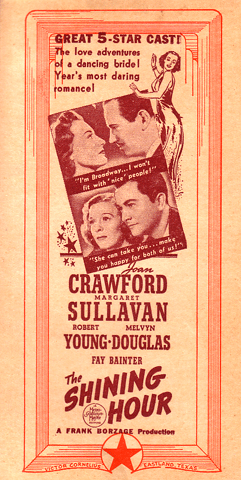 Above: An original promo piece for the 1938 film, "The Shining Hour." On the back of this card, someone wrote in pencil a recipe for molasses cookies!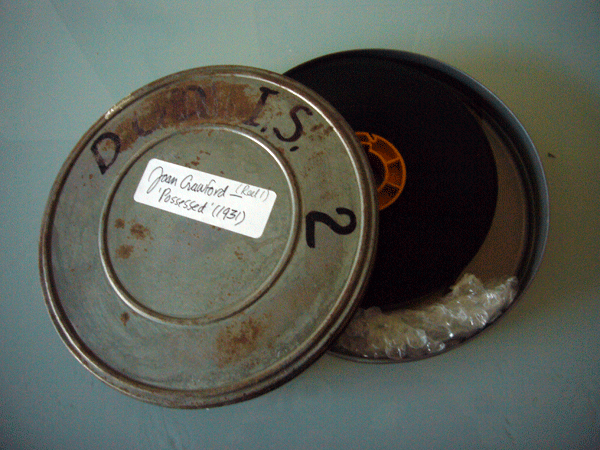 Above: An original movie film reel of the 1931 classic "Possessed." I don't believe this is the film in it's entirety since it says "reel 1" on the canister. I have not tried to view this film. A cool item to own.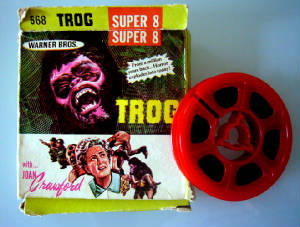 Above: A fun little Super 88 "Trog" film reel. I love the cover art!
Joan Crawford Tijuana Bible
Naughty! Naughty! Naughty! What is a Tijuana Bible? I had no clue until a friend, Danny, told me. A Tijuana Bible is a naughty little book that depicted a celebrity in a tongue-in cheek sexual cartoon sketch. I have owned this Tijuana Bible for some time but never knew that was what they were called. The one I own is called "Joan Crawfoot in The Open Road." It's pretty naughty so if you are not keen on sexual cartoons, please don't view the below images. Enjoy your journey into the open road!
Joan Crawford Vintage Snapshots
I love Joan Crawford photographs of all kinds, but the ones that stand out to me are the candid snapshots of Joan. It's refreshing to see pictures of Joan out from under the lights of Hurrell, movie sets and photo shoots and interacting with the public, driving a car or just crossing a street. Below are snapshots from my personal collection of Joan Crawford. Joan was always "on" even if she were just crossing a street! Go Joan!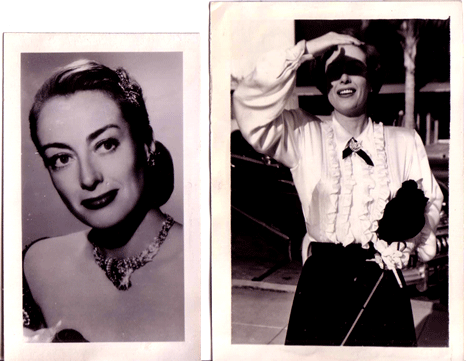 Above: Two great snapshots of Joan from the early 1950s.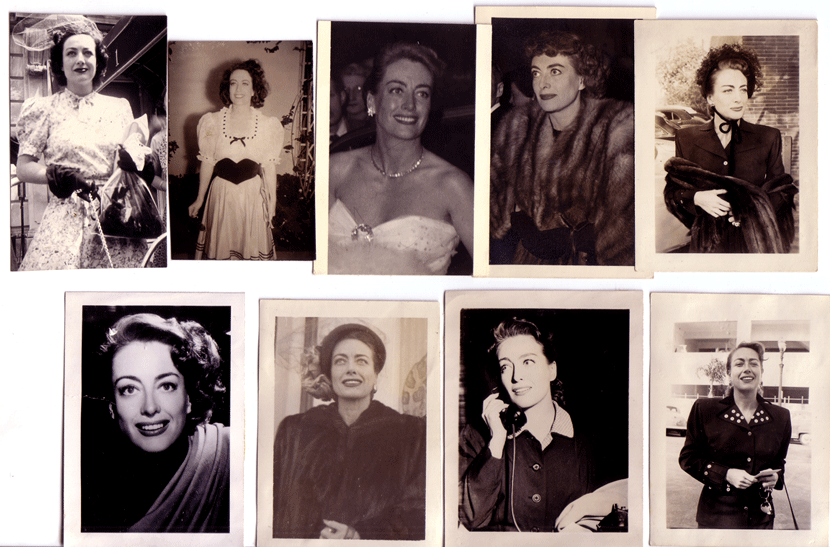 Above: Top Row: (left to right) Joan shopping 1935, Dress up July 1941, attending a benefit 1957,
in fur 195 and in town 1950. Bottom Row: (left to right) Glamour 1949, fur and hat 1950,
on set of "The Damned Don't Cry" 1950 and on Rodeo Drive 1950.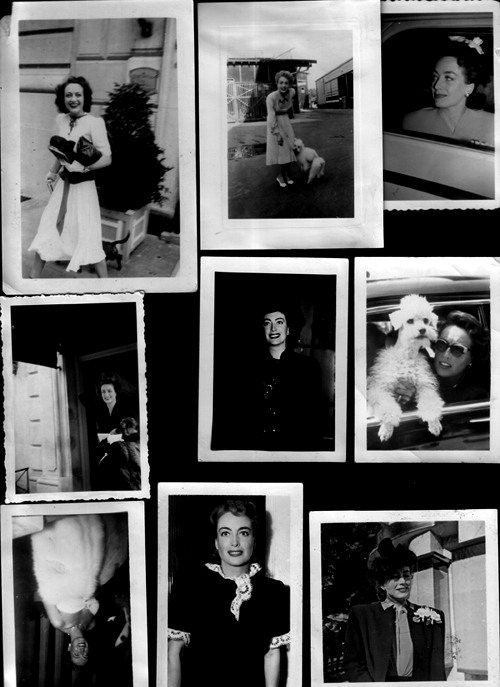 Above: Top Row: (left to right) Joan on the town 1940, on set of Flamingo Road with Cliquot, riding in car 1942. Middle Row: (left to right) Leaving hotel 1940, attending benefit 1947, with Cliquot riding in car 1947. Bottom Row: (left to right) Upside down photo white fur gown 1950, filming "The Damned Don't Cry" 1950, Easter best 1950.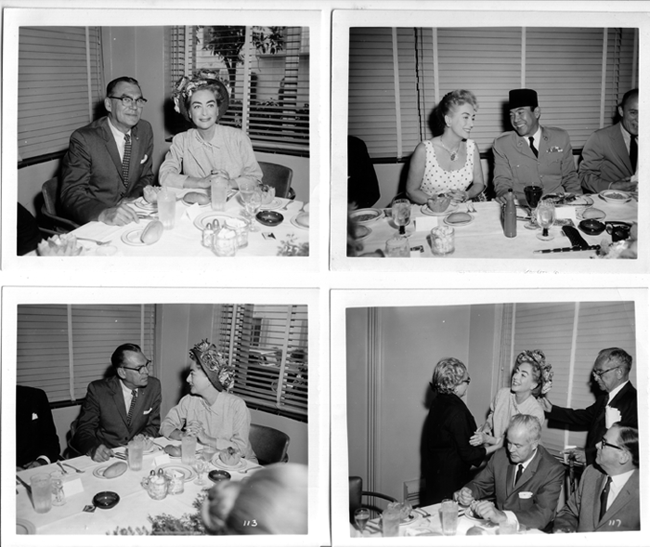 Above: Four photos of Joan Crawford at Pepsi Co. meetings in 1959.
Why aren't there Pepsi bottles on the table Joan?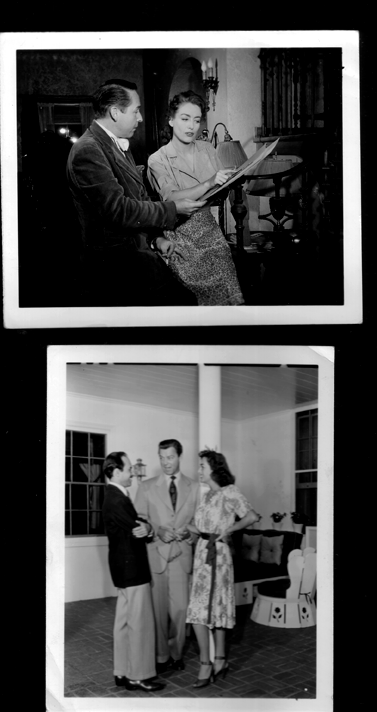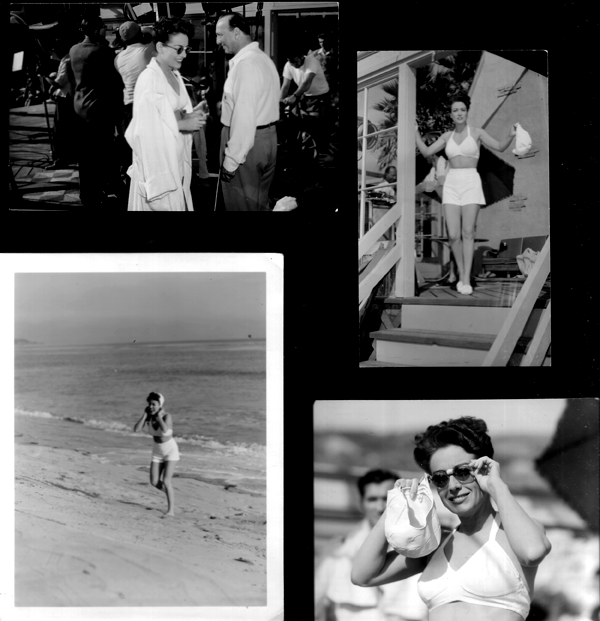 Above: Five original snapshots of Joan on the set of "Mildred Pierce." Also, ONE photo of Joan
and her third husband, Phil Terry, at their Brentwood home in 1945.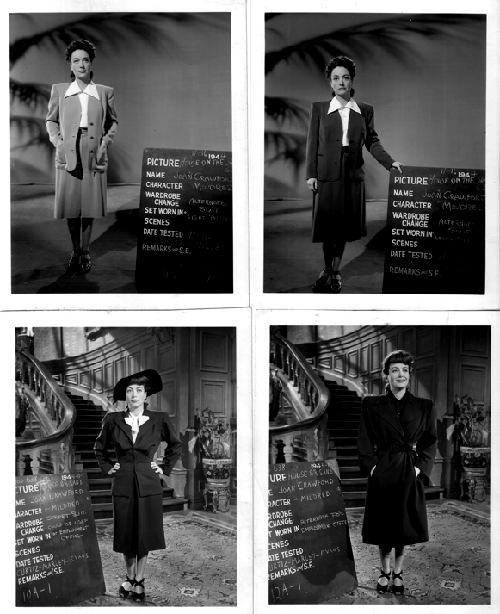 Above: Four original wardrobe tests on the set of "Mildred Pierce." All four of these outfits were never used in the film.
Joan Crawford Vintage Photographs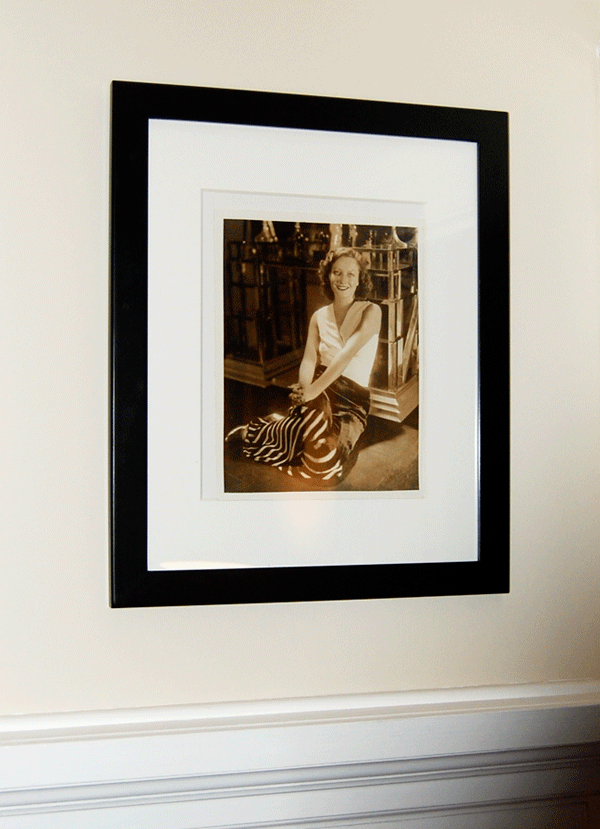 Above: My Hurrell of Joan from 1930 hangs proudly in my living room.
The vast majority of my collection is original and restrike photographs of Joan Crawford. I love collecting photos from her entire life and career. My collection of photos heavily started about two years ago while working with Michelle Vogel on our upcoming book. When publishing a book with photos you have to have the photo to scan in for good quality. So this started a bit of a scavenger hunt for the perfect pictures. I did own some great photos to begin with but I wanted certain photographs of Joan to convey the message of the book. I now own several hundred photographs of Joan Crawford, pretty crazy. I am going to attempt to start a photo gallery below of all the photos I own but it will most likely carry into several pages. I currently have many of my collection scattered throughout the site, but I am currently working on capturing my collection in one photo gallery. More to come, see below.

**Note instead of showing every photo I own individually, I will group them up in collections. The individual photos can be found throughout the website.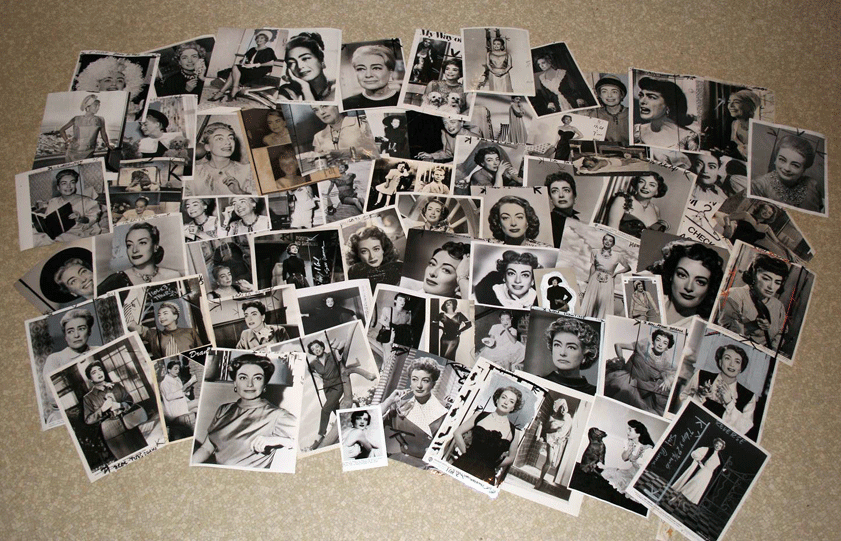 Above/Below: Sixty-eight photos I recently won on eBay and I am so excited about it!
This photo is from the auction, once I get the photos, I will scan them for the site
and get a better picture for this page.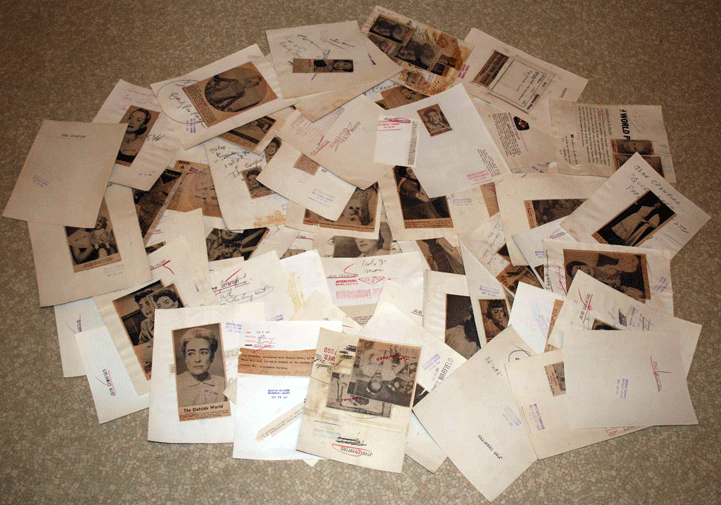 This area will feature collections of Joan Crawford fans from all over the world. I have received many emails with photos showing some great pieces in private Joan collections. This section will feature some of those items.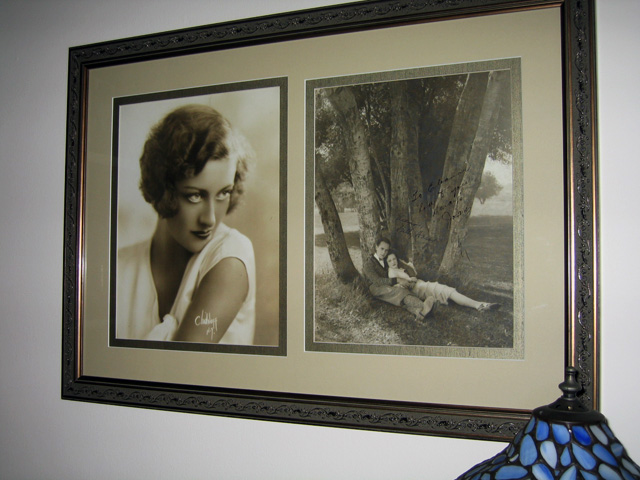 Above: Two beautifully framed photos of Joan Crawford, onefeatures her lifelong friend William Haines from the 1927 film Spring Fever which is signed by both of them to Eleanor Boardman!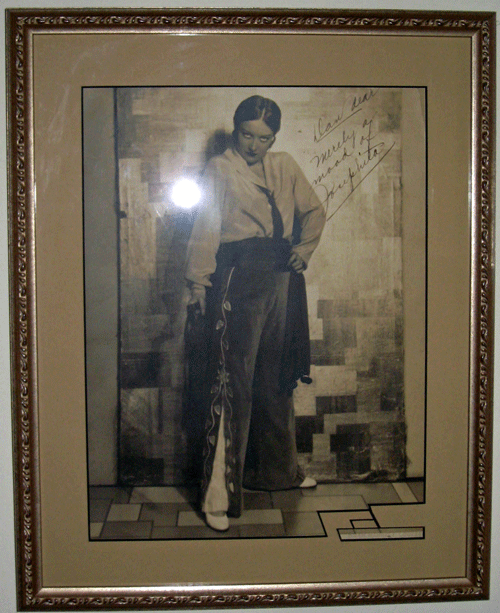 Above: A very rare signed photo of Joan in a publicity photo for the film Tide of the Empire, a film she never completed.
Above: Joan Crawford's Brentwood tall chic lamps. The color photos show the current state of the lamps and the black and white photo shows the lamps once owned by Joan in her Brentwood home den!