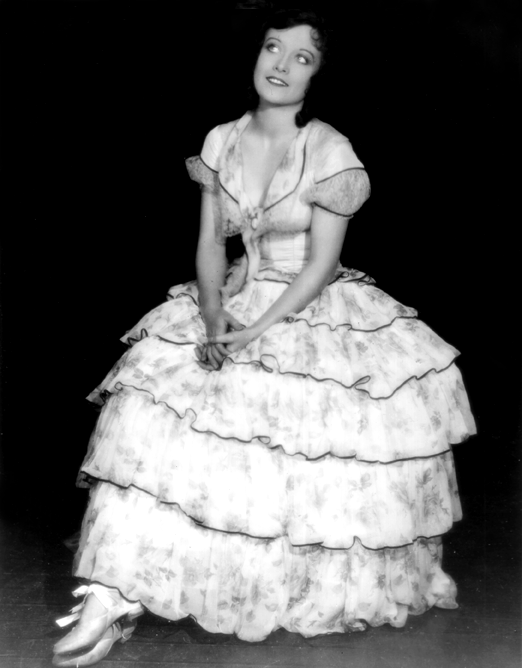 "I didn't like the Singapore picture at all - both Ramon Navarro and I were terribly miscast."
-Joan Crawford on "Across to Sinigapore."
"Across to Singapore" 1928
This page is dedicated to a huge Joan fan and a great friend, Simon Davis!
Cast: Ramon Novarro, Joan Crawford (as Priscilla Crowninshield), Ernest Torrence, Frank Currier, Dan Wolheim, Duke Martin, Edward Connelly


Release date - April 30, 1928 (premiere), May 6, 1928 (Nationwide, U.S.A.)

Running time - 78 minutes (7 reels)

Directed by - William Nigh

Writing Credits - Joseph Farnham (titles), Richard Schayer, Ted Shane and Ben Ames Williams (novel - All the Brothers Were Valiant.)

Producer - William Nigh

Cinematographer - John F. Seitz

Costumes - David Cox

Studio - MGM - Black and White - Silent.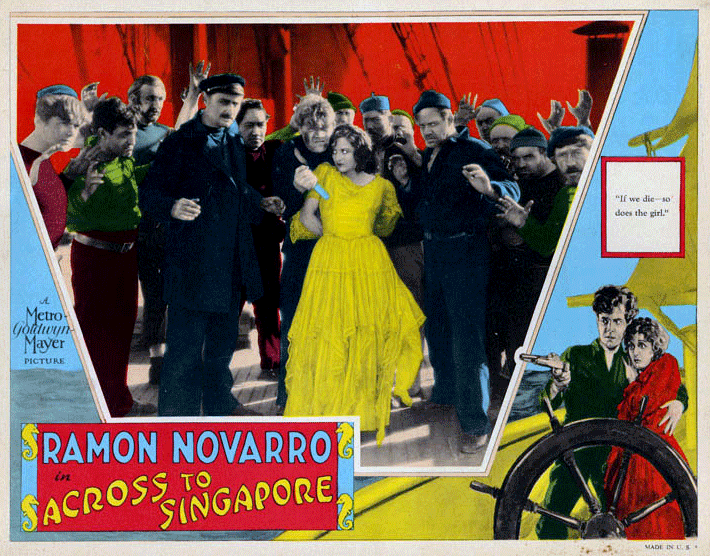 Movie Synopsis
A sea worthy adventure about two brothers, Joel Shore (Ramon Novarro) and Mark Shore (Ernest Torrence) who both love the same girl, Priscilla Crowninshield (Joan). After announcing their engagement without her permission, Mark sails for Singapore with his brothers and leaves behind a very angry, unconsenting fiancee in Priscilla (Joan). Priscilla's (Joan) dismay of the announcement sends Mark (Ernest Torrence) into a spiraling pit of drunkenness, ending in a fatal but albeit victorious battle with the mutineers. Mark (Ernest Torrence) dies in his brother Joel's (Ramon Novarro) arms, his only dying wish to promise to love and take care of his beloved Priscilla (Joan). The true lovers are then reunited.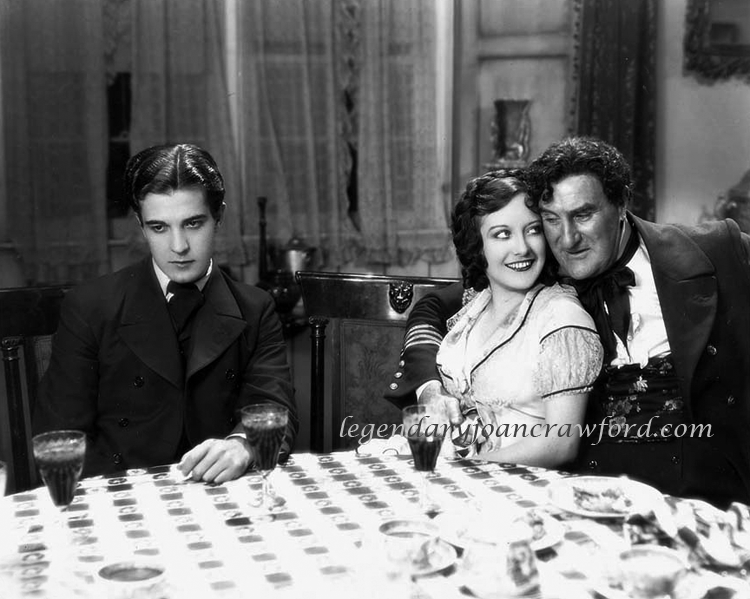 Interesting Trivia
The working title of this film was, China Bound.

Based on the novel All The Brothers Were Valiant by Ben Ames Williams. Two other film adaptations of Ben Ames Williams' novel have been made, both entitled All the Brothers Were Valiant, a 1923 Metro production directed by Irvin V. Willat and starring Malcolm MacGregor, Billie Dove and Lon Chaney, and a 1953 production directed by Richard Thorpe and starring Robert Taylor, Stewart Granger and Ann Blyth.

During the filming, Douglas Fairbanks Jr. accompanied Joan on a location shot at Yosemite National Park. As he listened to her sing the Indian Love Call, he fell in love. That December, he proposed and she accepted. They were divorced after four years of marriage.

Box Office Receipts: $881,000.
Inflation Value in 2007: $10,648,559.42
Photos
Click on images below to see a larger view.
Movie Posters/Lobby Cards etc...
Reviews
Reviewer, Simon Davis, says...
The late 1920's saw Joan Crawford moving closer towards the stardom that from her sheer determination and hard work always seemed ordained for her. Those years from her first "acting job" doubling for future rival Norma Shearer in "Lady of the Night" in 1925, through to her stardom making role in the classic "Our Dancing Daughters" in 1928, saw Joan performing in an amazingly varied assortment of film genres encompassing thrillers, westerns, and college comedies. These years also saw her being teamed with a diverse and often quite dazzling selection of male stars ranging from the likes of Lon Chaney, John Gilbert, and William Haines through to western star Tim McCoy and silent clown Harry Langdon. In 1928's delightful "Across to Singapore", Joan found herself in this latest assignment, the leading lady to one of MGM's best looking and most talented male stars in the legendary Ramon Novarro. Still best remembered for his stunning role in the classic silent version of "Ben Hur: A Tale of the Christ.", and rather sadly for his terrible murder in 1969, it was strange that Crawford and Novarro were only teamed once by MGM (apart from an appearance by Joan as an extra in Novarro's "The Midshipman" in 1925). In "Singapore", the pair display a wonderfully romantic and at times quite playful screen chemistry which definitely should have warranted another pairing of these two young and talented contract players.

Based on the story "All the Brothers Were Valiant" by Ben Ames Williams, "Across to Singapore", is an often rousing story of love and adventure on the high seas and focuses on the lives of the Shore brothers and the often complicated love triangle that exists between eldest brother Mark (Ernest Torrence) and his youngest brother Joel (Ramon Novarro) over the affections of lovely young Priscilla Crowninsheild (Joan Crawford). The film was very much designed as a Ramon Novarro vehicle with Joan as the at first quite demure love interest who develops a lot of spunk as the story progresses when she finds herself having to handle a gun in the middle of a mutiny on the high seas. What I find of particular interest in this film is that Novarro and Crawford both actually play characters that are at variance with the established "screen personas" we normally associate with them in the 1920's. Long considered a "Valentino", clone Ramon Novarro here is ideally cast against that "type" in a playful "boyish", role laced with much light hearted comedy in the first half of the film that suits him perfectly. Apart from 1929's "The Pagan", it is my favorite Ramon Novarro performance. The Joan Crawford of the 1920's is best remembered as the ultimate "Flapper", or "Jazz baby", when in actual fact that type of character only represents a small portion of her work right at the end of the decade. Here in "Across to Singapore", she comes across as sweet and beautiful in an unspoilt type of way and proves that despite her later "modern working girl image", in the 1930's, she was able in this earlier part of her career to be believably cast in a period drama. The second half of "Singapore", sees Crawford take a more active role in the proceedings giving an indication of the assertive and spunky characters capable of looking after themselves that she was renowned for playing later in her career. My favorite portion of "Across to Singapore", is it's light hearted first half which at times plays like a crazy romp with pillow fights, pee shooting at the dinner table, jugs of water hidden above opening doors, and a hilarious brawl in the sea side pub where Novarro ignites an all out brawl in his quest to be considered a "real man", in order to sail next time with his older brothers. Despite both Novarro and Crawford making far better known films in the 1920's it's easy to see that "Across to Singapore", was a major MGM production for 1928 boasting as it does first rate production values, including great location photography, excellent attention to period detail and exciting special effects for the storm at sea sequence. The only tragedy is the badly damaged existing print of this film that badly needs a major restoration.

To see Ramon Novarro and Joan Crawford in all their youthful beauty and vitality and especially in Crawford's case to also see her in one of her "bread and butter roles" prior to real stardom arriving for her the next year, I strongly recommend MGM's "Across to Singapore."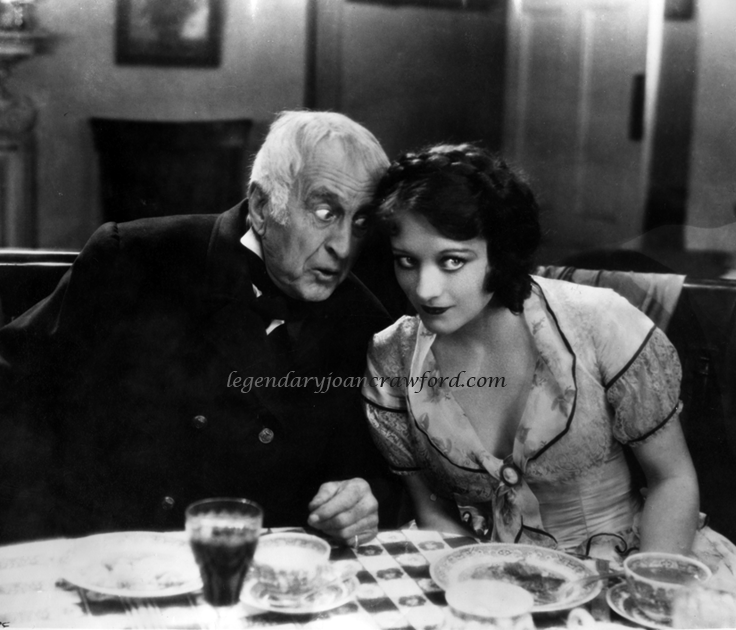 Other Reviews
Film Daily, had this to say, "Ramon Novarro miscast as tough sea dog. Should have played him up on the Romeo stuff. Joan Crawford petite and always an alluring picture."


Photoplay, said, "Don't try to follow the intricacies of this plot, just keep in mind that the turmoil of villainy and the sea will not overcome either Ramon Novarro or Joan Crawford."

Click on the decades below to browse movies.